London
The Best of London Retail Openings February 2018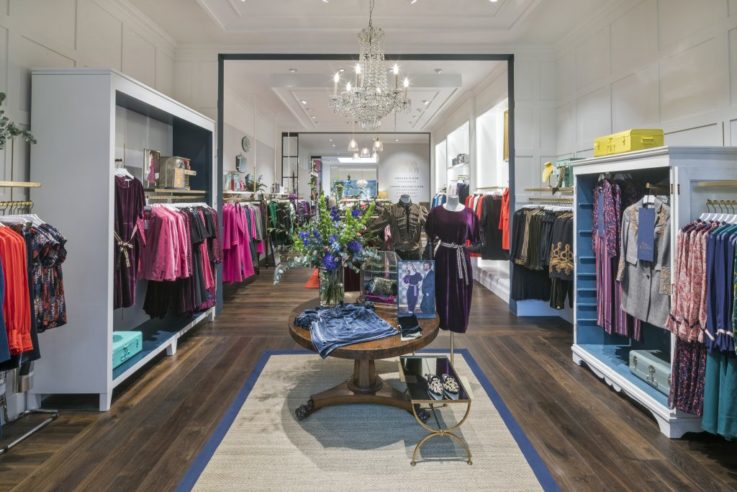 We love it when we can see a trend forming in shop openings and in this month's London retail openings, it's clear to see that Covent Garden and Sloane Square are the places to hit for the best new stores. Read all about it below.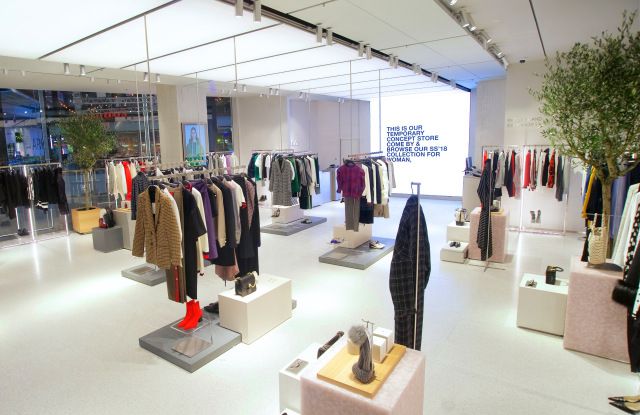 Zara Click & Collect
Renowned high-street brand Zara has opened the doors to its first-ever store with an online focus. Located at Westfield Stratford City, the 2150-square-foot pop-up shop is primarily dedicated to the ordering and collecting of online orders. It is operating while Zara's flagship Westfield store is being renovated.
With many Zara shoppers choosing to shop online and collect in-store, the change of direction taps into the Zara consumer and how they often buy. Store staff are equipped with mobile devices to assist customers, who can either receive orders on the same day if placed before 2pm, or the next day if placed in the afternoon. There is also a small selection of clothing in-store for customers to potentially purchase.
Alongside this, the store has also incorporated a product recommendation system that is based on information screens embedded into mirrors. This means that once the customer scans an item (using radio frequency identification technology) the system can bring up multiple choices for coordinating and combining in the right size for the customer. Brilliant, eh?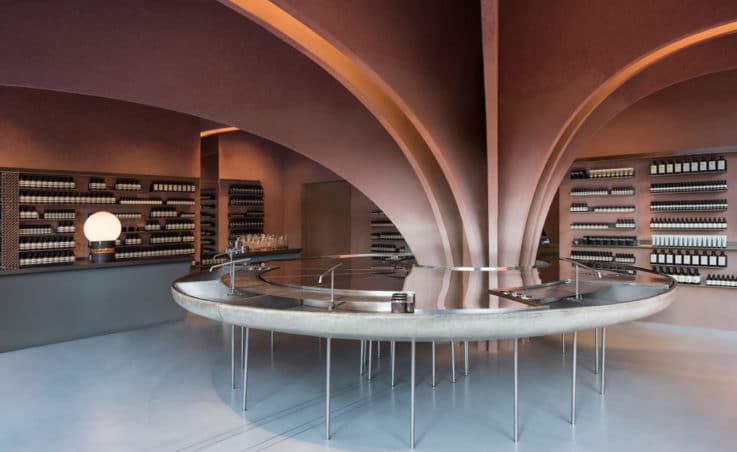 Aesop
Aspirational Australian skincare expert Aesop has welcomed its 200th store to the mix, in the form of a Sloane Square flagship. Designed by Norwegian interior architect and seven-time collaborator Snøhetta, the 1163-square-foot store is, as usual, gorgeously designed and different from every other Aesop experience.
The store is focused on a large central column and twelve arches that spread from it — each one creating a new zone of the space. This pillar is then surrounded by a large display sink, which is edged by a shallow pool of reflective water. Bespoke skincare consultations are of course on offer within the space.
The store experience is a huge part of Aesop's retail structure. With only around four new products launched each year, it is instead the shop experience that changes to entice back the loyal customers. Aesop's approach to design is one of the things it is known for, and as we all know a pleasing aesthetic can make the shopping experience.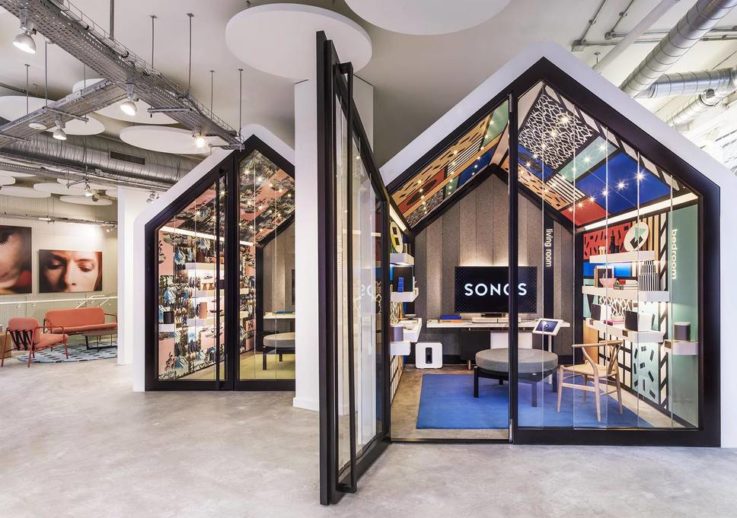 Sonos
Speaker company Sonos has opened a new store in London's Covent Garden, just off Seven Dials, in a bid to match its competitors and showcase its innovative store design as seen previously in New York.
The 2,500-square-metre store features two "listening rooms" that have been designed to reflect people's homes by Sonos sound experience leader Giles Martin and incorporate designs from known London-based artists such as Camille Walala.
Encouraging customers to look at how Sonos can bring sound into their home, the store mimics a home environment and demonstrates the importance of listening to music out loud.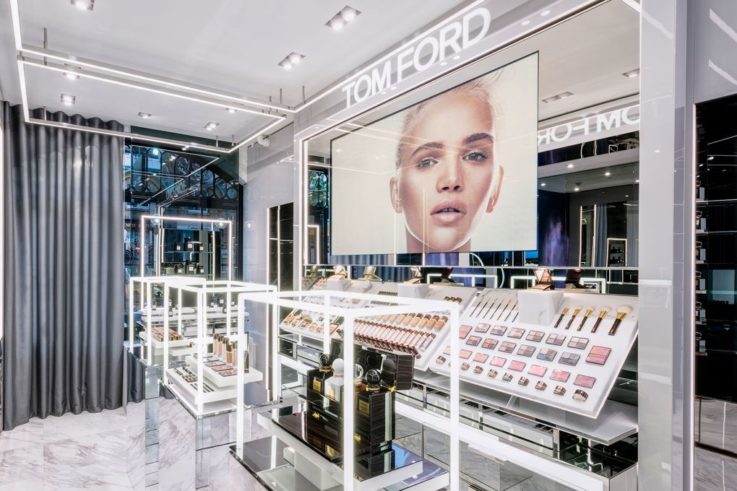 Tom Ford Beauty
Luxury beauty brand Tom Ford has opened a dedicated store for its beauty range in London's Covent Garden, its first standalone beauty retail space.
The 130-square-metre boutique features a dedicated "colour room" where shoppers can virtually try on shades from the lip colour collection using augmented reality, and a "makeup room" offering personalised makeup services and demonstrations by beauty specialists. Customers can also record individual how-to video tutorials for home use.
A "fragrance room" featuring an "interactive scenting installation" allows guests to digitally explore perfumes. Additionally, a "private makeup services room", men's "grooming room" and VIP event space are also present for touching on every beauty aspect one could possibly need.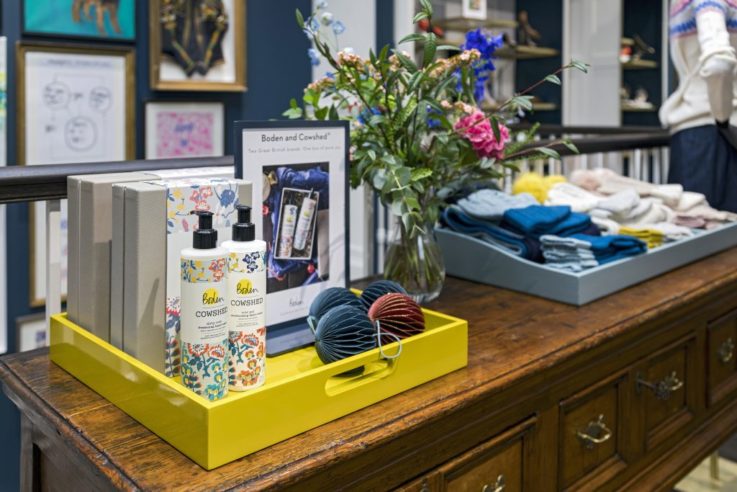 Boden
Clothing brand Boden has opened the doors to its brand new store on King's Road in Chelsea, London. The 182-square-foot-store marks the online store's first expansion to high street retail.
Designed by Insider Trends favourites Dalziel & Pow, the new store invites customers to shop 'at home' with Boden in a Georgian house setting bursting with an eccentric British vibe – inspired by Johnnie Boden's unique style and personality. There's even a lift that incorporates his voice, designed to add to the character and charm of the space.
With two entrances at either end, shoppers are enticed into individual rooms that gradually reveal Boden's bold, vibrant collection in manageable easy-to-navigate segments. A feature staircase in the centre of the store separates the two floors; Women's, Accessories and Footwear are on the ground, and Mini and Baby Boden on the lower Ground.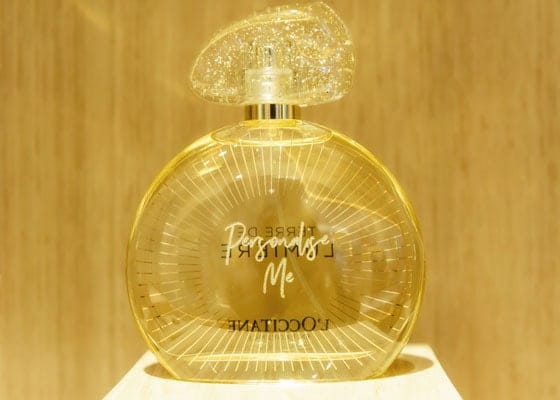 L'Occitane
French beauty and skincare brand L'Occitane has returned to London's Regent Street, to launch its UK flagship store, 20 years after its original boutique opening. The 599-square-metre space has been designed by architect John Nash and UXUS. Inspired by the south of France, customers are invited to go on a multi-sensory journey through the store to experience the beautiful textures, fragrances and sounds of Provence.
UXUS has created an immersive experience that offers customers a luxurious and sensory exploration of L'Occitane's full range of natural beauty products. Education and trial are at the core to share the L'Occitane "beauty of life" philosophy with the customer. Personalisation and customisation are said to be the key with a hand massage bar and 'L'Occitane Lounge', ensuring every shopping experience is different.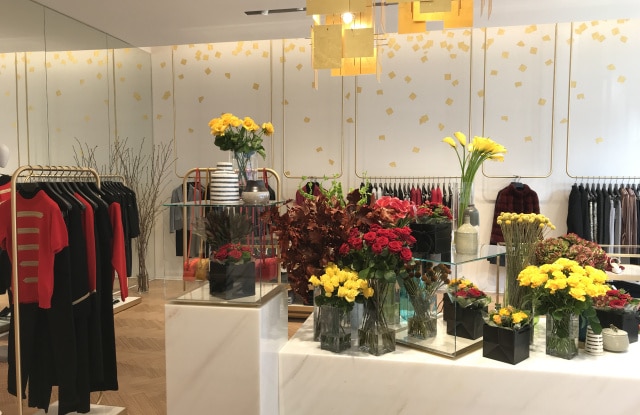 ESCADA
German luxury house ESCADA has opened a new flagship store on Sloane Street in partnership with interior designer Fran Hickman. Inspiration was taken from ancient Japanese artistry, combined with the classical designs of British architect and furniture designer Robsjohn-Gibbings.
The Sloane Street location was chosen specifically for the possibilities of a new generation of client,s as well as being an internationally recognised and ultra-chic shopping destination with plenty of complementary brands surrounding the new store.
The interior gold wall designs – which feature gold leaves cascading down the walls to give an ombre effect – are blended with art-deco inspired furniture and colourful objects d'art, as well as inspiring literature. Again, it's all about the experience.
Global design director Niall Sloan has designed a capsule knitwear collection to mark the launch and Covent Garden Academy of Flowers created a unique flower installation for the launch, perfect for the Chelsea customer.
Stay posted for the latest retail openings in New York, coming to Insider Trends soon. In the meantime why not experience the best retail spaces for yourself by joining one of our London retail trend tours? We'll show you the latest in retail trends and help you out with any questions.