New York
The Best of New York Retail Openings August 2017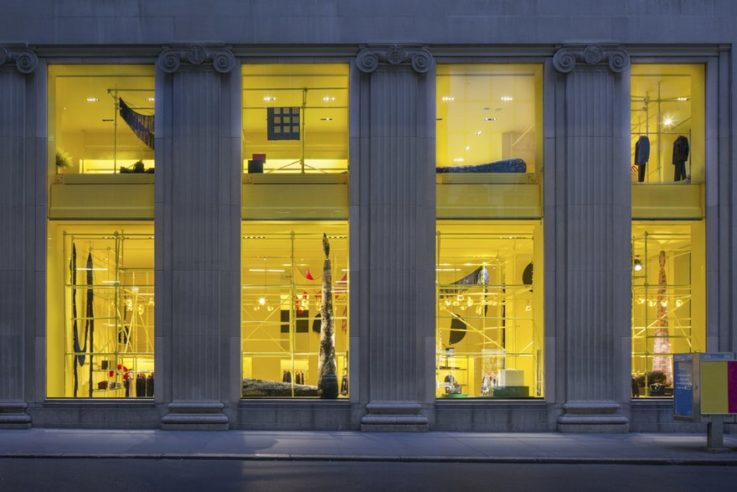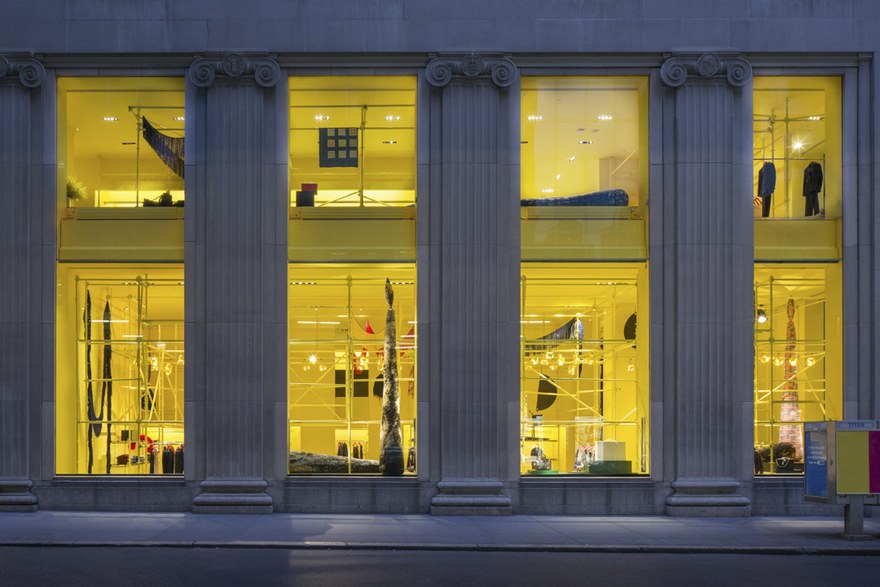 Check out the latest openings in New York as part of our August 'Best Of' openings posts. Do any catch your eye?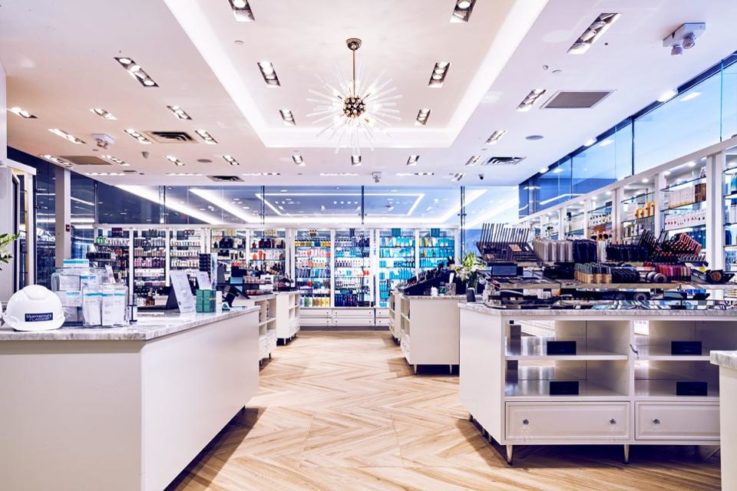 Bluemercury
Washington, D.C.-based cosmetics and skincare retailer Bluemercury has introduced its new flagship in New York in a 2,700-square-foot store in the base of the New York Hilton Midtown on Sixth Avenue. Equipped with a dedicated spa room, the new location will also act as a dedicated 'technology innovation hub' where the brand will trial all its natural ingredient products and launch its new proprietary products such M-61 Powerful Skincare and Lune + Aster Cosmetics.
One of the highlights of the new store is the Artificial Intelligence Mirror which allows customers to take any product in the store, scan something underneath, and get all the information about the product, including reviews, videos, different views. Another feature allows shoppers to try on a product in-store and share it straight to social networks for opinions in real time.
The store will also be a testing ground for checkout and delivery concepts, including a new service similar to Amazon's Prime Now. The flagship is pioneering Bagless Shopping through Beauty Connect, a same-day, under-one-hour delivery service in New York that will in the future allow delivery drivers to meet customers on the way to events and so on.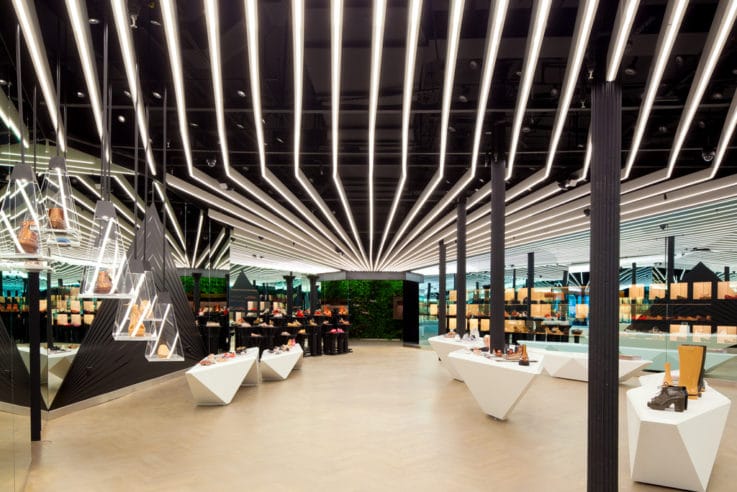 Melissa
Brazilian footwear brand Melissa has opened a new store in New York's Soho district focusing on an experiential store concept that is part boutique and part art gallery.
Designed by Brazilian architect Muti Randolph, the store features elements of the brand's Brazilian heritage as well as pulling in aspects of the surrounding neighbourhood. For example, the live green wall at the back of the store is an ode to Brazil's natural wonders and the Greek columns that are used to display Melissa's shoes mimic the architectural columns seen throughout Soho.
The store will host a rotating series of art exhibitions in a bid to keep the space alive with events and things happening all the time. The space will change three to four times per year and will play host to something big for New York Fashion week next month.
The brand firmly believes that the physical retail environment is where they can add value and connection with customers through innovative and experiential retail concepts.
MUJI
Japanese accessory brand MUJI has opened its first Brooklyn residence stocking the usual apparel, kitchenware, tableware, furniture, interior and storage accessories as well as a few extra opportunities for a more personal service.
The new location has an exclusive line of clothing based on "natural materials and in order to add something extra MUJI Williamsburg will also host an embroidery station allowing customers to customise textile items with a selection of over 300 embroidered designs.
There will also be a lab for creating custom scents, where customers can choose from 48 different olfactory elements and have MUJI's mixologists conjure up a new fragrance.
Finally, customers can create a custom bag for the goods they buy with a full array of configurable stamps available at the customisation station.
LINE FRIENDS
Japanese character brand LINE FRIENDS has launched its first official U.S. location in the heart of Times Square in New York, a major commercial centre and one of the world's most popular tourist and entertainment hubs visited by 330,000 people daily. The flagship marks the first large-scale store opening of an Asian character brand in the United States.
Spanning 430-square-metres, the new store will be anchored by a large version of the signature character Mega Brown. To further draw passing trade, the store will uniquely display its variety of brand content with other brands on large-scale LED billboards.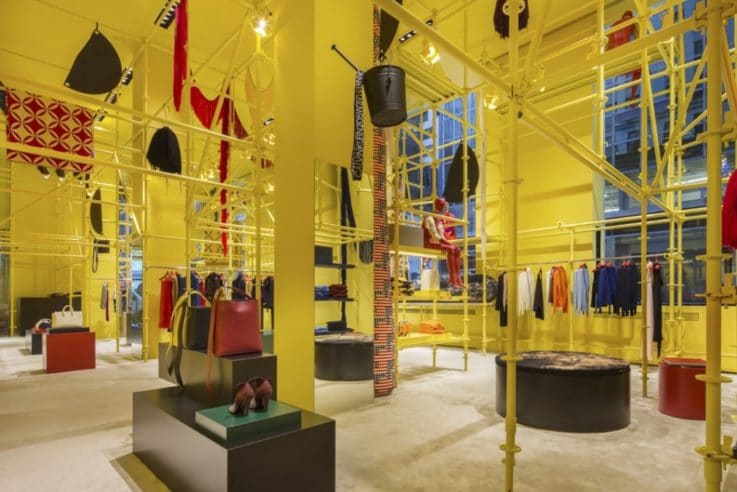 Calvin Klein
American fashion brand Calvin Klein has reopened its New York flagship with an Instagram-friendly venue space designed by creative director, Raf Simons.
The Madison Avenue space is a sun-coloured, maximalist, art-filled ode to Americana and provides a fresh take on the classic American brand. Beaming from the inside, the canary yellow certainly attracts attention from the passing trade on the streets outside and entices potential shoppers in to see what's happening.
Stating that he 'wanted the store to glow from within', Simons sought to generate a physical experience that could also be intimately connected to the collections. Each category has a unique identity within the space while interacting with one another in an unexpected way to create an energising shopping experience.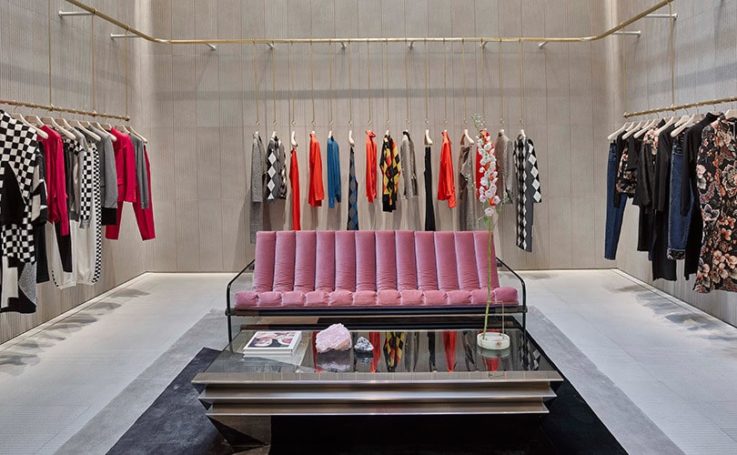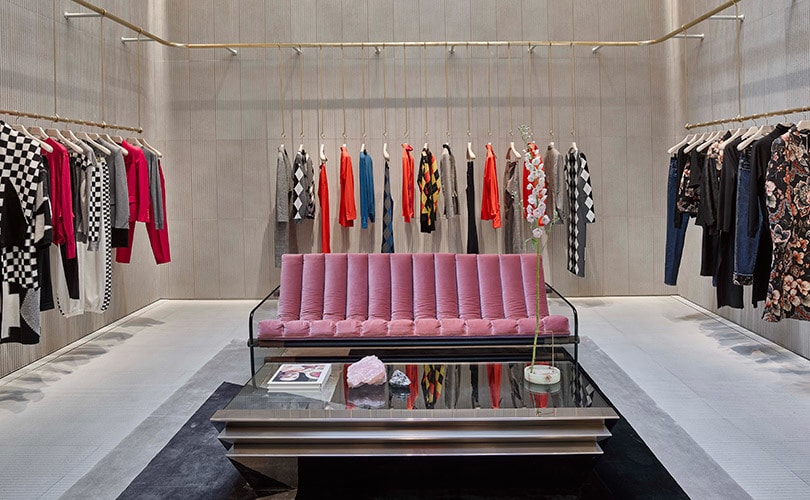 Stella McCartney
Stella McCartney has opened a new flagship store on Madison Avenue with a focus on sustainability and personal experiences.
Reflecting on the brand's commitment to sustainability within a more intimate atmosphere, the new store concept draws inspiration from Stella's personal archive of images with designs that bring a more personalised experience to the retail environment. Efforts were made to use more handmade, organic and sustainably sourced elements.
Natural light, fresh greenery and double height spaces bring a botanical feel to the store providing an intimate space for women to relax and shop.
Stay posted for the latest retail openings in London, coming to Insider Trends soon. In the meantime why not experience the best retail spaces for yourself by joining one of our London retail trend tours? We'll show you the latest in retail trends and help you out with any questions.