New York
The Best of New York Retail Openings January 2018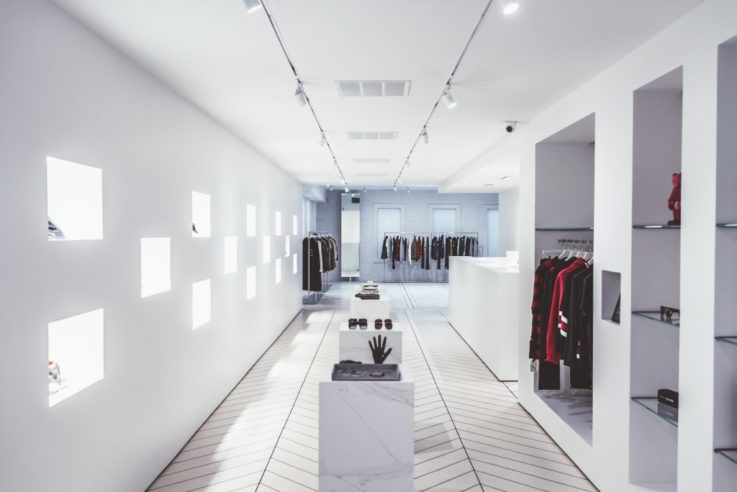 Happy New Year! We're back with the first of our store openings for the year and we're going BIG in the Big Apple, kicking off with the most exciting…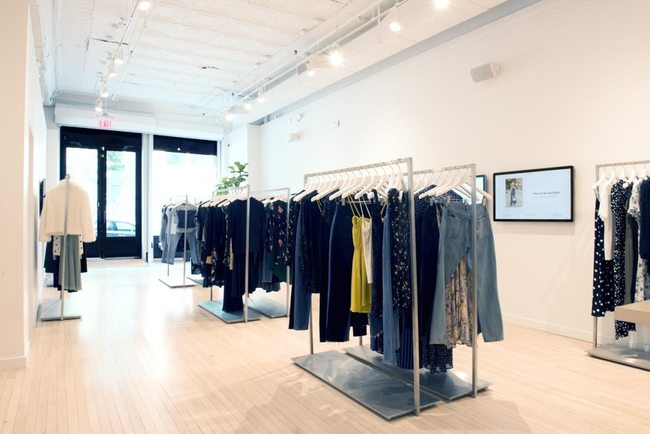 Reformation
Cult clothing brand Reformation has opened the doors to its newest and largest store on Bond Street, NoHo. It's the sustainable label's first tech-enabled store in New York, with the concept being tested in San and Los Angeles.
The new 3,500-square-foot space is maintained like a showroom and therefore an alternative shopping experience is on the cards for customers. Touch screens on the walls allow visitors to scroll through stock and create a dressing room to add items they want to try on in the brand's dreamy dressing rooms.
Reformation's team works behind-the-scenes to pull the selected pieces from the stockroom and place them in a two-way wardrobe which also comes equipped with a smaller version of the touch-screen display, so customers can continue to shop other sizes and styles while trying on. There's even customisable lighting, plus a charger and aux cord for phones.
And when they want to buy? It's just as easy as the rest with check-out available anywhere in the store via the sales associates. The future of shopping? We think so!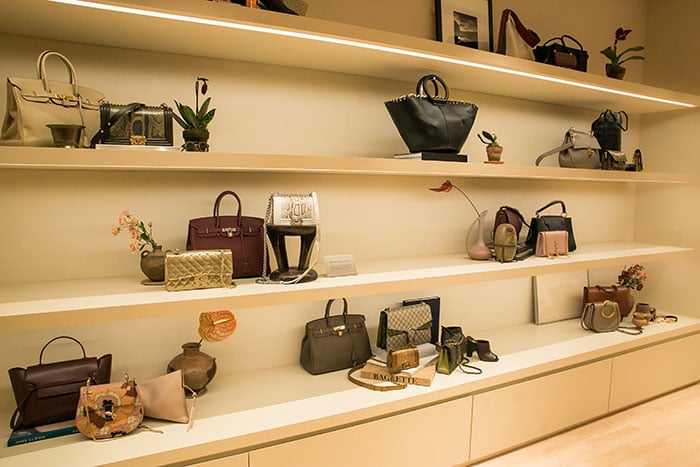 The RealReal
The RealReal, a leading luxury consignment company has opened its first-ever retail store in SoHo. The 6,000-square-foot concept store has been designed to highlight The RealReal's expertise in luxury consignment, selling one-of-a-kind luxury items, including men's and women's fashion, fine jewellery, watches, home furnishings, decor and art.
The space has been outfitted with unique design elements, such as a 35-foot wall with 13 hidden closets containing curated women's ready-to-wear and even a Birkin bag wall. The lower level features menswear, a library, lounge area, and a wall refreshed daily with rare and covetable sneakers. A Luxury Consignment Office is on-site for appointments to have fine jewellery, watches and handbags valued free of charge or to drop off items for consignment. In addition, professional services are available for item repairs, alterations, and authentication.
The exciting part for us at Insider Trends is the presence of The RealReal's team of experts including gemmologists, horologists and authentication specialists centre stage to engage directly with consumers and consignors. Expert workshops are held twice daily in the store with expert content in authentication, styling, design, and current trends.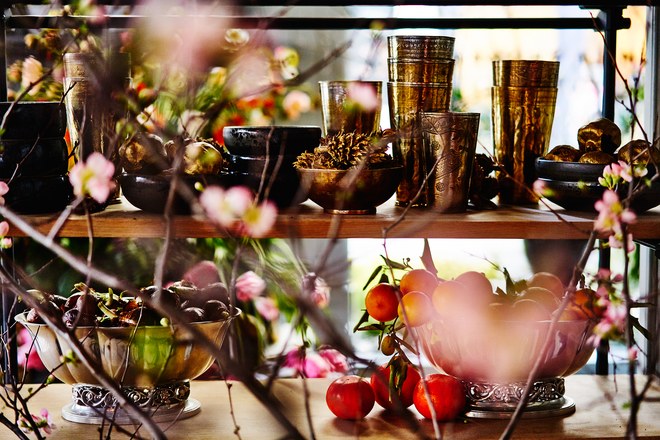 Guild by Roman and Williams
Interior Design company Roman and Williams, has opened a new 7,000-square-foot flagship store, titled Guild, with more to offer than just furniture. Inspired by the grand cafés of Paris and the wild imaginations of founders Standefer and Alesch, the new store is part showroom, part restaurant and part city reprieve.
Food and furniture have combined in Guild with Standefer and Alesch both wishing to mimic the feeling of when you walk into a really great home or dinner party. The beautifully designed showroom is filled with furnishings, lighting, accessories, linens, fur and fabrics, all Roman and Williams's own designs. The restaurant: La Mercerie Café is a partnership with Stephen Starr, serving French comfort food like beef tartare and buckwheat crêpes.
Final additions include Emily Thompson's wildflower shop and a Phaidon library – because it's really the little things that make the shopping experience. The essence? Pure luxury with every detail accounted for.
Hershey's Chocolate World
Opening its doors to a space three times the size of the original, the new Hershey's store has opened in the midst of New York's Times Square, oozing scents specifically made by a team of experts.
The L-shaped store features a more experiential outlook with augmented reality and apps bringing to life the narrative of the Hershey's brand. Other features include the Hershey's Kitchen Bakery, where shoppers can taste a variety of beverages and the s'mores experience – a giant camper located at the back of the store where customers can buy gooey s'mores with one full-size chocolate bar inside. There's even a customizable chocolate bar station where customers can either take a fresh photo or email an older photo to the store to create a personalised chocolate bar.
Tesla
Automotive company Tesla has opened a new store in Manhattan's Meatpacking that demonstrates the company's transition from an automaker to a sustainable energy company.
The 10,900-square-foot store is home to Tesla's electric vehicle and offers an "immersive educational experience" into the company's vehicles and energy products, which include its Powerwall home battery packs and solar.
An interactive touchscreen display allows potential buyers to configure their own Tesla model. If they then want to try before they buy, test cars are kept in the back of the showroom and customers pre-book their appointment online and enjoy a coffee in the coffee shop before driving.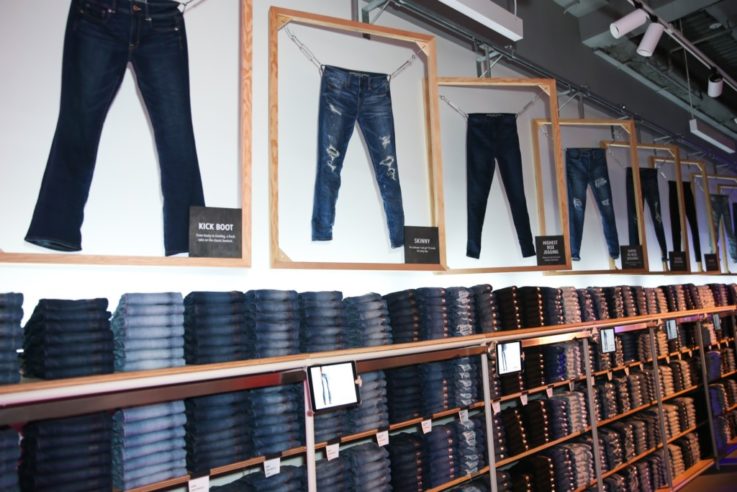 American Eagle Outfitters
American Eagle Outfitters has launched AE Studio in Union Square. The new store is a focal point for the studio's first floor Jeans Gallery, where customers can engage in a unique and experiential shopping environment featuring AE's leading collections.
Distinctive features of the store include an on-site social media team who directly engage with customers; a complimentary laundry wall where students can do their laundry for free and digital concierge iPads in dressing rooms where customers can personalise their shopping experience. There's even a bar for chilling out. Finally, a collaboration space completes the store where capsule collections co-created with new brands, emerging designers, and artists will be displayed.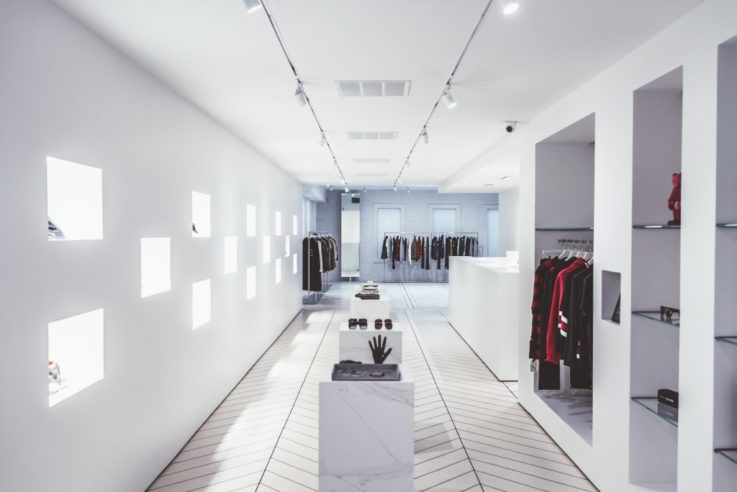 Reign
Independent brand and fashion boutique, Reign has partnered up with Samsung for a new unique retail concept in the Meatpacking District, focusing on both a heavily-curated interior and technological aspects that improve customer service.
The 1,600-square-foot features a 12-foot circular skylight that showcases the white-washed exposed brick walls and white concrete floors with natural light. An outdoor courtyard will be) for everything from barbecues to movie screenings.
Due to the connection with Samsung, the store is integrated with a sound and visual technology shopping system that allows guests to view exclusively developed content only available from inside the shop via a custom app. The Reign app helps merge e-commerce and brick and mortar into one allowing consumers access to online-exclusive content while in the store.
Stay posted for the latest retail openings in London, coming to Insider Trends soon. In the meantime why not experience the best retail spaces for yourself by joining one of our London retail trend tours? We'll show you the latest in retail trends and help you out with any questions.