Interviews
Have you met the Hero of omnichannel?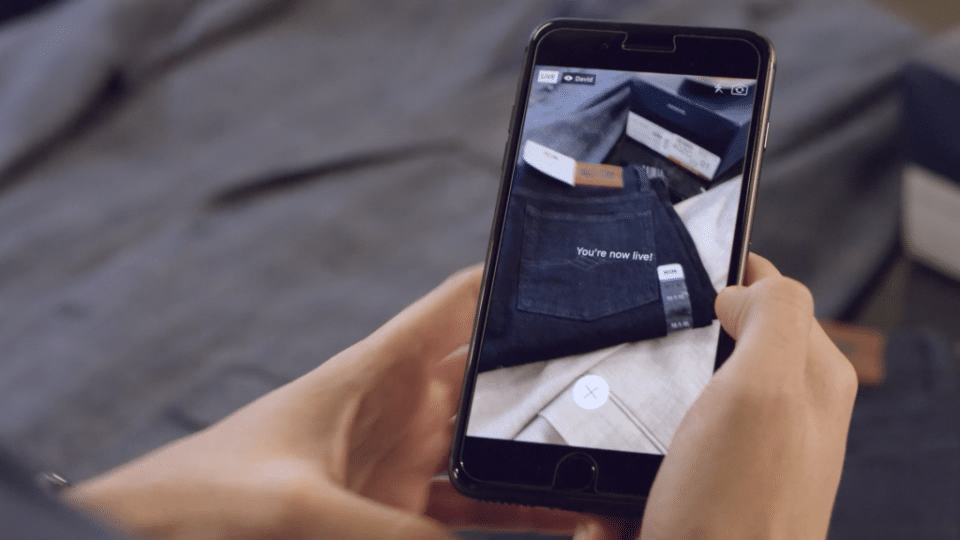 If you thought omnichannel was one of those long-discussed but never achieved concepts, then meet your new Hero. The company's simple, but effective, concept brings online shoppers together with expert in-store staff to provide advice, answer questions and make sales in real-time.
Requiring only an app to get started, Hero means that store associates can make more of quiet periods in-store by using their selling and relationship-building skills live online. The results speak for themselves. Hero reports a ten times higher conversion rate for online customers and a 40% higher spend at checkout when they live shop with an in-store associate. They're also 50% more likely to keep the items they purchase, which goes some way to solving the returns problem.
We spoke to Adam Levene, Hero's founder, to get the lowdown on how it works, what's next on Hero's agenda and why there's so much more to omnichannel than a buzzword:
How would you describe Hero in a nutshell?
Hero is an omnichannel commerce company based in London and New York. We empower the tens of millions of retail associates who are in stores across the world to connect with the hundreds of millions of customers who are on a retailer's website.
A shopper browsing their favourite shopping website can tap the Hero button at the bottom right of the screen and in less than ten seconds be connected to an expert associate in-store. That can be through chat, through photos, through video or through live video-streaming to give the consumer the same experience they're used to finding in-store wherever they are in the world.
The win for the retailer associate is they're not waiting for customers to come in-store. It's all about helping them be better utilised, but they can also really boost their earning potential as they're able to meet all of these new customers online.
The win for the retailer at C-level is bridging the gap between two areas of the business that have usually been quite siloed – e-commerce on one side and physical retail on the other. Hero is solving a real-world problem for them in bringing those two sides of the business closer together to make both work smarter.
The company has really grown in the last year. We opened our office in New York in January 2017 which is very exciting and brought on a number of new investors. We've also tripled the headcount of our team since January last year and grown the number of partners we're working with.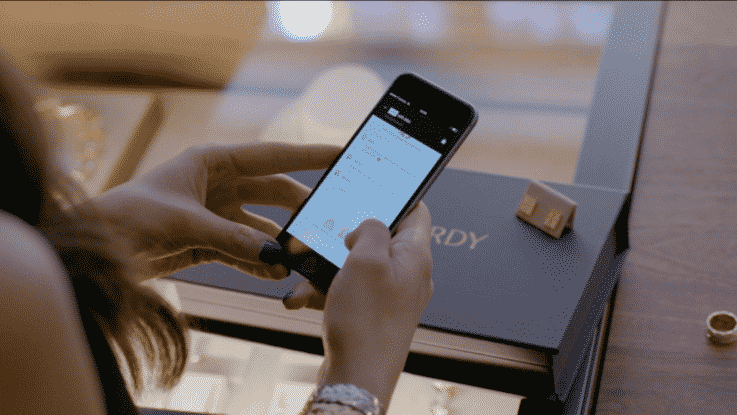 What is the main use of the system?
Hero works across a number of subsectors of retail – luxury, apparel, homeware, technology, beauty – so really the query changes based on the vertical of retail. In something like apparel often it comes down to size and fit. That's a really critical question and often what you see the consumer doing is either not buying because they don't have the comfort around size and fit or they buy two or three of the same item and then return two or three of them and that really eats into the margin for the retailer.
What Hero does in the middle is connect you to an associate who usually has proximity to the stock and can give their expert recommendation on the size. Some associates will go further than that and will find a colleague who is a similar size to the customer they're speaking to online. The colleague will try the item on, the associate will take a photo of them and then they can send this visual proof to the customer.
Traditionally buying beauty online is really hard, especially if it's a new brand or product that you perhaps haven't tried before. But again, if you're connected to a knowledgeable associate who can be live video streaming with you showing you the item being applied or putting swatches of various shades on the back of the hand that gives the customer the comfort that it's going to suit them. It is a really powerful way to make sure the customer has the desire to go through and buy because they know it's going to be the right item for them first time.
If a customer is looking at a particular product online, does Hero know where that product is in a real store or it does it mainly connect them to the nearest store?
Usually it connects to the nearest store. In most cases the customer actually goes through to buy online, so they are agnostic to where the stock is sitting because in most cases it's sitting in a central warehouse to be distributed like any e-commerce transaction.
In some scenarios, and it really depends on the retail partner that we work with, a customer begins their interaction with the associate on the website and then they'll go in-store and actually continue shopping with the same associate in-person.
What sort of range of partners are you working with?
We very much started within luxury working with a number of the LVMH maisons and a number of the Richemont brands, but also high-end department stores like Harvey Nichols. Why we wanted to start with luxury was because we said if the best brands in the world who are used to providing the most amazing, most personal experience are happy to embrace technology like this, and importantly bring devices onto the shop floor and show that as part of their offering they would have a service like Hero, then that would really educate the rest of the market.
We're actually seeing that hypothesis come true and a number of brands, whether premium or mass market, are really starting to follow what the luxury guys are doing in terms of investing in omnichannel and service by digital.
Over the past 12 to 18 months we've been pulled into just about every facet of retail from Credo Beauty to Tailored Brands which is the parent company of Men's Wearhouse and JoS. A. Bank in the US to Heal's.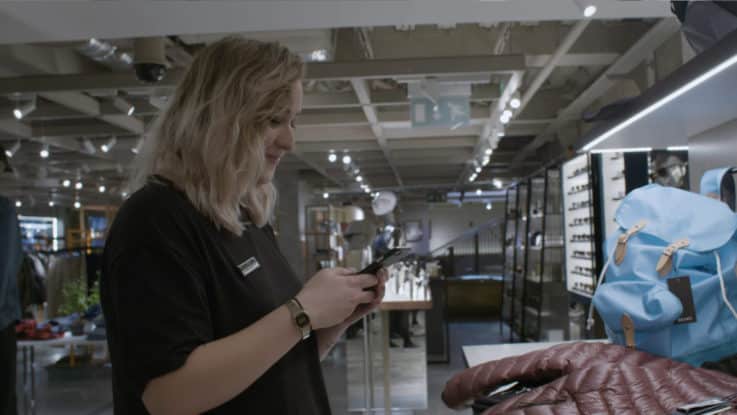 Are there certain times of the week that are busiest for interactions through Hero?
The associate has to go available. When there is some downtime in the store, they pull out the Hero app, they go available and they serve the query from a shopper in real-time from the website. There's no expectation that 24 hours a day an associate has to be serving only online customers.
We've designed it to be really flexible around the busy trading periods you expect to see on the shop floor, so Saturday morning you may not see the same peak level of availability of associates. But actually, from looking at the data there's very clear overlaps between some of the busiest times when shoppers are on the website browsing and when there's some of the quietest times in store.
For example, on Wednesday afternoon around 2:00pm you see a big spike in customers always shopping on websites and that traditionally is one of the quietest periods in retail. It really comes down to supply and demand making sure there's enough associates available in-store to service the huge amount and often growing traffic that is hitting a retailer's website.
Can you tell us a bit about the data the system captures?
We think about data in a number of ways. Naturally we're capturing hundreds of millions of data points a month now just based on the scale which we're reaching but actually the first set of data we think about is transactional data.
We see the data positively impacting three main metrics for a retailer and that is increased conversion rates, increase in average order values and then a reduction in returns. Then you've got additional data points that are really there to provide a far more personalised experience to the shopper. For example, we capture what the shopper is looking at in real-time and then share that with the associate that's serving them, so the associate can give a far richer warmer experience.
What are your long-term plans for the future of Hero?
We think about omnichannel as being one of these terms that has existed in retail for a number of years, but actually it's been quite hard for retailers at C-level especially to bring that ambition to reality. I think Hero is solving that today, but there's so much more that can be done.
Omnichannel is broad by nature and there's so many ways in which you can bring the physical experience of the store closer together with the convenience of e-commerce. That really is our North Star. We're there to be a valuable partner to the retailer. We think about Hero as a commerce company rather than just a technology company. We're really there to drive the transactions and growth for our retail partners.
We're rapidly iterating our platform always. From a product point of view there's so much more to come as we think about the end-to-end shopping journey that a consumer goes on. We've got a lot of exciting stuff coming around discovery this quarter for example.
Purchase consideration is where Hero is very strong today with our live shopping feature. Last year we invested in a feature that we call Black Book which is allowing customers and associates to stay in touch in a really mobile-first, effortless way to build the relationship and loyalty. But actually, there's so much more to come even beyond that.
Being able to identify, for example, who a customer is when they go into store is very critical. If a customer spends even five minutes on the retailer's website, we have been able to capture so much data about them to be able to deliver a more personalised experience. Yet that same customer can go into store and right now it's really hard to identify them. It means you can't offer them that same personalised experience.
We've got a number of things that we're working on that are going to allow us to really get closer to solving and closing the gap for a retailer to really build out that single view of the customer wherever they shop, whichever channel they shop. Those features will be coming out around the midpart of this year.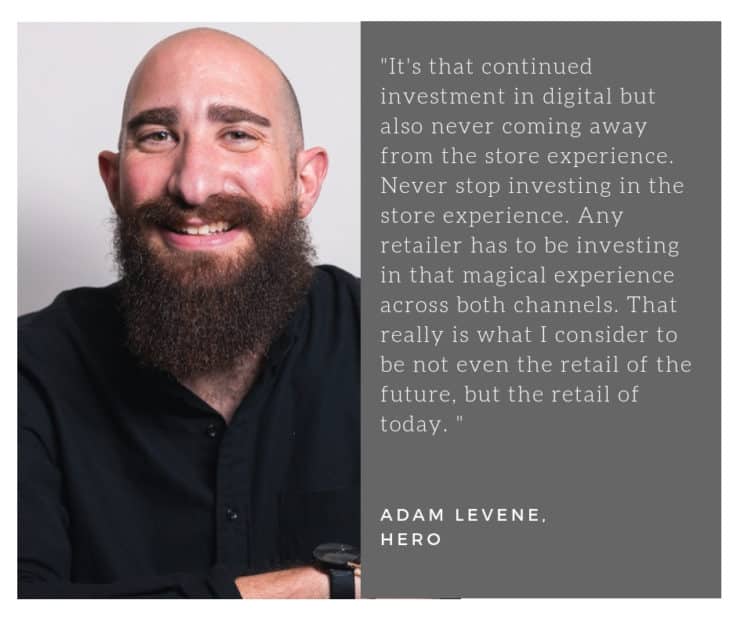 How do you determine what to do next?
I think Hero has this huge advantage today which is that we are software based. In most scenarios the associate is actually using their own device when they use Hero. What we would never do is ask the retailer to invest lots of money in hardware. Because we have software in the hands of the associate it's almost limitless in terms of the potential of where we could take it, but I always come back to the customer value proposition.
You have to start with the consumer especially when it comes to privacy and sensitivities around commerce. There has to be a customer benefit and they have to be able to opt into it and want it. You can't build a strong business without those values. I think we are always very focused on what the very best consumer experience is, as well as what the very best store employee experience.
We've identified through the hundreds of thousands of interactions that happen on the platform every month what some of those key use cases are. One example is reserving in-store. This is a really critical journey that a number of shoppers are taking when they use Hero. They may not have the confidence to buy then and there online, but they want to make sure that the item is reserved and when they go into that store they can pick it up effortlessly. Building out a proposition around that use case and being able to understand who the customer is when they arrive in-store you're really providing the same win to the customer and to the retailer.
What would you tell a new retail partner to do to get the most out of working with you?
The first thing I'd say to a retailer wanting to get started is to think about the experience that is being provided in the store today that makes you unique. and then how do you amplify that online? I think that's often the starting point for many of the best retail partners we work with.
They already have a tried and tested formula that has made their brand unique and the experience they provide in-store unique. The way they see Hero is an extension of that rather than something new or something scary. They say 'we've trained our associates brilliantly, they're highly knowledgeable about the product, they can diagnose a customer need and requirement within seconds, so how do we extend those skills to digital?'
It's about equipping the existing store teams with this technology, but it really is that same art of selling they're used to in-store. Being able to extend that online is a very critical way of thinking about Hero. It's just an extension of what they've been doing for decades so well.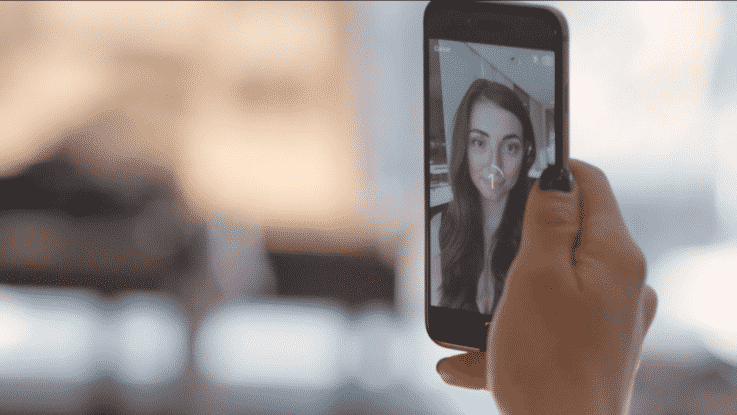 Can you ever imagine some of your clients setting up 'dark Hero spaces' where they can answer all these customer questions, but it's in a much cheaper area for real estate?
This comes up a number of times with our more advanced retail partners and some of them are really starting to deliver on that today in a slightly different way. They're actually extending the opening hours of their store but not publicly facing. One in the UK has done it into the evening and one in the US has done it by opening the store earlier in the morning.
If you were shopping the website at those times you would be able to shop with those pool of associates in the store live through Hero. This is really starting to understand again the busy times on the website and making sure you can provide that fantastic experience during those peak hours. I think that the change we'll see in the long term is a shift in store opening hours and then opening patterns around some of the web traffic.
But I think that's the starting point for some retailers to go 'could we actually complement our existing store network by opening these dark stores that are there to really service online customers?' Not too dissimilar to the way that the online grocery businesses have these picking stores.
Are there any other retail technologies that you think are worthwhile?
I'm a tech optimist. Sometimes technology is just further ahead than the retail brands are so perhaps it has a slightly delayed traction in the market. If anything, what I'm not as optimistic on are some of the technologies that exist to serve retailers that don't provide uniqueness in the proposition.
I think about data and analytics as a big part of this. There's a lot of overpromise in the market and lots of tools that are very similar that don't necessarily deliver the return for retailers. I think the onus is on these technology companies to really stand out and prove their value or demonstrate the return they can bring to a retailer but also make sure they can be really focused on solving a challenge especially when it comes to the consumer.
I think about visual search as being something very exciting but as yet to find its real strength. The idea of a consumer taking a photo and having the item identified and then going through to buy that with one click I think that's one of these fantastic propositions, but actually I think it's about building that technology into a wider set of tools for the consumer to make that really valuable. Seeing stuff like that in isolation – is it solving a problem necessarily for the consumer?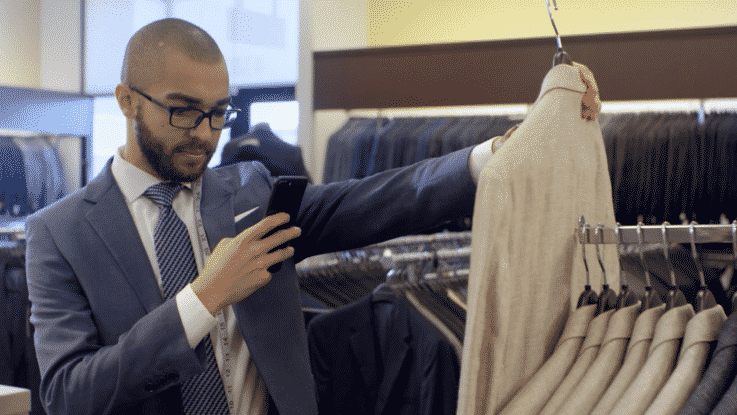 Is adding image search to the system in your roadmap?
We see the potential for it in a number of ways but it's not something we're actively investing in right now. That's partly because actually I don't think the results are necessarily as accurate as you'd want them to be to make it a mass proposition that we would need for our retail partners today. But there are certainly use cases that we see that are really fascinating.
For example, when consumers start their interaction on Hero with an associate often they're sending them an Instagram screenshot. We love scenarios like that. But you really have to have the confidence in the technology if you wanted to automate that experience. For now we are able to rely on a growing network of expert associates that we think can do a better job of helping the customer in the moment.
Which retailers do you think are changing the industry and moving things forward?
I'm always most impressed by Nike's continued investment in new store experiences because that really is a legacy business that is acting like a digitally native brand. I love their new direct to consumer strategy when they're putting more emphasis on having the relationship with the consumer. I love their experimentation. They're trying so many different things and you can only admire it. Some will work, some won't but that's the nature of innovation.
I like companies like Peloton because it's all about experience. Seeing what they're doing from a retail perspective is fascinating. They're doing exactly what any 21st century brand should be doing which is not opening hundreds of stores but opening a number of stores in key cities that help a consumer experience something that is very hard to try and sell online.
I would also say Harvey Nichols. It's the oldest luxury department store in the UK, but that is a business that is innovating. E-commerce accounts for a significant chunk of that business now but actually their store experience is really evolving. Again, it's that continued investment in digital but also never coming away from the store experience. Never stop investing in the store experience. Any retailer has to be investing in that magical experience across both channels. That really is what I consider to be not even the retail of the future, but the retail of today.
Images courtesy of Hero