Strategy
Why are shop-in-shops on the increase?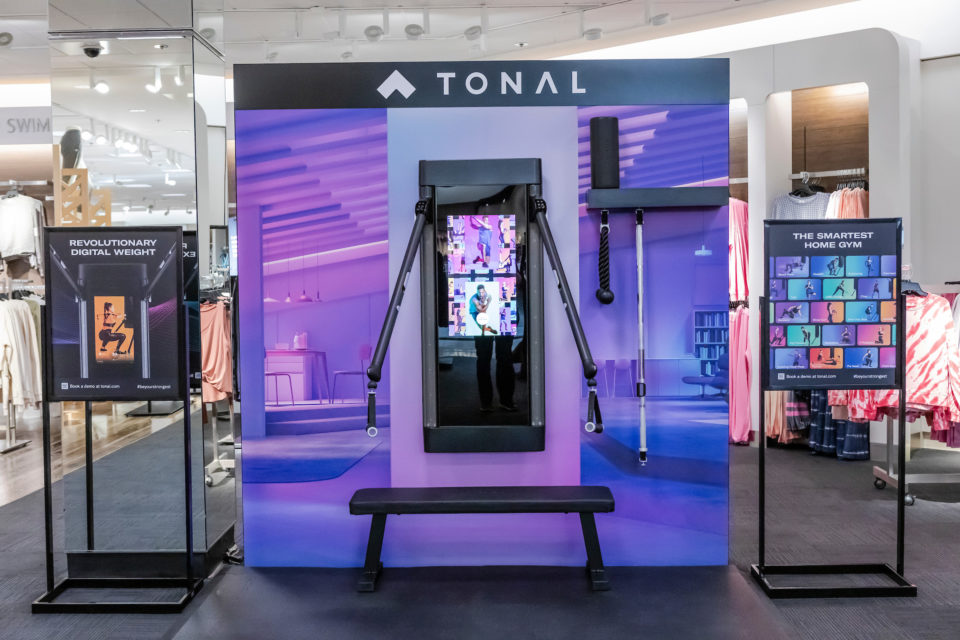 Target and Apple. Sephora and Kohl's. Homebase and Next.
These are just a few of the household names teaming up on shop-in-shop concepts.
While the idea isn't new – the traditional department store is essentially built on it – interest in shop-in-shops appears to be on the up.
It's not a case of pure necessity.
Many of the brands partnering on shop-in-shops, including those aforementioned, are highly successful in their own right and operate existing standalone stores.
So what does the shop-in-shop concept offer that they don't have? And why is it on the increase?
What are shop-in-shops?
A shop-in-shop is exactly what the name suggests. It's where a brand or retailer opens its own smaller retail space inside another retailer's store. This could be anything from a stand to a full-blown mini store.
It's also known as a concession or store-within-a-store.
For the retailer with a large store, a shop-in-shop partner helps to cover running costs by paying rent for the space they occupy in the store. It's a way for retailers to keep their store feeling fresh and to always have something new to offer customers without having to come up with concepts or assortments themselves.
It can also help large retailers in attracting more footfall and a wider customer base.
In most cases, there is a certain level of cross-over between the customer bases of the two brands involved in a shop-in-shop concept, but there is also a point of differentiation.
It may be that the partner brand sells a product range that the host store doesn't. Or it is an industry leader that the host knows customers will be looking for. In this case, many would prefer to benefit to some degree from the sale by facilitating it through their store.
The benefits for the retailer or brand opening the smaller space inside the large store include lower running costs. It's far cheaper to fit out and operate a small-scale space than an entire brand store. The host store may even cover the staffing of the partner space.
In some cases, a shop in a larger shop can help brands to move into new, attractive locations that they couldn't afford to on their own. Prime real estate is often accompanied by a high price tag, so a concession can make these locations more accessible.
The host store may also be located somewhere impractical for the partner brand to open its own store. For example, out-of-town retail parks typically only offer very large units that may not be suitable for some brands' solo offering.
The partner brand also benefits from the foot traffic that the host retailer attracts.
Who is opening shop-in-shops?
A better question might be who isn't opening shop-in-shops?
As mentioned, earlier this year Target announced that it would be opening mini Apple stores in 17 locations. The spaces will be dedicated to Apple with an experiential focus and staff will undergo special training.
It follows an announcement at the end of 2020 revealing that over 100 Target stores would be gaining shop-in-shops from Ulta Beauty. Again, a high level of customer experience is the aim with the concession being manned by expertly trained Target staff.
Another company embracing beauty concessions is Kohl's. It has announced a huge shop-in-shop programme with Sephora which will see 850 mini Sephora stores in Kohl's stores by 2023.
The Sephora shop-in-shops will replace Kohl's existing beauty offering. In turn, the deal will replace Sephora's existing shop-in-shop partnership with JCPenney that will end in 2023.
US department store Nordstrom has partnered with Tonal to open 40 shop-in-shops dedicated to the high-tech fitness mirror brand.
In Canada, sports apparel retailer Lids is opening 45 shop-in-shops with DSW and The Shoe Company.
Meanwhile in the UK, clothing and home retailer Next has agreed to open mini garden centres in six of its stores in partnership with Homebase.
Another Next partnership is with clothing and furnishings retailer Laura Ashley, which fell into administration in early 2020. This includes a shop-in-shop space at Next's Westfield store in London's Shepherds Bush.
UK department store John Lewis has announced plans to put mini versions of its stores into most of its Waitrose grocery stores over the next year.
These are just the tip of the iceberg.
What's driving the increase in shop-in-shops?
Let's address the elephant in the room.
The impact of the coronavirus pandemic on retail has undoubtedly influenced the recent increase in shop-in-shop concepts.
In difficult times, brands want to reduce their risk. One way for retailers to do this is by teaming up with others, such as through shop-in-shop concepts.
Concessions reduce the financial burden on both partners by acting as an additional source of income for the host store and a cheaper alternative to a standalone store for the partner brand.
These partnerships can also help cushion the impact of events such as the coronavirus pandemic by maximising footfall. When customers are looking to minimise the number of shopping journeys they take, they favour locations that meet as many needs as possible.
As such, shop-in-shops have been an increasingly attractive proposition during the pandemic.
Shop-in-shops can also be a much faster way for brands to scale up their physical retail presence compared to opening their own stores. As the world moves towards a post-covid normal, this may be particularly beneficial for brands that want to quickly capitalise on a rise in in-person shopping.
The Covid-19 pandemic isn't the only thing driving the increase in shop-in-shops though.
As the cost of these concessions is also far lower than a standalone store, retailers can potentially afford to open in more locations if they opt for a shop-in-shop concept. This allows them to take advantage of trends, shifts in consumer behaviour, and brand hype.
Shop-in-shops are also a great test ground for brands looking to move into new locations, or even into physical retail for the first time.
By opening concessions first, the retailer can measure the response from customers and identify locations where demand may be high enough to warrant a standalone store. They can also tweak and test the physical offering based on customer feedback.
Another consideration is the capacity for partner brands to leverage the operational capabilities of their larger host.
In the case of Target and Ulta Beauty, for example, customers can access the same-day delivery services that Target already offers including curbside collection, click-and-collect, and Shipt same-day delivery.
Customer expectations are higher than ever, particularly around delivery and convenience. By tapping into a partner's existing operations, brands can meet those expectations from the very beginning and at a lower cost than going it alone.
The shift towards omnichannel is another influencing factor. Supply chain advancements have made it possible for retailers to run large-scale operations from small spaces by shipping products directly to customer homes or to the store for collection.
As such, they don't always need a large physical location to hold stock in. The focus may be more on close proximity to customers. Shop-in-shops can help meet that need.
Traffic is another consideration. This isn't only in terms of footfall in the physical stores, but online as well. Some shop-in-shop partnerships now see the partner brand's products also listed on the host retailer's website.
Many of these large retailers like Target and Kohl's have significant brand visibility and pull when it comes to online traffic, which helps their partners to reach as wide an audience as possible. Again, the terms of the partnership may enable the brand to use the retailer's supply chain and logistics operations, enhancing their ecommerce offering with minimal time and effort.
Another consideration is that many of the large traditional department stores that would previously have been an obvious choice for brands looking to open shop-in-shops have struggled in recent years.
This has forced brands to cast the net wider when looking for stores to partner with, which has opened them up to new markets and possibilities.
Conclusion
The reason that the shop-in-shop concept remains strong is that it is mutually beneficial for both parties.
The reason it's on the rise is that shop-in-shops are reflective of the flexibility that is at the heart of modern commerce.
After a year of uncertainty and the inability to conduct business as usual, retailers are acutely aware of the need to be able to quickly adapt to change.
Shop-in-shops are one way that they're doing that. This goes for both sides of the relationship.
The host retailer is adapting by spreading risk and maximising sales by not giving customers a reason to go anywhere else. The partner brand is adapting by reducing its physical retail operating costs and meeting new customer service expectations.
In fact, the benefits of shop-in-shops have inspired a host of new businesses dedicated to the concept from Showfields to Neighborhood Goods. These companies rent space in their store to brands who benefit from the traffic and community the space generates.
Shop-in-shops may not be a new idea, but they are an evolving one. And this is precisely why retailers are still embracing them.
What's the best physical retail mix for your brand? Our expert retail consultants will help you map out the spaces that make sense for your business.