Retail
A new partnership? The independents and the high street
by Cate Trotter
September 3, 2014



Crowds on Oxford Street. How can high street brands work successfully work with independents? Image credit: Richard O'Beirne
The balance between chains and independents on the high street has always been a delicate one. While the chains can win customers with price guarantees, now that the economy is on a gradual rise – and purse strings are beginning to become slightly looser – one of the developing high street trends is the new relationship is forming between the little guys and their larger brothers.
It's not just that people have more money to spend. There's an appeal to shopping independents in terms of people perceiving them to be of greater quality, or to be more ethical, especially when contrasted to recent mass-production headlines, from the horse meat scandal, chicken contamination and the Bangladeshi factory collapse.
Independents have been able to leap on this, using ethical buying and awareness at the forefront of their push and family-run businesses and locally-sourced produce are the new buzzwords.
Yet for all the good intentions of shoppers, convenience and price are still mainstays and that will likely never change and there has been a realisation on both sides of the street that perhaps these two brothers actually need to work together. Chains can use independents to give them 'authenticity' while independents can benefit from the backing, support and stage their bigger brother can offer. As a result, there's been a trend for independent businesses to crop up in some of our better-known chain stores.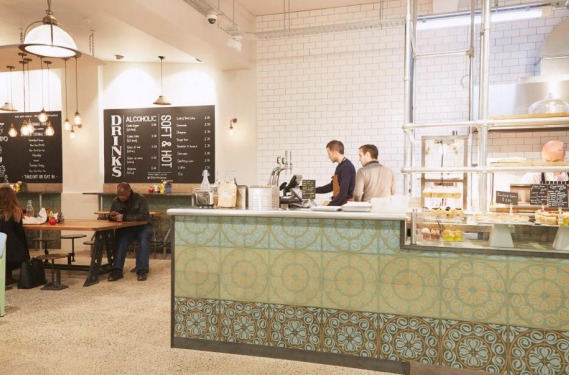 Eat17 has teamed up with SPAR. Image courtesy of EAT17Hackney.

East London has for some time now been the purveyor of new trends, with new businesses cropping up on every corner and in the most unlikely of places (The Convenience café in a converted toilet block anyone?) but when family-run Eat17, the creators of Bacon Jam relish (yum), came up with the concept of opening a burger bar and café inside a SPAR, it seemed an unlikely marriage.
But two stores up and running, stocking a plethora of local produce from florists RebelRebel, wine merchant Borough wines, Crate brewery and Roasting shed coffee, all alongside your everyday SPAR produce, it appears to be a match made in heaven.
A similar idea came courtesy of Tesco teaming up with Harris & Hoole, a family-run coffee company now housed in Tesco stores across the UK. Their association with Tesco and the revelation that they are in fact part-owned by the supermarket giant have led to criticism that their indie look is all a front.
The balance between chain and independent is one that needs to be handled carefully: The bookselling chain Waterstones, for example, has been recently criticised for its Southwold Books shop: the first store not to use Waterstones branding.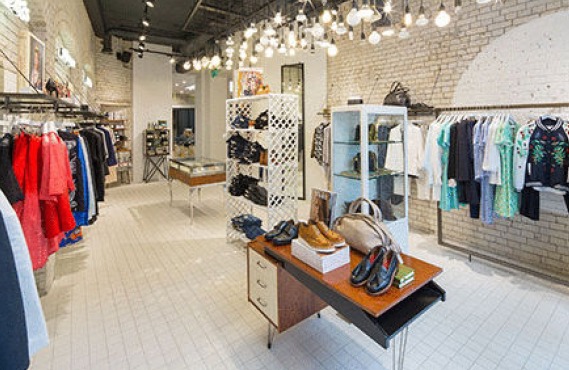 Jigsaw Duke Street Emporium. Image courtesy of Jigsaw
A more successful example comes from the fashion world, and high street brands opening concept stores. Premium brand Jigsaw has lead the charge by opening an emporium on Mayfair's Duke Street. As well as housing Jigsaw's full catalogue, the store showcases other brands such as The Shop At Bluebird and Fernandez & Wells, a London based coffee shop, who have a small, yet growing cluster of coffee houses.
It's interesting to speculate whether this is a long-term shift in high street trends, powered by the aftermath of the economic recession and ethical concerns. As the protests surrounding the initiatives of Tesco and Waterstones illustrate, it's a partnership that needs to be negotiated carefully.
Related Articles
Below are other articles from our blog that cover similar topics: