Strategy
How to Build a Futureproof Omnichannel Retail Strategy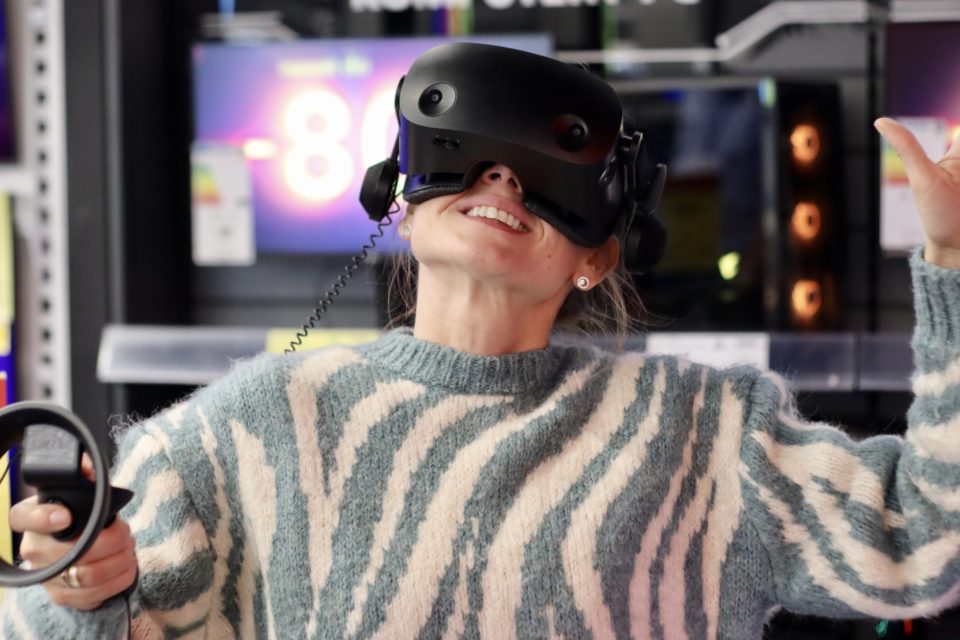 Your business needs an omnichannel retail strategy.
But not just any omnichannel strategy.
You need to aim for a futureproof omnichannel commerce strategy if you want to succeed.
Omnichannel retail connects all channels and touchpoints so customers can move effortlessly between them in a single customer journey.
This is how your customers want to shop – not just now, but in the future as well.
There is a reason why omnichannel retail is as much a mindset as it is a way of selling and building customer relationships. It's because omnichannel retail is an ongoing thing, a journey not a destination.
If you want an omnichannel retail strategy that can go the distance you have to always be thinking about the future – what does the next phase of omnichannel retail look like and how does my business get there?
In this post, we will explain the difference between standard, good and great omnichannel experiences, and how to futureproof your omnichannel commerce strategy through evolving, upgrading and emerging retail channels.
Contents:
● Omnichannel Retail – What's the Difference Between Standard, Good and Great Omnichannel Experiences?
● What's Next for Omnichannel Retail? (How to Futureproof Your Omnichannel Strategy)
● Are You Ready for the Future of Omnichannel Retail?
⚬ How We Can Help With Your Futureproof Omnichannel Retail Strategy
Omnichannel Retail – What's the Difference Between Standard, Good and Great Omnichannel Experiences?
Not all omnichannel retail is created equal.
If you want an omnichannel retail strategy that is truly futureproof, you need to consider what type of omnichannel experience you're starting from.
A basic omnichannel commerce strategy will need to evolve and upgrade sooner than a more fully fledged omnichannel ecosystem if it doesn't want to quickly become outdated.
Below we outline the difference between standard omnichannel retail, good omnichannel retail and great omnichannel retail – and why it's worth pushing for great as soon as possible.
Standard Omnichannel Retail
Standard omnichannel retailing involves letting your customer interact with you through a variety of channels, and ensuring they link together in a way that makes sense.
Standard omnichannel retailers have stores, websites and apps. They'll use social media to offer customer service.
Their channels work together in simple, but important ways:
A customer will be able to order an item online and pick it up in the store.

A customer can return an online order in the store.

A customer can buy a gift voucher online – or offline – and use it in the other channel. It's possible to check the balance in any channel.
Good Omnichannel Retail
Good omnichannel retailing goes beyond the basics, and brings the strengths of different channels together in new ways.
For example, some retailers post store stock levels live to their website, and even Google, so customers can make sure the item they want is in stock before they visit. By avoiding wasted trips, this boosts customer satisfaction in the long run. Some brands have found that this increases sales by 2-3% – which can add up to a lot.
Some brands let customers who are viewing the website live chat with staff who are in the store. It means that knowledgeable staff can properly answer all of a customer's questions.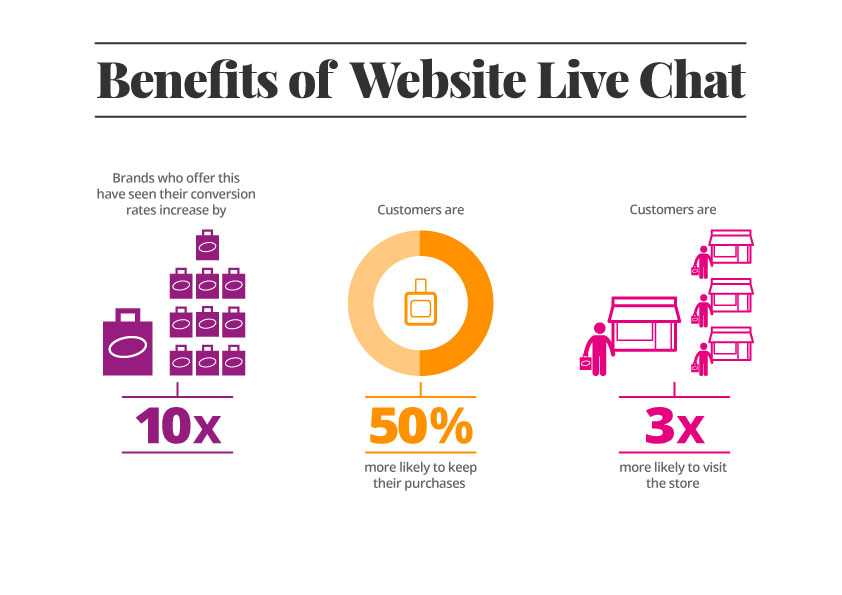 Other examples of good omnichannel retail are digital shelf tags that show product ratings in store, and 'in-store' app modes that provide more product information, loyalty points when customers recycle products in-store.
Great Omnichannel Retail
Great omnichannel retailers understand that EVERY SINGLE interaction with a customer is a chance to learn about them, so the brand can personalise and optimise the next interaction, wherever this happens to take place.
We know that interconnected, optimised journeys boost order sizes, conversion rate and repeat purchases – to the point where the average lifetime value of a customer can increase by 50%. Information really is power – or profit!
One of the best examples of great omnichannel commerce comes from Matches.
When customers arrive at its store, they can check in with their phones. This pings everything that Matches knows about the customer to tablets carried by store staff to support their interactions.
It can help suggest items that fit the customer's taste, based on their past views and purchases online. Staff can request stock from the nearby warehouse so that even items that aren't in stock right now can still be shown to the customer on the same visit.
The system also prompts staff members to keep in touch with key customers after they leave the store through personal messages with AI-backed product recommendations.
Even though continually learning, continually personalised retailing is fairly easy to imagine, this type of omnichannel retail is the hardest to execute.
It requires a single customer view that can constantly be accessed and have all sorts of data added to it.

While great omnichannel retail may be the most difficult to achieve, it's what all retailers should be aiming for when developing their omnichannel retail strategy.
Not only does it mean that your omnichannel retail will be the best it can possibly be at every stage, but it also puts you in the best position to lay the foundations for future improvements. For example, you can make informed choices about technologies and tools based on what you ultimately want to achieve – not just what is possible right now.
But what does the future of omnichannel retail look like?
What's Next for Omnichannel Retail? (How to Futureproof Your Omnichannel Strategy)
It's time to let you in on a little secret.
Omnichannel retail is futureproof retail.
When retailers design channels with the full ecosystem in mind, it means some channels can evolve.
Others can be upgraded and integrated into the retail ecosystem.
Emerging channels and possibilities can be identified, ready to integrate when the time is right.
It's in these three different areas – evolving, upgraded and emerging – we can see the trends that will shape omnichannel going forward.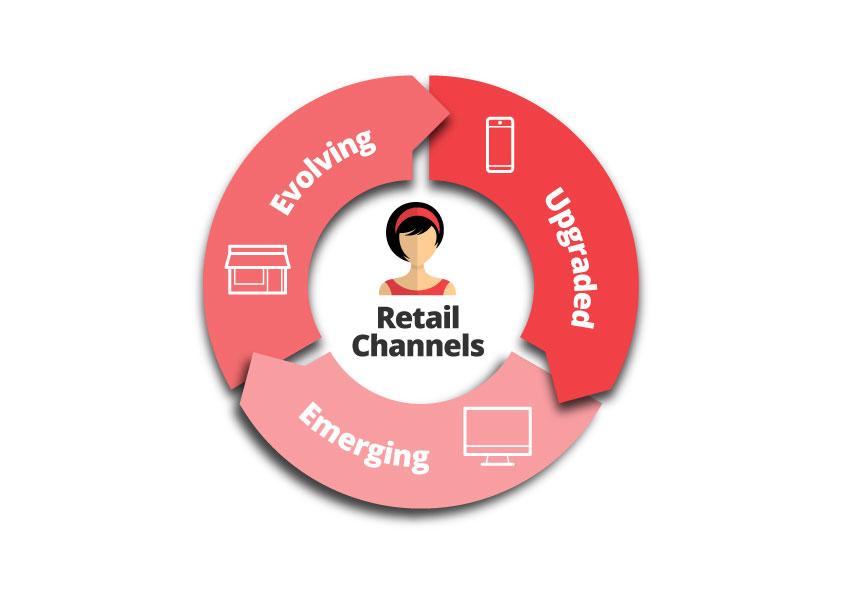 Evolving Omnichannel Retail
There's a range of traditional retail channels whose function shifts once they're integrated into a digital-first, omnichannel ecosystem.
The channel that's changing the most is the store.
The store is a fantastic place for customers to discover brands and items, for them to ask questions and get great service, and for them to deepen their relationship with a brand. But the product itself can be provided to the customer for 30-40% less if it's not distributed through the store.
In the past, the store was literally a place to keep stock. Now it isn't needed to store items, which means that instead of referring to them as stores, we encourage clients to call them spaces. By changing how you refer to them, it will encourage your company to change how you think about them, which will change how you use them.
Physical space remains an important element to round out and enhance the total omnichannel experience by doing things digital channels can't.
The role of space basically boils down to 2 things:
Great, warm, efficient, human customer service

Memorable, multi-sensory, discovery-based experiences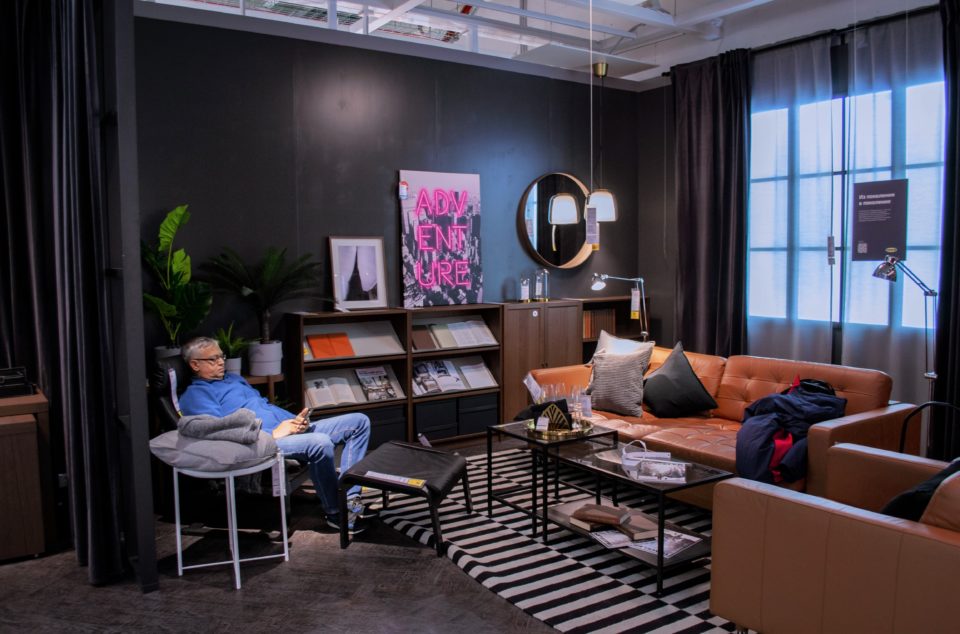 Examples of retailers who have reimagined their physical spaces in this way include IKEA and Nordstrom with their Planning Studios and Nordstrom Local spaces, respectively.
IKEA's Planning Studios showcase kitchens – its most expensive items. Because these spaces don't hold stock, they can be about 2% of the size of classic big box Ikea stores. This means they can afford to be located in high footfall, city centre locations.
These spaces give customers a great experience. They can see and touch a range of showcase kitchens for inspiration. There are a range of suites for customers to design their dream kitchen with an expert staff member. And of course, the space is far easier to get to than Ikea's traditional out of town sites.
Nordstrom's micro Local stores don't hold stock but they do provide fantastic service. Customers can go online to request items to try on in the space, or they can book a personal styling appointment. Items for them to try on are pulled from nearby large stores or ecommerce warehouses. It's easy to collect or return online orders, and to get items repaired or gift wrapped.
Nordstrom has observed that when customers engage across stores and online, on average they spend 5x more and profitability doubles.
In both of these examples, IKEA and Nordstrom are prioritising experience over stock. This makes sense – customers don't need the stock, but they DO want the human experience they can't get online.
The other thing that space can do that digital struggles to offer is memorable, multi-sensory, discoverable experiences.
Physical spaces are sometimes the most cost-effective way of introducing customers to a brand.
Online advertising is expensive and is continuing to rise in price. Adobe found that in one year, brands were spending 42% more online, but were only getting 11% more visits as a result.
As brands get less bang for their buck online, physical space becomes a more viable method for introducing a brand to customers. In turn, as spaces are increasingly used for marketing, rather than selling, they're being designed to create a more memorable, exciting experience.
These experiences don't always require permanent, physical spaces. Sephora has run a weekend-long pop-up festival that customers paid to attend. Tommy Hilfiger has run pop-up, blended catwalk shows, funfairs and music festivals.
Digital channels are also evolving by blending content and shopping, such as with shoppable social media.
Augmented reality is also transforming digital by making it more experiential and convenient.
Wayfair's augmented reality system doesn't just let customers see how potential purchases will look in their homes, it displays the items at the correct size, so they can check that they'll actually fit into small spaces or under counters.
It's also now possible to 'try on' glasses, hats, wedding rings and other items from home, via augmented reality. Tenth Street Hats reported that AR try-on boosted engagement by 74% and conversion by 34%.
Upgraded Omnichannel Retail
Sometimes, brands can get more benefit out of digital and physical initiatives, just by bringing them closer together.
Video shopping has brought brands some incredible results. For instance, a livestream by L'Oreal Malaysia brought in a month's worth of online sales in just 24 hours.
Brands can get even better results by incorporating other channels. Unilever has run livestreams where orders were fulfilled by local stores, rather than a centralised ecommerce warehouse. As a result, customers had their item in their hands just half an hour after ordering, which points to an exciting future for omnichannel.
We're also seeing brands such as BeautyCounter and Old Spice putting areas for livestreaming into their spaces. This enables them to get a greater ROI from their physical spaces by turning it into a content studio for online shopping as well.
Other channels can be upgraded when they're combined with other elements in an omnichannel ecosystem.

QR codes, image recognition and augmented reality mean that billboards or magazine ads, flyers, catalogues and even packaging can become interactive, and can therefore be turned into touchpoints that communicate and sell.
Customers can scan the pages in Net-a-Porter's printed magazine with their smartphone to order what they see. What's more, customers actually pay to get the magazine which shows the quality of the content and value it offers customers.
This commitment is paying off. Net a Porter says that its highest-spending customers are the ones who engage most with the magazine.
Geofencing can be used to upgrade digital channels, making it easier for them to deliver the right message at the right time.
Cosmetics brand Noelle did this to great effect by geofencing stores that its products were available in. When a customer walked into that geofence and opened up Instagram or Facebook, they were more likely to see an ad for Noelle's brushes, and directions to the store.
By offering a relevant digital experience in a relevant location, Noelle doubled in-store sales of its brushes. Its online sales also increased.

Emerging Omnichannel Retail
This leads us to the range of new, emerging channels that will transform retail even faster than it's changing now.
By 2025, it's predicted that 140 million VR headsets will have been sold – meaning up to 140 million households will be familiar with VR experiences and ready to interact with retailers in that way.
Balenciaga has already experimented with this – one of its collections was launched in a video game that could be accessed in 2D and in virtual reality.
Virtual reality stores will continue pushing the boundaries until they surpass in-person stores. The metaverse is also set to change the way we shop in the future by engaging customers in immersive virtual worlds.
Nike and Vans are just two big names to already be dipping their toes into virtual worlds via Roblox. Vans offers a giant virtual skate park where visitors can do tricks, customise their virtual skateboard and even order real-life merchandise to their door.
Nikeland invites users to take part in minigames or create their own, as well as buy special digital Nike products for their avatar. Their real-world actions can also influence their online ones thanks to the accelerometers in their smartphones and tablets.
By moving their device – and therefore body – in real life, users can complete moves in Nikeland like long jumps. The Nikeland Roblox experience has also been brought to Nike's physical store on Fifth Avenue in New York.
Retail will also start to be embedded in connected products. This goes beyond smart speakers and connected cars. Mirror is a smart, interactive, home workout machine which is now owned by Lululemon. That means Lululemon can offer their clothing through the device, giving them a personalised store of sorts in every customer's home.
We're also seeing brands experimenting with different digital technologies to allow users to share their level of product usage, earn rewards by doing so, and access those rewards in a brand space.
BMC is a bike company that places an NFC chip in some of its bike frames. This chip connects to the owner's smartphone, so it can start to log how often and where the bike has been ridden. The object becomes an interactive touchpoint that gives brands another way to boost engagement and connect with them, away from the store.
Another interesting take came from New Balance who opened a pop-up pub in the centre of London. Instead of selling trainers, it offered free pints – but only to those people who could show that they'd completed a series of runs tracked through Strava. The physical space was used to reward customers who took the most action, rather than those who'd bought the most.
These examples are totally new ways of imagining digital and physical interactions, which we'll see a lot more in the future.
They show how omnichannel can enable a more personalised retail future, where an individual's actions and preferences influence their interactions with the retailer.
Are You Ready for the Future of Omnichannel Retail?
Omnichannel is key to a successful retail future.
But it's not enough to just adopt an omnichannel strategy. It's vital that retailers invest in evolving their omnichannel retail to meet emerging and future customer wants and needs if they want to keep making sales and building strong customer relationships.
If you want an omnichannel commerce strategy that can adapt to whatever the future brings, you must:
Identify what your current omnichannel retail strategy is

Are you offering standard, good or great omnichannel retail?

Look at how your current retail channels can evolve

How can you use these channels to do more?

Consider how you can upgrade your existing retail channels

How can you bring digital and physical retail closer together?

Think about which emerging retail channels might impact your business

Which new technologies and innovations could allow you to connect with customers in new ways?
Understanding how omnichannel will change in the future is one thing, but putting a strategy in place that can flex to meet that future is another.
How We Can Help With Your Futureproof Omnichannel Retail Strategy
If you're wondering whether your omnichannel retail strategy is standard or great, or how to make evolving, upgrading and emerging channels work for your business, we can help.
We'll help you identify the best opportunities to futureproof your omnichannel strategy, with recommendations that will help you boost long-term sales and profits – without breaking the bank.
We can review and assess
Your brand's strategy, mission and target customer

Your store experience

Your digital experiences, including loyalty schemes

Marketing, advertising and social media

Data capture and flows

Technology platform, systems and architecture

And more
Book a call today to find out what your futureproof omnichannel retail strategy will look like.