Interviews
How Anchor Shops is working to stop retail and ecommerce self-imploding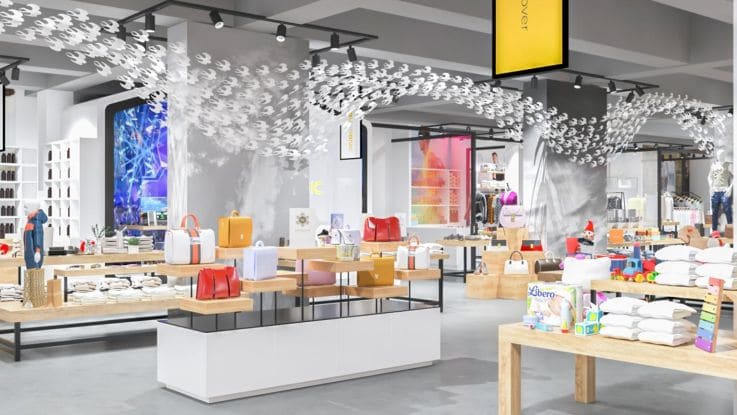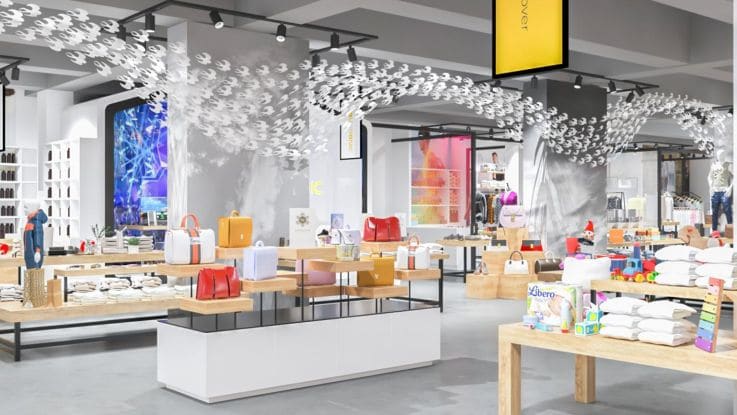 Last year we got excited about Shopping Fulfillment Center's plan to bring a hybrid storefront and distribution network to the shopping mall. It sounded simple, but with the potential to make a big impact.
It's also no longer a theory. Anchor Shops, as Shopping Fulfillment Center is now known, is working to open its first distribution centre and its first retail site as we speak. Located in Philadelphia, these spaces will help digitally native brands gain physical retail space – for no money upfront – and deliver to customers faster and more cheaply.
We caught up with founder and CEO Shlomo Chopp to talk about the company's first physical retail space, why retail is getting experience wrong and how Anchor Shops might stop retail self-imploding:
Shlomo Chopp, founder and CEO of Anchor Shops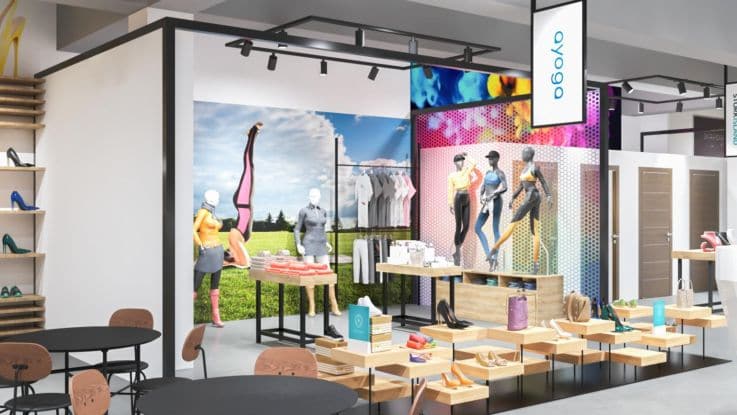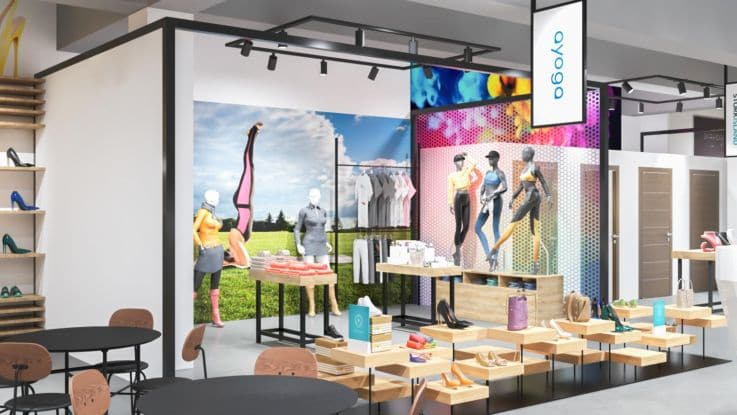 What's changed in the last ten months?
Our intention has been to create a national network of last-mile fulfillment facilities and retail with no upfront costs. The focus is on digital natives and delivering the localised infrastructure that not only helps them with retail sales but sales expansion and growth of the business.
We can provide brands with quick delivery for a record low price, expansion capability, retail presence and we do it in a very curated fashion with really cool brands – all without them having to raise capital. It's literally a game-changer.
We have successfully tied down our first retail site in downtown Philadelphia, which is an amazing location. It's steps away from the entranceway to a 22 million passengers a year train station. There's an amazing mix of people from school children to workers to families.
We're also developing our first distribution centre at Moorestown Mall, owned by Pennsylvania Real Estate Investment Trust. From a logistics perspective we will start servicing a very wide area all the way from the Hudson Valley in New York to the border between Virginia and North Carolina with next-day delivery at ground prices, which is a game-changer for brands.
Anchor Shops is meant to be a permanent solution. We can adjust and grow with a brand. On day one they could have two products on the table. On day 20 they could have a full table. Six months in they could have a shop in a shop. After two years they could have their own standalone self-branded store on our infrastructure with the same type of service.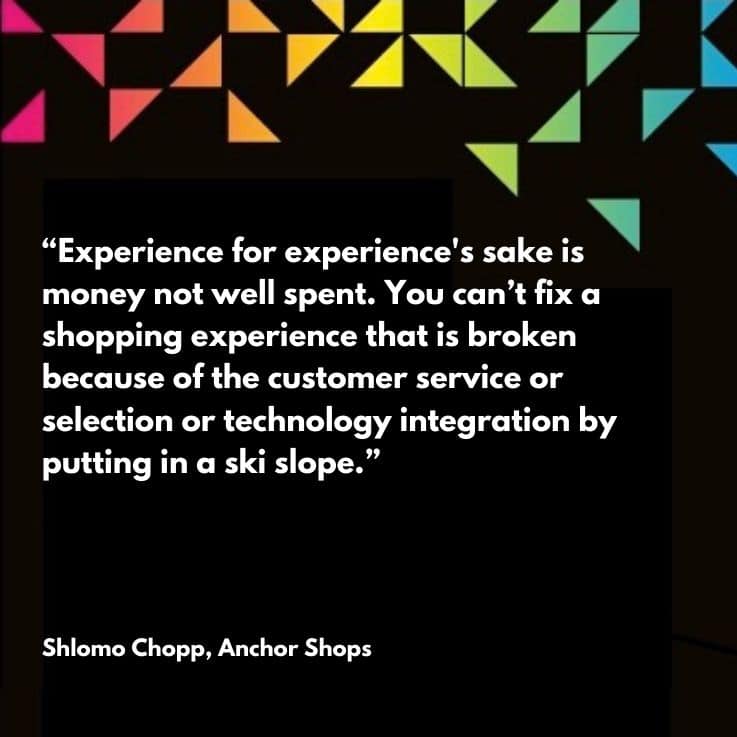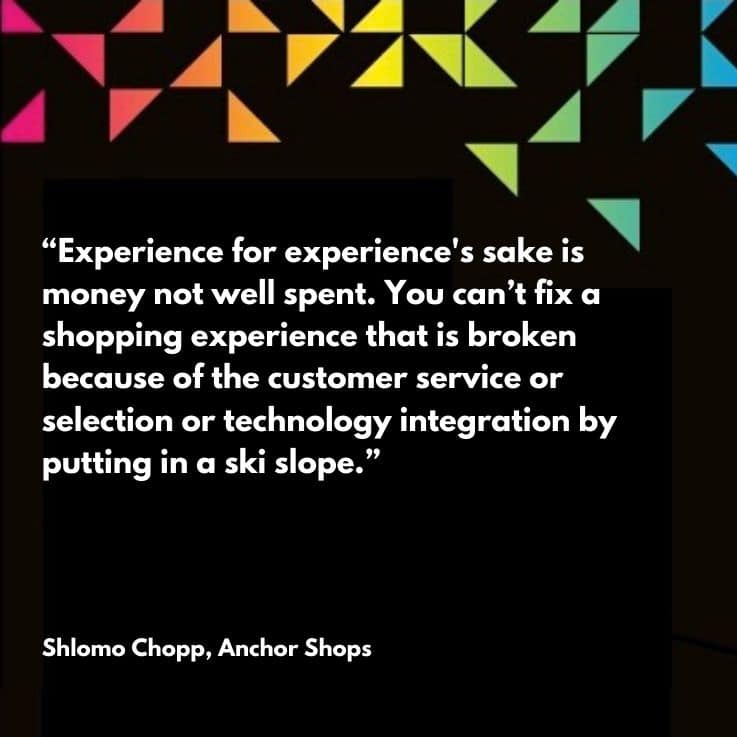 What was it about the Philadelphia market that made sense for you?
Philadelphia is a market where many digital native brands aren't, and they should be.
If you go to, for example, Hudson Yards the digital native floor has a lot of really cool stores and nice traffic, but no one's buying anything. It's New York City and the people who go to Hudson Yards don't necessarily live in NYC. In Philadelphia, you have a great mix of people who actually live there.
Some brands may argue that they don't need to sell product but if you're spending all that money on the store just to have people come in and send them to your website it feels like a waste.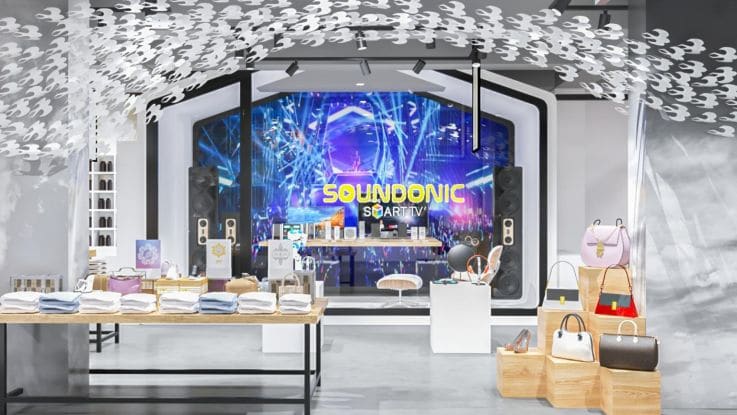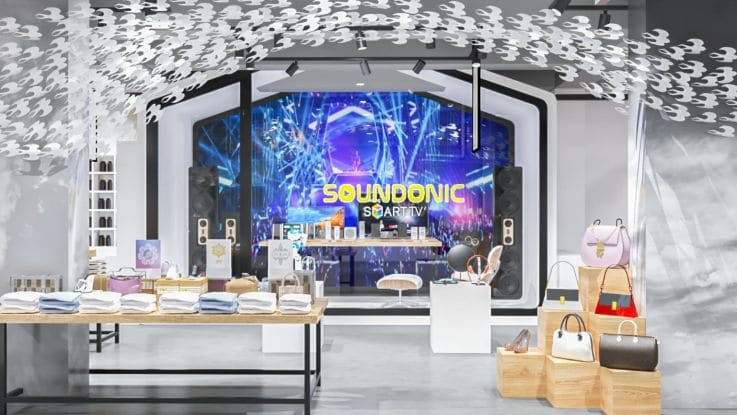 What kind of product category mix are you looking at?
We can hold approximately 40 brands total. The shop itself is designed to have multiple different environments or departments that bleed into each other.
We have deals in place in home, health and wellness, clean beauty, children's brands, food and more. We're heavily focused on better quality products that people aspire to have and make you feel good or are cool and interesting, rather than fast fashion or food.
We want to make this a place where shoppers always want to come back. What actually does that mean? Part of it is that you have a brand that's always going be there that you can come back to as needed as a home base for all your online purchases. You need a place to return it, a place to talk to somebody, a place to see the latest styles and not have to wait overnight to get it.
This is something that has been lost in a very big way unfortunately in retailing today –driving customer loyalty by always being there. Brands feel that their web presence is a sure thing and they just need a pop-up here and there from an experiential perspective.
The other part of it is to have interesting and up-and-coming products that you may not know about. You want to have the discovery component every time you go to the shop. But on the flipside, you want to have a reason to go there. We are trying to find that balance between utilitarianism and discovery.
A big part of what we're doing as well is customisation. We want to be able to offer customers customisation. For example, we have a close relationship with a company that sources excess material from various manufacturers. We're hoping to eventually combine that into some type of on-demand customisation where a customer selects a product that they like, and we take excess material locally, have it made for them, and deliver it to the home.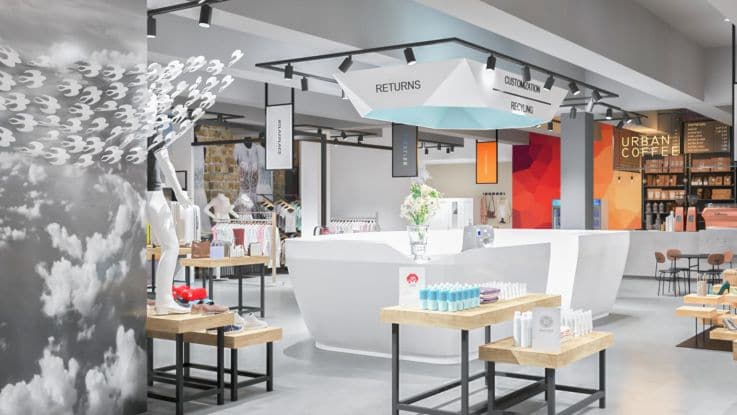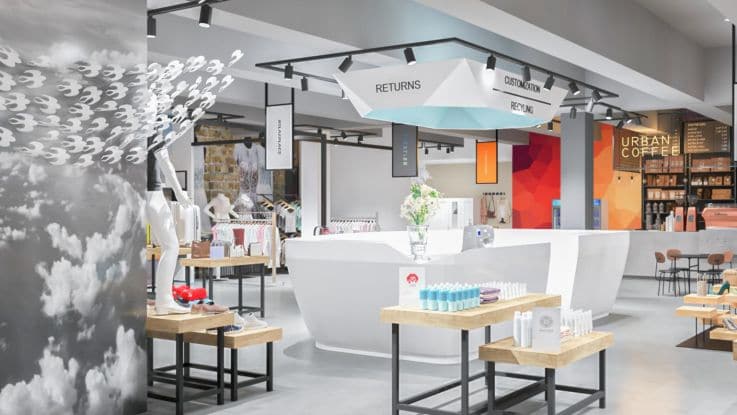 Do you think malls need more experiences or is the mix of online and offline shopping actually what customers are looking for?
I think what shoppers are looking for is convenience. This whole concept of experiential retail is born out of a desire to solve the question of Amazon – what is it about Amazon that gets people shopping with it and happy to wait a couple of days to get the product?
The answer is convenience. What some in the consulting business have done is try to take it to the next step and say 'what parallels can we take from this Amazon experience and translate that to retail? On one hand, you have the experience of convenience and on the other hand you have just an exhausting experience going to the mall. What if we were to perhaps sacrifice on some of the convenience of shop however you want, but instead, we gave you a reason to come to the store?'
I think what a mall is intended to do is to provide you with an experience of shopping that you will enjoy and not dread and also provide you with a reason for it to be. I think providing this flexibility of integrated online and offline shopping and allowing shoppers to shop where they want, when they want and how they want is in itself convenience that drives sales.
There are a lot of different components here that make up experience. When someone's come in you don't have people bombarding them to sell them products, but they're nearby and are very knowledgeable as needed. There is a seamless integration between online and offline. You know what you'll find in store ahead of time.
The experience of a ski slope is absolutely amazing but that does not translate to sales. That's essentially saying your mall doesn't work. It sounds like the tail wagging the dog and sort of a sorry excuse to have a retail property. I think what the world has to remember, and our vision is, that experiences should enable sales.
Experience for experience's sake is money not well spent. You can't fix a shopping experience that is broken because of the customer service or selection or technology integration by putting in a ski slope.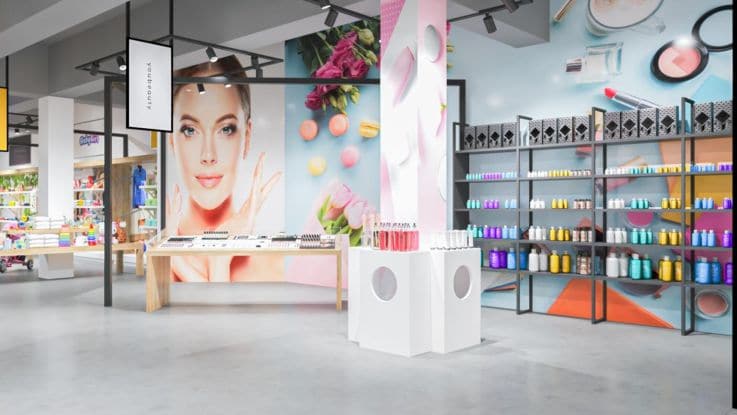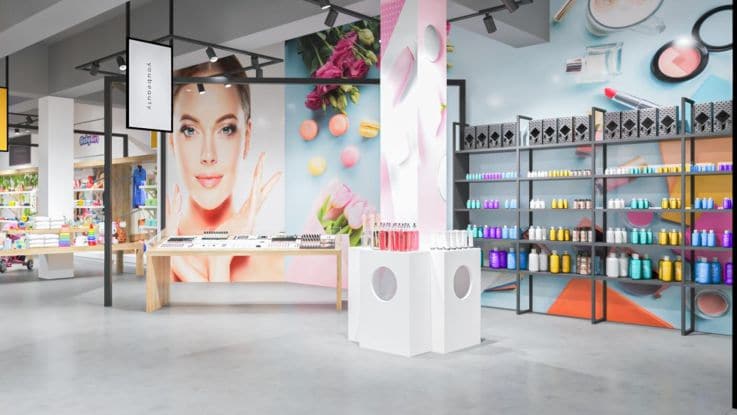 How does the process work?
It's important to note that we're not recreating any systems for these brands. We're actually plugging into their systems.
The transaction goes as follows: you're in-store, you buy a product, you take it off the shelf. At the end of the day, there is an order that goes from the store to our fulfilment centre to replenish the shelf of the store as any retail store does right now. But let's say you decide you want to ship to your home and it's an ecommerce order. Our PoS system sends it up to your Shopify or Magento, or whatever system you have, and that system fulfils the order just like anyone that is online.
It just so happens that because we're the local fulfilment centre in that market it then gets shot down to our fulfilment centre. Our staff in the warehouse actually picks the product, packs it, and sends it on its way. Same thing for anyone shopping at home. We use their existing systems to feed what we're doing.
We will have an app that tracks the shopper in the store. It will also have a map to help them find the product they want. Furthermore, as they walk through the store they will get location-based promotions. If they're standing three feet or five feet from a product, based on other data that we have, they will get a 10 or 20 percent off coupon that they can add to their cart. They could use the app to start shopping at home and finish shopping in-store and depending on integrations with the brand ecommerce system vice versa.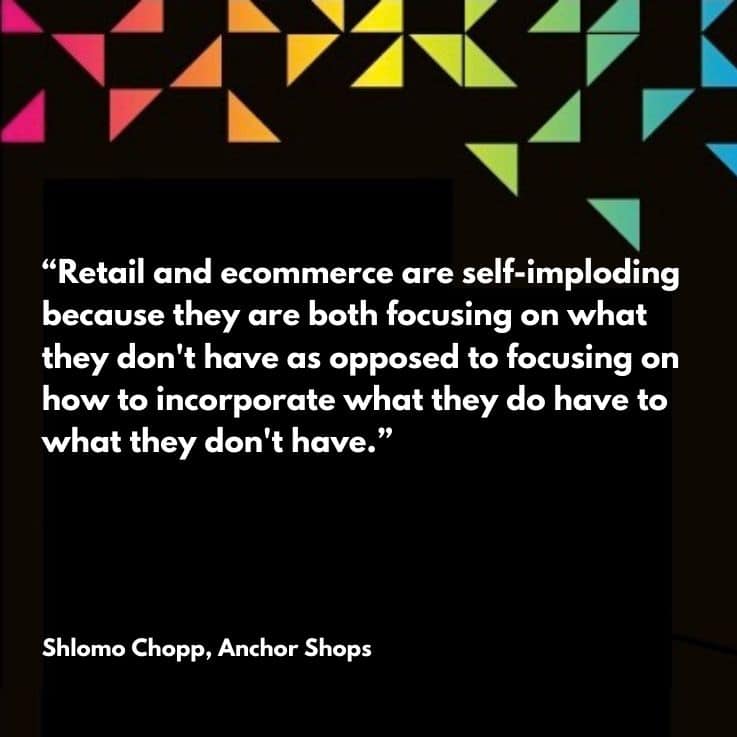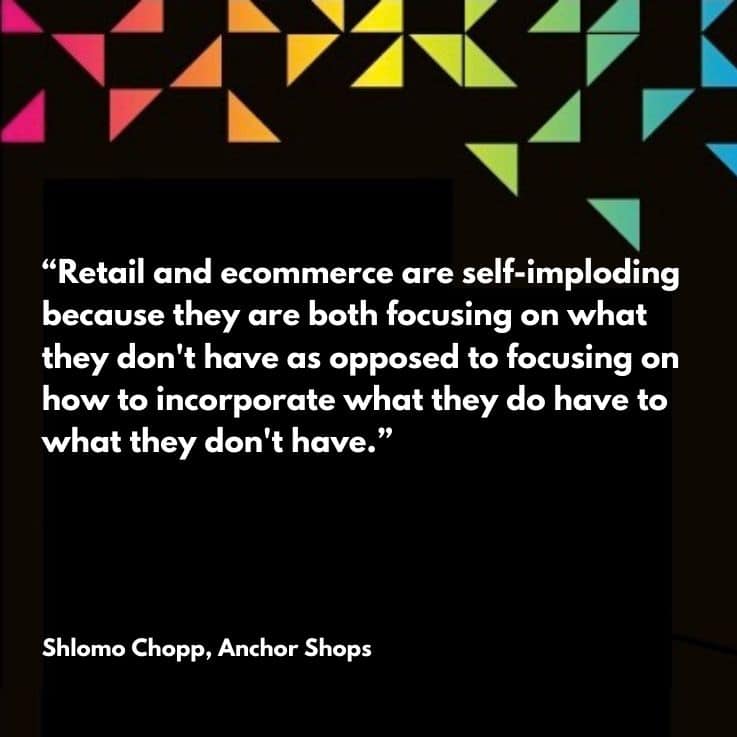 What data are you collecting and how does it relate to what people are doing online?
Data that doesn't come from sales is by itself flawed data. Knowing the shopper came to the store and looked around is one thing but what can you do with it? The actual conversion is what counts.
Data seems to be the excuse of many failing companies and middle managers who need a silver bullet. The reality is that data makes your property efficient and makes it work better. You could have all the indicative data in the world that I actually want to buy a couch badly, but if your customer service stinks or if your product isn't great or if you can't get it to me, I'm not going to buy from you.
The data that comes out of Anchor Shops is that we track anyone who has downloaded the app – where they go in-store, what they brought. We also have access to their purchases online. That sets up a big macro dataset of anonymised data that any brand that's part of Anchor Shops gets access to.
If you don't own that shopper you can still reach them by saying to us 'we want to target via the app a promotion to all shoppers that have acquired X type product in X time'. All of a sudden, you have an additional way to actually market to the customer and it's done in a much better targeting fashion than you'll ever find on social media.
But what if a shopper actually acquires something from you? Then you get access to the data of the shopper. This means you have the ability to market to them directly within your company independently of what we're doing.
Can you tell us about the patents you have?
The first one relates to a combination retail logistics facility picking products on-demand within the store and online.
The second patent relates to stock analytics using online and offline data to be able to predict where to put stock across a national network of online and offline fulfilment capability. By doing both together we literally will be able to use machine learning and artificial intelligence to predict what we should order to get manufactured for this season in real-time.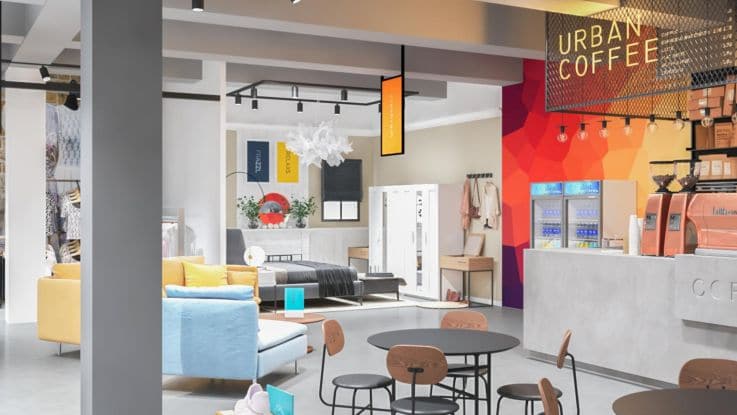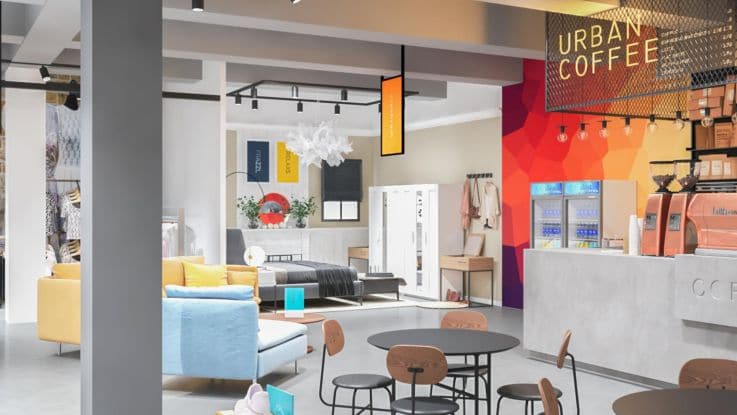 Have there been any big learnings so far?
A couple of things. There are so many digital native brands out there that have got really cool products. If they only had an opportunity, we'd see a total upheaval of retail.
Another thing I learned is that some of these larger companies would rather die than innovate. Sometimes it goes as deep as the balance sheet is so lopsided that if they go and innovate it could literally put the company out of business.
Retail and ecommerce are self-imploding because they are both focusing on what they don't have as opposed to focusing on how to incorporate what they do have to what they don't have.
Ecommerce is looking to get into retail and retail is looking to getting into ecommerce. Most digital native brands are using the Amazon model and trying to get into a more experiential Sears model because that's how they think they're going to grow. They don't have dollars for it though.
Then you have all the brick and mortar retailers that are trying to get into digital and take on the Amazon model, which grows sales but doesn't actually grow profits.
They're going in opposite directions. They're losing expertise on a daily basis. They're not being creative to find a way to blend it and they're literally killing each other off. I absolutely believe that most companies on both of these sides will not look the way they look right now.
The most infuriating part of it all is that a lot of digital natives are going wholesale. They are going to be on the shelves of stores that they practically put out of business and are risking a potential buyback if product is not sold. It's mass confusion.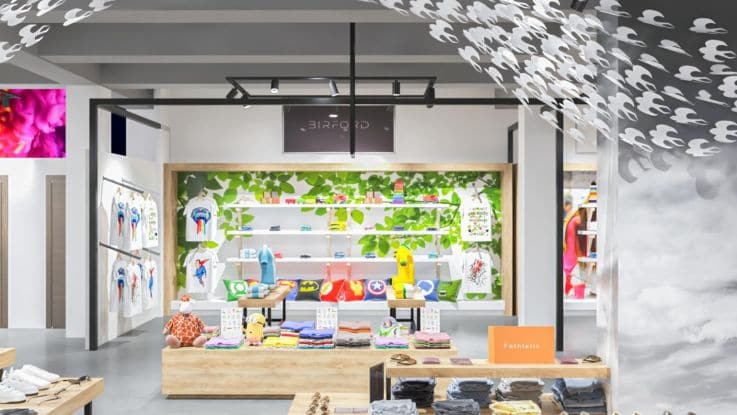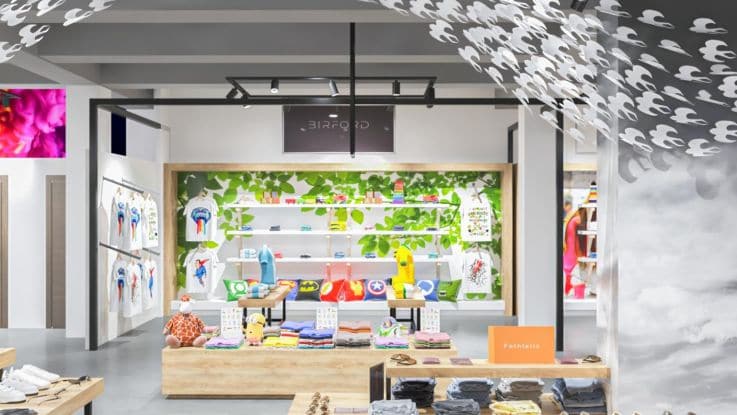 Can you tell us about your plans for the future?
There are many moving pieces with regards to expansion. We have interest from major real estate players about doing a national rollout. We actually potentially have the capability to do next day delivery for the price of ground across the entire United States.
We view what we're doing as not only great for emerging brands in the US. Historically European brands when they come to the US have to make a huge splash. Now they don't.
If you are a brand in the UK and you want US expansion, we literally turn on the spigot for nothing. The only thing is that we're going to be very selective. As it's a co-tenant situation, it's imperative that we keep our end of the bargain, which is to make this an exciting location where people want to come and shop.
We have a much bigger vision that we want to employ to literally solve the entire retail market. That's not even this.
Are there any other retail companies that you admire?
I think the company I most admire is Target. They are the company to watch.
They took a major risk to do store-based fulfillment. That's actually what I respect so much about them. There are still things they could do to improve, but they did it and it's been very successful. On the flip side, there are other retailers that decided not to take a risk and are dying a slow and steady death.
Images courtesy of Anchor Shops
Find out how we can help you identify and discover the breakout trends in offline and online retail that will put you years ahead of your competition. Get in touch here.