Interviews
How is Red Ant paving the way for exceptional customer experience?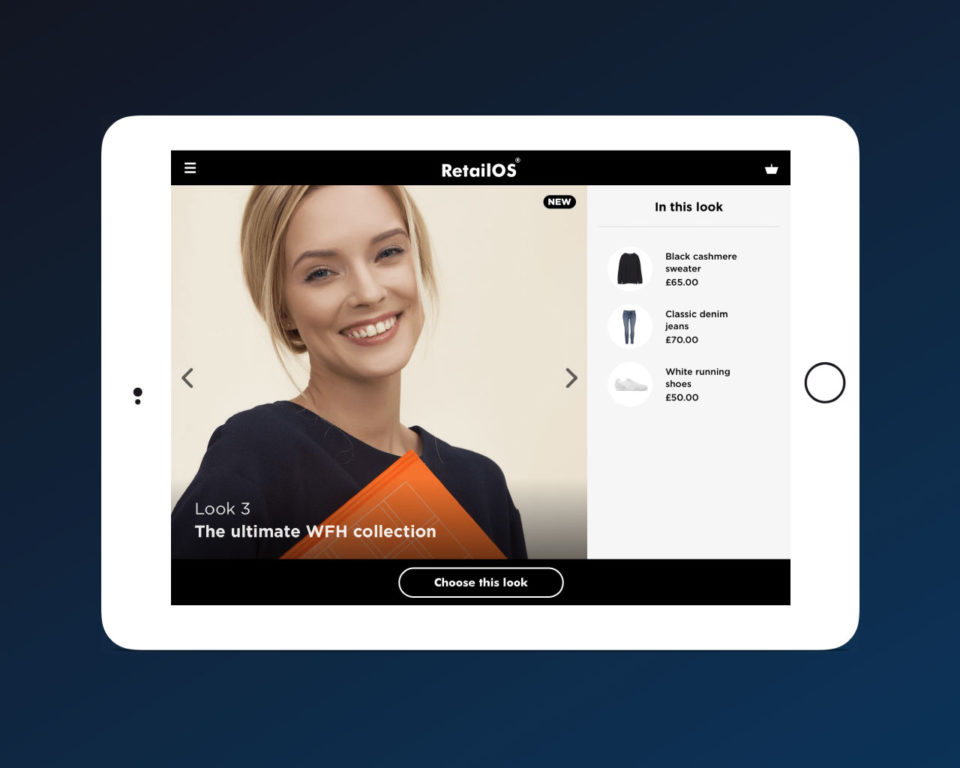 Good customer experience has been the foundation of retail from the very beginning.
But as the way we shop changes and customer expectations shift, delivering a consistently good customer experience – whether in-store or via digital channels – has become more difficult.
Enter Red Ant. Its innovative solutions arm store associates with everything they need to deliver exceptional customer experience that drives huge results for retailers.
We spoke to Emma Newman, Red Ant's client success director, about how empowering store associates to deliver amazing customer experience can make for a 70% increase in transaction values. And that's just to start.
Emma Newman, Client Success Director, Red Ant
How would you describe what Red Ant does?
We're aiming to re-energise retail.
We're bringing together all the tools that store associates need to deliver an exceptional and memorable customer experience – whether that's in the store or at home. For the customers, it means that they feel like they're part of something special and they're getting the VIP treatment.
What is RetailOS?
As a business we've been around since 1999 and we've ridden the wave of various technology trends from website builds to mobile commerce apps.
Over eight years ago, we launched RetailOS which is an in-store platform.
It's quite modular so some retailers are using all of it and some are using parts of it.
There are three core elements that our suite of apps is built upon.
The first is clienteling, which enables personalisation and recommendations based on past customer purchases. The second is the transactional piece, which includes POS functionality.
The third element is workflow management processes in the store, such as stock management and click and collect, for a smoother and more streamlined customer experience.
We have over 60 pre-built integrations within RetailOS, but we specifically and consciously made the decision to stay agnostic when it comes to the systems we integrate with. The reason is that we didn't want to isolate any retailers that wanted to use RetailOS but weren't using a specific system.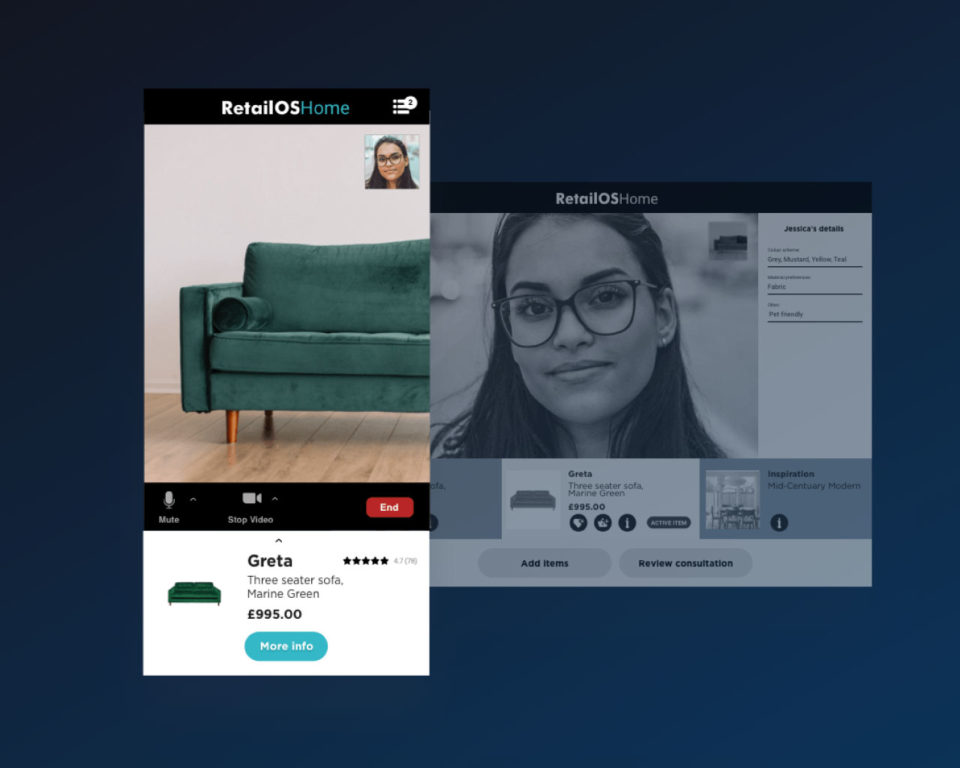 What areas of retail are your clients in?
The five core verticals that we focus on are luxury fashion, beauty, home and furniture, jewellery, and apparel.
We began with beauty and premium luxury as the use cases worked really well. Over time, we've worked with additional types of retailers to build in the use cases that work for them.
The platform has developed over time to be able to very easily have modules turned on and off to suit the use cases that are most typical to these verticals.
What sort of results do your clients see from using RetailOS?
We've had some amazing results over the last year.
Average transaction values have shot up around 70% across all of our clients. In some instances it's been 160%, just from sending text messages to customers to ask them if they want to have a look at products and if they want to purchase.
One of our clients saw a 40% conversion from virtual appointments which is huge as they have quite a high product price point. For people to be spending over £1,000 in a transaction via video call is quite dramatic.
One of our clients had an ROI within one week of 200% on one of their projects.
Another client saved 30,000 hours in stores by automating and digitising all those cumbersome manual processes around click and collect and stock management.
One client has reported 15% of their sales coming from the clienteling offering that we provided them as a small MVP pilot.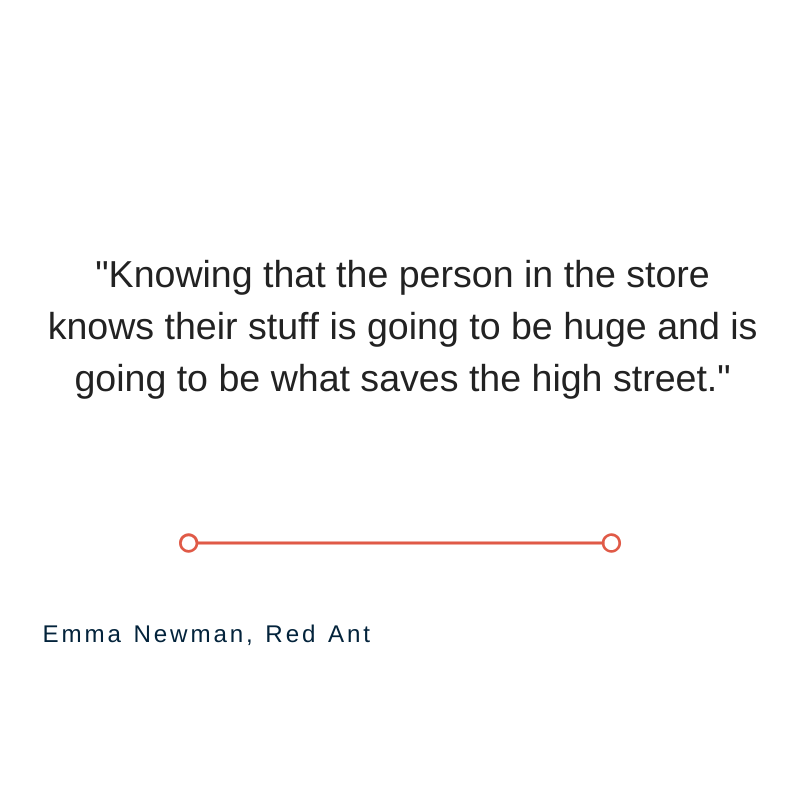 Do you think a 15% uplift in overall sales is still achievable after the pandemic?
The client with the 15% sales uplift is in Australia where until very recently they were operating as normal.
We believe that this is something that can't be ignored anymore. It's not a nice to have. It's something retailers need to be doing to make sure that they survive.
It's making the customer feel like they're getting special treatment. Even though you may be doing the same thing for lots of different customers, it feels personalised so they're more likely to answer the text messages or to pop into the store and give you the opportunity to get them to try products and buy.
I think personally that 15% feels like a good average to be aiming for. Some of our clients do more than that.
How does RetailOS change the staff experience?
There was definitely a bit of a trend a few years ago where store staff were overlooked by customers.
But there is a place for store staff to be the ambassadors for the brand and to become the go-to people for customers to have a conversation with and get their opinions, rather than just browsing online or having a look around the store.
Previously a lot of staff haven't felt the confidence or had the information they need to be able to do that. That is part of the reason why RetailOS was born.
At the time we were working with big high street retailers on consumer apps. One of our team was in one of the brand's stores and asked a member of staff about a particular product. The staff associate used our consumer app to scan the item to see whether they had it in stock and the information about that product rather than using the solution they had in store.
That's when we knew there was definitely a gap. Store associates haven't got what they need on the shop floor to be able to give the customers the information that they're asking for.
We did some research and a shocking 70% of the store staff that we spoke to admitted that they had hidden in the stock room until a customer went away because they'd been asked a question and they didn't have the information they needed to be able to answer it confidently.
We believe that by giving them these tools, they can become the confident experts that customers want.
Customers need to know that when they go into the store they're going to have the result that they wanted by the end of it, whether that is ordering an item online because it's not available in the store, getting it shipped from another store, understanding what items go well with other items, or knowing if there are new items that are going to be released in the next season that are going to be interesting for them.
Knowing that the person in the store knows their stuff is going to be huge and is going to be what saves the high street.
Are there any really beneficial applications of RetailOS that you can share?
We've been working with Charlotte Tilbury for a few years now.
The original rollout for them was having customers come in store for consultations.
The way that Charlotte Tilbury run their appointments is that there are a set of different looks that you can choose from. Within the platform, we have the ability for the customer to browse those looks and see all of the products that are associated with them.
Then they can choose with the makeup artist which look they want to try that day. This gives the makeup artist the list of products that they need to recreate that look on the customer and it automatically adds them to the consultation.
There might be 10-15 different products used, including all of the brushes, so the system records what's been used, and allows the customer to make a purchase directly through the platform.
We send the payment piece off to their existing POS, so that the makeup artist can send the customer to the till where all their products will be waiting for them.
The additional benefit is that it records against the customer's profile, so staff can see all of the products they tried, all of the ones they purchased, and the ones that they added to their wish list.
Then they can use that to follow up with the customer, such as sending an email or a text message to the customer to see how they're getting on with their products, send them samples of the items that they added to their wish list, ask them whether they're interested in trying them, or if they want to purchase.
Another of our clients is Furniture Village who have been using RetailOS as an ordering system.
One thing we did was integrate with their website, so they're able to create wish lists and baskets with the customers in the store and then if the customer makes the purchase online at home, it's still attributed back to the sales consultant that spent the time with them in store so they still get their commission.
This was one of the big challenges with furniture where there are usually several points in the process before someone actually purchases.
Again, they can follow up with the customer so that the customer is more likely to come back into the store and talk directly to them. It gave them quite a big boost.
How do you access information such as past customer purchases?
We've experimented with lots of things in the past.
We did some work years ago with a furniture brand who had a consumer app and an in-store app. If someone came in with the consumer app on their phone, we had beacons that could identify who was in the store so that staff could easily look them up and talk to them.
But the message is now more around how you explain to the customer the benefits of them sharing information with you.
The majority of customers that are coming into our client's stores have an appointment, so staff already know who they are when they come into the store. So, the conversation quite naturally works by saying to them, 'have you already built a wish list online?'
'Are there things that you were interested in?' 'If you can tell me your email address or your name, then I can look it up and we can talk about the things you're most interested in.'
We believe it's about asking the customer for information at the right moment.
If a customer just asks if something's in stock, you don't need to be asking them for their email address. But if they are talking to you about buying a £300 dress for a wedding or a charity event, then there are natural points where you can ask them for their information so that you can show them look books or match the dress with a handbag that they bought three months ago.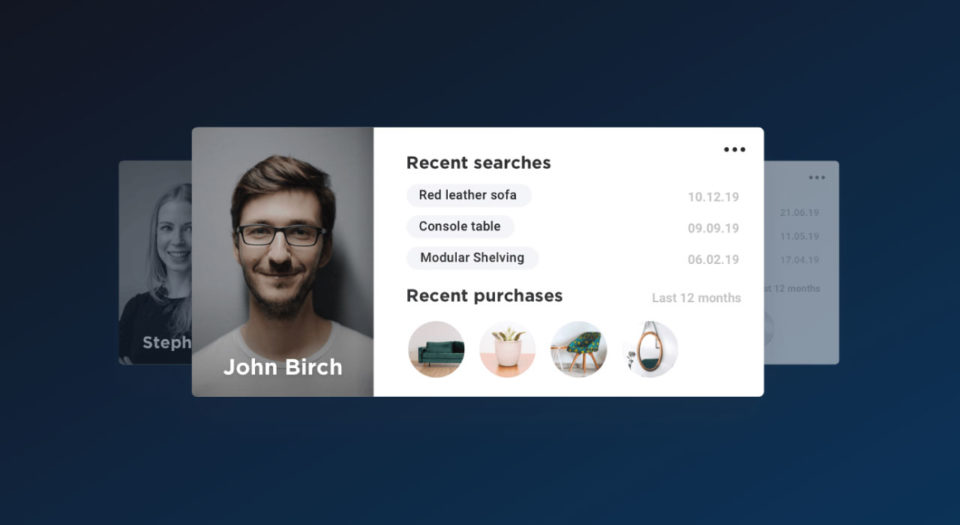 Do you have any virtual offerings on the platform?
We had virtual on the roadmap for a long time and it kept getting pushed back because there wasn't the overwhelming need for it.
It was something that was a bit more of a nice to have, but this past year it very quickly became apparent that people want to talk to the experts within the store, but when stores are closed they are limited to having to do things like live chat on the website, rather than actually speaking to someone they might see on a fairly regular basis.
We launched virtual consultations for Charlotte Tilbury, which meant that some of their makeup artists could run virtual appointments and could continue to give that expert advice.
This has been really, really successful for them.
This has been really, really successful for them.
Even now that stores have reopened and people are able to go in and talk about products with the makeup artists, Charlotte Tilbury are still seeing a huge number of virtual appointments every week in the UK.
We've found that customers actually just find it quite convenient. If they just want to have a quick conversation about something specific, they don't need to go out of their way to visit a store to do that.
They can have a conversation with someone online and then they can purchase the product that they think is most suitable for them.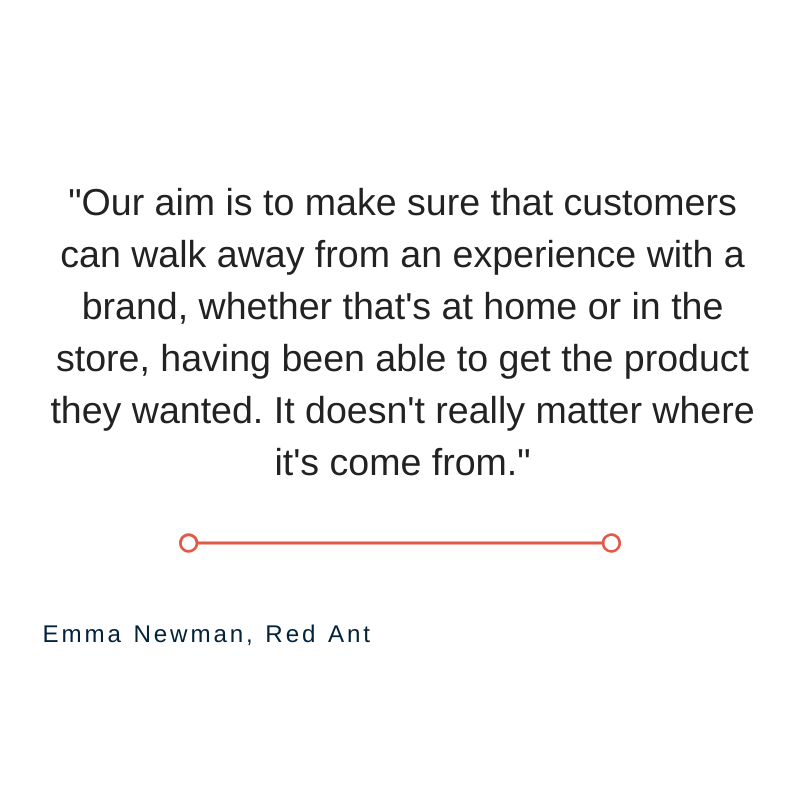 Do you think retailers' reliance on stores will change with tech?
It was quite bleak for retailers for a time with store closures, but I don't think by any means that stores are done.
Reliance on stores will be a bit lower because of all the different virtual offerings, but I still think that stores are going to play such a key role.
They will become much more of a hub for getting expert information, appointments and conversation with store staff, and make the experience much more important than just having a store for the sake of it.
Our aim is to make sure that customers can walk away from an experience with a brand, whether that's at home or in the store, having been able to get the product they wanted. It doesn't really matter where it's come from.
If there's a very specific handbag that somebody wants that is only available in a store in France, there's no reason why that store can't be used to fulfill that order to somebody that is in Germany.
There's no reason why you can't do that as long as you have the delivery aspect in place. With the workflow management that we have, the request will come into the store that has the product in stock. They can then mark it as having been packed and sent to the customer.
At the moment there are so many different systems and it can be quite complex, but the idea with RetailOS is that we bring those systems together so that they are all talking to one another, rather than siloed in lots of different places and lots of different countries, so that customers can have that experience with the brand.
What's next for Red Ant? Is there a dream client that you'd like to work with?
We've got some huge additions to the RetailOS platform coming up over the next three to six months, which will see a real evolution in our offering.
I think an area that's very interesting for us is department stores because there's so much scope to make their store processes more exciting, more engaging, and smoother, so that you can move between different concessions very easily and have a good conversation with people from different retailers within those department stores.
Is your customer service truly exceptional? Talk to Red Ant about how to boost it and your bottom line at the same time.