Interviews
How Thrift+ is reinventing charity shopping for the ecommerce generation
by Jack Stratten
September 19, 2019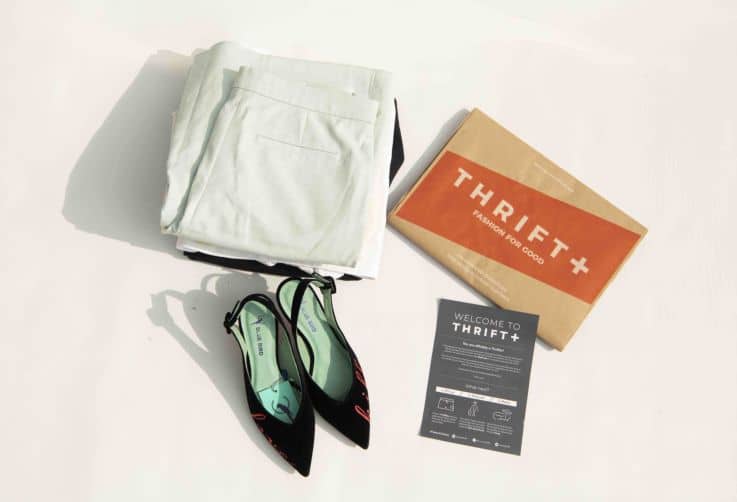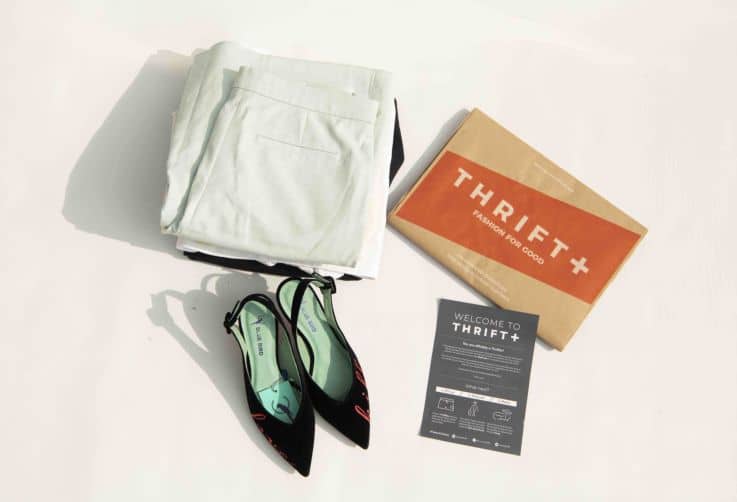 Thrift+ is on a mission. It wants to use technology to help charities to serve the next generation of donors and shoppers. While the charity shop may be widely understood as a concept, the way we shop has changed hugely through the rise of ecommerce.
Thrift+ is empowering charities to make use of these new opportunities. It's created an online shopfront where customers can both donate, but also shop, premium brands with charities benefitting from every sale.
At a time when we all recognise how unsustainable the fast fashion lifestyle is initiatives that promote secondhand clothing, and make access to it easier, are hugely valuable.
We spoke to founder Joe Metcalfe about how it all works, creating a business with a mission and the glaring opportunity for secondhand shopping
Joe Metcalfe, Founder, Thrift+
Can you describe Thrift+ in a nutshell?
We make it easy to donate your best secondhand clothes to your favourite charity.
It began four or five years ago when I was building a shopping app for high street charity shops. The rest of high street retail was racing online as fast as it could to survive and charity shops were doubling down on the high street. I wanted to help them get online.
The idea was to give shop managers an app to let them upload their best three, four or five items each day and build a community of local customers to reserve and collect them. What we found working with British Heart Foundation, Age UK and a few other smaller charities was that shop managers genuinely struggled to find good enough items every single day to make it worth using their time to take photos.
It was at that point that instead of trying to fix just the shopping side of the equation I looked at the donation side – how could I help donors and individuals let go of and feel better about donating higher value items? That's when Thrift+ was born.
It was about making the entire process of donating your clothes better in every way – more convenient, more transparent, more rewarding. We found that when you start to sell online for higher prices, and you don't have the costs of selling on the high street, you can actually make it more effective as well – the percentage of each sale that we give to the charity is higher than the profit margin of charity shops.
Although we are a start-up, we're at a significant scale now. We're assessing 2,000 items a week. We're selling over £20,000 of clothes each month and have raised £65,000 for charity so far.
What is the typical profit margin of a high street charity shop?
Every charity that runs charity shops has to report separately on their trading arm. The average profit margin is 19%, so for every pound that gets taken in the tills of a charity shop 19 pence goes onto the charity to help them do their work.
Charity shops are brilliant – I'm very passionate about them. They employ tens of thousands of people and make over £280 million a year for charity. They are processes of enormous volumes of clothes and they do that job very well. But they are not the most effective way of turning good quality clothes into cash for charities.
Our profit margin is 33%. We split the funds equally three ways. Customers request a bag online, send it back to us for free and then we recoup the first £5 of sales to cover the postage and packaging. The rest of the sales then get split equally three ways – 33% to charity, 33% to us as our commission and then 33% back to the donor as credit to spend with us online.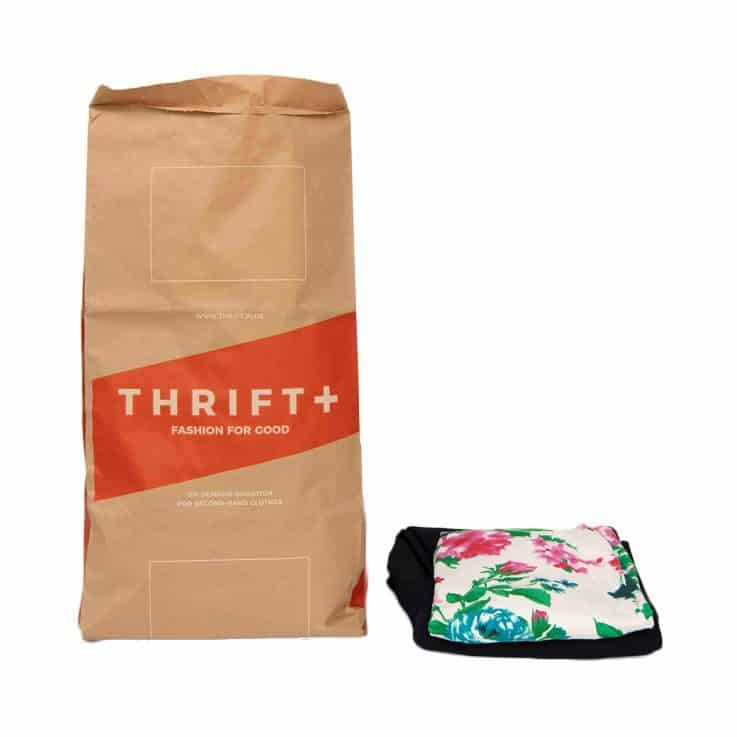 How big is the Thrift+ team?
There are three fulltime staff in the central team – myself, Poppy who is our Head of Technology who came from Accenture, and Kay who runs all of our e-commerce. We have a team of 12 casual staff who are students from the local area that are uploading clothes consistently.
We built technology that allows us to process secondhand clothes faster than anyone else. We can pick up any item, any brand, any size, any condition and upload that item in under four minutes – from picking it up, assessing its condition to entering the details. We use automated photography and automated pricing and then we push it live on to our website.
We're quite unique because we deal with just one of each item and that's not the same for most retailers. They buy hundreds or thousands of each item, so they spend a long time with models taking beautiful product photography because they upload it once and then they hopefully sell hundreds of them.
We get told by a lot of people that they're donating their pile of eBay clothes. They're still continuing to donate to charity in exactly the same way that they always have, but for those items where they feel as though they should sell them online they're donating them to us.
There are all these places where you can, if you have the time, energy and inclination, sell your own clothes. When you have 20 or 50 items that's a pretty full day of uploading clothes and answering questions and then taking each one individually to the post office as they sell. That's not how most people want to spend a weekend or evening or lunch break.
What type of people buy from Thrift+?
At the moment, a significant portion of our sales are still being made through eBay. For the sales that happen through our site it's really interesting.
I saw a sale come through from one of our earliest donors who had gathered up £26 of credit and spent it on three different items. I got in touch with him because I recognised his name – he's a senior director at Facebook.
I asked if he'd 'ever sold anything online before' and he said he'd sold two or three items on high-end online marketplace Grailed, but he never sold anything himself on eBay. I also asked if he'd 'bought anything secondhand before'. He said he had never shopped secondhand before but because he had £26 of credit, he bought three items because it's completely free.
We are really excited every single time we get a shopper who has never shopped secondhand before, but we have converted. Charity shops target people who are around between 9.30am and 5.30pm on weekdays and people who are wandering the high streets at the weekend. We don't really need to make the argument for online retail anymore.
What percentage of what people send in goes on the website?
We accept about 75% of what we receive. The other 25% is donated to charity partner Royal Trinity Hospice who have 20 or so shops. This is the stuff which actually is not worth selling online, but it should and can be sold on the high street.
What can you sell and what can't you?
Our absolute sweet spot is premium brands. We're not looking for designer, but premium ones like Levi's, Diesel, Reiss, Whistles, & Other Stories and Cos. This stuff is really expensive for most people. Levi's jeans are £85 when they're new, but you can get a pair of Levi's on our site for like £12 and you start to undercut fast fashion.
There's data from ThredUp that secondhand is growing 21 times faster than retail in general. We want to convert people from buying off ASOS consistently to buying secondhand and when you do that you get better quality brands at the same price.
Is there an option for users to donate their cut to charity?
We are building that in now. The nice thing is that people aren't doing this because they're driven by the credit that they get back – they're doing this from a convenience perspective and because it's what 74% of the population already do. They donate. This is just a better way of doing what they already do. The credit for most people is just a bit of recognition and a nod to say thank you for your generosity rather than the core driver.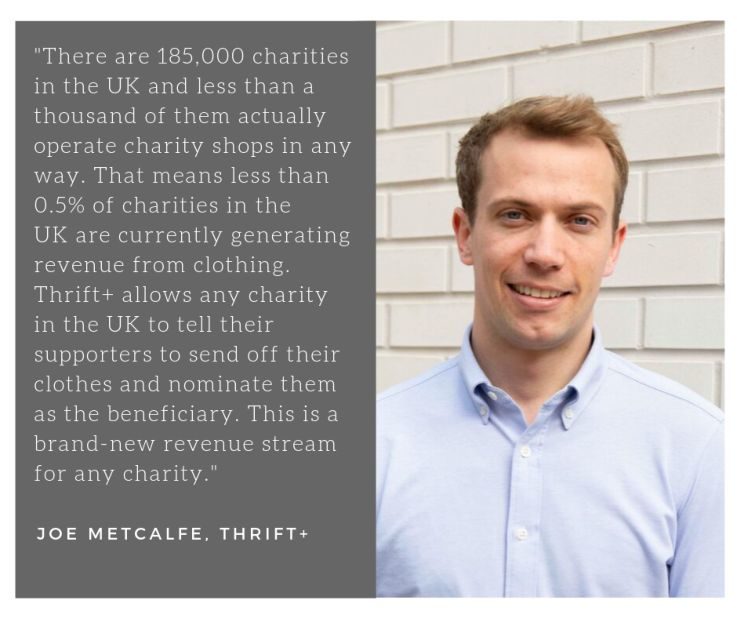 Does the credit help to balance supply and demand because donors have something to spend on the site?
There's definitely a circularity to it. We're seeing that 30% of our donors spend their credit at the moment and they spend it on items which are worth twice as much as their credit. That means 70% aren't spending it at present.
We actually sync all of our inventory with eBay. We are doing everything we can to sell more items as quickly as possible so that means selling them on our site and selling them wherever else we can. That integration is live so if the item gets sold on our site it immediately gets taken off eBay automatically and vice versa.
How have you spread the word about Thrift+?
We haven't done that much marketing yet. For us Instagram ads have been really effective. There's not much of an education piece here because donating is something that 70+% of the population already do. They immediately understand what the proposition is.
Once people click on our Instagram ads, 15% of them go on to order a bag. It's not one of those things where you have to wait until it's relevant to you. You almost always have too many clothes. You almost always want to have a clear out and if you order a bag next time you do have a clear out you've got the bag ready to go.
What part does tech play?
We do use some automation on our photography to help us present the items more consistently and automatically. We've tested using computer vision that helps us identify the colour automatically, the pattern, the season, so there are some benefits there.
At the moment, the condition assessment is a judgment, so that will always need to be done by a person. We might as well ask that same person to tell us the colour and that it's men's jeans not women's jeans.
What funding have you received?
We raised £500,000 in March 2018 from an e-commerce specialist investor called Fuel Ventures. We are now raising another round, which is being led by some prominent angel investors who have built some famous marketplaces. We're also speaking to some impact funds that are driven by social impact not a financial return.
What opportunities do you think there are for Thrift+?
The volume of secondhand clothes is staggering and 70% of them still go to landfill instead of being donated. Charity shops are immediately recycling half of everything they receive, turning it into rag and selling it by the kilo to recyclers. The supply of secondhand clothes is never going to be an issue.
We believe that the top third in terms of quality should be sold online for the price that they deserve to shoppers who are shopping online. The middle third doesn't make sense to sell online so will continue to be sold to charity shops and then the bottom third should be recycled. I would love to see us taking share from eBay, from landfill and from the piles of clothes which are sitting dormant in homes.
I think there is a really exciting opportunity to turn people into secondhand shoppers. There's a resale online consignment store in the US called ThredUp and they released a statistic that said 70% of their shoppers have never shopped secondhand before they came to buy from them.
This is what we're trying to build as well. We want to pull buying secondhand clothes away from buying off a stranger on eBay with horrible photos, where the item might arrive in two days or two weeks wrapped in a bin bag or a plastic bag lying around the house, and there's no return policy if you don't like the item because you're buying off an individual.
When you change all of that and you start buying off a trusted brand with a nice e-commerce experience including proper photography, quality assurance and the ability to add lots of items to your basket, it's a very different experience. We say we want to build the ASOS of secondhand clothes in terms of the ease and experience of proper e-commerce for secondhand clothes.
Do you have any long-term goals?
The model articles for every single company in the UK say that directors need to make decisions that maximise value for shareholders. What we've done is put the B Corp principles into there. We're not a B Corp ourselves yet. That's something we want to be. But you can still look at how B Corps are set up and what the legal basis for them are.
It means putting a social mission into your articles to say this business exists to do this and our directors should make decisions that further this mission. It also puts in the clauses which allow the directors to make decisions based on the considerations of all of our stakeholders.
It means that we can consider our staff or consider our suppliers or consider the community in the long-term impact of decisions which is something that, if you're to the letter of the law, you're not allowed to do when you're running a normal business in the UK as you're legally obliged to maximise profit for shareholders.
We are thinking differently about this. We see ourselves as a social venture and have written this into the rules. Our social mission at the moment is to use technology to help charities better serve the next generation of donors and shoppers. I'm not sure if it's a perfect mission but it shows where our head's at and when we're making decisions what we should be aiming to achieve.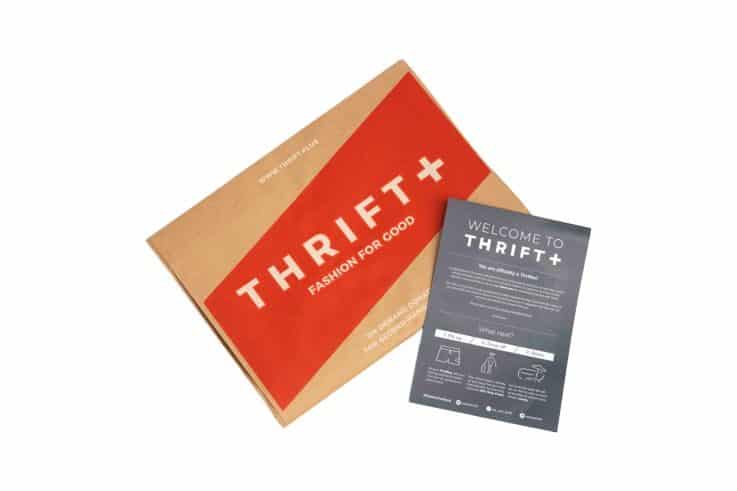 If, for example, Oxfam wanted to have your inventory feed through onto their website would you be open to that?
Oxfam is unique because they're one of the only charities that operate their own online store. Other charities, like Cancer Research and the British Heart Foundation, use eBay to some extent but not their own online presence.
The bit that we're excited about is there are 185,000 charities in the UK and less than a thousand of them actually operate charity shops in any way. That means less than 0.5% of charities in the UK are currently generating revenue from clothing.
We absolutely would work with any charity. We're talking to Samaritans at the moment and they're a really good example. They've got a brilliantly strong brand that is known all over the UK and 120,000 followers on Instagram and Facebook, but they only have three or four charity shops.
Thrift+ allows any charity in the UK to tell their supporters to send off their clothes and nominate them as the beneficiary. This is a brand-new revenue stream for any charity.
What has been the most interesting part of building the business?
The bit I've enjoyed most is building the team and building somewhere that people like coming to work. I think when anyone leaves their job, they know what they liked about that job. They know what they didn't like about that job. If you're starting a company, you have this really nice opportunity to try and build somewhere which has the good bits but not the bad bits. I've loved that.
The people you hire are your culture, you can't really define a culture. I just think it's a really nice privilege to be at the very start of something when you can choose who you work with and choose what it feels like to come to work.
I think it's valuable to have a purpose driven business. Poppy joined us because she is passionate through and through about sustainability. I've come at it from a charitable effectiveness side. It's nice having that purpose to the business which can connect with different members of the team and it's why they join the business.
What else is on the horizon?
We are partnering with certain retailers to help them offer a donation service to their customers. This would allow customers of that retailer to donate their items to Thrift+ and as their items sell, they get credits to spend back with that retailer. This is recognising that actually 70% of our donors are not spending their credit on secondhand clothes, so to help make that credit more valuable to them maybe they can spend it back with the retailer that they do actually want to shop at.
While we've been building this proposition for individuals, some retailers have now got in touch with us to ask if they can donate stock to us. We have one very big billion-pound online retailer who sends us all of their rejected returns.
It's a way of retailers managing distribution of stock. Typically, if an item was returned and it wasn't in a new condition – as in it had been worn or was slightly faulty – then that item would be destroyed or sent to landfill. We rapidly sell this imperfect or excess stock into the secondhand market as used.
If those shoes have been returned by a customer, but they've been worn once or twice cheekily, then maybe that retailer doesn't allow that refund to happen. But they still have a pair of shoes they can't sell. We help them to sell them into the secondhand market and then after taking our commission we donate the money to charity.
Images courtesy of Thrift+
Thrift+ is a great solution for premium and luxury brands looking to deal with the challenges of unwanted stock. Click here to discuss how it can help you.
Want to go straight to the hottest retail technologies, latest disruptive thinking and simplest new ways to lower costs and boost sales? Transform your team's thinking using Insider Trends' little black book. Find out how here.
Related Articles
Below are other articles from our blog that cover similar topics: