Tech
How will Facebook Shops shake up ecommerce?
by Cate Trotter
May 22, 2020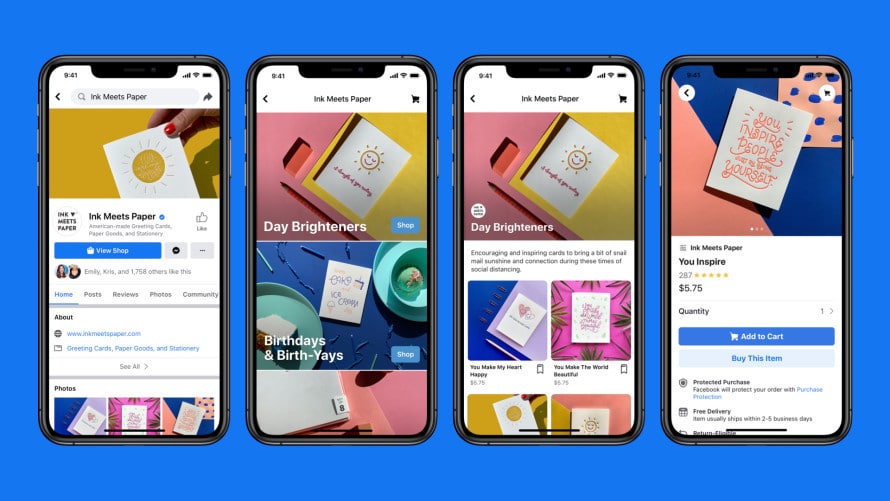 This week Facebook announced a new feature that will see it get into ecommerce in a big way.
Shops essentially enables any Facebook Business page (starting with the US) to be turned into a working storefront for customers to buy from within Facebook itself.
The feature is also available to business Instagram profiles which means you can set up a single shop that serves both channels.
Big deal?
Maybe.
Facebook already has a foot in the ecommerce race via its Marketplace and shoppable Instagram elements, but Shops could see it take over the running of it.
How?
Well Shops has a nice little integration with WhatsApp, Messenger and Instagram Direct that means customers can message you to ask questions or get support or track their delivery. It's a way for businesses to use these popular comms channels to provide better online customer service.
But wait – there's more.
The future plan is that customers will be able to view a business' shop and buy directly within WhatsApp, Messenger and Instagram Direct. Facebook is also going to roll out Instagram Shop in the US this summer which will brings Shops to the Instagram Explore page enabling businesses to reach new customers.
Other planned features include better ties to livestreaming with people able to shop what they see in the video from that company's Shop and a link up with existing loyalty schemes that a business might have.
You name it – Facebook is doing it.
Why now?
The timing is no coincidence.
The Covid-19 pandemic has reshaped the way we buy with more and more of us turning to online shopping as stores closed and lockdown kept us indoors.
Within this, many small businesses are struggling. Mark Zuckerberg has said that Shops is designed to help these companies shift sales to online.
The move makes a lot of sense given that a huge number of small businesses already have their own Facebook page as a result of customers using social media to learn more about companies before they buy.
At the same time, Facebook is clearly looking for ways to benefit from the current ecommerce boom, especially when ad spending is down. There's also an eye to a future that sees us maintain our online shopping habits as Zuckerberg said: "I do think we're going to continue living more of our lives online and doing more business online."
With this in mind, there are benefits from both the customer and retailer side of being able to buy through social media. It reduces friction for shoppers as they don't have to leave the app and navigate through website and payment options.
For retailers, it means they can capitalise on moments of impulse and influence where the shopper sees something, is tempted and hits buy. If they had to leave the app to go to the retailer's website, then there's the potential they might rethink or talk themselves out of their purchase.
How could it change things long-term?
Shops could be the indicator of longer-term ecommerce aspirations by Facebook.
If its existing Facebook Marketplace is more akin to eBay, then Shops could give it more of a competitive edge against Amazon. It's important to bear in mind than neither eBay nor Amazon have links with customers outside of selling. Facebook on the other hand has millions of people interacting through its websites and apps everyday for the purposes of communication, information and entertainment.
Imagine then that shopping is integrated into those experiences in a seamless way. If you can buy things at the point of seeing them on an influencer or talking about them with friends, then that is going to reduce your need to search for them. That's not great news for the likes of Amazon which has become something of a shopping search engine.
Done right, social commerce changes the retail experience from being consciously driven (I want or need something, so I need to go find it) to something more unconscious. Retail can be part of every interaction we have if the context is correct.
Where things have the potential to get really interesting though is when we look at it from the perspective of an ecosystem. Facebook's various channels, from WhatsApp to Instagram, give it the ability to hit all sorts of users in all different areas of their lives.
Your mum may not be on Instagram, but she might have Facebook. You might use Messenger with friends and WhatsApp for work. Your younger brother might be put off by Facebook but is a big Instagram fan.
The fact that Shops will be present across all the channels means that Facebook isn't missing a single opportunity to sell.
But more than that, it could be the catalyst for a far more integrated way of shopping than we're used to. Let's not forget that Facebook is also working on its own cryptocurrency Libra and Calibra digital wallet (despite hitting several hurdles along the way).
If we consider that these could become the favoured payment methods in the Facebook family of apps in the future, then we can maybe imagine the beginnings of something that looks more like China's WeChat.
WeChat is a super app. It does it all from messaging to payments to scanning QR codes to booking tickets and much more. More than a billion people use it everyday because it does all of this well.
Right now, it has no equivalent elsewhere in the world. However, Shops could be an indicator that Facebook is putting deeper thought into having its own do-it-all ecosystem. Yes, the channels have a certain amount of separation at the moment, but a universal shopping function, digital wallet, and even currency, could give them a new level of integration.
Will it happen? That remains to be seen.
What is certain though is that Facebook is taking retail seriously. In the process it might just end up causing another major industry shift.
We help retailers understand and plan around developments like this everyday. Get in touch to speak to one of our consultants and get free advice on the best next step for your business.
Related Articles
Below are other articles from our blog that cover similar topics: