Interviews
If you build it, they will come: how Uppercase helps brands create for the short-term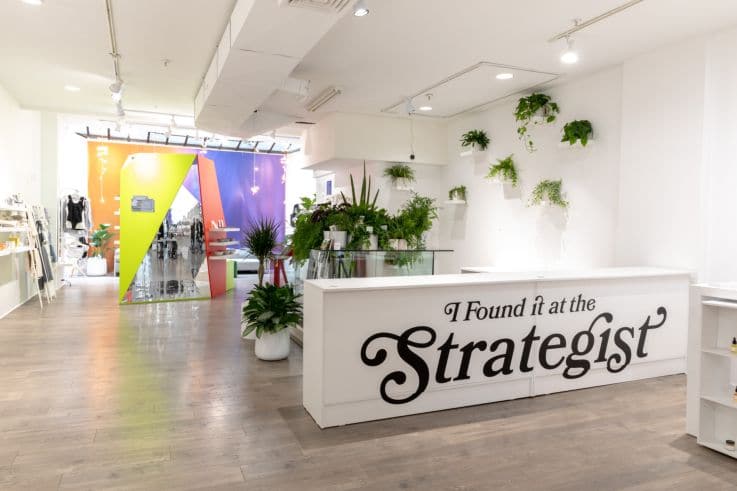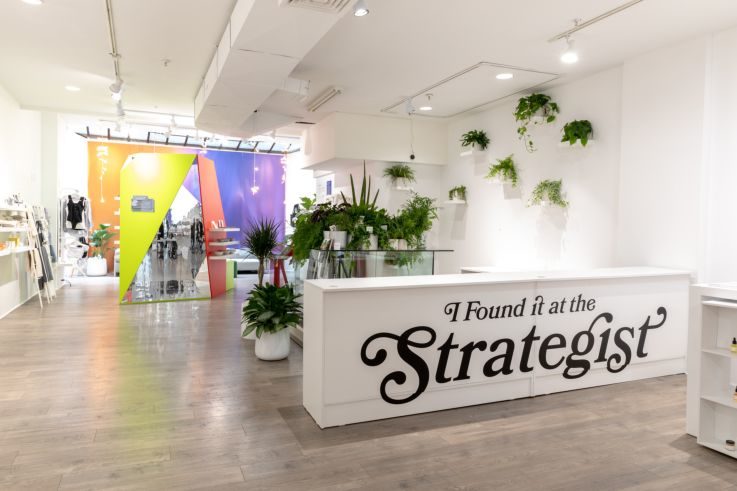 The Strategist
The right place. The right time. The right audience. Getting those things straight can make or break any retail business. But when you're talking about a store that may only be open a few weeks they're absolutely crucial. You have to build it right to get them through the door.
When it comes to short-term real estate rentals, Uppercase knows what's right. Its location insights will tell you which city, neighbourhood and property you should put your pop-up in for maximum return. The company wants to make it as simple as possible for brands to make a success out of short-term spaces.
Dustin Foxman, National Account Manager | Canada, at Uppercase, talks us through how it works, the insights and benefits of short-term retail, and how the industry needs to innovate.
Dustin Foxman, National Account Manager | Canada at Uppercase
Can you explain what Uppercase does in a nutshell?
We're real estate first. We focus on finding real estate for established and up-and-coming brands in the respective markets that they want to launch a store in. These stores aren't necessarily focused on generating revenue. A lot of the time it's purely brand awareness.
Our proprietary technology allows us to find the best real estate that aligns with the brand's values. We're also partners with all the major real estate brokers in New York, Toronto and Los Angeles. So, for example, if you're an athleticwear apparel brand, we could find you a location that is close to a luxury gym.
Once we've found the real estate we have an extensive partner network for all the other facets that people need to launch a store, including all the best build and design companies, staffing agencies, technology companies etc.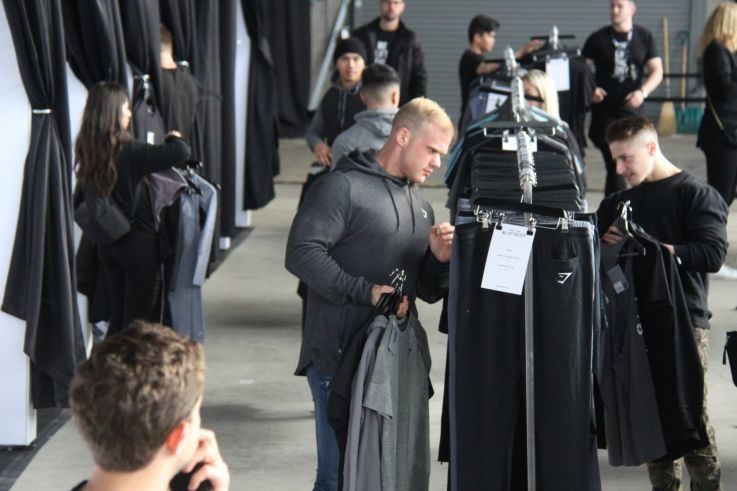 Gymshark
Where did the idea come from?
We actually started as a company called thisopenspace. It was essentially the Airbnb of space (other than residential) for photo shoots or events or meetings. What we started to realise though was that a large portion of our brand demographic was in the retail sector.
So, we rebranded as Uppercase with a focus on finding the best real estate for brands to launch their store. A lot of the time it's short-term to start with because they want to test markets as they grow. As they test different markets and become successful, they figure out where they want to have a physical presence. We operate in the key retail markets of New York, Los Angeles and Toronto, but also Chicago, Seattle, Austin, San Francisco and all over the map.
In the commercial real estate sector, you're starting to see this butting of heads between people that want to have a store and the landlords that want a three-to-five-year lease. We're playing a major role in bridging that gap in the short-term real estate space. It's allowing brands to get their feet wet and then hopefully they'll sign a long-term deal. A lot of the time the traditional brokerages – CBRE, Cushman & Wakefield, RKF – are just not interested in the short-term.
The other thing is we're seeing a much higher turnover in brands. Brands are appearing and dying quicker than they ever have. They're becoming really successful really quickly, but they don't seem to be lasting as long. While real estate leases shrink, the lifetime of a brand is also shrinking and we're seeing this niche that we're able to help facilitate.
How do you secure the spaces?
We're not a real estate firm. What we do is essentially take out the lease and then sublet it to the brand. A brand comes to us with a store size and budget in mind and we provide property recommendations through our site. If they like a specific place, we then reach out to our broker network and secure that property for the time period the brand is looking for.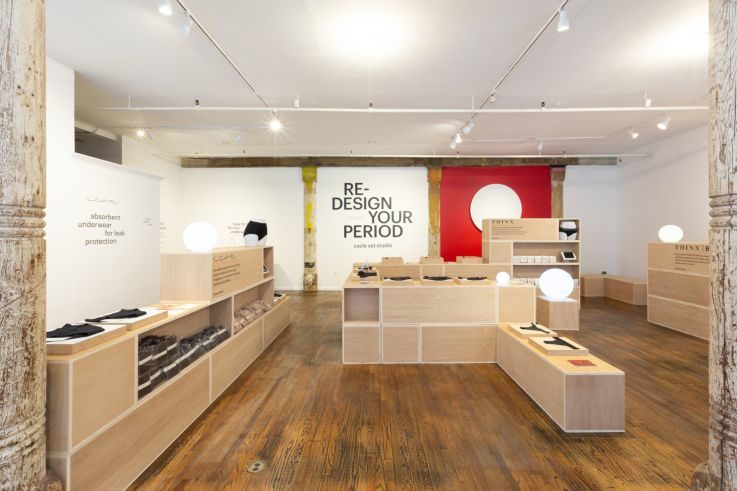 Thinx
Can you tell us about some of the brands you're working with?
It's a big mix. We do work for big established brands and up-and-coming ones. Right now, a major focus is direct-to-consumer brands because they're usually interested in doing some short-term brand activations.
Gymshark was an amazing project. They have built this viral online business and community around this niche of weight training. They were doing a world tour and they stopped off in Toronto and wanted our help to launch a two-day pop-up.
We found them this great warehouse and they had thousands of people waiting in line for 5+ hours waiting to get in to buy products and see their social media stars. That was all about how you react to social media presence in the physical world.
We also worked with The Strategist magazine to open their first-ever store in SoHo, New York. They cover a lot of up-and-coming brands and they wanted to bring them into the physical world instead of just writing about them. The store featured a range of different products which we rotated throughout the space.
I'm also really excited about the work that we've done with Thinx to open their first store in SoHo. This one was special because we were able to launch a store in two to three weeks start-to-finish. That's hard to do and we learnt a lot. They're a very unique brand. They only cater towards a very specific demographic and they've been able to attract customers to the location.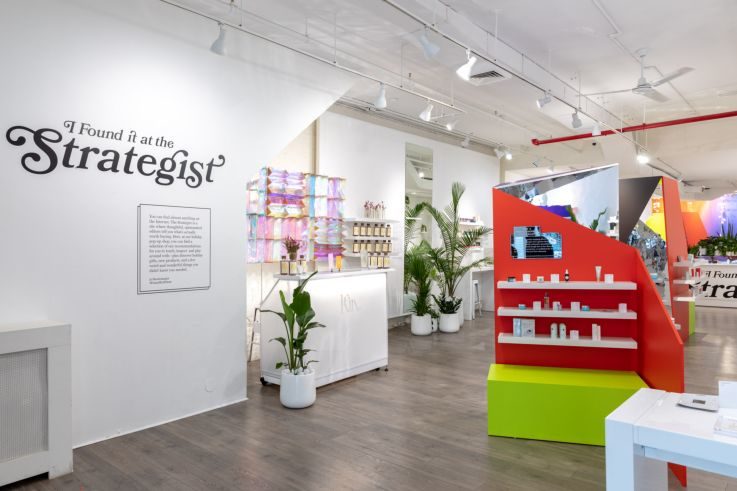 The Strategist
What are the issues that direct-to-consumer brands need the most help with?
It's finding real estate. A lot of the brands that we work with range anywhere from $5 million to $150 million in revenue online. But they have no idea how to find real estate. Their teams have been built in this digital world.
A lot of these brands have a team that will fly down and walk streets to find real estate. That's not very efficient if you're a brand that's scaling. They're meeting with brokers; they're getting different pricing and they don't know what is fair or accurate. They don't know if they're being ripped off. Those are the things that that they struggle with.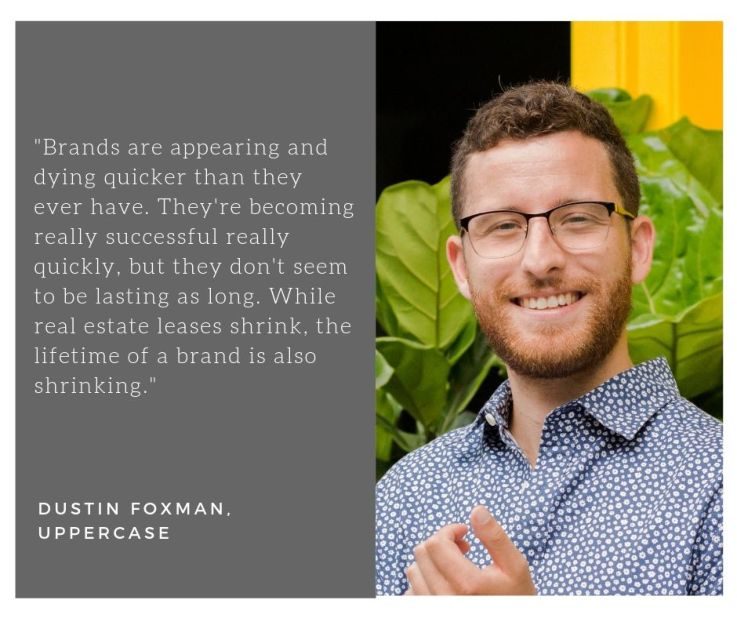 What tech can your clients have access to within the store?
It can be hard with short-term stores. You need at least 10 months of data to really start drawing conclusions to different ways of doing things. A lot of our stores are popping up for a few weeks or a couple of months.
We have technology that tracks conversion funnels. We count how many people are actually walking by a storefront. Of those people we can then track how many are walking in and out of the store. That's one conversion rate.
The second is how many people that walked in actually checked out and purchased something. We can also track what their average basket size was. You can then compare each week against the next results to see how you're performing.
We're also working on some other things like tracking emotional response, such as if someone is smiling or frowning at a specific product. It's all private, so we don't actually see a face, but it takes a million data points from it and our algorithm compares that against our data to determine their expression. That's still in development.
Having tech in one store often means nothing. When you have multiple stores, you can start drawing much better insight around store performance because you can compare your baseline to other stores. When you have one you don't know what's good or what's bad. That's something else we're working on – how do we create baselines for our brands? It's very difficult because there are a lot of different factors involved.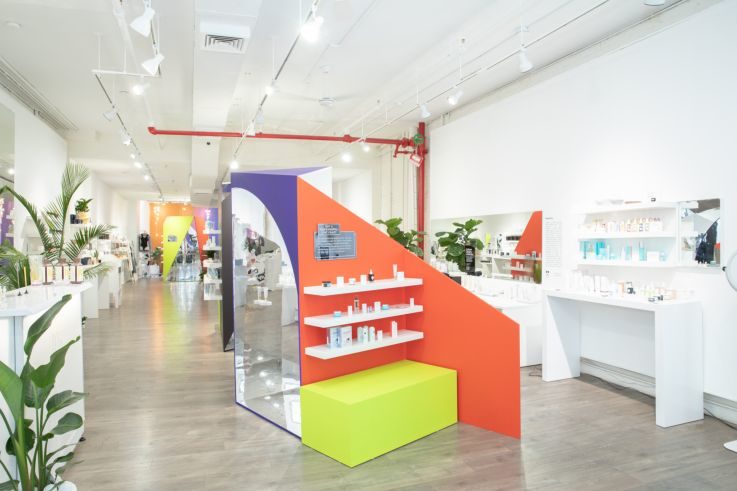 The Strategist
What sort of benefits do brands see from these short-term stores?
We have had feedback from a large portion of our brands that they see an uptick in online sales when they launch a store for a short period of time.
We find them a great location that has natural excellent foot traffic. But what brands don't understand is that they need to drive more foot traffic. They need to draw their community of people to their store and that's a whole other marketing initiative. I think that sometimes brands come into a store and just think customers are going to come.
Will short-term spaces be on every shopping street in the future?
Short-term is going to continue to grow and we're going to see it in all the major markets. Our brands are wanting to pop-up everywhere. They want to reach their customers and they have great data from their online shops. They understand where people are purchasing from and can draw conclusions as to where they should pop-up based on this.
We're going to eventually see complete estates being displaced in terms of having long-term tenants in their retail. That's going to happen because fewer people are willing to invest in that five-year lease.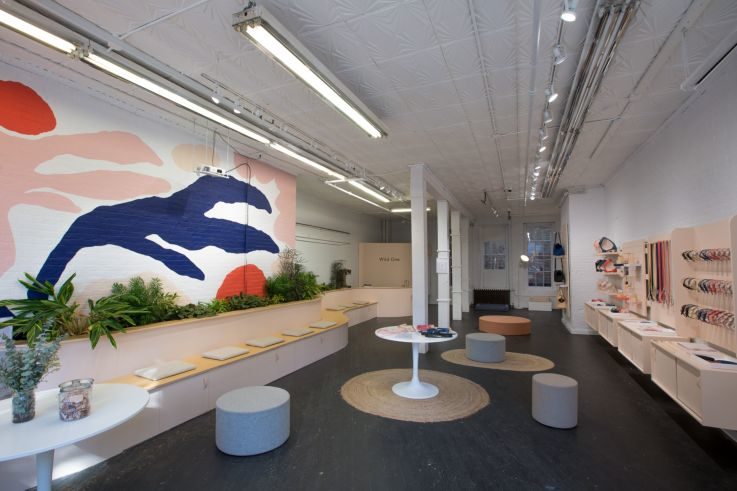 Wild Ones
Do you think that retailers are evolving and innovating at the rate they need to?
Retailers are not moving fast enough to adopt a more connected type store. Allbirds is working on an application with the vision that you will always buy shoes through their app and when you enter a store and you have the app turned on they'll be able to know who you are and what shoes are your favourite etc. Then you see Tommy Hilfiger making strides and implementing interactive mirrors, but is a mirror going to be enough? What is enough?
I think all those retailers are trying to figure that out. Staples Canada has revamped its model to be a workspace where they provide all the tools necessary for an office. It's perfect because it aligns to their expertise and they now have a new revenue model. I think that they are a perfect example of a retailer that has jumped ahead of many others by completely flipping the model and rebranding.
Up-and-coming brands began life online and they've made their money online. Their physical presence isn't their focal point. If you look at a Wal-Mart, they're making millions of dollars online, but their stores are making a lot more because of their footprint and brand recognition.
A lot of the traditional retailers are so far sunk into the costs of doing business in the physical world that they find it hard or don't know what technology to invest in first to help understand their stores. Whereas, these new brands want their physical space to complement their online. They use it as a pick-up point for packages, as a return hub, as an experiential marketing experience where you can interact with all their products and get them shipped to you.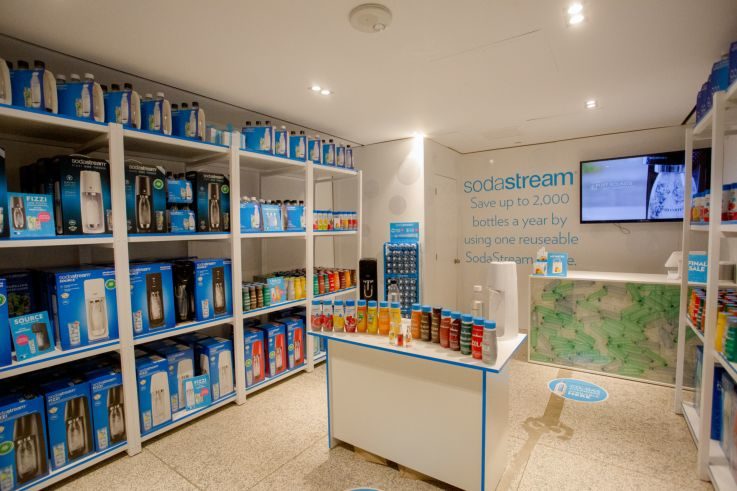 What's next for Uppercase?
Our vision is that we're going to open up short-term spaces for stores for brand and grow with them. We're launching in lots of different markets and specific neighbourhoods in different cities. Right now, we're really focused on North America. It's about securing more of the best real estate for brands that align with their brand vision.
Images courtesy of Uppercase
Get some short-term store inspiration with our pick of 50 of the best pop-ups. Find out more about the latest trends in retail by taking part in one of our Insider Trends retail safaris.