Pop Up Stores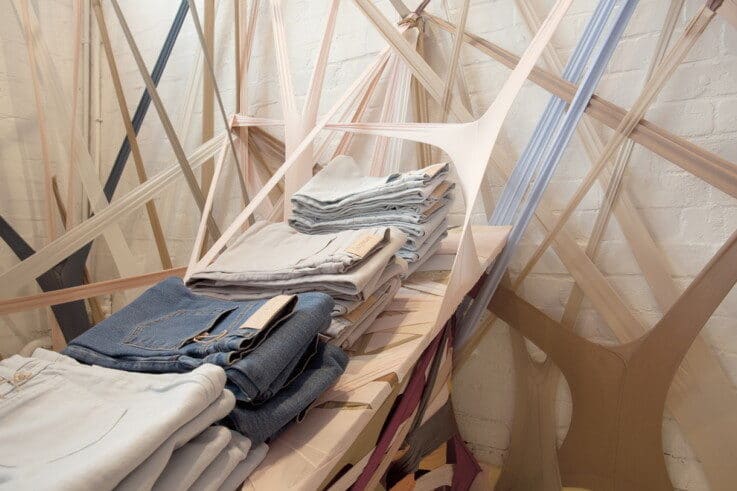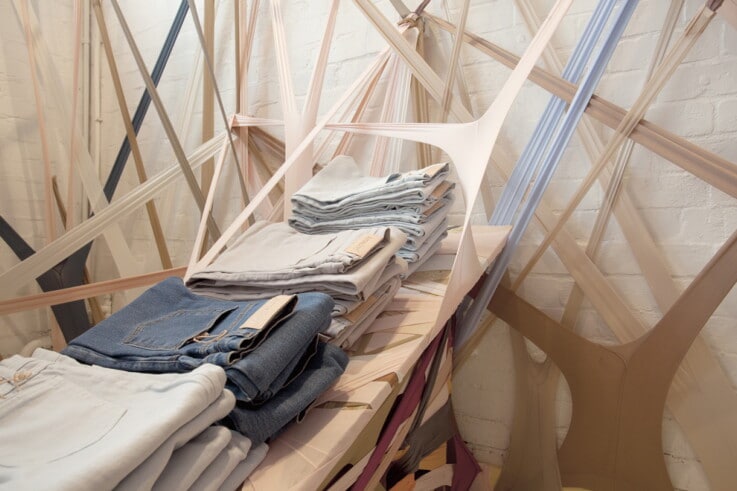 The pop-up shows no signs of abating, and why would it?
"Pop-up" has become a 21st century model for retailing, offering agile formats for brands to communicate specialist collections and collaborations. Temporary spaces are used to test new markets and express identity in new ways through installations and partnerships.
Exemplars are infinite, but here's our pick of the 50 most thought-provoking recent pop-ups (in no particular order):
1. Marie Claire: The Next Big Thing (New York)
Marie Claire Magazine has partnered with Mastercard to launch a New York concept store bringing to life the newest innovations in fashion, beauty, entertainment, technology and wellness. Called 'The Next Big Thing', the pop-up is divided into three zones named after popular sections in the magazine – Work, Play, Peak. Technology is blended seamlessly into the experience with smart mirrors from Oak Lab, Sensor Mirror Pro's by Clarins, smart windows and Masterpass digital payment where customers can make cashless transactions from anywhere in store.
2. Pantone Café (Monaco)
Arbiters of colour, Pantone have been exploring the 'taste of colour' through a series of pop-up cafes. The pop-up has run in Monaco every summer for the past two years and sells a menu of colourful pastries, lunch options, coffees and fresh juices branded with Pantone's signature color swatches.
3. HAND at The Witness Apartment (New York)
The Witness Apartment in Chelsea, NYC is a 2,000 sq ft loft in the heart of Manhattan used for pop-up concepts and creative activations. HAND is a recent 3-day pop-up inviting 20+ art, design and lifestyle brands to merchandise their product within the apartment. The space is filled with textiles, furniture, clothing, ceramics, gifts and curios all made by 'hand'.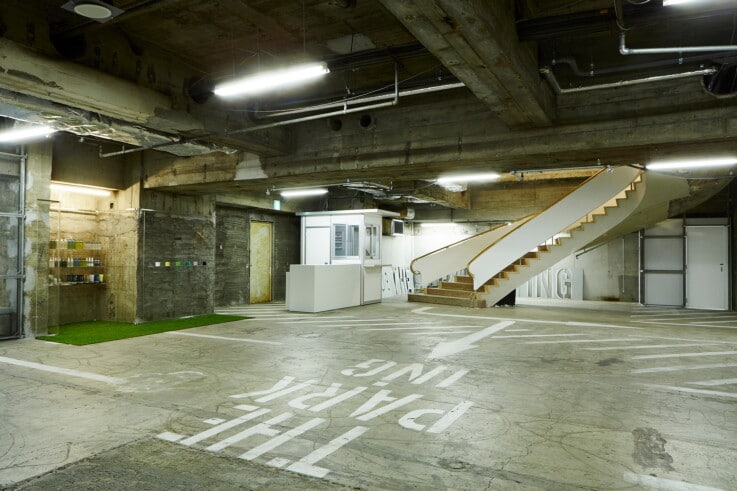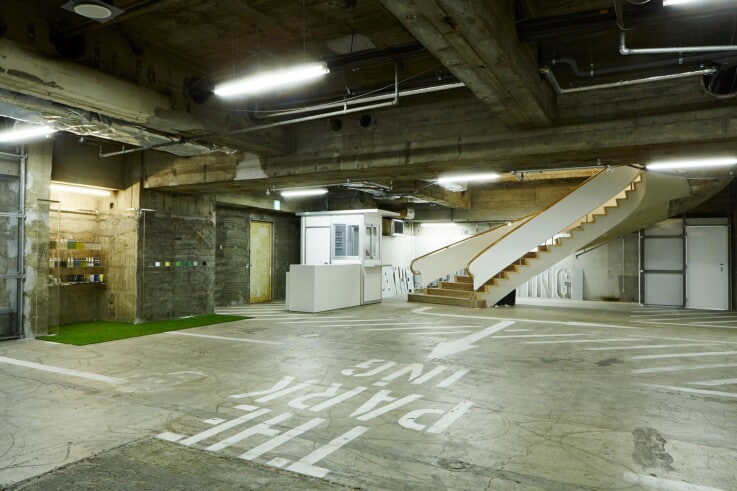 Image credit: The PARK·ING Ginza / Nobuo Araki/The Archetype
4. PARK-ING (Tokyo)
The father of creative pop-ups in Tokyo, Hiroshi Fujiwara launched THE PARK-ING in Ginza late last year. The pop-up spanned two floors of a car park and featured a series of rotating pop-up installations from cult labels OOF-WHITE, retaW and fragment alongside sports favourites like Oakley and Nike. It was also home to a Bonjour Records store and cafe.
5. Kanye West: The Life of Pablo (Global)
THE pop-up that popularised the musician/rapper concept store. Kanye West created a series of pop-up stores across global cities in celebration of his seventh studio album, The Life of Pablo. The location of each store was teased on social media at short notice, leading to queues around the block. Each store retailed distinct 'TLOP' merchandise, unique to each selected city, as well as a selection of items curated by Kanye including Levi's denim, Cali Thornhill DeWitt-scribed shirts and "Famous" hoodies.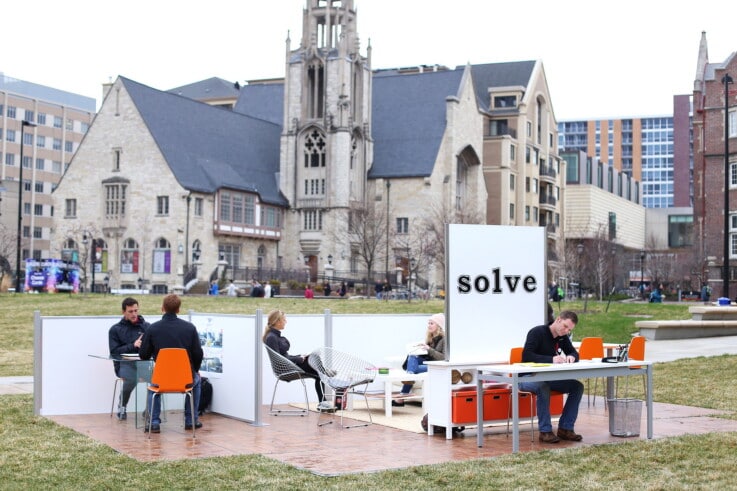 Image credit: Solve, Jarrod Gustin
6. 5-Minute Internship by Solve (Minneapolis)
Minneapolis-based creative agency Solve used an innovative pop-up concept to hire its next round of summer interns. It created a small-scale replica of its offices and a mini reception lobby and transported it to college campuses. Students were given a 5-minute challenge based on their area of interest and if successful, were offered an interview opportunity on the spot. The pop-up resulted in triple the number of applications to its internship programmes.
7. COS (Los Angeles)
Another Snarkitecture collaboration, the LA based architecture firm collaborated with Swedish label COS to create a 'mirror' installation that would help emphasise the stripped back silhouettes of the clothing. Playing with reality, the firm divided an empty industrial space into two identical rooms – one in monochromatic white, one in monochromatic pale pink, creating an Instagrammable experience.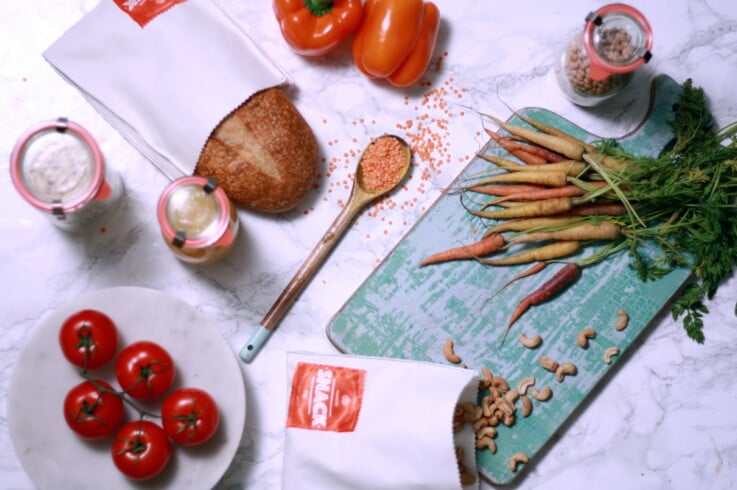 Image courtesy of Bulk
8. Bulk (London)
This innovative pop-up in Dalston, London is the borough's first packaging-free supermarket. Customers are encouraged to bring their own empty containers and jars which they fill up and weigh as they go around the store. Products include wholegrains, flours, oils, pasta, cereals, dried fruit and nuts, spices and beauty products. The store hopes to spearhead a plastic-less movement.
9. Skepta Souk (London)
Skepta and Nike's latest Sk AIR shoe was inspired by Moroccan craft, colour and culture – a place the English rapper describes as his 'haven'. For the launch, the two brands transformed an underground space in London into a pop-up Moroccan-inspired souk. Skepta personally selected all of the vendors in the pop-up marketplace including London local brands, his personal barber from Hollywood Barbers and friend artist Ryan Hawaii who was on hand to paint customisations on t-shirts and caps.
10. Kith x Nike (New York)
KITH and Nike teamed up for a 6-month long pop-up in celebration of its product collaboration. Co-branded products were woven into a unique installation designed by Snarkitecture. The "Medal Stand" featured iconic Nike silhouettes alongside a customisation area for guests to design their own. The space also featured KITH's signature KITH Treats cereal bar and cafe serving a section of custom cereal combinations, milkshakes and ice creams.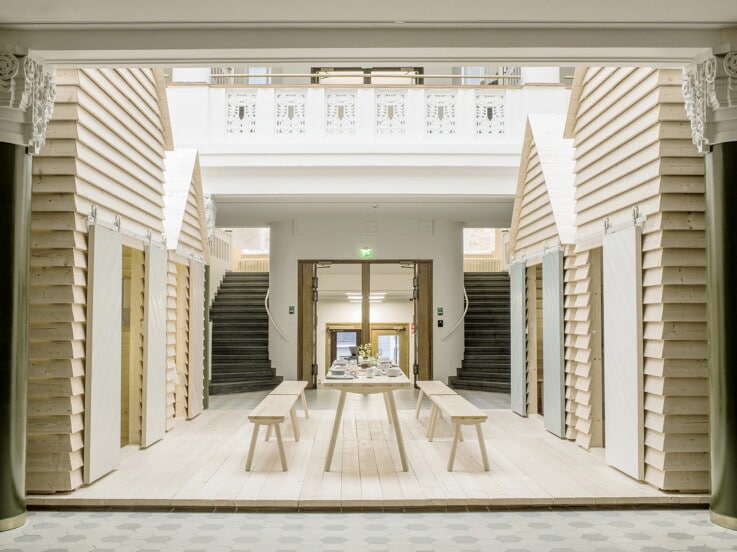 Image credit: Kaapo Kamu, 2017
11. KOTI (Paris)
To celebrate Finland's 100 years of independence, the Finnish Institute of Culture in Paris was transformed into a hotel and living pop-up installation available for booking for 100 days on Airbnb. The space was designed by Linda Bergroth, kitted out in products by Nordic designers and named KOTI or 'home' in Finnish. It celebrates the summer-cottage sleepover experience customary in Finland complete with a traditional breakfast served every morning.
12. Birchbox (USA)
Taking an online retail concept offline, popular beauty-subscription brand Birchbox went on a national tour across multiple US cities bringing its top products to life in bricks and mortar stores. As well as selling beauty products IRL, the spaces offered manicures and astrology readings as an extra incentive to drive customers to the physical store.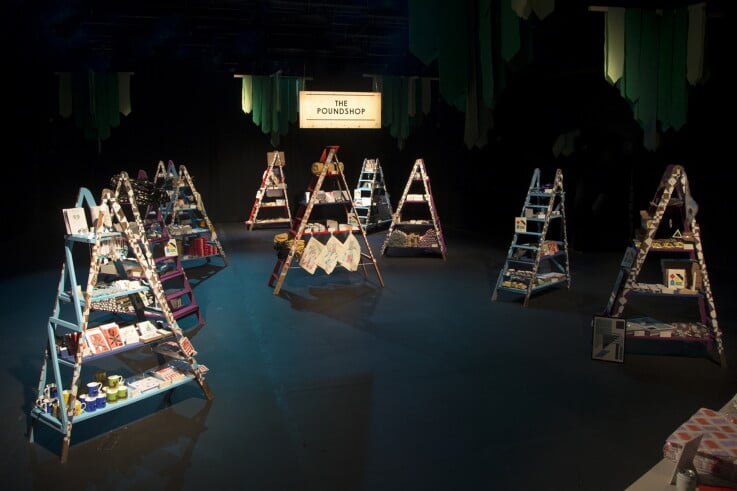 Image courtesy of The Poundshop
13. The Poundshop (London)
The Poundshop is a design collective and pop-up store platform for artists and designers to sell their artisan goods to a wider audience by offering their pieces at ultra-affordable prices. With small batches priced at £1, £3, £5 and £10, the store is a retail gateway for emerging designers. The 'stores' themselves take innovative formats ranging from market carts to museum installations.
14. Good Times (London)
In promotion of his solo album In Colour, British producer Jamie XX opened a one-week-long pop-up store called Good Times. The space served primarily as a record store with a selection of the artist's favourite albums sampled for his latest record and some signed vinyls. He also curated a series of radios shows that were recorded live from the store and broadcast on NTS Radio.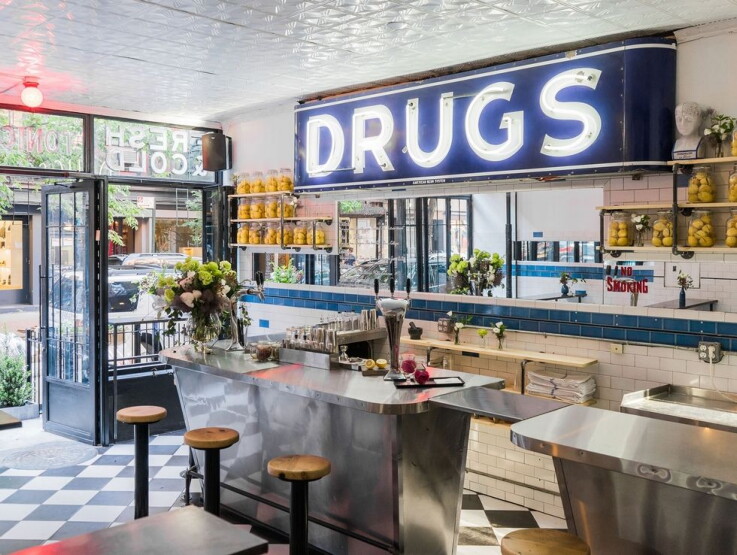 Image courtesy of The Drug Store
15. The Drug Store (New York)
Dirty Lemon is a wellness beverage band retailing on its own terms (it sells directly to customers via text message). Its pop-up store doubled as Manhattan's first non-alcoholic cocktail bar featuring Dirty Lemon Mocktails and healthful refreshers like Iced Matcha and Rose Lemonade. Guests could also reserve seats at the bar for a chance to be served by celebrity and influencer bartenders.
16. Kingsman x Mr Porter (London)
Matthew Vaughn's Secret Angel film franchise Kingsman has become synonymous with dapper British tailoring. No wonder then that the movie teamed up with menswear retail destination Mr Porter to create a shop-the-look pop-up. Open until Christmas 2017, the store is curated with luxury labels and amenities from Turnbull and Asser to TAG Heuer, Drake and Smythson.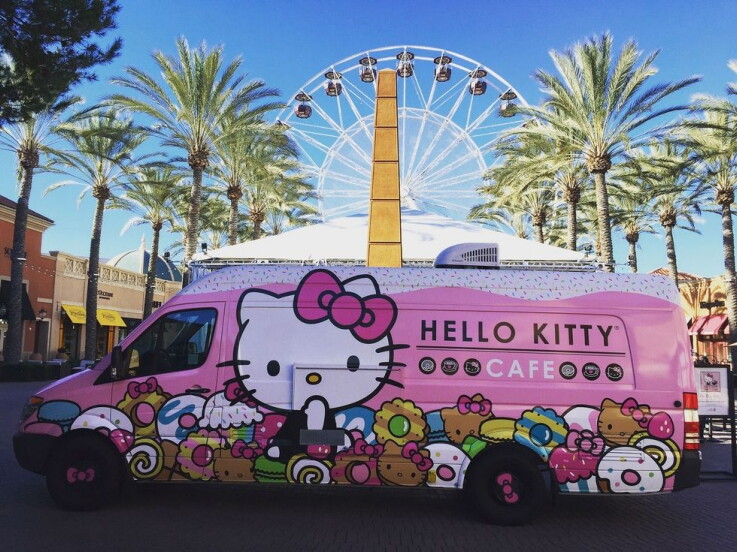 Image courtesy of Hello Kitty Cafe Truck
17. Hello Kitty Cafe Truck (USA)
Brand love embodied, two Hello Kitty Cafe Trucks – one East, one West coast USA toured the summer serving up indulgent and 'grammable sweet treats as well as iconic HK merchandise. The truck toured a new location every weekend signposted by the @hellokittycafe Instagram channel.
18. ColorFactory (San Francisco)
ColorFactory is a 12,000 sqft experiential colour installation by Oh Happy Day party store and designer Erin Jang. Fifteen site-specific art installations are housed across two storeys. Each visitor is given a connected Color Factory card which links to their email address and the cameras in each room. Visitors swipe the card to signal to the cameras they are ready to take a photo, then collects and send photos straight to the user's inbox. Party-inspired installations range from a yellow ball pool to a blue balloon bath.
19. The Beehive (New York)
#BumbleHiveNYC is a physical manifestation of digital social networking platform Bumble. The space has been designed as a meeting place for empowered female thinkers, artists and entrepreneurs. The space is programmed with discussions across health, relationships, technology and education as well as free entertainment, drinks and snacks.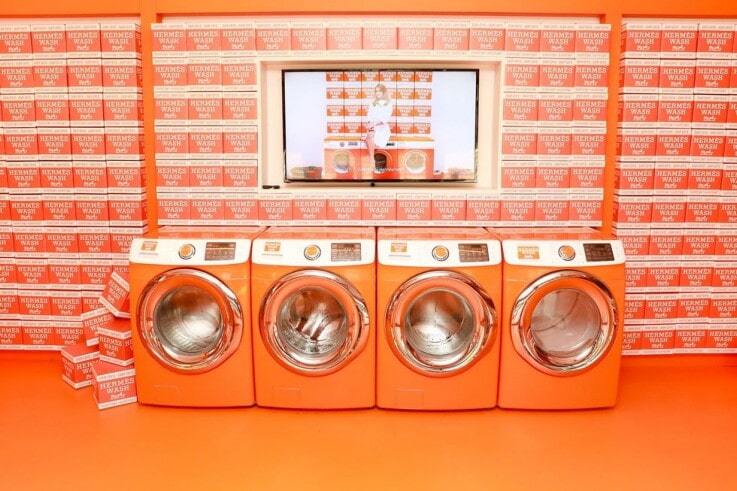 Image courtesy of Hermes
20. HermesMatic (USA)
Well known for their playful exhibitions, windows and store displays, the HermesMatic invited shoppers to either bring in an existing scarf of their own or buy a new one from the store and dip dye it violet, blue or fuchsia on site, ready in 24-48 hours. It travelled from NYC to Washington DC, Nashville and LA.
21. Tide Pop-up (London)
Tide is a new business-banking service app and part of the 'fintech' revolution. To bring its innovative service to life, the bank opened up an experiential pop-up in Old Street Tube Station earlier this year. The space provided an opportunity for potential customers to interact with the Tide team, promote their business on the Founder Member Wall and attend 'Tide Tals' around startup matters.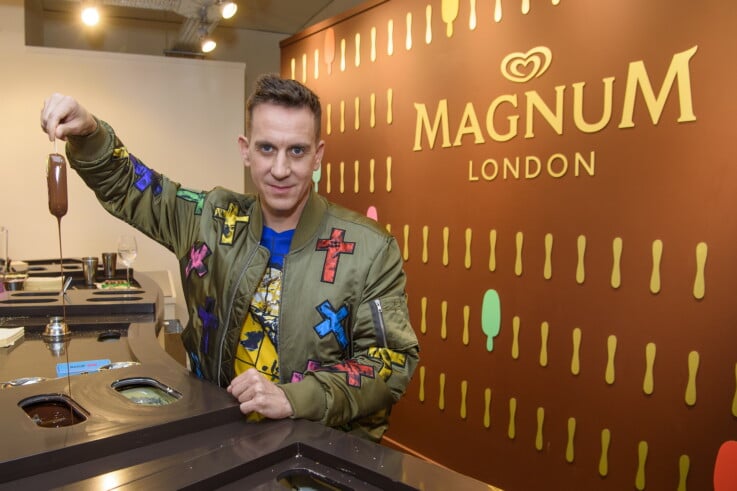 Image courtesy of Magnum
22. Pleasure Store (London)
Every year for the past five years, Magnum ice cream has opened the Pleasure Store, a DIY pop-up in London. The latest iteration was created in partnership with Moschino and offered numerous customisation opportunities including ice cream flavour, chocolate type, sprinkles and sauces.
23. Frame Pop-up (London)
Frame is a fitness studio well known for its eye-popping graphics and vibrant gym design. For its pop-up retail store at Old Street, it took reference from its existing scheme to create a seamless brand experience, at a smaller scale. Graphics were designed by Frame's mural artist Lakwena and pieces were displayed on vintage gym apparatus like rope, rings and bars.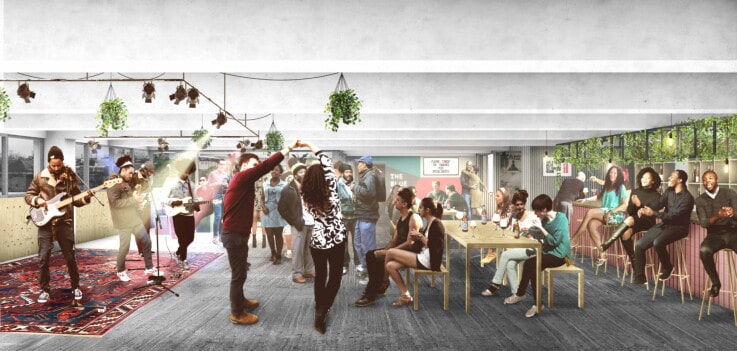 Image courtesy of Peckham Levels
24. Peckham Levels (London)
Peckham Levels is a mega pop-up occupying seven empty levels of multi-storey carpark. Designed as an 'experimental destination built to celebrate Peckham's creative spirit', the space will boast independent design brands, craft labels, food stalls, a performance venue, artist studios, a hair styling salon, a fitness centre and creative labs.
25. Daft Punk (Los Angeles)
French electronic duo Daft Punk created a week-long 'archival' pop-up shop in streetwear heartland, Melrose Avenue, Los Angeles. The space showcased iconic items from their career from the helmets to set pieces and vinyl artwork. They also had limited edition items on sale in collaboration with fashion labels like Gosha Rubchinskiy, Off-White, Enfants Riches Deprives and Darkdro.
26. Wired (Los Angeles)
This summer, Wired opened the latest in its string of pop-ups offering an experiential perspective of its content. Hosted in Santa Monica, LA the store was a glimpse of connected life through future smart devices. Visitors have the chance to experience new product demos that bridge the smart home and the smart car from the Dyson Pure Hot + Cool Link to the LIFX Smart Bulb and the June Intelligent Oven.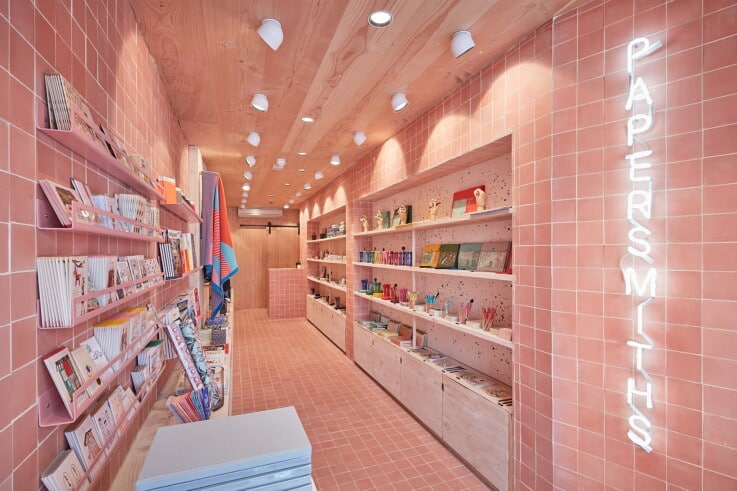 Image Credit: Max McClure
27. Papersmith Pop-up (London)
Bristol-based stationary label Papersmith is currently occupying a shipping container in London's Boxpark. The space is full of playfully colour co-ordinated and patterned stationery, notebooks and cards.
28. Other Penguin (London)
Penguin Random House lifestyle brand Penguin Living set up a week-long pop-up book shop in Paddington Central station bringing the themes of its lifestyle titles to life through workshops and tutorials. For example each day began with "Breakfast for the Mind' with the founders of 26 Grains Cafe, fitness sessions with the authors of "Fit and Strong" and DIY with "Life-hacks at Home, Work and Play".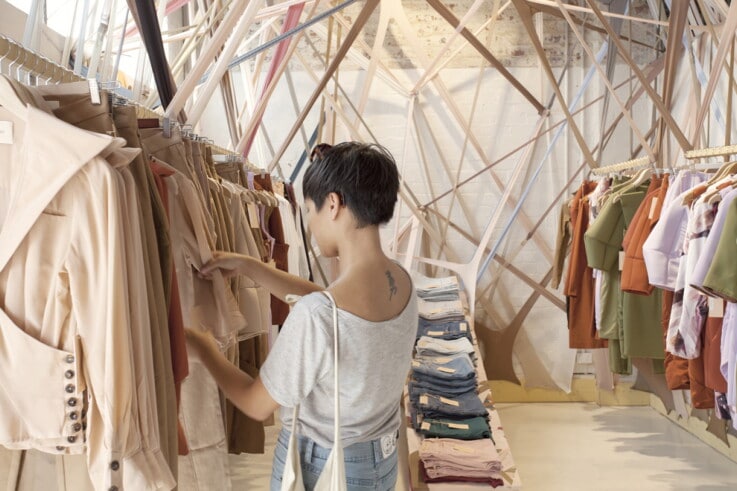 Image credit: Arnsdorf
29. Arnsdorf (Melbourne)
Melbourne based hosiery brand Arnsdorf opened an innovative store and installation designed by architect Edwards Moore. The interior design was crafted out of 154 pairs of tights creating an immersive 'cave' like setting for the brands Opticks collection inspired by rock formations and crystalline landscapes.
30. Nike Airmax 4th Anniversary (North America)
For its fourth annual Air Max Day, Nike opened a series of Sneakeasy Pop-up shops across Chicago, Los Angeles, Toronto and New York City. To gain entry to the clandestine shops, fans were encouraged to sign up on a microsite (one for each city) and track the corresponding Twitter accounts for details of the locations. Inside the Sneakeasy stores were curated local art installations inspired by "air", occasional music performances and a personal fitting service.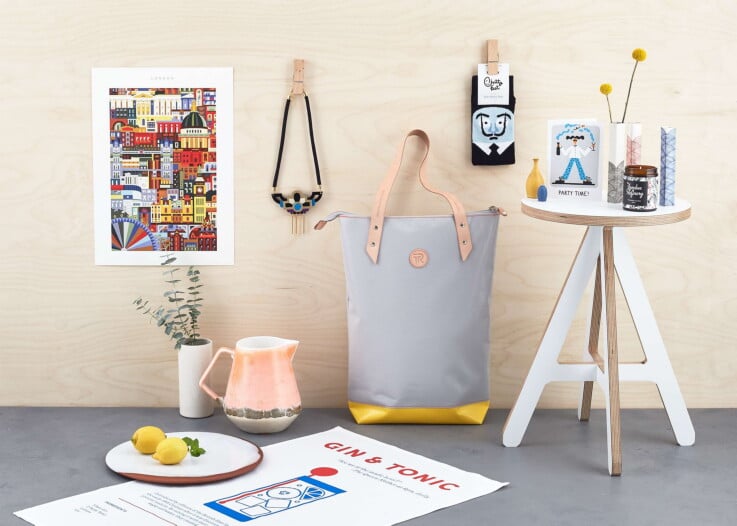 Image courtesy of Not Just A Shop
31. Not Just A Shop (London)
The University of the Arts London has opened a retail and enterprise space called Not Just a Shop. The store sells artwork and products by university alumni whilst doubling up as a space for students to get support starting and developing their businesses. It hosts a programme of talks and workshops on topics ranging from pricing work to protecting intellectual property. Proceeds from the shop are reinvested back into supporting the department's enterprise programme.
32. Prada (Marfa)
Somewhere on the dusty U.S Route 90 is a Prada installation by Elmgreen and Dragset. A minimalist window display exhibits Prada footwear and product but has no functioning door or staff. The designers refer to the install as a "pop architectural land art project" in the landscape.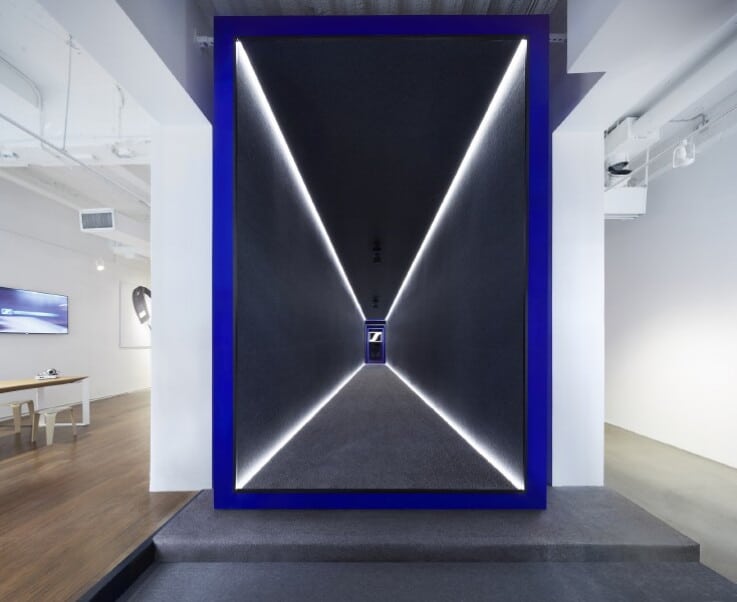 Image courtesy of Sennheiser
33. Sennheiser (New York)
Visitors enter a store through a 'sound tunnel', amplifying the sounds of the city as they go. The tunnel leads to a photography exhibition illustrating the history of the company, whilst headphones, microphones and industry-standard audio unfolds across 250 square meters. The final part of the experience is the "Sennheiser Sound Temple'' offering a state of the art experience of the Sennheiser HE 1.
34. The Dining Club by IKEA (Global)
The Dining Club by IKEA brought together hundreds of people to celebrate the joys of cooking together. The Dining Club featured a DIY pop-up restaurant, an IKEA cafe serving Swedish delicacies, 'Food for thought' workshops, a kitchen showcase area including a virtual reality kitchen, and a unique shop.
35. Originals x Alexander Wang (New York)
To celebrate the first drop of Alexander Wang x Originals product, fans were challenged to catch a branded truck making stops across New York City's shopping streets to get hold of a nine-piece capsule collection. The intervention was a purposeful tongue-in-cheek take on the reseller market, leaks and fakes. All products were wrapped in plastic or bagged in anonymous black bin liners.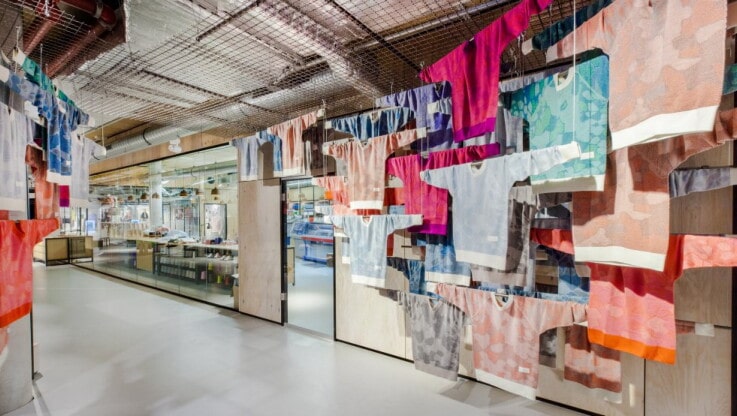 Image courtesy of adidas Berlin
36. Knit For You by adidas (Berlin)
This pop-up store brought consumers a taste of the future high-street retail experience. Upon arriving, the shopper entered a dark room where an array of patterns were projected onto their chest. To change the design, they simply swiped their hand to scroll through the options. They were then invited to a full-body scan before hitting the 'print' button to send their custom sweater into production in a row of knitting machines, before their eyes. The concept evolves the current retail model from 'see it, buy it' to 'think it, test it, make it, buy it'.
37. Olympus Perspective Playground (Copenhagen)
The Olympus Perspective Playground cleverly satisfies the content-creator generation, through the lens of its iconic cameras. The latest iteration of the on-going project took place in Copenhagen where on arrival guests could borrow OLYMPUS OM-D, PEN cameras and ZUIKO lenses free of charge and take the storage card home with them. Guests are invited to venture into large scale installations and rooms and take imagery through its own perspective.
38. Everlane x Nordstrom (USA)
Everlane has launched a store-wide pop-up concept across Nordstrom stores and e-commerce websites in the USA. The stores will offer Everlane's signature basics starting at $16 from cashmere sweaters to booties and pre-shrunk tees.
39. Birkenstock Mobile Box (Global)
Germany-based footwear brand Birkenstock has transformed a freight car into a mobile walk-in space that's set to go on tour to selected retail stores worldwide. 'The Box' plays host to each partnering store's interior concept and merchandise proposition. Store owners can curate the product selection, turning the Box into a temporary urban space that encourages creative communication between artists, retailers and customers.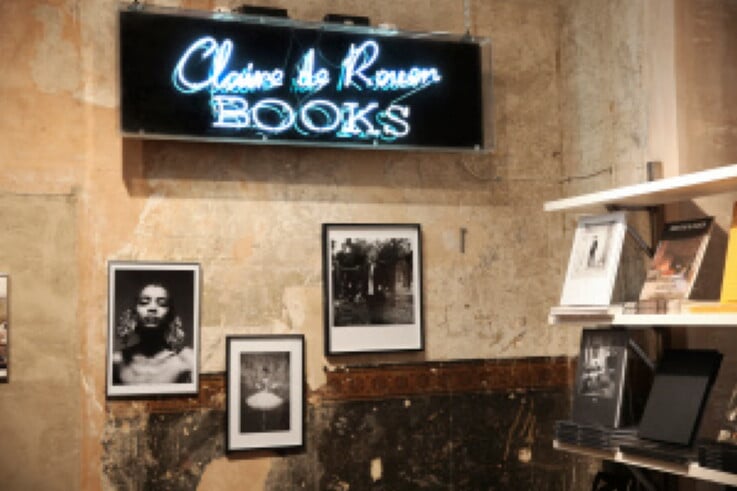 Image courtesy of Burberry
40. Here We Are (London)
The latest in the run of Burberry's pop-up exhibitions, Here We Are is an exhibition of British photography curated by the brand's Creative Director Christopher Bailey and Lucy Kumara Moore and Alasdair McLellan. The exhibition spanned three floors and 14 rooms and was supported by a dedicated iOS app and a link to retail.
41. I Am Gap (London)
Celebrating 47 years in the business, Gap scoured the planet of one-off vintage pieces dating back to its inception in San Francisco 1969. The research was then applied to its first concept store in Covent Garden where fans could get their hands on re-issues of Gap classic archive pieces (90s Khaki's included) as well as a denim personalisation station where you could personalise pieces with patches inspired by the past six decades.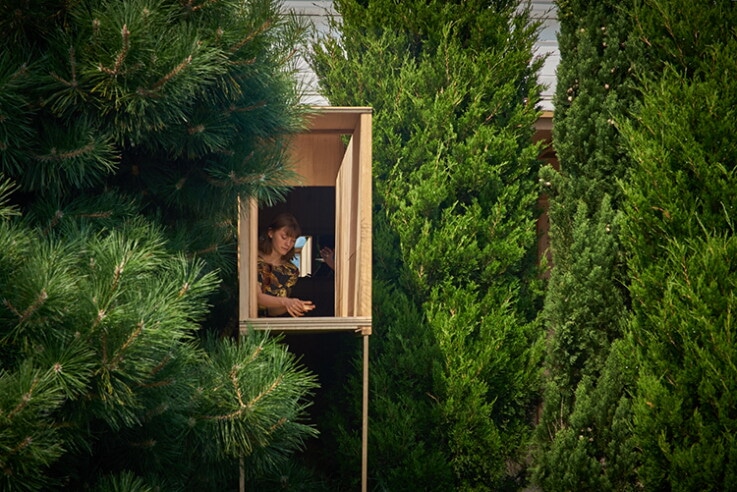 Photo Credit: Alex Chomicz
42. Aesop (Tasmania)
As part of its sponsorship of the MONA FOMA festival in Tasmania, Aesop created a pop-up wooden pavilion called 'Chamber of Light and Shadow' for visitors to refresh and recuperate. Designed by architecture studio Partners and Hill, the box was created from locally sourced timber and buried amongst the shrub environment. Pumps dispensed sunscreen and cooling aloe vera aftersun lotion as well as scented bracelets.
43. Beams Japan (Vancouver)
Another in-residence approach to the pop-up shop concept, Beams Japan (the Beams off-shoot championing all facets of Japanese artistry and craft) hosted a small pop-up store in the cafe of Fairmont Pacific Rim's Giovane Cafe as part of the Japan Unlayered exhibition, an edit of Japanese architecture, design and culture curated by architect Kengo Kuma.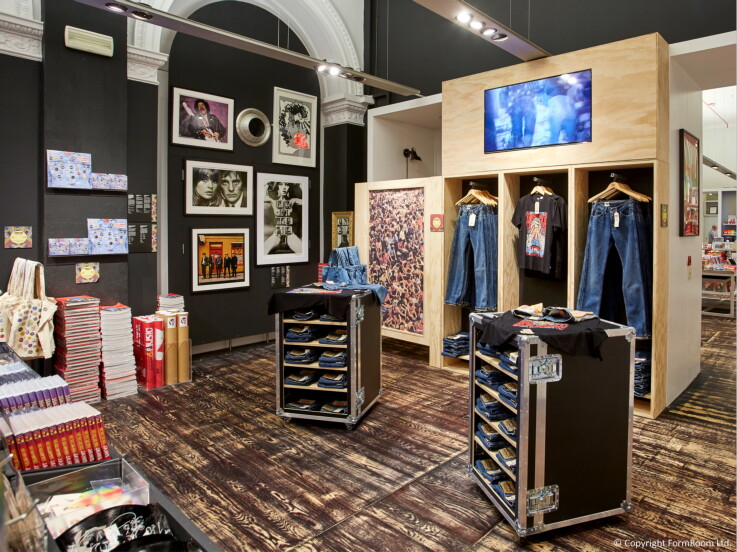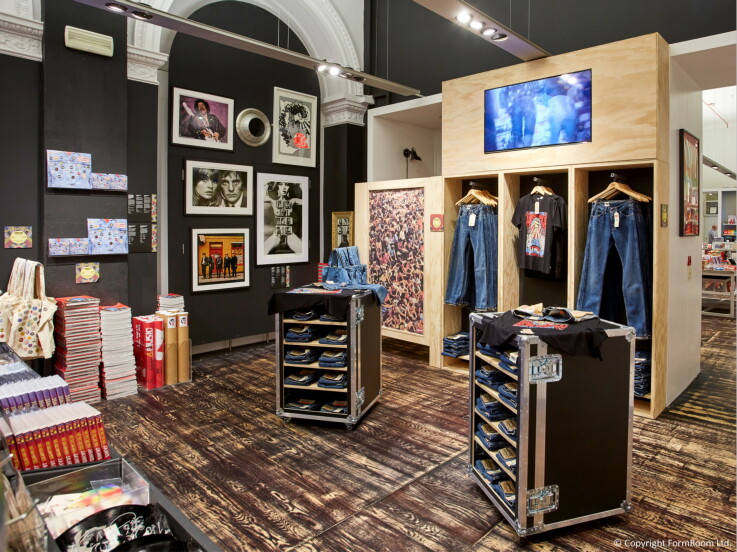 Image courtesy of Levi's/V&A
44. Levi's x V&A (London)
As part of its headline sponsorship of the V&A's You Say You Want a Revolution exhibition, Levi's created a pop-up shop in the museum as well as its flagship in Carnaby Street. Created by Form Room, the space straddled the aesthetics of the exhibition with one foot in the retro sixties, one foot in Levi's brand iD with natural plywood and seamless joinery. This was about immersing visitors in an extension of the exhibition with record props, leather music trunks fitted with shelving and vintage lighting.
45. Diptyque Bazaar (Brooklyn)
Diptyque took up residence with Brooklyn's neighbourhood multidisciplinary art community hub, The Invisible Dog, Boerum Hill. The luxury French fragrance brand opted for an unorthodox partnership in the converted factory building, with the brand blending in with the unusual, existing objects on show from stuffed creatures to vintage thrift finds. 10% of sales were fed back into the store.
46. The Lemonade Stand (Vancouver)
On the waterfront of Deep Cove, Canada, Herschel Supply has opened a diminutive pop-up shop at 298sqf inspired by a 'lemonade stand'. It features exclusive Herschel Supply Package collection products across totes and daypacks with a cold-pressed lemonade bar by The Juice Truck offering another reason to visit. All profits from the Lemonade sales go directly to ArtStarts In Schools promoting creative education in Vancouver's Youth.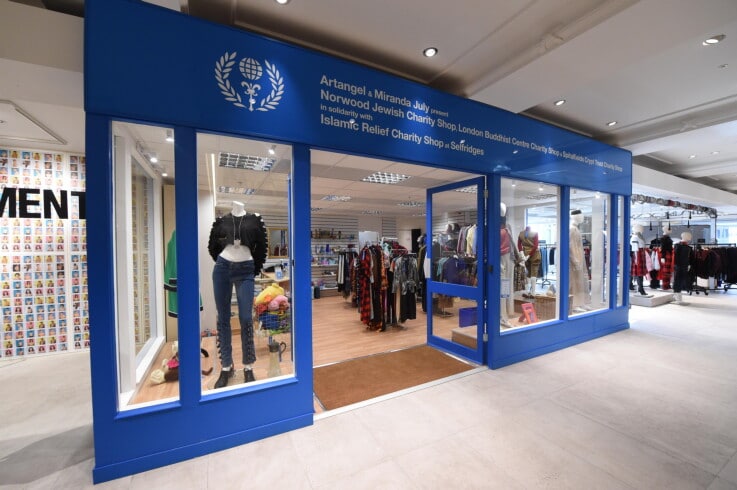 Image courtesy of The Interfaith Charity Shop
47. The Interfaith Charity Shop (London)
A politically charged concept by film-maker and artist, Miranda July, The Interfaith Charity Shop is a radical thrift store concept produced by Art Angel and Selfridges. The store combines a mix of products from a mix of stores: Norwood Jewish Charity Shop; London Buddhist Centre Charity Shop; Spitalfields Crypt Trust; and Islamic Relief retailing everything from headscarves to costume jewellery and bric-a-brac.
48. Louis Vuitton x Supreme (London)
When two worlds collide – Louis Vuitton x Supreme opened up a pop-up store appeasing two ends of the spectrum with its capsule collection. Acknowledging the hype and buzz caused by the collab, there were rules and restrictions on the front door including iD, security tracks, restrictions on baggage and luggage, no photography and no food and drinks!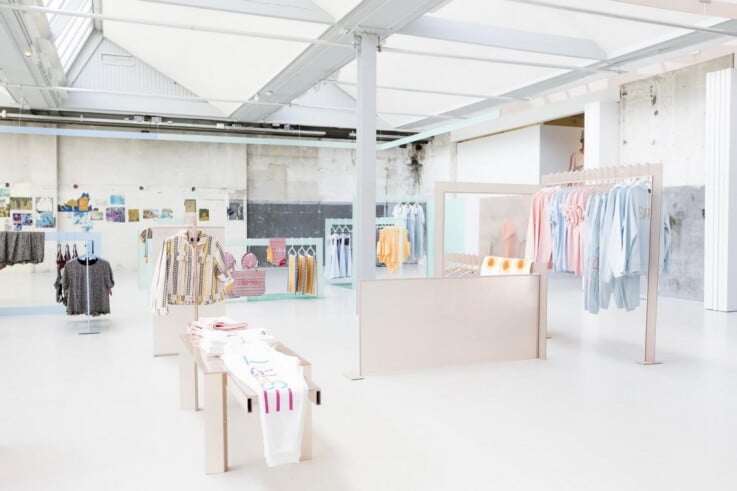 Image courtesy of Espirit
49. Esprit (Amsterdam)
To celebrate the collaboration between Esprit x Opening Ceremony, the team created a pop-up store concept inspired by the distinctive late 1980s palette of the Esprit brand. Casual jerseys are merchandised onto sugary pastel-coloured acrylic fixtures created from a specialist plastic called Myst. The material absorbs the light creating an ambient glow that offsets the summer-casual feel of the collection.
50. SHOWStudio x Port Elliot (Cornwall)
Fashion image makers SHOWstudio took its brand of stand-out visuals to British-based culture and music festival port Eliot this past summer. Fashion Flora was exhibited as a pop-up gallery featuring imagery from big designers to Alexander McQueen and Dior to local talent. The exhibition was brought to life through live art masterclasses.