Brand Focus
Retail Innovation Factfile: Argos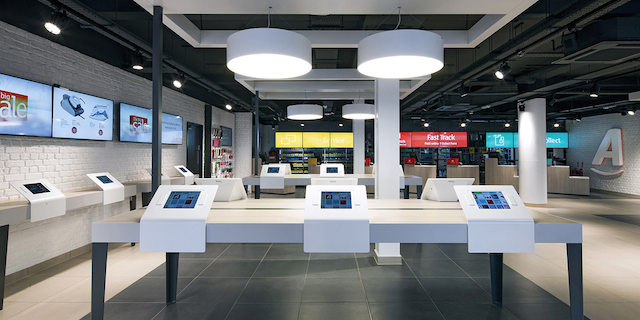 Retail Innovation Factfile: What is it?
Argos is one of the UK's leading retailers, which showed annual turnover of more than £4 billion and profit before tax of £71 million in its 2014 annual report. With over 750 stores, it has one of the biggest high street presences of all British retailers. It also is the UK's second largest online retailer after Amazon.
Argos's paper catalogue has been a key differentiator since the business was launched in 1972. The company aimed to give most of the UK population a high street shop that offered the range of a department store. This is still true today – it offers over 43,000 products and 96% of the British population live within 10 miles of an Argos store. The paper catalogue still exists, but more and more orders are being made through the company's website, mobile and tablet apps and through in-store iPads.
In October 2012 it launched the 'Argos Transformation Plan', a five-year strategic plan to reinvent itself as a digital and omnichannel leader. The plan outlined £300 million of investments, which are now paying off and helping the company grow after five years of decline.
The Tottenham Court Road store is one of its new 'all-digital' stores – instead of browsing printed catalogues, customers use iPads. These have the advantage of calling in customer reviews from Argos's website, which increase conversion rates. 2011 research from iPerceptions showed that 63% of customers are more likely to make a purchase when they can see product reviews. Customers can also look up items more easily, check stock instantly and watch product videos. Payment is currently taken at a separate kiosk, but payment hardware is due to be incorporated into the iPads.
Argos has significantly extended its click-and-collect offering for eBay products after a successful 2013 trial. Customer can now have items from around 80,000 eBay sellers for free. Argos does not yet let customers return items via its stores.
Argos continues to trial more and more innovations, including fast track collection points that enable customers to pick up pre-ordered items within 60 seconds of walking into a store, and voice-driven assistance that employees retrieve orders faster. Over 40 Argos stores now offer NFC capability to let customers access more product information and to download the company's mobile shopping app. Employees will be given iPads so they can walk around the store to help customers, rather than remaining behind a desk.
In early 2015, the company announced it would open 10 outlets in Sainsbury's stores, ordering and collecting over 20,000 non-grocery products within 48 hours, and making an additional 40,000 available for home delivery.
Retail Innovation Factfile: Why is it worth visiting?
Argos is frequently hailed as one of the world's leading examples of omnichannel retail. Although its 'all-digital' stores may have won lots of press coverage, it's the stuff behind the scenes that makes the real difference. Argos lets customers start and end the customer journey exactly the way they want to. They can view an item online and pick it up in-store, they can view and pay for an item instore and get it delivered at home, they can view and pay for an item via a mobile app and collect it or have it delivered. If a customer is near one of 312 selected stores, customers can pay a little extra to have their item delivered in 90 minutes via the Shutl delivery service.
In April 2015, the company completed the national rollout of its 'hub and spoke' fulfilment system, which offers customers same-day store pickup on around 20,000 products. Argos's own vans and drivers are used to transport items between larger and local stores.
Argos's 'stock check' function, which is accessible via all channels and shows availability of items for store pickup and home delivery, is really important. It makes it easy for customers to understand the waiting times.
Its stores, which were previously seen as a hindrance, are now seen as one of its major advantages against online-only retailers. Delivery issues still deter many people from buying online, and the physical store is a key way to address this. Argos sees its digital channels as a way to show customers what is available, and its physical spaces as the ideal place to provide customer service and product pickup. Both channels, of course, sell. For many, being able to order online and pick-up in store provides the perfect combination of speed and convenience.
The stores are used as pick-up points rather than selling points. The store is still involved in around 90% of all customer transactions. Only around 15% of Argos's customers opt for home delivery, compared to around a third who choose to reserve online and pick up in-store.
In its 2013/14 financial year, multichannel sales grew to 53% (or £2.1biliion) of Argos's sales.
Mobile is also a rapidly growing channel for the company – mobile commerce grew by 89% between 2012/13 and 2013/14 to form 18% of total sales (items may still be picked up in store after being paid for via an app). Argos's digital apps have been downloaded over 5.5 million times.
Omnichannel retail pays dividends – omnichannel customers can spend up to 69% more than ones who only shop and interact via one channel.
Omnichannel retail plays a key part in building loyalty. Conventional rewards-based loyalty schemes are losing influence, being replaced by great experiences, great products and brand recognition.
Retail Innovation Factfile: Key Trends
Omnichannel retail
In-store technology
Powerful behind-the-scenes infrastructure
Image credit: Dalziel & Pow