Retail
Storefront Digital Signage: How to Get More Customers in Your Store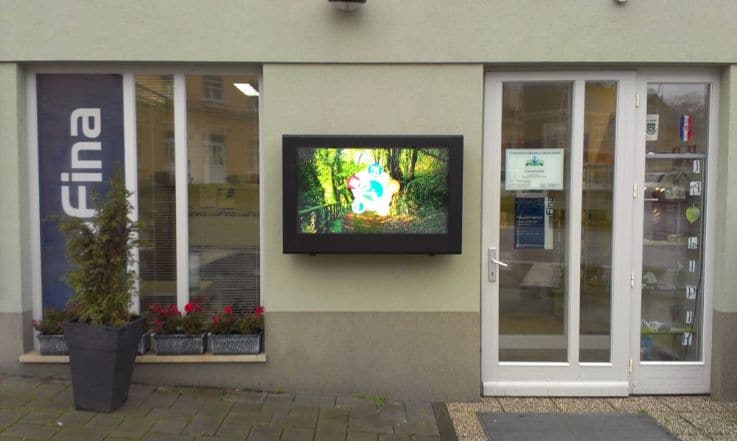 Daniel Waldron of Armagard explores the role digital signage plays in bringing customers into stores.
Storefront digital signage is the difference between a customer coming into your shop, rather than choosing to shop at another store. It is that powerful. Digital signage at your shop's entrance signals to shoppers that you care about their shopping experience and that is what will get them into your store.
You are a shopper as much as you are a store owner.
Imagine you are out shopping on your local high street or in a shopping mall.
You see a shop with storefront digital signage at its entrance.
The content on the screen is colourful and eye catching, displaying information about a 20% off sale in-store. As a shopper, your instinct immediately takes you into this store, enticed by the opportunity to grab a bargain in the sale.
What if I told you that every other store on your local high street, or in the shopping mall, had a 20% off sale, too?
You've walked past every other shop because, compared to every other storefront around you, the store with the digital display at its entrance is what caught your attention.
Why? Digital visuals activate the senses. Movement and motion in particular will instinctively make you focus on a digital display.
Often, without realising, digital signage will make you look, even if you didn't intend to.
During my daily commute, I encounter two digital advertising displays at my local train station. I know they are there, but every time I pass them, I find myself looking at the content on the screen.
I don't intend to, but I simply cannot help myself…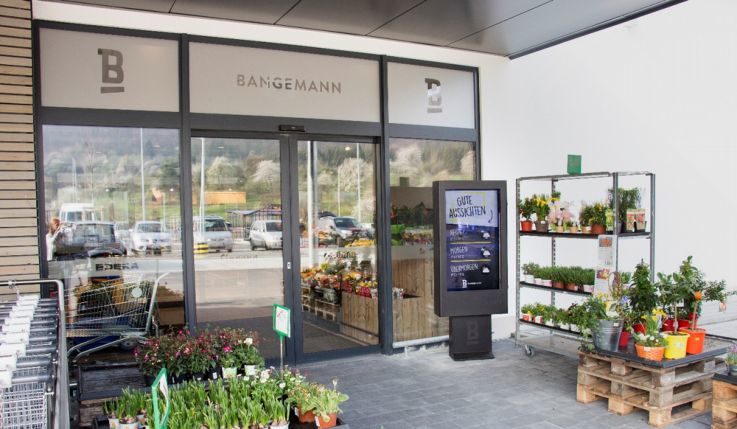 Digital signage at a store entrance.
The Power of Storefront Digital Signage
…That's the power of digital signage, it activates the human impulse to look.
No one quite knows why, it could be curiosity, the fear of missing out on something if you don't look or, if you are like me, you are looking for a distraction while you wait for a train.
Positioned in a place as prominent as your storefront, digital signage is even more powerful!
In a 2019 survey referenced by Screen Cloud, 8 out of 10 shoppers said they have entered a store because of storefront digital signage catching their eye.
There it is in black and white, right from the mouth of shoppers. Digital signage at your shop entrance has the power to persuade customers to step foot inside your store.
It is the shopping experience that digital displays give customers that is the driving force behind the rising use of digital signage by retailers.
Going back to my opening statement, digital signage signals to customers that you care about their shopping experience.
Digital displays demonstrate that you are on trend with the latest retail technologies.
In a world of smartphones and tablets, digital signage fits in with current consumer lifestyles. Shoppers expect a digital experience at your store. Start at the storefront and give them what they want.
Retailers are responding to customer demand for digital displays, which is why several studies highlight that retail is the fastest growing industry sector for digital signage network setups.
This should tell you one thing. If more retailers are installing digital signage networks, it must be working…
…Otherwise, why spend the money if the customers aren't coming?
Digital signage is revitalising retail and it starts at the storefront. Before a customer even sets foot in your store if they see a digital display at the entrance, you've hooked them by creating a great first impression.
It should come as no surprise then that the digital generation, otherwise known as millennials, are much more likely to enter your bricks-and-mortar store than baby boomers (78 percent compared to 70 percent, according to a recent study).
And yes, you guessed it, digital displays play a big part in persuading them to come in.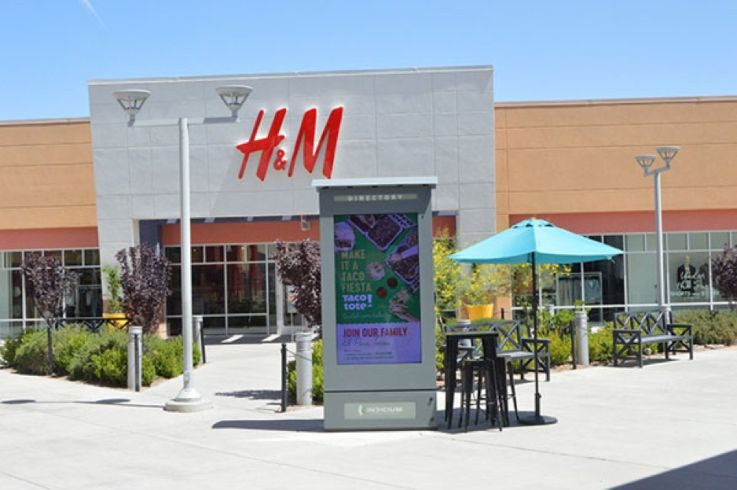 Digital signage starts at your storefront, but don't stop there.
Don't Stop at Storefront Digital Signage
Your storefront digital signage should be a preview of what is to come.
Upon entering your store, shoppers will expect you to follow through on your digital shopping experience.
In-store digital displays play a vital role in getting more customers to shop with you.
Having multiple touchpoints with your customers is highly beneficial. A digital signage network, with displays positioned at key points across your store, gives you the opportunity to gather data.
For example, you can install an interactive touch screen display that allows shoppers to search for items in-store. You can gather data on exactly what they are looking for.
Let's say you own a clothing store. There's a customer using your interactive display to search for jeans.
They select a pair that they like. Upon choosing the item, the display recommends other items that a shopper can buy to complement their choice of jeans. This could be a top or shoes.
The customer could potentially leave your store with an entire outfit, boosting your revenue.
Storefront Digital Signage Leads to Bigger Benefits
Storefront digital signage is just the start of the customer journey and the benefits it brings to your business.
Digital signage at your store's entrance makes a great first impression, but you need to follow through with the digital experience once customers step foot inside.
Do this and you can expect to drive sales, increase brand awareness and grow customer loyalty.