New York
The Best New Retail in New York – June 2023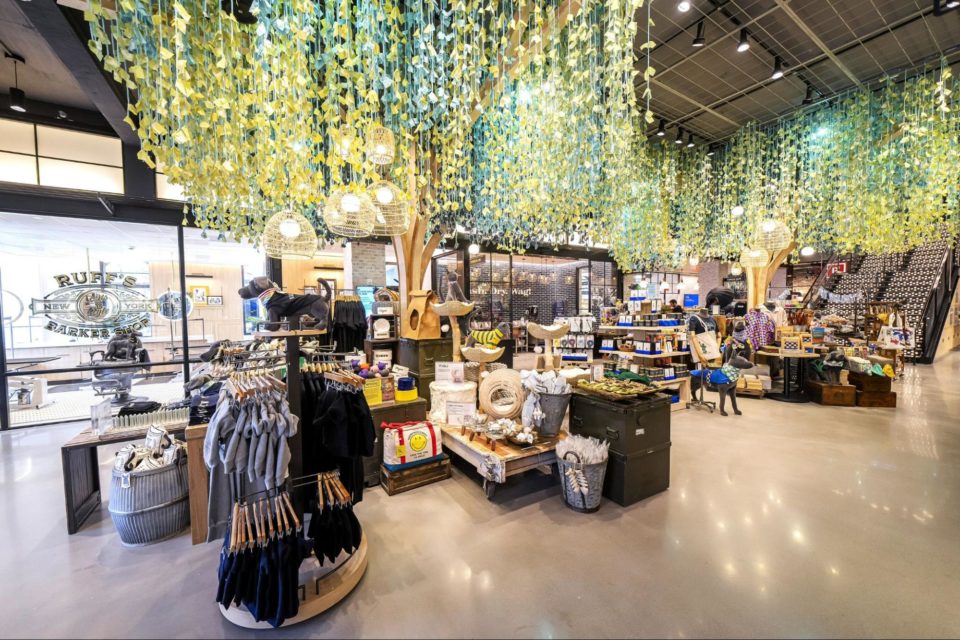 New York has some of the most innovative and exciting retail in the world and this month is no exception with a range of new store openings, including a robot bar!
We've found stores offering rare and vintage spirits, selfie bike rides, dancing robots, and luxury cannabis merchandise. Brands are keen to tap into local communities, with events, artwork and NYC-themed products to encourage customers to visit.
Here are our top picks for New York store openings in June.
Brompton, Brooklyn
Brompton, the folding bike retailer, has created what it calls the world's smallest bike shop; a Brompton Micro Junction store in Brooklyn.
Customers are able to choose from a curated selection of products to buy in-store, or can order from the full catalogue via digital touchpoints for home delivery or pickup from the Manhattan flagship. Visitors to the store can also take advantage of the Selfie Test Ride, where they can test the bike in Brooklyn, in exchange for taking photos to upload to Instagram.
The brand is also offering a special trial to residents in New York City, so they can try out a Brompton bike.
Tracksmith, Brooklyn
Athletic clothing store Tracksmith has launched its third store in New York.
The store aims to connect with the running community with Tracksmith undertaking local research to ensure the store best serves them. The location is near several famous running tracks and New York marathon routes.
The store has a range of clothing and accessories aimed at women and men, including the Eliot Runner, Tracksmith's new footwear range and the Rapid Transit collection for commuters. Runners can also make use of the store's lockers to store their items while they run, and there are events, training sessions and runs planned for the future.
Collezione, Madison Avenue
Stefano Pileggi, a renowned collector of whisky, has opened a boutique for spirits on Madison Avenue.
The aim of the store is to connect with a wider range of collectors with an atmosphere similar to high end fashion retailers. The products include an assortment of rare bottles that are available to purchase, and spirits from independent distilleries, at a range of prices.
There is a private area where Pileggi can meet and greet collectors, and show them some of the store's most rare bottles. Another area is for displaying rare bottles not available for purchase, including some of the oldest whiskey bottled by Macallan. The store is planning tasting sessions and considering partnerships with restaurants. The products will also expand from a focus on whiskies and wines to cognacs and other spirits.
Botbar Coffee, Brooklyn
There is a lot of buzz around this latest coffee shop recently opened in New York: Botbar Coffee.
It is, as the name suggests, a coffee shop run by a robot, programmed to serve coffees and pastries. The robot can create a range of drinks, including teas and cocktails. Visitors use the digital touchpoints to order their drink, which is then sent to the robot, which creates the drink.
The robot is also able to dance, which it does when it has no orders. The store claims it is capable of serving up to 50 cups of coffee every hour.
Gotham, Bowery
Gotham is a new high-end cannabis concept store that has opened in Bowery, New York.
The store space is airy and minimalist, with glass display cases more akin to a jewellery shop. Customers can purchase cannabis and cannabis-products such as edibles and tinctures, and an array of clothing and lifestyle products, including those from luxury brands such as House of Puff and Rose New York x David Zilber.
There is also an art installation from Molly Lowe, a New York artist, and the store plans to host other events and art exhibitions in the space.
Century 21, Manhattan
Century 21's flagship has returned to New York after closing briefly during the pandemic.
The store spans four floors with a wide range of women's and men's clothing and accessories all at discounted prices. The range of luxury brands on offer is vast and rotates frequently, with YSL, Fendi, Michael Kors and Camper currently available. The store is also stocking items from up-and-coming designers such as Suburban Riot and N. Philanthropy. There is an in-store tailor available to alter customers' discounted finds.
The store was launched with an NYC theme to celebrate the city, with specially designed murals from Timothy Goodman. Visitors were able to enjoy NYC food, personalise clothing with NYC designs, and take photos at a special runway booth.
Petco, Manhattan
A new flagship pet care centre from Petco has debuted in Union Square, designed to offer an all-encompassing pet experience for owners.
The centre offers self-service grooming, adoption and has a veterinary hospital on premises. There is also a specialist pet kitchen from JustFoodForDogs, as well as a range of merchandise. Petco offers not only its own label products, but items, clothing, and portraits from luxury brands, such as Hiro Clark.
The launch was celebrated with a special ceremony to cut the ribbon, as well as a Paws in the Park event, with free activities for pets, competitions and the chance to adopt a new pet.
Discover the best new retail inspiration first with a New York retail safari. Get in touch to book your bespoke tour.