Paris
The Best New Retail in Paris – August 2023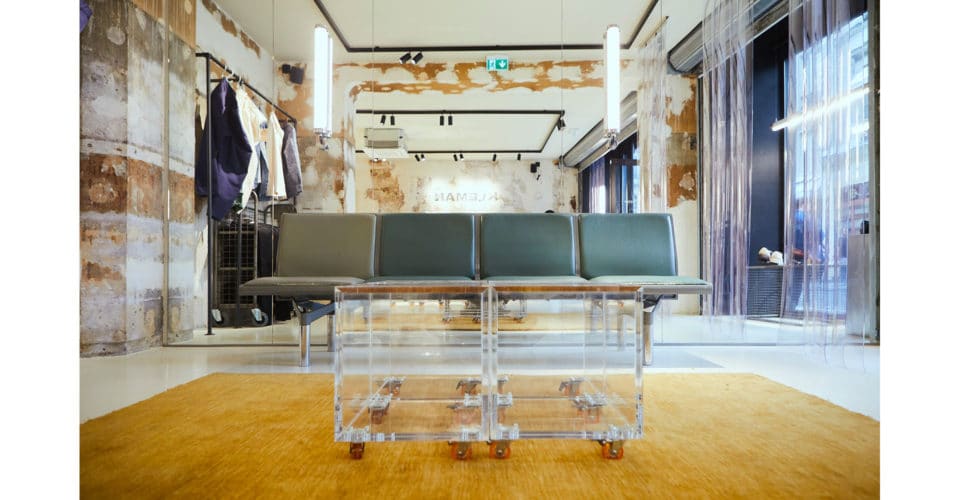 There is nostalgia infusing the retail stores in Paris this month, with brands looking back to their heritage or championing the vintage spirit. Design also features heavily, with stores looking to make the spaces as impressive and visually interesting as possible.
We've found a high street store that looks like an art gallery, a luxury designer installing glass fitting rooms, industrial elements for displaying denim, a beauty and accessories archive and a retro record shop.
Take a look at the trends happening in-store with our latest list of the best new retail in Paris.
Zara, Champs-Elysées
A new Zara flagship has launched in Paris, designed to evoke the feel of an art gallery.
The store has a light and airy look and is spread over one long floor, laid out to direct the customer through the different product sections. The opening was celebrated with complimentary pastries designed by renowned chef Cédric Grolet and an exclusive clothing collection.
A digital display greets customers at the entrance, before leading them to the womenswear section, which features the new SRPLS clothing line, as well as clothing, accessories and lingerie. There is also a large menswear space, which includes the Origins line.
Digital elements have been infused throughout the store for seamless customer interaction. QR codes can be used to help find areas in the store, and the changing rooms can calculate the items customers are carrying. The mobile app can be used to book changing rooms, check stock availability and purchase products for store pick up.
Diesel, Rue Saint-Honoré
Italian denim brand Diesel has revamped its Paris store to reflect its long heritage.
The new store is an industrial design featuring Diesel's signature red throughout. There are distressed billboards around the space with a series of retro Diesel adverts and accessories displayed on steel fixtures.
There is also a visually impressive Red Room, which features the brand's ready-to-wear collection against lacquered reflective walls. Customers will also be able to purchase exclusive items at the store, with new Track Denim clothing and special edition 1-DR bag.
Alexander McQueen, Rue Saint-Honoré
An ambitious new flagship from luxury fashion house Alexander McQueen has opened in Paris.
The store is designed by Sarah Burton, the brand's creative director, and is an impressive expanse of light and dark woods, accentuated with papier mâché. The new clothing collections for women and men are displayed around the centre, all looking towards the impressive fitting rooms.
These changing areas are a large glass space, stretching towards the ceiling. Privacy is provided by a series of woven tapestries hanging inside, created in Italy and featuring Alexander McQueen designs. Large carved stone sculptures from artist Marcela Correa are displayed outside the space.
Kleman, Rue de Temps
French shoemaker Kleman has opened its very first retail flagship store.
The space has an industrial feel, designed to look a little like a workshop, with a patchy wall design.
The store will stock original Kleman footwear, which were practical and designed for workers, but in more contemporary designs with a variety of materials. The brand is also working on a range of goods created from shoe offcuts and has launched a collection of socks.
Kleman will additionally be collaborating on new designs with other brands, as well as curating a selection of items in-store from chosen brands.
Dries Van Noten, Rive Gauche
Luxury designer Dries Van Noten has launched a new store in Paris, dedicated to its beauty and accessories range.
The interior design is opulent and eclectic, with marble, gold and velvet used throughout, accentuated with a vintage tapestry and modern lighting. Customers can view a curated collection of the brand's archive in the Cabinet de Curiosité room.
The store is offering beauty products that are more artistic and decorative, rather than practical, for customers to display at home.
Hark, Popincourt
A record shop for second hand vinyl and new releases has recently launched in Paris.
The space is designed to evoke a feeling of nostalgia, with a collection of reel to reel and record players in a corner of the store. The brand aims to connect with musicians and other music fans, hoping to appeal to a generation feeling disconnected from streaming.
Local artists will feature prominently within Hark's collection of records. A launch party featured French artists Justice and celebrated iconic French music label Ed Banger Records.
Want to visit Paris with our retail experts and get your team's creative juices flowing? Get in touch to book your autumn retail safari now