New York
The Best New Retail Stores in New York March 2020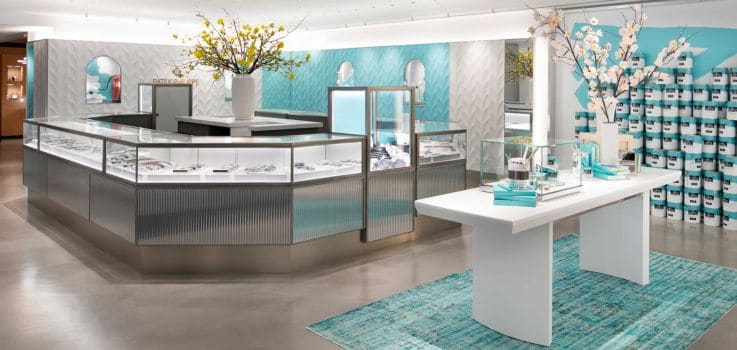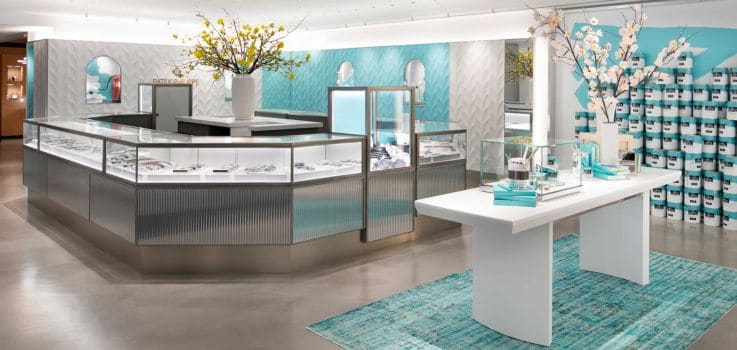 Image credit: Tiffany & Co
We always expect NYC to have lots of exciting new stores and pop-ups each time we re-visit, and this month it doesn't disappoint. From sleepover events in store to sustainable vending machines, we're sure you will find something here to inspire you.
IKEA Swede dreams sleepover
For big fans of IKEA there is now the opportunity to spend the night in one of its stores. IKEA's Brooklyn store is hosting a sleepover event on 13th March. It's available to IKEA Family members and will be offered as a raffle to 20 lucky participants. Held in the store's showrooms, the retailer is advertising a host of unique games and sleep-themed activities throughout the night.
For those who don't win a chance to stay over, there will be an Insomniac Lounge with ASMR (autonomous sensory meridian response) experiences, a silent disco and sleep workshops. A scaled-down version of the event, the After Dark Sleep Festival, was held in US stores on 22nd February. It also involved sleep-themed workshops as well as activities and prizes. The 'sleepover' event will also be running at IKEA's Costa Mesa, California location.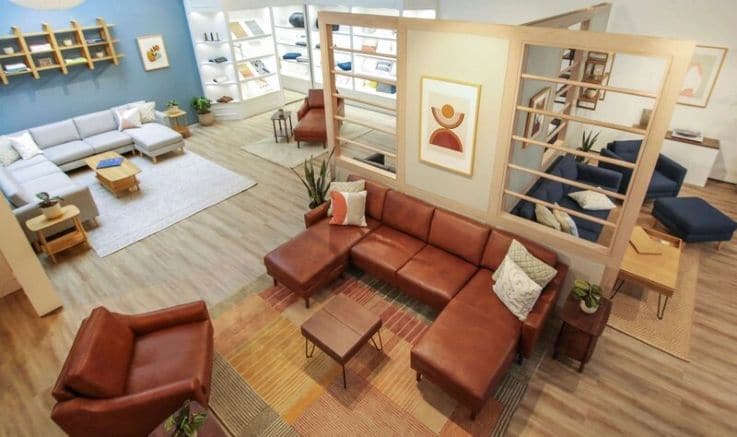 Image credit: Burrow
Burrow House
Ecommerce luxury furniture brand Burrow has outgrown its current SoHo location and has moved to a much larger space on Wooster St. The new layout not only lends itself to better displaying its new lines for customers to try out in person but also offers the opportunity to feature brand partners. The brand is also keen to promote community events and create a more immersive storytelling environment.
A trend we're seeing often is on display here: modular layouts so the store can evolve as the product category expands. The new store also features the Curated by Burrow partnership programme where customers can get more information on other products in store – currently the paint company Clare and an indoor plant company called The Sill are featured. It not only serves as an integral part of the store's design but also allows visitors to imagine the spaces they could create at home. And of course, everything is available for purchase.
Bergdorf Goodman cocktail bar
Heritage department store Bergdorf Goodman has launched a bar at its Fifth Avenue store. It's located within the men's store and serves an impressive selection of wine and cocktails. The store has also hired a Michelin star chef to bring the menu to life. Whilst a bar in-store isn't a wholly original idea, the trend of having a café within a store has proven to be a successful footfall driver and it boosts dwell time too.
Design inspiration has been taken from the store's Art Deco facade, and to ensure a bit of NYC is incorporated into the design world-class mural designer Gournay has been commissioned to create a one-off piece of Central Park.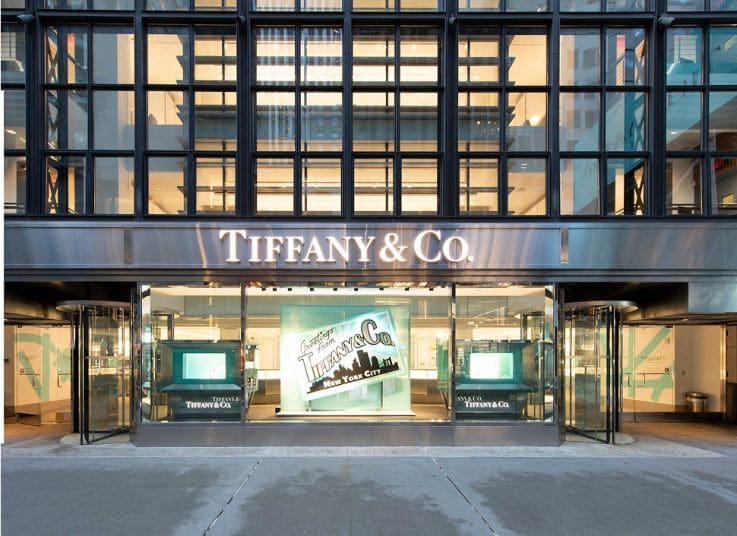 Image credit: Tiffany & Co
The Tiffany Flagship Next Door
Luxury jeweller Tiffany & Co has set up a temporary flagship store down the street from its current one whilst it is refurbished. The pop-up flagship has everything you would expect from a Tiffany flagship with private selling rooms and a VIP salon. The visually dynamic space has a playful and fun aesthetic. The store has been designed to accommodate an ever-changing layout to maximise the use of the space to accommodate pop-ups. Making the store as adaptable as possible means better options for the brand in terms of partnerships and events.
Tiffany & Co/Flowerbx pop-up
To coincide with Valentine's Day, Tiffany also launched a pop-up collaboration with London-based flower delivery service Flowerbx. Setting up shop in the aforementioned Tiffany Flagship Next Door, this was the first stateside space for Flowerbx.
Located in a subway car in the store's atrium, the space itself was Instagram-ready with a beautiful floral centrepiece, guaranteed to ensure maximum footfall. Flowers and jewellery were the perfect pairing for Valentine's day with co-branded packaging to mark the occasion. Customers could purchase unique gifts such as potted plants in Tiffany vases that perfectly showcase what both brands have to offer.
Image credit: Âme
Âme
US Jewellery retailer Âme has opened a new store in SoHo designed to challenge established brands with its striking store format. The brand was created to disrupt the diamond industry and creates lab-grown diamonds instead of mined ones. The monochromatic interior takes its inspiration from the undulating cast iron facades that are typical in the area.
Elsewhere in store the focus is on engaging the customer's sense through touch and music. The store even has its own unique scent created by UK perfume designer Azzi Glasser to add to the feeling of luxury. The jewellery is displayed under glass cloches, which gives them a museum-like quality, and ensures a slower customer journey around the store.
Dove 'Proud Of What We're Made Of' vending machine
Global beauty brand Dove decided to collect used plastic items in exchange for a complimentary Dove Body Wash. The one-day event held in Vanderbilt Hall at Grand Central Terminal was designed to celebrate the launch of its 100% recycled plastic bottles. The installation was built with as many recycled materials as possible to support the retailer's sustainability promise. It worked by simply placing the item to be recycled in the deposit area; the installation then came to life and produced a bottle of the body wash in a 100% recycled plastic bottle.
We've not even scratched the surface of New York's most inspirational retail in this post. Discover the spaces selling more in person on a New York retail safari.