China
The Best New Store Openings in China – January 2023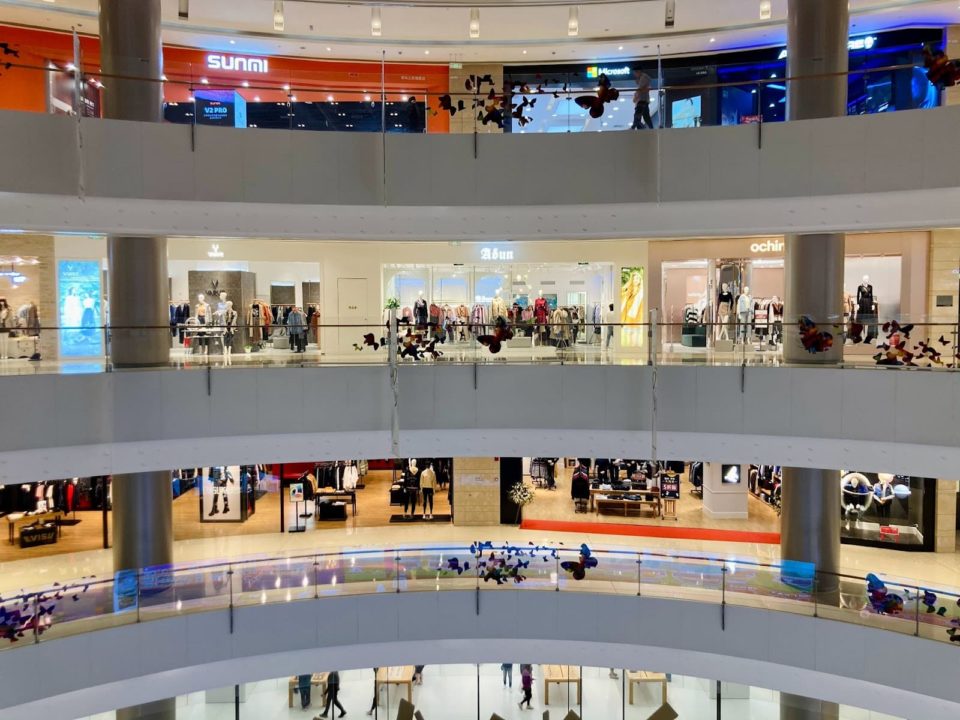 Have you spotted any interesting trends in retail 2023 yet?
We've noticed brands in China using data and tech to both personalise stores to suit local needs and for in-store product selection. We've been inspired by futuristic 3D printing, customer-created art, museum-style displays, digital screens and art installations.
Here are our top picks for the best new stores in China.
Nike Style, Shanghai
A new Nike Style store has opened in Shanghai, the first of its kind in China. The space has an environmental ethos, with the design using recycled elements. It also includes an area for customers to recycle Nike shoes.
The store aims to connect with the local sports community by offering products that appeal to those in Shanghai. This is reflected in the art adorning the building, created by local designers and Nike members using patterns of the brand's iconic Swoosh. Nike is hoping to add more community events and digital elements to the site in future.
Arc'teryx, Jilin
Arc'teryx has chosen the Beidahu Ski Resort in Jilin, China as the perfect location for its latest store.
The brand has leant into its surroundings for the design of the store which evokes a warm and welcoming wooden ski chalet. From the outside it gives off a glow that is reminiscent of a campfire.
Arc'teryx requested that just one third of the store was dedicated to retail. The rest is focused on brand building. A central acrylic 'glacier' installation serves as a bar and communication hub. In the back there is an area for mountain skills training complete with lockers, washing machines and dryers. The outside veranda has space to store snowboards and skis while in the space.
S'Young International, Changsha
Luxury online beauty retailer S'Young International has opened its first ever bricks and mortar flagship.
The Changsha-located store is called Shuiyangtang. S'Young International celebrated its opening with an exhibition called Genesis of Beauty, which featured a scent- inspired installation by perfumer Jo Malone and artist Lee Seung Koo, alongside a display of some 71,000 beauty items from all over the world.
The store houses different areas, such as Elite Choice, a space for digital art pieces and interactive brand experiences. The Formulation Lab showcases all the trending and seasonal beauty products, and the Perfume Gallery allows shoppers to discover a new scent, while sipping artisan coffee.
Finally, the Dream Dresser gives customers a choice of lighting options while exploring products from overseas brands.
A key feature of the store is the use of AI to recommend specific beauty products to visitors based on their particular skin requirements. S'Young International has also created the store with an omnichannel experience in mind. Shoppers can scan product QR codes to buy from the brand's online platforms.
Pop Mart, Shanghai
Chinese collectables store Pop Mart has opened a visually impressive flagship in Shanghai, designed by X+Living to be an immersive retail experience. The site has a space theme, with silver colouring designed to pull customers into a high-tech vision of the future, starting with large display screens at the windows.
The brand's character, Space Molly, is used as a storytelling device, undertaking a journey to discover a mysterious planet. Additionally, the futuristic feel has been accentuated with the use of 3D printing to create metallic scenery, item boxes and product shelves. Product information is delivered via digital screens embedded into spheres.
Louis Vuitton Home, Shanghai
Louis Vuitton has opened its first ever space dedicated to homewares and furniture. Located alongside other luxury stores in Nanjing Lu, Shanghai, this pop-up boutique targets younger customers with a focus on lifestyle.
Notably, the store is only available to those who book appointments in advance. It includes a display of items created by Frank Chou as part of the Nomadic Objects range.
Louis Vuitton is trialling this new store to determine whether it remains as a permanent fixture.
Armonia, Shenzhen
Armani Beauty has launched a new flagship store focused on wellness and connection in Shenzhen.
Armonia (which means harmony in Italian) is conceived as a way for people to relax and discover their harmony away from the hustle and bustle of daily life. Visitors to the store are greeted with a harmony diagnosis via WeChat, which recommends a route through the store. It also unlocks individual digital designs for use with the gift wrapping service.
The customer can take part in different harmony rituals; water (life mottos), stone (emotions) and light (energy). Other points of interest in the store include the Red River conveyor belt, which displays the Armani beauty range, and the Emotion Lab which uses an interactive calligraphy experience to help customers to find the perfect fragrance for their mood.
Beauty services such as skin consultations, massages and master classes are offered at the Precision Lab. The Light Lab gives customers the option to test make-up looks under different lighting. The store's WeChat programme provides access to the booking system for these different experiences, as well as online shopping capabilities.
Is your retail thinking dangerously fixed? Let us show you another perspective on a retail safari.