Retail
The Best Worldwide Retail Initiatives July 2019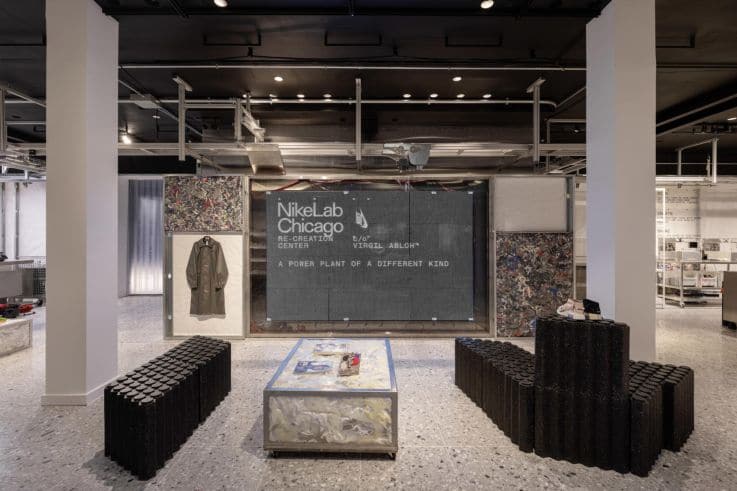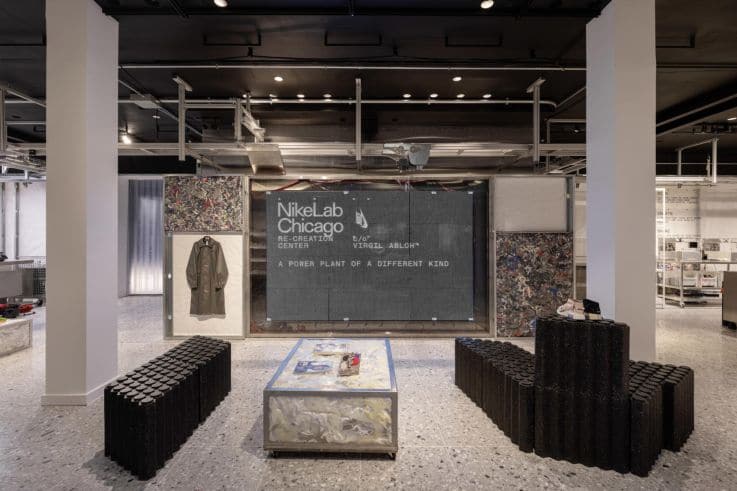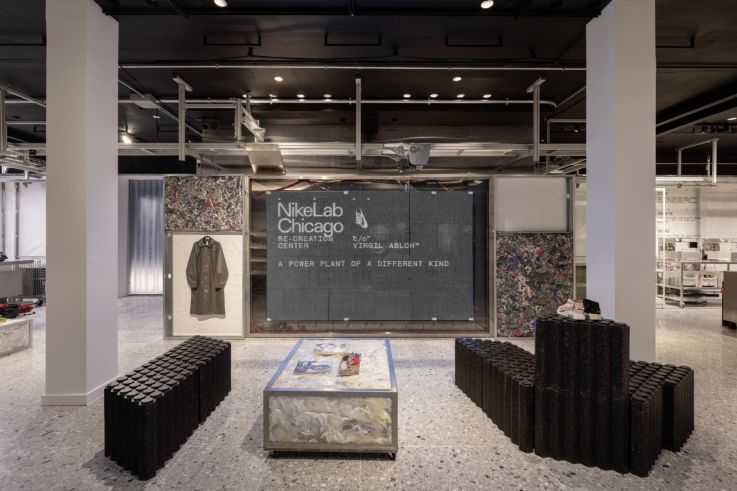 Image credit: Nike
It's been a bumper month for new global retail initiatives, with big players like Nike, Amazon and Tesla testing out brand new ideas. Here's the best of what's happening to help keep your finger on the pulse.
Amazon pop-up stores (UK)
Online retail giant Amazon is opening a chain of pop-up shops that will sell food and drink, electronics, beauty products and homewares. The first store has opened in St Mary's Gate in Manchester and there are plans to roll out a further nine stores. The initiative is part of a year-long pilot with Enterprise Nation – an organisation that support small businesses. It will give 100 small online businesses the taste of a bricks and mortar experience, and gives customers the opportunity to discover new brands in their local area.
Alongside this Amazon is launching a £1m apprenticeship fund to support these small businesses. It aims to provide them with space, technology and support in recognition of how important small businesses are to its own business.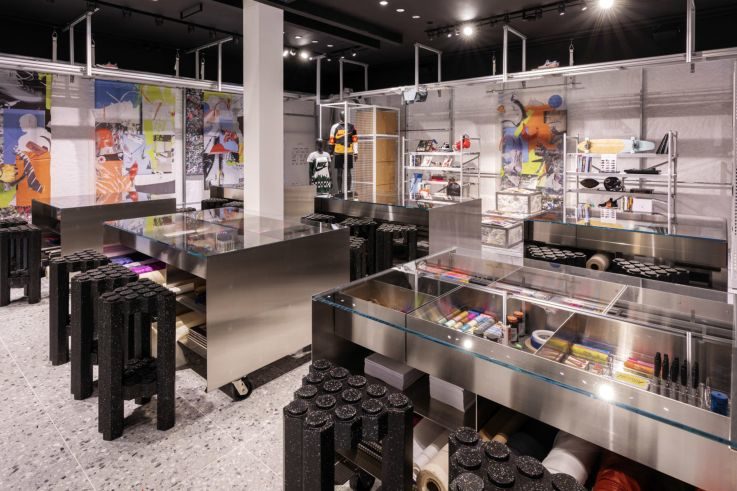 Image credit: Nike
Nike Lab Re-Creation Center (Chicago)
Nike's new store in Chicago has been designed in collaboration with Virgil Abloh, Artistic Director of Louis Vuitton menswear and CEO of label Off-White. The store design has two main focuses, sustainability and experience, combining two of the biggest trends in retail at the moment.
The sustainability drive features walls lined with shoe-box paper and parts of the interior made from Grind (ground-up shoes which customers are encouraged to bring in), which gives the seats, flooring and mannequins a confetti look. The experiential element is based on the store being used as a public space, as well as a retail store. There are free notebooks and markers to attract a younger crowd to sketch their future sneakers. It's a great way to make the space feel inclusive and creative whilst promoting an important message.
Nike X Fortnite
Nike has also partnered with popular video game Fortnite by unveiling two new characters – known as skins – that wear Nike shoes. The entirely digital footwear release shows the skins wearing Nike Classic Air Force 1s which come in red and black (Chicago Bulls colours) and purple and yellow (LA Lakers colours). These limited-time offers are a great way for Fortnite to keep the game fresh but also a great advertising opportunity for Nike with access to over 250 million registered users of the game. Plus, it's a great brand love exercise for Nike – if players are willing to part with their money for an entirely digital pair of shoes then Nike must be doing something right.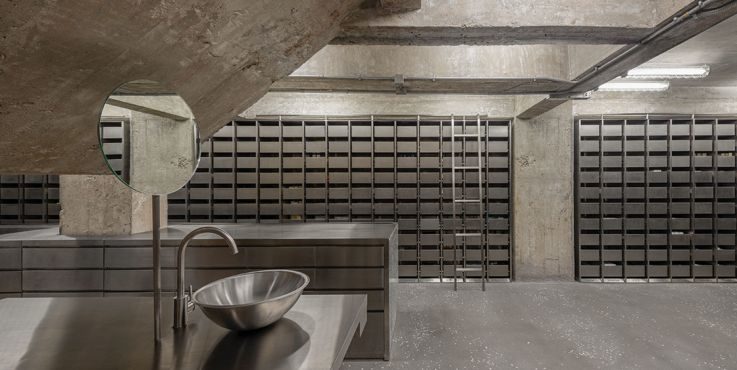 Image credit: AIM Architecture
HARMAY (Hong Kong)
Online cosmetics retailer Harmay has opened a second bricks and mortar store in Hong Kong after the success of its first in Shanghai in 2017. Inspired by the design of old-school chemists, the displays come in the form of stainless steel drawers that line the walls. It leaves the space feeling organised and uncluttered against a backdrop of exposed brickwork and concrete. The store is emphasising the experiential with a treasure hunt experience to locate products. This sort of immersive experience is bound to make shopping here memorable.
Lidl recycling (Ireland)
Supermarket chain Lidl has become the first retailer to offer in-store recycling to its customers. Recycling stations have been set up so that customers can offload their packaging as soon as they have paid for their items at the checkout. The initiative was initially trialled at a handful of stores in the Republic of Ireland but has since been rolled out to all 160 of its stores there. Recycling is at the forefront of the brand's vision with promises to reduce its plastic packing by 20% by 2022, and for its own brand products to have 100% recyclable packaging by 2025.

Image credit: The Museum of Contemporary Art
The Honest Shop (Toronto)
The Honest Shop is an alternative gift shop at the Museum of Contemporary Art in Toronto. The shop sells items made by both professional artists and amateur craft enthusiasts but the difference in this store is that customers pay via an honour system. There are no sales staff, no cash registers and no receipts. Customers simply put cash in a jar and record the transaction.
The shop keeps 20% of proceeds to maintain store. Interestingly, the organisation reports that customers have paid the full ticketed price for items so far with some even overpaying. We have seen 'honest' shops trialled before and they're proving a success. It is certainly creates some positive PR and allows customers to shop in private without any interference from staff.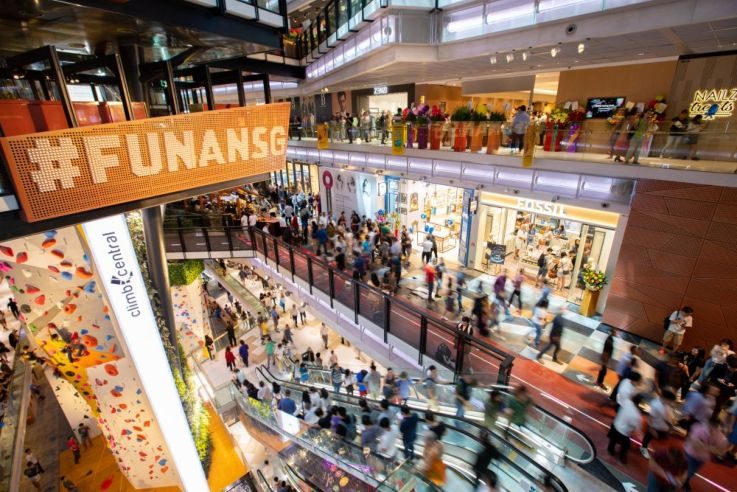 Image credit: Funan Mall
Funan Mall (Singapore)
The Funan mall in Singapore has been revamped to include a cycling path that runs through it. In a bid to support the Car-Lite movement by the Land Transport Authority, the complex is extending the outdoor cycling and walking path through the mall to give shoppers more alternatives. There is a bicycle hub on the first floor which has shower cabins and lockers as well as a pump and repair station in an attempt to encourage more cycling.
The centrepiece of the mall is a six-storey steel structure called the Tree of Life. It holds twenty retail pods which follow a pop-up model where brands can showcase their products for a limited time. The mall is also home to an urban farm on the seventh floor which is run by Edible Garden City. Farm-to-table restaurant Noka sits adjacent to the farm in a nod to a current trend for sustainable food.
Ocado vertical farms (UK)
Online grocery retailer Ocado is investing £17m in high-tech farming. The company has purchased a 58% stake in Jones Food – vertical farmers that grow basil, parsley and coriander in stacked trays in a warehouse under LED lighting. The herbs are grown hydroponically which means getting all the nutrients they need without soil. Not touched by human hand, a robot called Frank stacks the trays of plants onto shelving while the machinery automatically harvests them.
Ocado has also formed a joint venture with 80 Acres Farms and Priva Holding BV relating to vertical farming, which shows its commitment to this area. The retailer says it is addressing consumer concerns over freshness and sustainability and its goal is for the vertical farms to be located near to distribution centres to offer the freshest and most sustainable produce.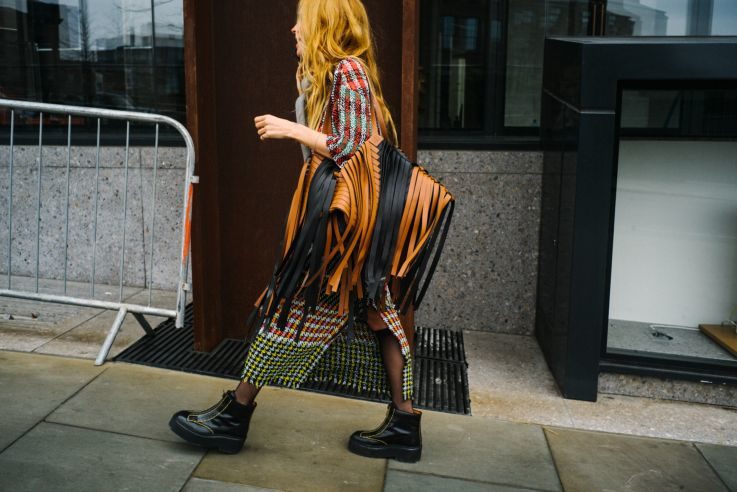 Image credit: Farfetch
Farfetch Second Life
Luxury online fashion retailer Farfetch is piloting a new initiative to support its sustainability strategy. It has launched a resale platform called 'Second Life' that allows customers to give back their pre-loved designer bags in exchange for store credit on the site. Farfetch has collaborated with Hong Kong-based vintage specialists Upteam for the scheme.
The pre-owned luxury market is increasingly lucrative so it is a chance for the online retailer to benefit from that as well as helping to create a greener fashion industry. Luxury and pre-owned markets are growing rapidly, so along with its sustainability mindset, it's a really good position to be in.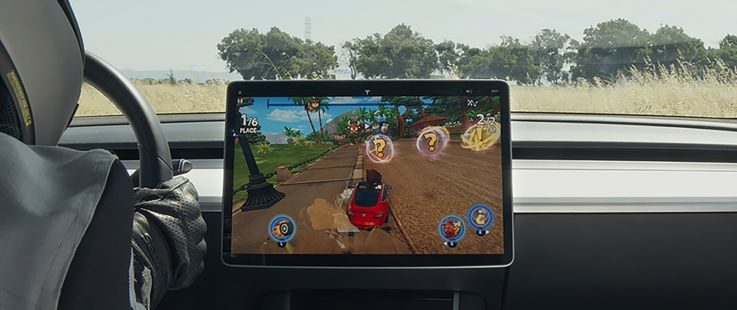 Image credit: Tesla
Tesla Arcade
Electric car company Tesla recently turned its showrooms into arcades in a bid to attract new customers. The company invited existing customers to attend its showrooms along with their families to try out its latest app-based arcade game Beach Buggy Racing. The invites came via a video posted on Instagram and Twitter where customers could RSVP to their local showroom.
The game was accessed via the app, which also features a host of other video games and can be added through software updates. The games can be played on the vehicle's touchscreen. The initiative not only draws attention to the app but also builds on existing customer relationships by creating memorable experiences through the Tesla brand.
Want to visit initiatives like these in person and find out what your business could learn from them? Get in touch to find out more about an Insider Trends retail safari.