Retail
The Future Of The Fitting Room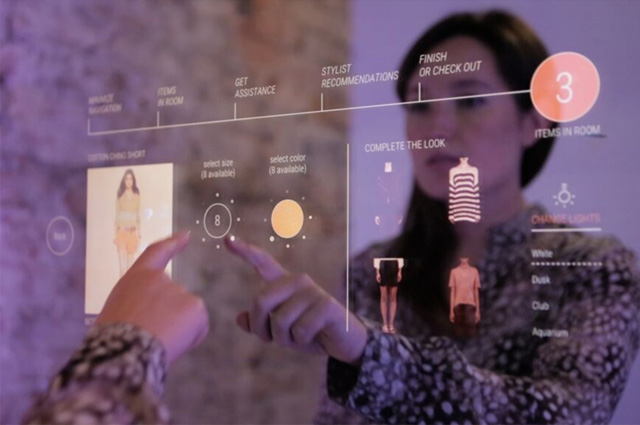 According to a study by Accenture, 70% of online clothing sales are returned due to them not fitting. With this in mind, it's clear that the ability to try on products is an important one.
An integral part of anyone's retail experience is the fitting room, and getting it right, has recently become a retail focus point. From interactive mirrors to adjustable mood lighting, we take a look at some of the ways the fitting room is being redefined in the hopes of doing the same to retail's future.
Interactive Fitting Rooms
Ralph Lauren
It was only last week that Ralph Lauren unveiled their interactive fitting room in-store on New York's Fifth Avenue. A collaboration with tech company Oak Labs, it features an interactive mirror where customers can request a different size, item or simply ask for help from a sales assistant. It also gives the chance to have your selected items texted to you if you haven't quite made up your mind.
Introducing technology that was not overpowering, but rather almost invisible, they wanted to make offline shopping as seamless as possible. "If someone goes into a fitting room there is a two out of three chance they will make a purchase. If someone talks to an associate, the chance they buy is five times more,"said Healey Cypher, co-founder and chief executive officer of Oak Labs, to WWD.
Highlighting the importance of human interaction as a way for the Oak Fitting Room to succeed, she continued to explain how the technology "doesn't dehumanise it, but re-humanises it".
Rebecca Minkoff
In the year since Rebecca Minkoff launched their "connected" New York store, expected clothing sales tripled. Although the space is one packed with innovation, the fitting room played a major part.
With technology powered by eBay and similar to that of the Ralph Lauren design, the fitting room is one in which the customer can easily swap out colours and sizes with the tap of an interactive mirror. Designed ease out problems in the shopping experience, rather than simply introduce something that shares a selfie, it also offers recommendations based on your preferences, has the ability to save your fitting room session and even features customisable mood lighting.
Wanting to also capitalise on the data as much as the experience, they make the most of their customer interactions. Being able to see what people take into the fitting room when, they can alter their marketing and interactive walls in-store to echo popular preferences.
Micro-Fitting Rooms
Although Doddle's fitting rooms may not be interactive or digitally enhanced, their presence is still an important one. A delivery company keen to solve the ongoing click and collect situation, they have a number of pick-up points situated in train stations, predominantly in major cities. These pick-up points allow customers to collect their online orders at their convenience.
What's interesting about these pick-up points however, is the integration of fitting rooms. As well as offering ease of collection, these micro-spaces offer the opportunity to see, try and return products on the spot with ease.
Read more about the fitting rooms, and find out more about Doddle here.
Virtual Fitting Rooms
No matter how interactive or kitted out with the very best technology a fitting room is, the majority of us still choose to shop online. With no physical fitting room to enter to try on products, virtual fitting rooms become the next best thing.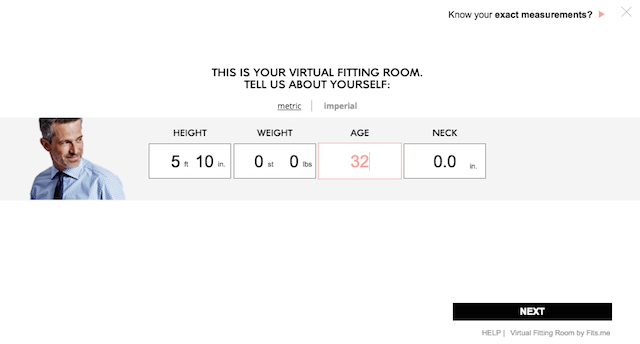 Fits.me are one company who provide a virtual fitting room within a few clicks. Asking the user for their height, weight, age and body shape, the programme then queries how snugly you'd like a garment to fit before recommending the perfect size.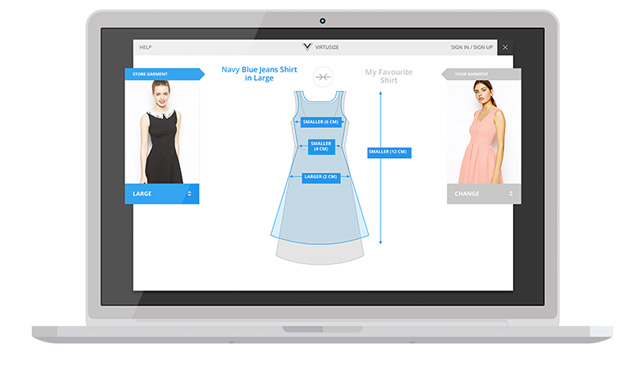 Virtusize is another and, when using their product, note a 20% increase in sales, a 30% decrease in return rates and an impressive 90% enhanced customer experience. Giving shoppers the opportunity to compare the size of the product they're interested in with the size of a previous purchase or item at home, it's designed to be both cost effective and is all done without the user having to leave the site.
And again, with the UK set to spend £52.2 billion online this year alone, that's a lot of data ready for the capture in the process.
Omnichannel Retailing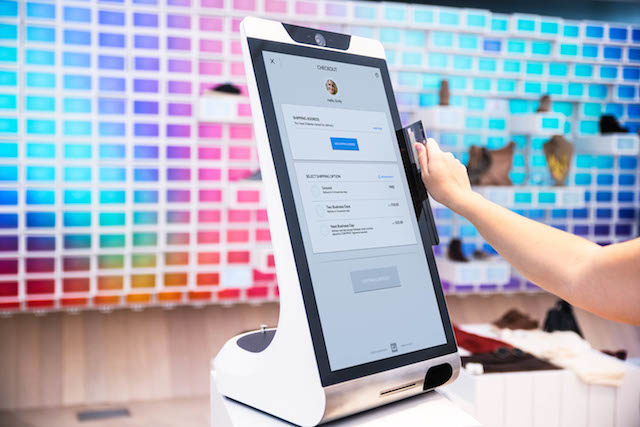 Shopwithme describe themselves as stores that are "the first fully portable, pre-fabricated retail environments that blend the best of online and offline shopping to create a truly personalised experience you can't find anywhere else".
Making everything in the store a place for interaction and innovation, it's not the fitting room itself that's special, but rather how it fits within its environment. With pixel walls of 900 individual screens and smart tables that bring products to life, the customer is immersed in a completely new shopping environment.
Then, using the ShopWithMe mobile app, shoppers can browse and interact with the store whilst scanning items they like along the way. When they're done, the items they scanned will be ready and waiting for them when they arrive in their interactive fitting room.
Augmented Reality
Although very much in the primitive stages, there are a number of brands utilising augmented reality in and out of the fitting room.
In 2014, Lacoste launched a 3D augmented reality app that let customers try on their new range of trainers from their phones. By downloading the app, customers placed their foot on the in-store graphic, scanned it with their smartphone and saw shoes superimposed on their bodies. Bringing the fitting room to the palm of your hand, the brand claimed it to be the first augmented reality experience to integrate 3D product scanning.
Also last year, Sephora launched an augmented reality mirror in collaboration with retail technology company ModiFace. Giving consumers the opportunity to virtually try on a number of make-up colours, shades and textures, the mirror used video streaming to show what it would like from different angles as customers moved their heads from side to side.