Retail
Trend Insight: Oisin Lunny of OpenMarket
If you've read our fact file, you'll understand the importance of mobile to retail. One company specialising in helping retailers to use mobile to engage with customers, suppliers and employees is OpenMarket. We spoke with Oisin Lunny, Senior Market Development Manager for OpenMarket, for our latest interview trend insight.
Can you describe what OpenMarket does in a nutshell?
OpenMarket helps enterprises use mobile to transform their business. Put simply, we provide a cloud based SaaS platform, and a consulting team, to connect the retailers of the world with mobile phone users. We do this by leveraging the technical capabilities of the mobile networks, and simplifying their immense complexity via some very clever interfaces and APIs.
Why is mobile so important?
More and more is being done on mobile devices: whether it's watching TV, making appointments, shopping or looking at social media. In fact, at the 2013 Guardian Activate conference, futurist Gerd Leonhard predicted that 80% of global web traffic would come from always connected mobile devices by 2018. What's more, it makes for a much better quality of user experience. SMS solutions are a quick win: they're convenient, discrete and work on every one of the 6 billion handsets on the planet.
OpenMarket has offices around the world – what's its particular connection to London?
Yes, our HQ is in Seattle and we also have offices in Detroit, Pune and Sydney. However, it's Chiswick in London that is our centre of innovation and technological excellence. Partly that's because of the way the company evolved: we were formed as MX Telecom some 15 years ago, MX were the some of first people to develop mobile engagement tech in the UK. We were acquired by global tech leader Amdocs five years ago when they expanded their mobile "aggregator" business. MX was then merged with another Amdocs acquisition, the leading US mobile engagement company OpenMarket, and we were bought under the same brand.
Our aim is innovation on a global scale, which requires a global infrastructure, and very high quality routes. There's no point for an enterprise to send a text message if it doesn't get where you want it to go. We supply to global companies such as Amazon and Sky, enabling them to build a complete mobile user journey from scratch. We provide a user-friendly interface and APIs, but look after the complicated mobile network integration under the hood.
Can you give me a recent example of how OpenMarket has been used?
We worked with Open Fundraising on the launch of the Commonwealth Games last year, where the audience was encouraged to text 'First' to donate £5 from their mobile phones, by film star Ewan McGregor. We had to be ready for huge quantities of traffic in a very short amount of time; this is where our "enterprise grade" infrastructure came in to its own. The event raised £5 million for UNICEF.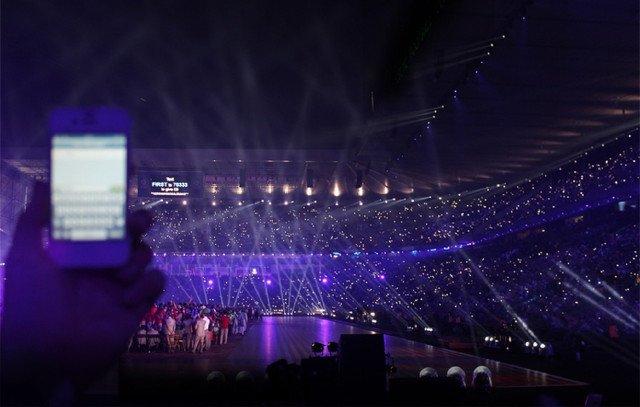 But more than one-off experience: mobile should be used to build an ongoing relationship with the customer. Mobile devices are personal and rarely shared, offering a genuine opportunity for brands to build lasting and meaningful relationships with their consumers, creating a Total Customer Experience (TCE). Mobile messaging can be used to pro-actively engage customers. One of our clients, a leading UK airline, is doing just this with an "instant customer feedback" program. Immediately after passengers board a plane, they receive an SMS that directs them to a "boarding experience" survey. Not only does the survey make passengers feel valued and important, it elicits "Voice Of The Customer" feedback while the experience is still fresh in their minds. In addition to receiving instant feedback from passengers, flight attendants can view the feedback in real-time, which allows them to immediately address any complaints or issues.
There has been a tendency to try and build relationships with customers around apps, but unless an app is genuinely essential, chances are it won't be used. A great example from a leading retailer in the US shows how much more effective mobile messaging can be. In store, customers were told they could text a shortcode to join a VIP club – something you can do in 4 or 5 seconds – to get special offers. They estimated a $400 return on investment for every customer who joined via their phone. They correctly presumed that their customers wanted immediate value without needing to download a "destination" app. The overage number of apps we actually use on a day-to-day basis is 14, and most customers interface with a huge number of retailers in parallel. Will they install an app for every retailer? Absolutely not. Do they want offers and VIP vouchers codes delivered to their mobile devices? Absolutely. SMS is a convenient and cost effective solution for retailers to engage with their customers in the moment.
What's next for the industry?
It's all about Silo Smashing. Most companies are built on a number of different systems, all varying from department to department. However, the customer doesn't see these barriers, so the company needs to pivot to an integrated user-centric approach using mobile. You can see how this worked for one of our entertainment industry customers here.
Mobile tech can be also used to streamline processes, optimising everyday interactions. For example, the leading contact lens provider in the US uses our platform to enable their customers to simply snap a photo of their contact lens box and send it in by MMS to renew their prescription. Another great example: if you need to contact customer services, you could text 'HELP' to a shortcode and get a call-back as soon as possible, compare this to the old fashioned model of listening to a flute solo for 40 minutes while you wait for a call centre operative to become available.
There will also be rapid change in how we message person to person. At the moment, six of the top ten apps installed globally are Over-The-Top (OTT) messaging apps, such as WhatsApp. However, people using WhatsApp can only contact other people using WhatsApp; people using Skype can only contact other Skype users, and so on… however, there is another approach, there can be a personal identifier that can sit between OTT and mobile networks, meaning the data will belong to you, stored in the cloud, and can be taken with you no matter what application you are using. OpenMarket are proud to partner with the innovative team at Matrix.org to be a part of this unified communications future.
Awesome is a mobile commerce "Personal Assistant" service you can ask to buy things for you, anything from a beer to a Ferrari. There will be an increased use of Artifical Intelligence (AI) as a layer between the consumer and retail / FMCG brands to manage services like this. Digital Genius is the market-leading provider of this. To use one example, if you were going to Germany, you could text "make my phone work in Germany" to your network, and the Digital Genius AI picks up that you meant you needed to allow roaming data, despite no mention of the word "roaming". Optimisation by AI saves a huge amount of time and effort for traditional call centres, and means that brands can engage with individual consumers at scale. SMS is the "universal interface (UI)" for this type of interaction; it works for everyone with a mobile phone, instantly, with no hoops to jump through.
Finally, as part of our trend insight interviews, we always want to know who you think is doing great things in your industry…
I like new apps and services that break down the barriers between the physical and digital aspects of our lives as consumers. These new services are described as "phygital", it's a really dreadful buzzword, but it's useful. The latest John Lewis app is a good example of this. Shoppers are encouraged to install it from in-store posters with NFC, and then use the app to expand the choices when shopping. If you see a lamp in two colours in a branch, just scan the barcode to choose from 10 more colour options in the warehouse.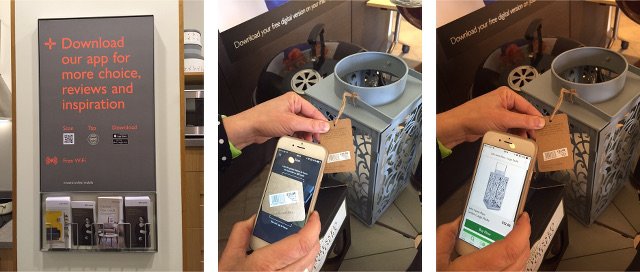 I also love that Google is adding a "local inventory" option. When you are searching for an item on your phone, Google will give you information on where you can buy it locally. It really adds value for the customer.
The UK eCommerce association IMRG publish a regular report with Cap Gemini about the state of Retail, eCommerce, and mCommerce. Their most recent report is showing an eye-watering 77% Year On Year growth for mobile commerce. Its clear that we don't have to wait long for the future of retail, it's already in our hands. Mobile devices are the always-on connections between shoppers and their purchases, customer care, delivery notifications and much more. Smart retailers are blurring the lines between the physical and digital worlds by leveraging the power of mobility, and the stellar growth in the sector will continue to drive innovation. I always look forward to seeing what's coming next, and I think we are in the most interesting space we have been in for a while with mobile tech. The next few years will be nothing less than transformational.
All images courtesy of OpenMarket