Brand Focus
Trend Tour: How the Hem London pop-up is brightening up retail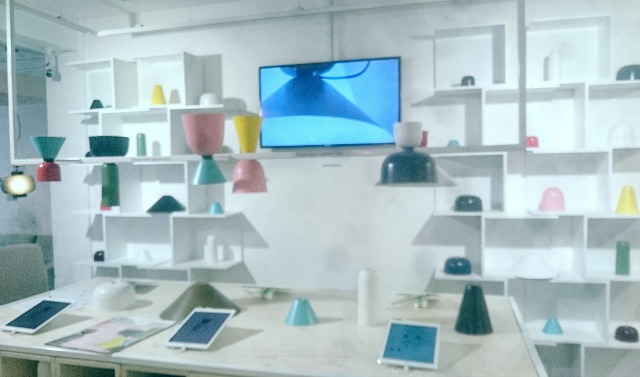 There's a new pop up store in the bustle of Covent Garden; the online innovative furniture and homeware company Hem is showcasing their new product Alphabeta – the world's first online-customisable lamp with more than 10 billion possible combinations – as well as their autumn 2015 Collection.
Hem London pop-up: Design your own
Hem is a Scandinavian design company, with six other offices all over the world, a flagship store in Berlin, and showroom in Hamburg. As Hem was only established in 2014, this new pop up store gives Hem the chance to access more London-based customers, and visitors from around the world, who can continue their shopping with Hem online long after the pop-up has gone.
Inside the store there are tablets, where you can put together your own Alphabeta lamp by selecting shapes and colours, and order it to be delivered straight to your home.
A video plays on the wall, detailing the design process. The lamp's designer, Luca Nichetto, explains that his idea for Alphabeta came from using a system or an Alphabet, as it were, for people to be able to create the lamp design that they want. Petrus Palmér (co-founder of Hem and Head of Design) talks about how the lamps are made of high quality steel, and always sprayed white first, so that the light effect remains the same, no matter what colour the lamp is (from the selection of 44 different shades available).
Hem London pop-up: emphasis on interactivity
The pop-up store has other tablets dotted around, showing a room with Hem lighting and furniture, where you can click on each item for purchasing. There's another wall video showing more insight into the design of some of their chairs and sturdy-framed sofas; how they are easily assembled and taken apart without the need for tools. These are all further indicators of how Hem embodies future-focused furniture and retail.
The Hem pop-up store is beautifully minimalist and expertly displayed, harnessing the power of interactive technology for effective marketing. As retailers are constantly trying to find new ways to sell, Hem may not the first but certainly won't be the last to use the trend of giving customers more input into the design element of their purchases, but has done so in a way that fits perfectly with the ethos of their brand – which aims to make everyone enjoy modern design – and ultimately improves the customer experience as a whole.
Hem can be found at 9 Earlham Street, until 31st January 2016
Want to experience the best of London's retail first hand? Book one of our trend tours. More details here.