Interviews
Why experience isn't a buzzword at Dalziel & Pow, but how you do business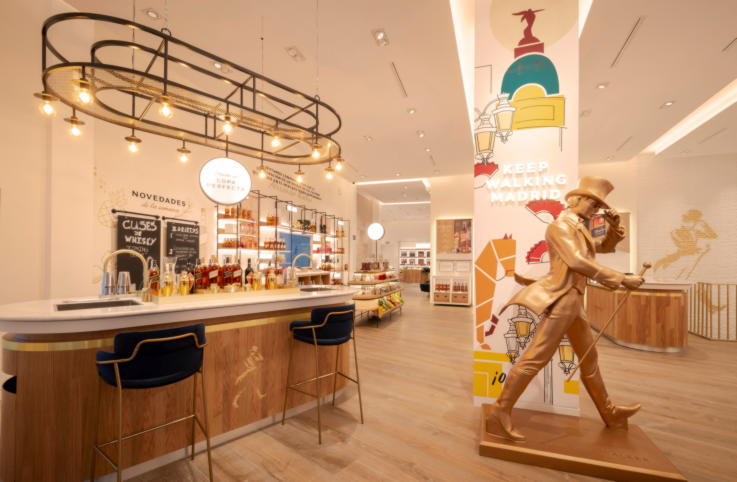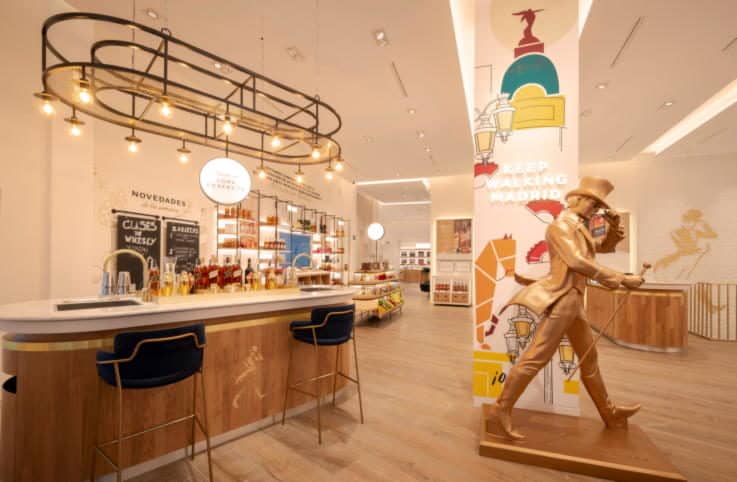 Johnnie Walker
If you want to know how to do this 'experience' thing right, then talk to Dalziel & Pow. The company has designed some of the best new stores and experiences currently out there, helping brands think about what they do in fresh ways. And no we're not talking about in-store theme parks and stage productions.
Paul West, Strategy Director, talks about this misconception about what makes an experience, how the role of the store is changing and why brands need to think of themselves as an ecosystem:
Paul West, Strategy Director, Dalziel & Pow
Can you describe Dalziel & Pow's approach to retail design?
Firstly, our aim to create the world's favourite, consumer-centric brand experiences. This means a big focus for us is to build brands that are engaging, popular and accessible. We're driven by our appetite for defining bold, new ideas that help brands thrive in the changing consumer landscape.
Everything we do is built around consumer and business insights. We develop primary and secondary insights for the briefs we work on, which lead to strategies for the entire customer journey. This works in conjunction with the strong creative and design capabilities that we've built up over the last 35 years.
At D&P, we have four key areas of expertise – strategy and transformation, branding and communications, digital experience, and brand environments. We work from brand definition and development, to the total customer experience, and specifically in forward-thinking, yet hard-working retail design.
We think about those things very much as an ecosystem. For us, experience isn't something that is layered into existing store or spaces; it's everything a brand does to connect with a customer – from brand positioning, identity and storytelling, content, digital platforms, service, spaces, products and people – all these components together make the brand experience.
For us, a misconception around brand experience is that it's often seen as an event, activation, or a staged production. As mentioned, we believe it's the sum of all experiences, from something very 'experiential', social and celebratory, right through to something that's incredibly simple, convenient and personal. All interactions make up a brand experience, including the definition and story of the brand itself.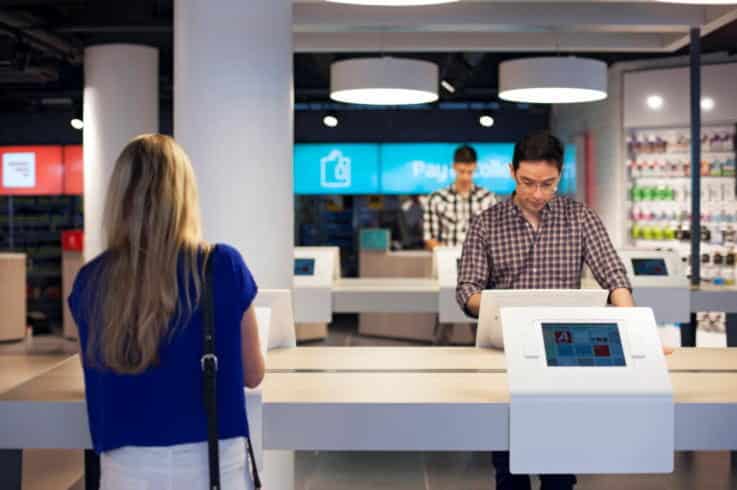 Argos
How selective are you about the projects you take on?
As an independent studio, we work with a diverse range of clients, all around the world, across categories including fashion, beauty, technology, lifestyle, banking, property, automotive and FMCG – the list goes on.
Our remit and exposure has grown over the last five years in particular, as brands have been adopting a new focus on brand experience to increase consumer awareness and engagement, and drive sales. We enjoy this diversity, especially as it allows us to build up our insight, experience and expertise, and apply this to fresh challenges in new sectors and markets.
One thing that's important in any brief, and what gets us very excited, is the opportunity for transformation and our ability to bring new perspectives to it. We believe that whatever brand we work with, we can reimagine, reinvent, or simply be an antidote to something that's already out there. We're natural problem solvers! Even with tried and tested brands, we believe we can help bring fresh insight, ideas and perspectives to evolve the brand and connect with consumers in new and effective ways.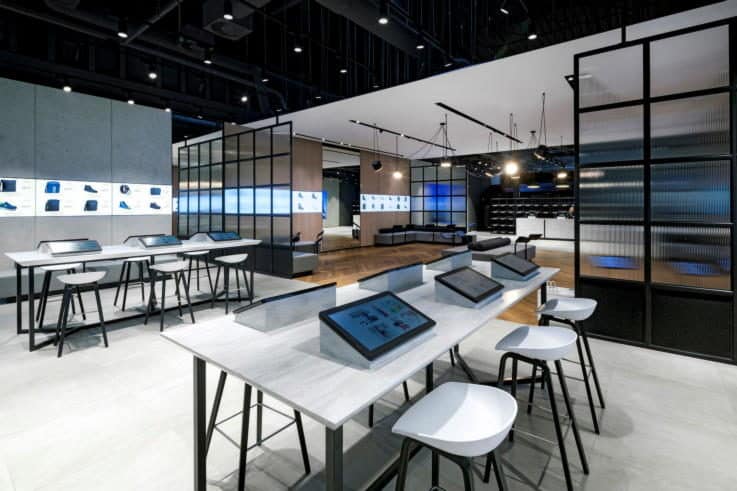 Eobuwie
How has the role of the store changed?
It depends on the purpose of the brand, and the role that store plays in the total ecosystem of the brand experience. Some stores will remain as a consistently commercial platform to generate footfall and sell, whilst others will raise awareness and build advocacy. Further still, some store concepts have transformed beyond recognition. It's an exciting time for retail, as the role of the store has diversified so much as it adapts to new consumer needs and brand ambitions.
Only until just a few years ago, brand consistency was key. It was all about creating the flagship concept, and the tiered / diluted iterations across the entire store estate mainly linked to property and budgetary drivers. This need still exists today but we are now working with a many brands that are replacing that need for brand consistency with brand creativity. This new era of creativity brings us exciting new formats, new experiences, new ways to engage the consumer, all designed around localised needs and shifting marketing strategies. Just look at Nike today.
In some ways, it has never been a more creative time for retail. The brief has changed. We live in a world where brands are fighting for attention and trying to differentiate themselves, and markets are saturated. There's also the challenge of consumer confidence, and alongside this, consumers are prioritising their spend on possessions in different ways – increasingly on experiences, or on brands with purpose and values. Drivers such as these are having a significant effect on the future of the retail space. Our work with Lululemon blends a lot of these drivers for convenience and experience at the same time.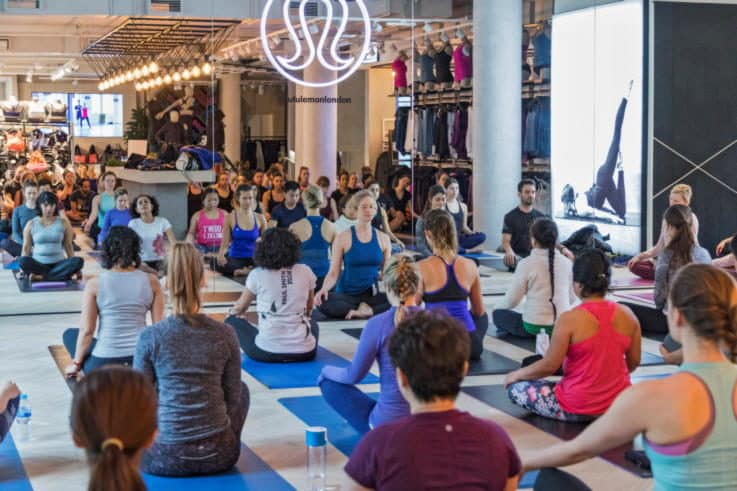 Lululemon
Depending on the purpose of a brand and the role of its stores, there can be more freedom for spaces to be fantastic at storytelling, building communities, delivering great service, showcasing new ideas or driving brand awareness. Equally there are many brands that see the store as the main fulfillment channel, as it's more efficient and effective in terms of generating revenue and instant gratification.
Look at Primark, it's a very powerful model which has remained true during the 25+ years we have worked with them! Above all, we believe that stores, in whatever form they evolve into, will always be a fundamental part of any brand ecosystem and marketing strategy.
The store of the future will have a range of jobs to do, from instant fulfillment and convenience to more experience-led spaces around education, engagement and community. What will tie them all together is that they have to be smart, they have to be informative and fulfilling, they have to be connected to the ecosystem of the full brand offer, and they have to be original. Anything we create must be based on consumer insight to be able to help people, inspire people, guide people, reassure people and build sustainable relationships.
Another ongoing challenge for modern brands and retailers is to join the dots and achieve consistency and connectivity across physical and digital channels. Omni-channel is a significant undertaking (and very much needed for many brands), however something we're interested in is the rise of 'complementary channels'. This idea celebrates all components of the brand experience for their individual strengths, and the benefits that they bring. Online, in store and in person can work together in harmony, but they don't all have to do the same job.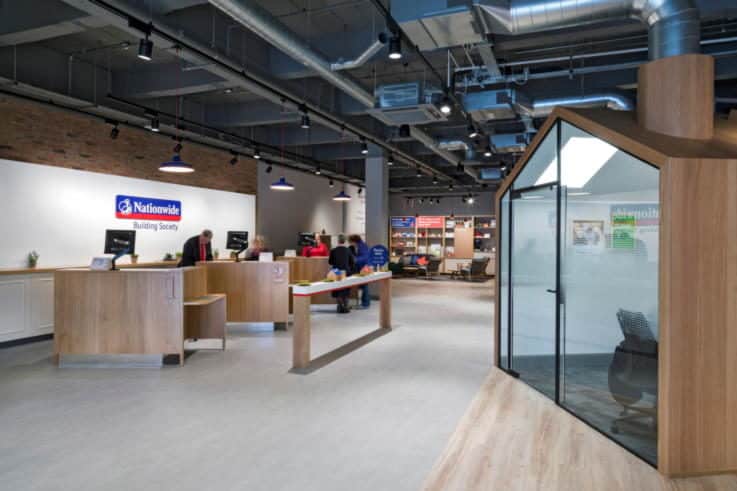 Nationwide
Do you think the store and mobile will become more interlinked?
Yes and no. It goes back to what the purpose and vision of the brand is. If a brand is trying to be a partner to the customer throughout their daily life and to offer inspiration and convenience, then it absolutely makes sense to be thinking about it as something you access via your device as well as being able to access in-store and the two to be intrinsically linked.
We're always working on projects that are connecting the browsing and fulfillment between in-store and online. It's definitely something that we have seen benefit in terms of sales performance, engagement and satisfaction. Our work with Nationwide, Knight Frank and Jaguar Land Rover are all examples of linking technology, people and places together.
On the flipside, it depends what the brand is aiming to do. If the brand is about people unplugging from the stresses of modern life it might not choose to go down that route. With the pace of modern life increasing, we're seeing an increased appetite for slowing down; a change of pace, the rise of sensory and a shift in storytelling for brands who want to create a real connection with people and encourage them to spend time more meaningfully and memorably. We're working in fragrance, beauty and, more recently, in Whisky with Johnnie Walker where we have created slower, more enriched experiences.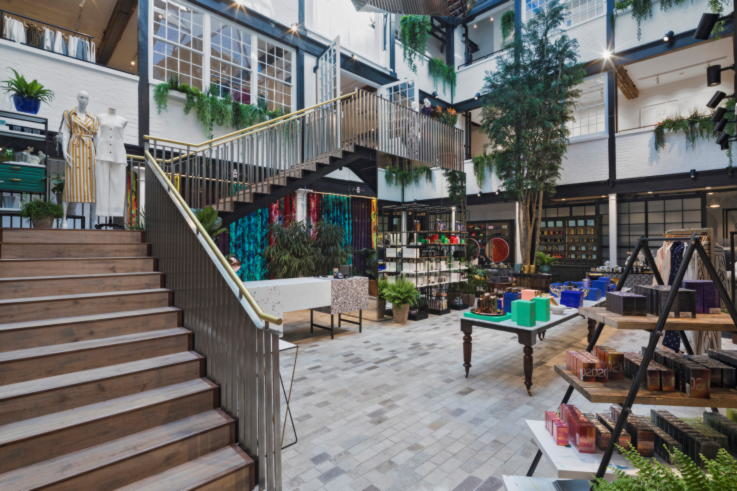 The Shop at Bluebird
How is this vision of the future of retail changing your approach?
There are a lot of significant shifts occurring around the world today, and this is fuelling original ways to build brands and bring them to life as engaging experiences. We can only do this by taking a more insightful, strategic approach and a different way of partnering with our clients. We have been doing this with many clients to understand the new consumer to shape experiences of the future.
In previous decades, a big part of retail design was very much focused on 'presentation' –brand image was the key differentiator. Today, we see that brand differentiation is very much a product of defining, creating and delivering bold new ideas. This can only come from close working partnerships with our clients, understanding consumers thoroughly and articulating the shifts the brand is trying to make from the commercial objectives it has. At D&P, we believe the blend of being commercially savvy with being creative and restless is the way forward.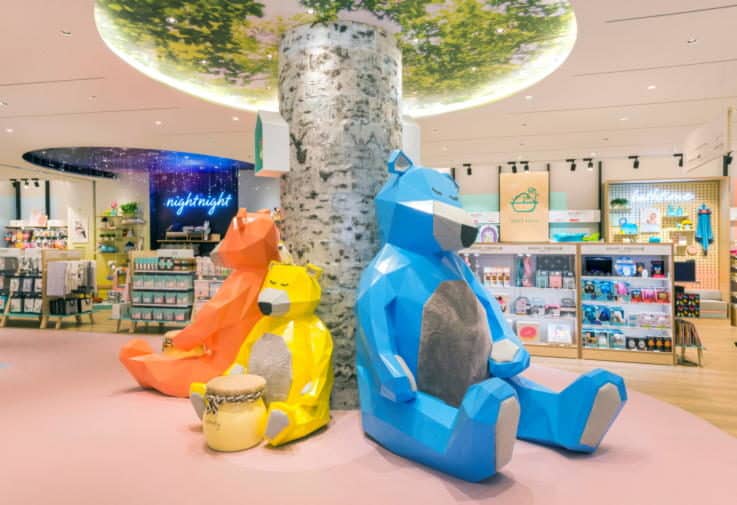 Marie's Baby Circle
Are there any particular design features that you weren't thinking about five years ago?
Flexibility is a requirement that has moved on considerably. Spaces must respond to shifting customer and brand needs over time, and be a canvas for the stories the brand needs to tell, and the products, services and experiences it offers. Having that in mind when creating something new is fundamental.
Instant gratification is an interesting new driver. There's a need to cater for the speed of online, but in some ways there's also the need for the store to be faster, as well as more fun and fulfilling. The retail experience we created for leading Polish online shoe retailer Eobuwie was based around instant gratification.
There are over 100,000 pairs of shoes available in each location but no physical product to browse. Here, you can order up to 10 pairs of shoes on a tablet to try on – to keep, or send back and order some more. You can browse as you would online, but you get your hands on the product in seconds and you don't have all the pain points of shopping online and sending things back. It's super convenient. It's not for everyone, but for the target mindset, it's very compelling.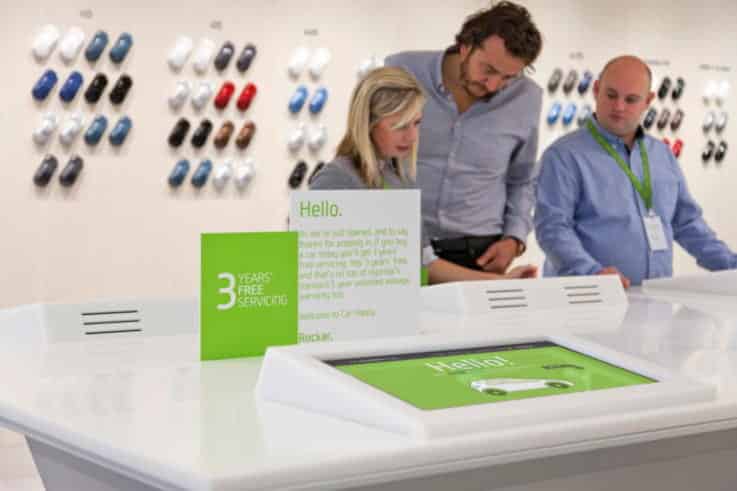 Rockar
What does the future hold for Dalziel & Pow?
We've been very busy in the last few years with fresh challenges and partnerships with ambitious brands, alongside a bigger commitment to thought leadership and working with brands to help define the next chapter. We have only recently been reflecting on the diversity of work we have been doing, and the types of client relationships we have built.
This has led us to gather our thoughts and experiences, and take a fresh look at our own company purpose and brand, and the impact we can have on our clients' businesses and consumers' lives. We will be sharing more on this in the near future, further to it being kick-started with our recent company book 'New ideas for the new era'.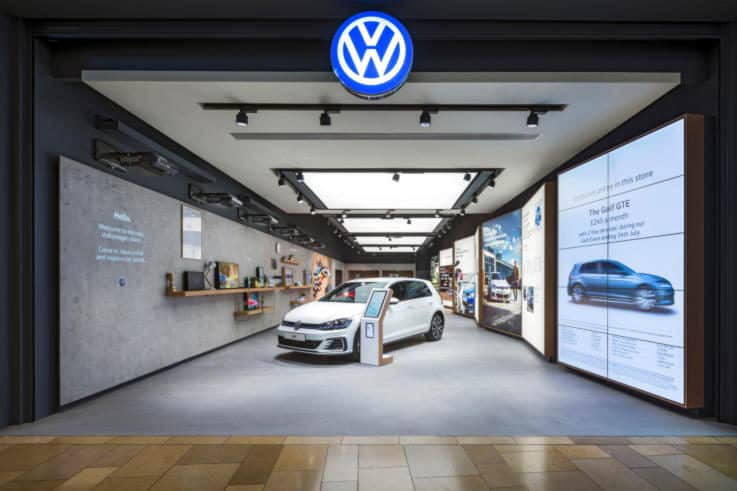 VW
It's all based on where we started in this interview. We're D&P, The Experience Agency, and our ambition is to create the world's favourite, consumer-centric brand experiences.
It's built on our belief that experience is everything that connects customers with your brand – through its Purpose and Personality, its People, Places, Product offering and the Process of inspiring and serving customers. We have been working on this holistic approach to creating the most engaging brands in the world, and help our clients thrive in the ever-changing consumer landscape. Exciting times ahead!
Images courtesy of Dalziel & Pow
Want more design inspiration? Here's of our favourite visual merchandising ideas. Or want to go straight to the hottest retail technologies, latest disruptive thinking and simplest new ways to lower costs and boost sales? Transform your team's thinking using Insider Trends' little black book. Find out how here.