Brand Focus
Why innovation has become part of Tommy Hilfiger's brand DNA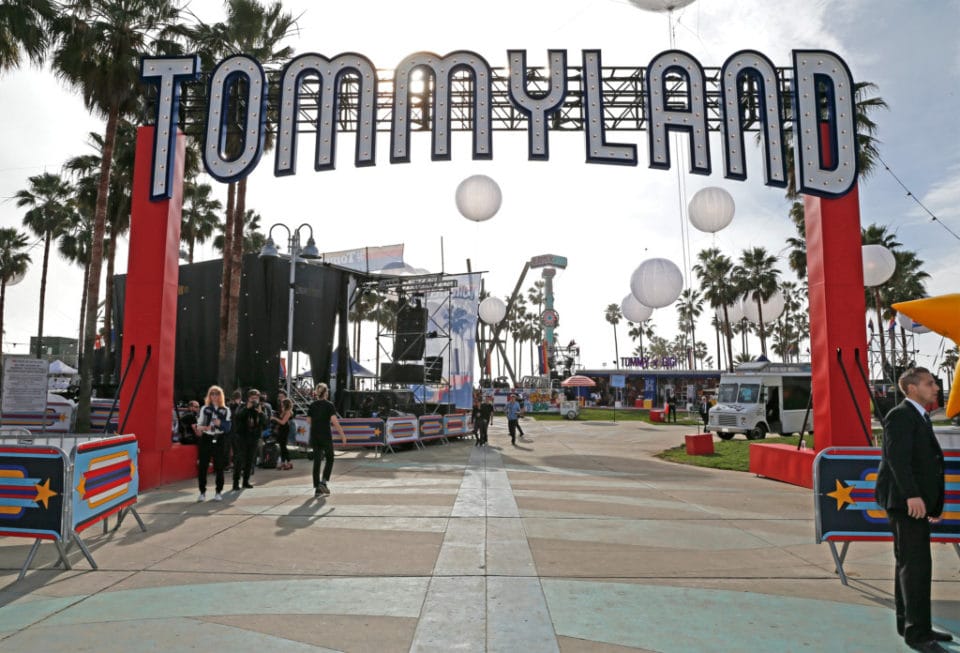 There was a time when it seemed like Tommy Hilfiger was a brand of the past. Having ridden high throughout the 90s, in 2000 its stock plummeted by 75% in one quarter. Now with the likes of Gigi Hadid, Lewis Hamilton and Zendaya as ambassadors, Tommy Hilfiger has become a new retail success story thanks to a willingness to adapt and innovate.
The brand was one of the early pioneers of the 'see now, buy model' in 2016 with its Tommy Now initiative. These instantly shoppable catwalk shows have been staged all over the world from New York to LA to Milan to London and will now be coming to Paris. It seems to have been a move that has paid off as last year Tommy Hilfiger revealed that approach has increased US sales by 64%.
The company has also worked hard to position itself a global brand through these events, its online activity and direct-to-consumer stores. Now more than 50% of its sales come from outside the US, and it managed a massive 2.6 billion social media impressions in 2017 – a 100% increase on 2016. All of these stats point towards a brand that is making an impact all over the world.
How has Tommy Hilfiger done it? Here are the most innovative, interesting ideas that the brand has come up with recently and what you can learn from them:
The smart clothing that rewards you for wearing it – Tommy Jeans XPLORE
Needless to say, Tommy Hilfiger grabbed a lot of attention last year when it announced the launch of its new Bluetooth-enabled clothing range. Not because of the tech as such, but more the application of it. The XPLORE range tracks your movements and rewards you with points for wearing the products.
As well as visiting Tommy Hilfiger stores and other locations, customers can get points for completing challenges. A free partner app connects to the XPLORE range to track activity and points. Customers can cash in their points for rewards like gift cards, signed merch, concert tickets and Tommy Hilfiger catwalk show tickets.
Why it works
This is a tough one. It's easy to argue that the Tommy Jeans XPLORE concept is unnecessary, and possibly intrusive – potentially creepy even – but it also paves the way for a new kind of knowledge.
For most brands their knowledge of what happens to a product stops at the door to the store or the online shopping basket. Customers might be interacting with their purchase constantly, or it might be left languishing on a shelf or in a wardrobe.
The XPLORE range gives Tommy Hilfiger some insight into what happens after the point of purchase. It can tell if people are wearing its products, how often and where they go in them. That all adds up to some pretty fascinating, and valuable, info. If you know that your customers go to wine bars and coffee shops and concerts, then you can build up a real picture of who they are. You can better target them. You can better cater for them and their lives.
The aim is also to create an influencer group – people who are seen wearing Tommy Hilfiger products in the right places. Your biggest fans are mini ambassadors for your brand. By rewarding them for wearing your clothes then you are encouraging them to wear them more, which means more people see them. And if they see them in the context of their own lives, the places they go and live, rather than just adverts, then it suggests your brand is aligned with them.
The shoppable funfair – Tommyland
Today, experience is on the lips of just about everyone in retail. But few experiences match up to the sheer scale of Tommyland, which was a funfair/music festival/shoppable catwalk show in one. Taking place at Venice Beach in California in 2017, the event was attended by more than 3,000 people.
As well as being big on fun, Tommyland featured a custom image recognition app that guests could use to instantly shop the looks on display in ads or on models. The products were also shoppable instantly from the brand's website for those who weren't able to attend.
Tommyland might be the largest scale experience the brand has put on but it's not the only one. Tommy Hilfiger has also held similar interactive events such as Tommy Pier in New York and Rock Circus in London.
Why it works
What Tommyland did so well was to sell the perception of the brand before the products. It was all about enjoyment and engagement. Customers were watching acts perform or having fun on fairground rides – activities that they enjoyed in their own right.
All the time though in the background was the brand – in the signage, in the colour schemes, in the clothes worn by key guests and models. It suggested that Tommy Hilfiger as a brand is fun, it's different, it's cool. All great selling points when it comes to choosing where to buy from.
The tech integration was also well judged. Given that people at catwalk shows tend to naturally take photos of models, this was a smart move to make that a shoppable experience. It didn't feel forced, but a natural use case. By making shopping as easy as taking a photo Tommy Hilfiger also attracted a wider audience with a third of the app users being first time customers for the company's website. People using the app also spent twice as long browsing content online.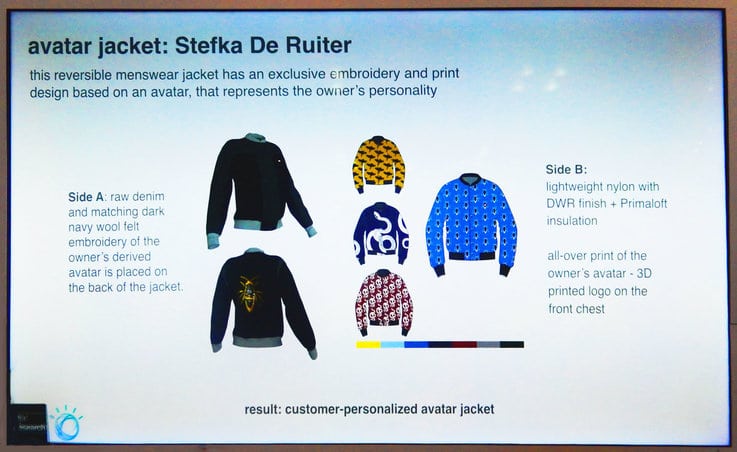 The social data-inspired design project – Tommy Hilfiger/IBM/FIT
Last year's NRF saw Tommy Hilfiger unveil one of its most interesting projects to date, in partnership with the Fashion Institute Technology (FIT) and IBM. Students from FIT were given access to IBM's AI capabilities to analyse 15,000 Tommy Hilfiger catalogue images, 600,000 catwalk images and almost 100,000 fabric patterns. They then applied the tech in different ways to inform new product designs.
These included a jacket with colour-changing fibres that respond to the analysis of a person's voice and social media feeds. Other designs included a solar reactive dress and a jacket that analysed social media feeds to assign the user an animal avatar, which could then be used in different ways in the design.
Why it works
This project offered a fascinating glimpse at how AI might influence design in the future. Particularly in terms of using a brand's heritage to create designs for tomorrow. AI is able to analyse and learn about a brand's identity far faster than a human by looking back through all of its designs to date. This information can then be used when thinking about where to take the brand next.
AI can also deal with large amounts of other data making it a useful partner when it comes to analysing successful designs and trends to predict what might come next. All of this can help designers to be more agile and respond faster to customer demands, which is vital seeing how we're all getting more and more impatient when it comes to waiting for stuff.
The project also shows how collaboration is a great way to push boundaries. Rather than having to develop the AI tech itself, Tommy Hilfiger was able to hit the ground running by working with IBM. This approach can offer a real head start when it comes to innovation.
The stores of the future – Tommy Amsterdam
For the last few years Tommy Hilfiger has been experimenting with what it calls the 'stores of the future'. These includes its London Regent Street space and Zurich store. The latest is the 300 square metre Amsterdam store.
All of the spaces work to integrate the online and offline offerings. Large screens act as digital endless aisles that let customers browse the brand's entire product range, buy and order it to their home or the store. They can also use the screens to find looks online and then shop the items in them.
The stores also have a 'People's Place' café where customers can come together and relax and interact. Even the tables have screens built in to entertain visitors to the area.
Why it works
Whether this is really a store model for the future remains to be seen, but it is a decent attempt at marrying the online and offline parts of a business. Too many retailers still think of these as separate elements, rather than as components of the same ecosystem.
Tommy Hilfiger's stores of the future takes this ecosystem approach by using the screens to augment what is in-store. The brand understands that a lot of customers still want to come into store and see and feel and try on products. At the same time physical space is limited and by not trying to carry everything in one store the brand can create better and more inviting spaces.
The digital endless aisle screens mean that customers don't have to leave disappointed because they can find anything within the brand's entire range. They're also using them to add inspirational elements to the shopping journey beyond what mannequins and posters can do.
It's not necessarily a perfect implementation, but in terms of thinking about customer shopping journeys it's clear that Tommy Hilfiger is working to align itself with new demands.
The social media concept – SideFlix
Last year Tommy Hilfiger experimented with a new social media experience in Facebook Messenger. SideFlix let customers unlock exclusive online content by interacting with their friends' devices. Once a customer signed up to SideFlix they were asked to invite friends to join them.
When their smartphone was placed alongside a friend's they saw an exclusive behind-the-scenes video from one of the brand's events in Shanghai, New York and Tokyo. Adding a third device unlocked another video and a fourth unlocked yet another.
All of the content featured products from Tommy Hilfiger's fall 2018 range. Customers could tap on items they liked to save them to a wish list that led to the brand's website.
Why it works
SideFlix is a neat way for Tommy Hilfiger to get fans talking about its new products – by introducing them to their friends. The power of peer-to-peer recommendations and sales is well documented. We're more likely to care about stuff that our friends rave about. We trust their opinions and their tastes.
By requiring people to physically get together to unlock content Tommy Hilfiger ensured that its campaign reached as many people as possible. It also makes for more focused interactions – if you've gone to the effort of enlisting friends then you're more likely to actually watch and interact with the content.
The initiative also present Tommy Hilfiger as a creator of community. It's giving people a reason to come together.
The inclusive clothing range – Tommy Adaptive
Tommy Hilfiger is one of a number of brands looking at ways to make its offering more inclusive. The company first explored more inclusive clothing in 2016 with a kids range, but had since expanded that into an adult offering.
The Tommy Adaptive range aims to marry its design style with elements that make life easier for those with disabilities like one-handed zips, adjustable hems and waists, magnetic buttons, velcro and extended openings.
Importantly, the brand worked with the disabled community on the range to ensure it genuinely helps to serve their needs. It also incorporated feedback and learnings from its first forays into inclusive design.
Why it works
This is a no brainer. In this day and age there is absolutely no reason that brands shouldn't be being as inclusive as possible. Once again it goes back to this idea that consumers are increasingly looking for brands that align with their values and beliefs.
The Adaptive range is one way for Tommy Hilfiger to show what it stands for. In doing so, it will of course hope to attract new shoppers who perhaps previously would have overlooked the brand as being inaccessible to them. By working with the disabled community Tommy Hilfiger is also gaining valuable insights that it could then use to improve its designs going forward to make them as inclusive as possible – without the need for a separate range.
What's more, by challenging itself to think about its approach to design differently Tommy Hilfiger is fostering the kind of innovative mindset that gives rise to better products full stop. It's about breaking out of thinking that the way jeans are now is the way they always have to be. Or sweatshirts. Or t-shirts. Or whatever. This is the sort of mindset that retail needs as a whole.
The sustainability breakthrough – 100% recycled cotton denim
Tommy Hilfiger recently announced that it was adding 100% recycled cotton denim to its Tommy Jeans collection for the first time. The initiative comes via parent company PVH Corp's Denim Center in Amsterdam, which has been working on creating recycled cotton of a high enough standard for use by the likes of Tommy Hilfiger.
The new sustainable jeans are made from cotton scraps from the cutting room and factory floor, while the thread used to sew them is made from recycled plastic bottles and the hangtags from recycled paper.
Why it works
An increasingly large number of consumers are looking to make better choices when it comes to what they buy. Environmentally friendly, sustainable, ethical – these are all key concerns today. By working to improve the sustainable credentials of its materials, Tommy Hilfiger presents itself as a brand that cares about these concerns. It's a brand that's working to make the world a better place.
It also once again taps into that mindset of doing things differently in design. It's reshaping our perceptions of what jeans are or should be. By being innovative with its materials, Tommy Hilfiger ensures it remains innovative with its products.
What have we learnt?
When it comes to a brand like Tommy Hilfiger innovation plays a role in two key places – how you design your product and how you sell it. All of the brand's most interesting recent innovations have fallen into one of these camps. And for good reason.
You have to have a product that people want to buy in order to be successful. It's not enough just to keep doing the same thing all the time. If you can push things forward and make them better, even if it's just in terms of the materials you use, then that's a worthwhile investment. At the same time people need to be able to buy that product in a way that is convenient for them. And from time-to-time they want to be surprised or rewarded in their interactions with you.
Tommy Hilfiger has done an impressive job of revamping its brand over the last almost 20 years from its lowest point to a new high. While not all of the innovations mentioned here may stick around, it's hard to believe that it would be as successful as it is now if it hadn't embraced innovation so well. Not least in terms of getting closer to customers and controlling its brand experience.
Maybe its next 'store of the future' will be different. Maybe its social media experiments will move in different directions. Maybe its designs will get more, or less, tech-enabled. But then isn't that the whole point of innovation? That you don't sit still. That you keep experimenting and learning and improving and changing because the world does.
By making innovation part of its brand DNA Tommy Hilfiger is ensuring that as the world keeps turning it isn't left behind, but actually helping shape the direction it goes in.
For more inspiring brand innovation take a look at how Nike is reinventing retail faster than most. Want insider insights on the latest retail trends? Get in touch to book one of our New York retail safaris and find out how to boost your business.