Brand Focus
The new age of Nike – how this big name is rethinking retail faster than most retailers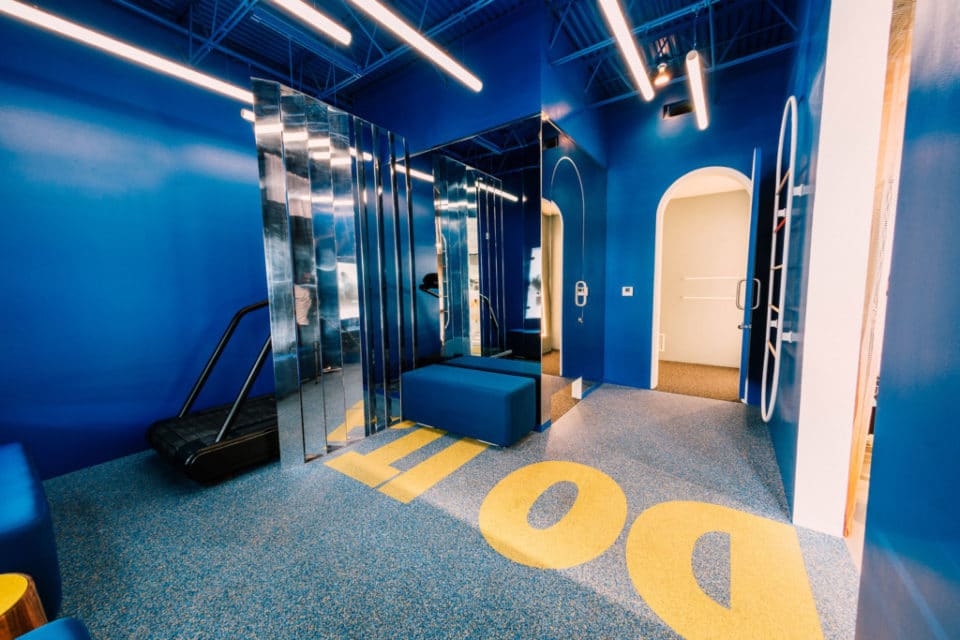 Just Do It. Nike's slogan seems more like a mission statement these days. While others may be stuck struggling or hashing out their strategy, Nike is out there just doing it. And it's doing a whole lot of reimagining of retail.
We love them for it, but for the retailers among you this might cause a twinge of fear. Because Nike is a brand first and foremost. For a long time, it relied pretty much solely on retail partners to get its products to its fans. But in recent years Nike has made more and more plays into being a retailer, as well as a brand. It's opened stores, it's forged direct-to-consumer relationships via the internet and social media, it's cut right back on the number of retailers it works with. And it's been bloody successful.
In June, Nike reported its Q4 earnings which saw revenue grow by 13% to $9.8 billion – above analysts' forecasts. Notably this included a jump in sales in North America, which is Nike's first growth in that market in the last year. It's certainly a positive step towards Nike's full-year target revenue of $50 billion by 2022.
So the numbers are good, but we're most excited by all the amazing stuff happening on the ground. It feels like this new age of Nike has seen the brand overtake the retailers that traditionally were its main sales channels. Some of the stuff it's doing isn't even that radical, but it works. It's stuff that makes you think why aren't retailers doing that?
With that in mind, here's some of the smartest, most forward-thinking and inspirational recent ideas from the brand:
The local, personalised digitally-enhanced store experience – Nike by Melrose
It's Nike's latest and perhaps most future of retail focused idea. An experimental digital-meet-physical store project, Nike by Melrose is the first incarnation of Nike's new Nike Live concept.
Note the name. It's not just by Melrose because of its location in LA, it's because the store is directly influenced by customers in that area. Like a lot of brands and retailers Nike has a mountain of data on customers and it's using that to create the perfect hyperlocal store.
This first location was chosen based on insights into NikePlus members of Los Angeles which paint them as running and style obsessed visionaries. Nike has also used digital commerce data from local shoppers to determine which products and services go into the space. That means they're chosen specifically to appeal to local Nike fans. And if that isn't cool enough, much of the product mix will change every two weeks to keep up with new local trends.
The services also cater to the buying habits of local shoppers. The in-store Sneaker Bar lets customers get expert help in finding the right shoes for them. The store will even offer 15-minute Express Sessions to help time-poor customers to figure out what they want.
The perks for NikePlus members are prominent such as the NikePlus Unlock Box digital vending machine where they can redeem free rewards every two weeks. Members can also reserve items for in-store pick-up and try-on from the app. There's even a curbside service where customers can use the Swoosh Text system to message the store ahead of time and then pull up to buy, exchange or return goods without having to go inside.
Why it works
It's kind of a no-brainer. While a flagship store may need to have mass appeal, a neighbourhood store could, and should, be catered to the people who use it most. Location has become an important part of customer search. People increasingly are looking for what's near them and a tailored store could be a real draw. Then there's also the fact that personalisation is another major trend. We want to feel like brands see us as individuals and Nike By Melrose is a really great example of that.
What's great is that Nike is adopting a test-and-learn approach to the store. Things will change based on what customers do within the space. It's the kind of non-fixed thinking that retail sorely needs. And of course, any features that are a roaring success can and will be rolled out to Nike stores across the world.
The online-offline bridge – Nike App at Retail
The Nike App at Retail aims to enhance the in-store experience via tech-enabled services. Some of these kick-in before the customer even gets to the store. For example, customers can use it to browse and reserve products for immediate collection. As such there's no disappointment around turning up and the shoes you desperately want not being in stock.
Shoppers can also self-serve in the store by scanning product barcodes in the app to find out more about them, check what variations are available and the real-time stock availability. Want to try them on? Just press the button and an assistant will bring the correct size to you – based on information saved in your NikePlus profile.
Finally, the app will also enable the stores to recognise NikePlus members when they walk into the store and to push rewards and discounts to them. In the future, Nike will be adding other features like the ability to scan the QR code of an in-store display and have every part of the outfit waiting in the fitting room for you to try on.
Why it works
In-store tech is always a funny one. While iPads and tablets seem like useful ways for customers to browse, the reality is that they're not as good as the customer's own smartphone. You're more comfortable using your own device. You know how it works. And it does work, unlike a lot of in-store tech which is often broken or out of action for some reason.
If you want customers to use an app on their own phone instead though, it's got to be worth their while. Nike's clever self-serve set-up makes it a no-brainer to fire up the Nike App at Retail when visiting a store. It solves several common physical shopping pain points which can only make for a better experience. Right now, it's only in action at selected stores, such as Nike by Melrose, but it'll be coming to the wider Nike chain in the near future.
The product as a content platform – Nike NBA Connected Jersey
Are you keeping up with all the different Nike apps? Because here comes another one – NikeConnect. Last year Nike became the new apparel maker for the NBA and the company have rather brilliantly used NikeConnect to combine product and content.
Each Nike NBA Connected Jersey has an NFC tag embedded in it. When a customer taps it with the NikeConnect app on their smartphone they get access to videos and other content about the player that wears that number jersey and their team. They also get offers for exclusive Nike products, tickets to games, music playlists and more. The app even helps encourage fans to wear their jersey on game days as the chance of getting more exclusive offers and rewards increase if a customer uses the app to connect on those days.
Why it works
This is a cool idea because it makes Nike into a hybrid media-and-apparel partner. It makes them a bigger part of the conversation with customers. They're not just the place you buy your jersey from, they're the conduit between you and your much loved team.
It also opens up the conversation about what products can do, especially once a customer has bought them and left the store. Nike's connected jersey is one example of how the product can become a platform for additional content which extends the relationship between the brand and its customer beyond the initial transaction.
The video game product trial – Nike Reactland
Yep, Nike even does gaming. For the Chinese launch of its new Nike Epic React running shoe the company decided to add a gaming element to the trying-on process. Once customers put on a pair of Epic React's in the store, they tested them while engaging in a specially made video game – Reactland. It's specially made because it's designed to drive home all the great bouncy trainer tech via a game world full of clouds and pillows and springs.
The customer controls their avatar by running on a treadmill and using a handheld button to navigate. At only three minutes long, the game is an ideal length for customers to get a feel for the shoes, and for Nike to get as many people as possible to take part. And of course customers can share a video of them playing the game on social media.
Why it works
What would you rather do? Put on a pair of shoes and walk up and down in a store a bit or play a game? There's no getting away from the fact that the trying-on bit is an important part of shoe-buying, but Nike is finding ways to make it more fun and more realistic at the same time.
For example, if you're buying your shoes for the gym or for your weekly park run then walking about in them for a minute doesn't really tell you much about them. If you want people to fall in love with shoes for running, then they need to run in them. Hence the in-store treadmills. Adding a gamification level just makes that experience more fun. That links the shoes and Nike with the sense of fun in your brain. It's a good experience. And an experience like Reactland is more likely to get you to try on a new pair of shoes, which makes you more likely to buy them even if you weren't looking for any in the first place.
The localised experiential pop-up – Nike House of Go in Chicago and Melbourne
And now we look at how Nike promotes the exact same product – the Epic React – in other markets. Rather than rolling out the Reactland video game everywhere, Nike in Chicago opened a special 'House of Go' pop-up store. Here customers could experience the Epic React and its tech in a special exhibit. They could also try out the shoes on a giant treadmill surrounded by screens featuring animated avatars that reacted to their movements.
NikePlus customers could also buy the shoes in an exclusive colourway and sign up to take part in in-store classes with trained coaches.
While in Melbourne Nike went a step further with an immersive House of Go pop-up experience that let customers play in rooms themed around soft, springy, light and more. Attendees could also buy the shoes from a giant vending machine. Nike also opened similar House of Go pop-ups in Bueno Aires and Mexico City.
Why it works
If you think that Nike didn't put as much into its pop-ups as Reactland then think again. For a start the brand created a new celebrity-cameo filled ad spot to promote the House of Go. Not exactly small change. But it's not about budget.
It's about recognising that not all markets are the same and giving them the experiences that they will best respond to. If you have the same pop-up experience taking place all over the world then that's one lot of buzz. But multiple different experiences for each market create multiple talking points. Customers in one market want to see what the customers in another one got.
All of the House of Go pop-ups presented Nike in a more fun light. They were more about selling the idea and the feeling of what the new shoes could do, than just shifting tonnes of pairs. As we often like to quote, Maya Angelou was spot-on when she said "people will forget what you said, people will forget what you did, but people will never forget how you made them feel."
The members-only area – Nike NYC flagship
It's not even open yet and we're already talking about it. It being Nike's forthcoming new New York flagship – due to arrive in 2019. That's already a fairly interesting move seeing how Nike only opened its experiential Soho flagship in 2016. It's the one with the half-sized in-store basketball court if you were wondering. There's also treadmills for trying out trainers, a test football field, a personalisation studio and more.
So, what's so interesting about this new space? Well, according to reports the fifth floor will only be accessible to NikePlus members. The floor itself will house exclusive products and experiences – of which we currently don't know much about – and provide access to Nike Experts for personal shopping.
Of course, the other four floors will likely host plenty of product and service innovations in their own right, but we're most interested in that members-only floor. It feels like a big-league extension of some of the exclusive services that the Soho store offers NikePlus members.
Why it works
Nike has already shown the power of experience with its Soho space, but its upcoming Fifth Avenue store will demonstrate the power of the membership and exclusivity. Although on the face of it having to be a NikePlus member to access part of the space seems like a barrier, becoming a member is free. So, in theory anyone will be able to get into the VIP area, so to speak, in exchange for their valuable customer information.
The reality is that this is likely to drive NikePlus sign-ups. Whether a local or a tourist, if you're visiting the store do you really want to miss out on a whole floor? There's something about the idea of exclusive that makes us want to go inside. We want to know what we're missing. We want to feel special. And if Nike keep changing up what's in the space and there's a buzz about it, well then we want in even more. The brand will need to be careful not to over-hype it too much if it is just a fairly standard shopping floor of exclusive products, but making people feel special is a great idea.
The 'new loyalty' app – NikePlus
Ok, so it's not a 'new' development, but it would be remiss of us not to touch on Nike's membership service. It's not just an example of what you can do with an engaged fanbase, but it is the cornerstone of many of the other innovations Nike has come up with (as you can see from this post alone).
Essentially a NikePlus Membership allows customers to unlock special rewards, advice and experiences. These perks, helpfully known as NikePlus Unlocks, might be partner offers or exclusive member-only products, but can also include special events. It's all tailored to your personal interests and goals. Heck – if Nike thinks you'll love a certain shoe they'll keep some aside in your size. Other benefits include free shipping, priority checkout, courier service and member-only shopping hours in certain stores.
If you're big on fitness you can also access audio guided runs from coaches and athletes, and personalised training plans. It feels like a personal trainer in your smartphone with the added benefit that your workouts help unlock more perks. Especially as NikePlus membership works with all Nike apps from SNKRS and Nike app at Retail to Nike Run Club and Nike Training Club. You do have to wonder why these are all separate apps, but at least the compatibility is there.
Why it works
There's been a lot of talk about the future of loyalty and memberships are increasingly seen as the smarter alternative to traditional schemes. If you get it right, you can even get customers to pay for the benefits of being a member. Although in Nike's case NikePlus is free to sign-up to and this seems a deliberate low-barrier to entry play.
As the Nike by Melrose concept shows, the benefit to Nike of having a huge engaged membership is data. Everything it learns about their customers, their interests and how they interact with Nike goes back into making its stores, products and services better. It's a win-win cycle with enough useful and exclusive elements to make the customer want to stay a member and interact with Nike. Remember it's like the traditional loyalty card, it's one thing to get someone to sign-up but another to get them to use it.
The brand in the real-world experience – Nike SNKRS
Ok, it's another app but we love it. Launched in 2015, SNKRS was a way to help super fans get their hands on exclusive product drops. Since then Nike has started sneaking in gamification techniques such as providing early access to certain products if customers run their finger over the image. More recently it's been using geolocation and AR technology to let customers unlock new product drops.
SNKRS Stash asks users to visit certain locations within limited timeframes to get access to these special product releases. Once there they have to hold their smartphone camera up to a specific image or photo to open the buy page. It's like a large-scale scavenger hunt and the events can draw hundreds of sneaker fans.
Why it works
For a start there's that fun factor again. This is a much more engaging experience than clicking on an ecommerce buy link or grabbing a pair of trainers off a shelf. It takes retail out of the store and out of the website and puts it in the real world. With this idea anything could be a point of sale.
It's also designed for the more hardcore Nike and sneaker fan. In its own way it gives back to them by giving those who want to put in the effort a chance to buy exclusive styles that would normally be hoovered up by bots and sold for inflated prices. It raises questions about whether customers care more about a product and a brand when they've put in effort to buy something.
The new sales channel – Nike AR Facebook Messenger
Even when other brands are doing the same thing, somehow Nike often seems to do it better. Case in point – Nike was one of four brands, alongside Kia, Sephora and ASUS, to take part in a beta test for AR in Facebook Messenger earlier this year. Unlike the other brands though, Nike sold out of its featured trainers in just one hour. Yep – one hour.
This is especially impressive considering that shoppers had to once again put some work in. To be able to buy the trainers they had to find and line-up a series of four emojis which were distributed via Messenger-based social influencers. These were then entered as a code via communication with Nike SNKR. This unlocked a link to an AR experiences featuring the limited-edition Kyrie 4 Red Carpet trainer. The shoes were on a pedestal that the customer could walk around via AR to get a closer look. And then they had the option to buy. Which they clearly did.
Why it works
In some respects, this is an extension of what Nike is doing in the SNKRS app but delivered via another channel. Still though it's great to see Nike taking sales to where its customers are. We're spending more and more time in messenger apps and so it makes sense to add retail options, rather than forcing customers to leave the app and buy via another channel.
The use of AR is also quite important here. People like the convenience of buying online, but they also want to know what they're getting. Especially with more expensive purchases. AR gives them the ability to examine a product much more closely than a traditional ecommerce image. They can look at it from all angles. They can get a sense of its reality. And these are all great ways to persuade them to buy.
What have we learnt?
By no means is Nike perfect. It also doesn't have a silver bullet strategy that everyone can just adopt and then dust off their hands, job done, retail is saved. And no, it's not sacking off the rest of retail completely. It still has and needs partners.
But there's no denying that it's got a pretty good handle on who its customers are and what they want. And it's got the right mindset to go ahead and do something about it. It doesn't mind trying things out, even if some of it's a bit clunky like the multitude of apps, and then improving them. It's not afraid of tech but it uses it for useful or fun experiences, not to look shiny. And some of its best ideas are slowly making the tech more like the background magic behind the experience.
Retail could learn a lot from Just Do It.
Think you know Nike? Here's 32 facts about the company that you may not have heard.
Join brands like Nike and find out how we can help you identify and discover the breakout trends in offline and online retail that will put you years ahead of your competition. Get in touch here.