Retail
10 Leading Innovations in Luxury Retail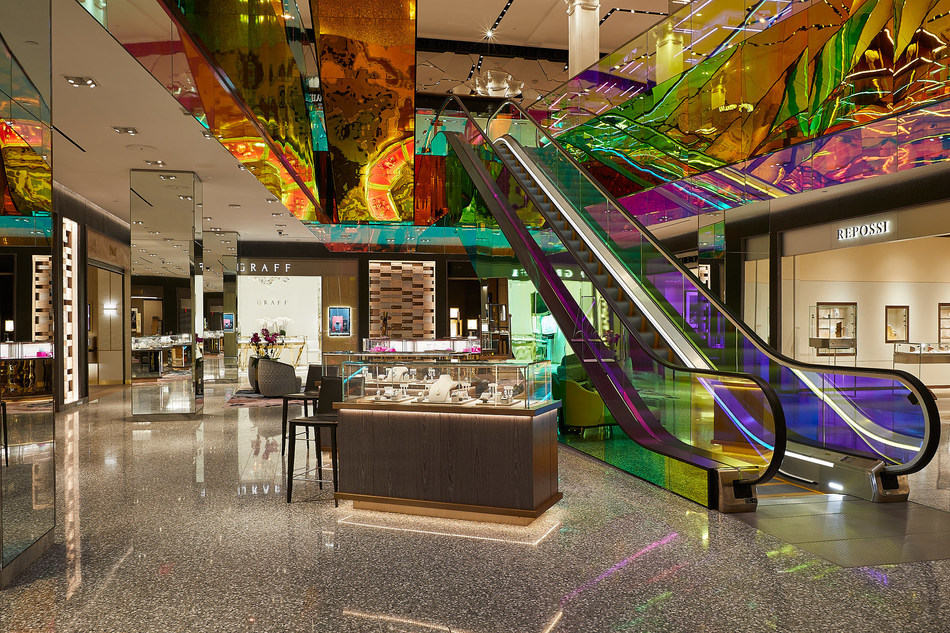 Things are pretty luxe in the luxury retail world. By all accounts the sector is booming – unlike other sectors of the retail industry.
It doesn't seem to be a short-term thing either. Deloitte says luxury retail sales are expected to grow 6-8% annually through to 2024. That's at least twice as fast as the 3% annual growth it predicts in retail in general.
The going is good then. But that doesn't mean that luxury brands are resting on their laurels. Innovation is rife in an industry that still has a strong whiff of the traditional about it.
Here are 10 leading innovations in luxury retail that show just how things are changing.
Starboard Cruise Services luxury retail at sea
Starboard Cruise Services is shaking up luxury retailing as we know it with a series of cruise ship-based concepts. At the end of last year, it designed a special luxury retail experience for new cruise ship the Celebrity Edge.
This included luxury brands that had never been sold at sea before, exclusive Celebrity Edge products and a series of workshops and experiences for visitors to learn more about the brands and their expertise.
Starboard also created a more luxurious retail offering for the Spectrum of the Seas cruise ship. As well as events and product showcases, this included a brand-new shopping concept for passengers staying in the Golden Suites. The Boutique is an exclusive area where shopping experiences can be booked or used to host private viewings of products.
These initiatives show how brands are working to bring more innovative experiences to customers on cruises. Given the largely captive audience, it makes sense to create space for interested parties to engage with brands.
Burberry targeting resale customers
Burberry is using product reselling to target customers in a partnership with luxury resale experts The RealReal.
Running until the end of January 2020, during the partnership customers who bring a Burberry product to The RealReal to be resold will get an invitation to a Burberry store for a personal shopping experience and high tea.
It's an example of the growing acceptance of the second-hand clothing market by luxury brands. In Burberry's case this makes sense when you consider that The RealReal reported that resale interest in Burberry has increased 64% year-on-year.
The searches for the brand are growing fastest among millennial and Gen Z shoppers. This ties in with a general growing interest in more sustainable shopping options, such as resale, among those demographics.
Burberry wants to ensure that it retains those customers as much as possible – especially as resale sites are a source of competition. By giving special treatment to those reselling their Burberry items, the brand hopes to maintain that relationship and brand love.
Burberry isn't the only luxury brand exploring resale. Stella McCartney has also partnered with The RealReal to help extend the life of its products. Customers who consign their Stella McCartney products with The RealReal receive store credit to use with the brand on new purchases.
LVMH blockchain platform
LVMH has teamed up with Microsoft and blockchain firm ConsenSys to create a blockchain system for authenticating luxury products. The AURA platform will first be used on Louis Vuitton and Parfums Christian Dior goods.
Through the platform, customers will be able to see the origins of the luxury goods they buy including the design, raw materials, manufacturing and distribution. The use of blockchain also means customers can find information on how to care for their products and their warranty.
Transparency has become increasingly important to shoppers looking to make better buying decisions. Given the price of luxury goods, being able to highlight to customers what goes into their purchase helps to justify the cost.
As well as being a point of difference for LVMH, the company says that the AURA blockchain platform can also be used to reduce advertising fraud and secure creative intellectual property.
Neiman Marcus/Fashionphile tie-up
Luxury department store Neiman Marcus is tackling resale in a different way by taking a minority stake in Fashionphile, the online luxury goods resale company.
Fashionphile operate four physical stores of is own in the US where customers can buy and sell second-hand luxury goods. They can also shop all of the inventory online.
As part of its investment, Neiman Marcus will add Fashionphile drop-off points to some of its stores where customers can get quotes for their items and payment from Fashionphile. The department stores won't be selling Fashionphile products in-store or online, but there is of course space for such a development in the future.
Neiman Marcus's CEO states that over half its customers already engage in pre-owned luxury, so the Fashionphile investment seems an obvious move. It may also give the company additional insights into resale that could help inform its future strategy.
Le Tote and Lord & Taylor
Earlier this year, online clothing rental subscription firm Le Tote made headlines when it became the new owner of luxury department store Lord & Taylor. The deal attracted attention as people asked why a digital company wanted to buy the US' oldest department store chain?
According to Le Tote CEO and founder Rakesh Tondon, it's all about customer behaviour. He told the San Francisco Business Times, "we have to start thinking about where our customers are and what they're wanting to do."
While the company did consider pop-ups, it felt that they wouldn't be able to deliver the level of customer experience it wanted to. But clearly having some sort of physical presence is seen as important to Le Tote.
It's also an indicator of luxury's shift in thinking towards rental and resale as valuable business components. Whether Le Tote will be the ones to crack this model in a department store context remains to be seen, but the combination of heritage retailer and digital upstart is an interesting one.
Saks' The Vault
Saks Fifth Avenue has recently opened a luxurious new shopping space called The Vault. Dedicated to selling high-end jewellery and watches, the space is designed to offer an exclusive, private shopping experience.
There are more than 25 top brands on sale, with many that are brand new to Saks. One-off and limited-edition pieces also feature in the space. Access is via a stunning Rem Koolhaas-designed escalator, which amplifies the wow factor of the experience.
Staff are highly trained to help customers with their purchases as Saks recognises that many will be buying important occasion pieces. A multilingual concierge service ensures the space can cater for visiting customers as well. There are also two private shopping rooms for VIPs.
Luxury shopping has long been defined by its high-touch service. Saks is doubling down on this to make The Vault the must visit choice for those looking to buy luxury jewellery. While luxury has been taking steps to become more inclusive, The Vault talks back to that idea of luxury exclusivity which adds to the want to visit factor.
Burberry's exclusive chat service
Burberry has partnered with Apple to create an exclusive new chat function called R Message. The invite-only service integrates with R World, the internal iOS app that Burberry store staff use to manage inventory and receive company news.
R Message will now also allow them to directly communicate with high-value customers to book in-store appointments, send personalised recommendations and directly sell products. The integration means staff can check easily check stock when making suggestions and make use of company updates to engage with clients.
Although it is being piloted in the first instance, it is expected that R Message will be rolled out to all Burberry stores to support important customer relationships. It is a step beyond the company's existing ability to communicate with customers through iMessage Business Chat.
Customer loyalty is a difficult thing to maintain, but luxury retail has better results than many thanks to its hands-on and personalised approach. R Message is another tool in Burberry's box for offering a truly individual level of service.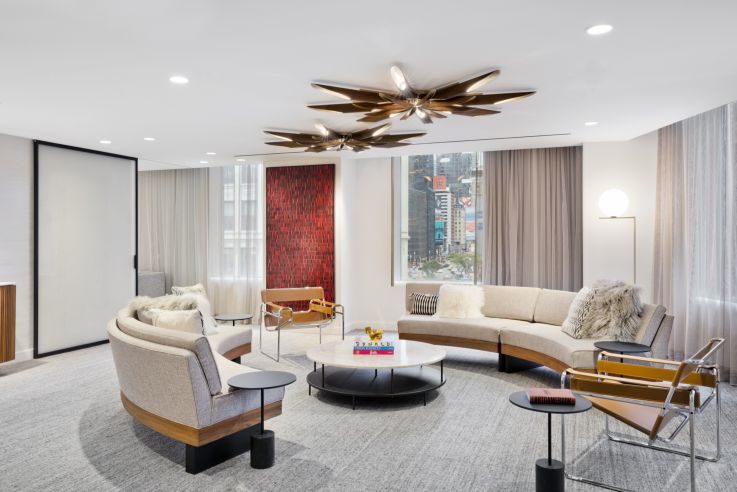 Image credit: Connie Zhou
Nordstrom's NYC flagship
Nordstrom has just opened its first full-on department store in New York and it aims to offer customers a new type of luxury experience.
One of the main features is an extensive food-and-beverage service that allows customers to eat while they shop. Customers can choose from a menu of eight items, drawn from the store's seven in-store dining areas, to have brought to them as they try things on. Drinks can also be ordered.
It's not an arbitrary decision. Not only does Nordstrom believe that customers that eat will spend longer shopping as their energy won't drop, it has also reported that one in four purchases made in Nordstrom spaces are food and beverage related.
Taking one of its most high volume spend areas and baking it in as a service seems like a smart move at a time when department stores are struggling. The company has also tied the space into its smaller Local stores with stylists able to draw from the inventory of the flagship to serve clients locally.
GOAT's move into luxury
Having started life focusing on sneakers, resale platform GOAT has announced its first official move into retail.
The company has signed up fifty brands, including luxury, which will provide it with new stock to sell at retail prices through its Android and iOS apps. GOAT will expand this to its WeChat programme and website in the future. Other brands will be added as well.
It's a major business shift for GOAT into becoming a primary retailer, rather than just a resale platform. It also indicates a willingness from luxury brands to explore new retail avenues.
There's a recognition that the next generation of luxury shoppers are digitally savvy with a desire to shop however they want. Tapping into this via an established platform like GOAT is a great way for luxury brands to quickly get a foothold among their target audience.
Chanel's experimental flagship
At the end of last year, Chanel opened a new Paris flagship with a difference. As well as being a focal point in the city for the brand, it is also a dedicated testbed for new digital initiatives.
These are being developed in partnership with fashion platform Farfetch in a move known as Augmented Retail. The aim is to create a physical store that has the digital capabilities to create immersive, interactive experiences.
It's a move that points towards the next generation of luxury as being digitally enhanced. Chanel wants Augmented Retail to open up more personalised experiences with customers.
As well as the technology, the flagship boasts more traditional luxury elements such as exclusive experiences and products. It's this blending that may define luxury in the future – the high-touch human side and the use of digital to streamline service.