Brand Focus
30 Top Luxury Retail Stores for 2019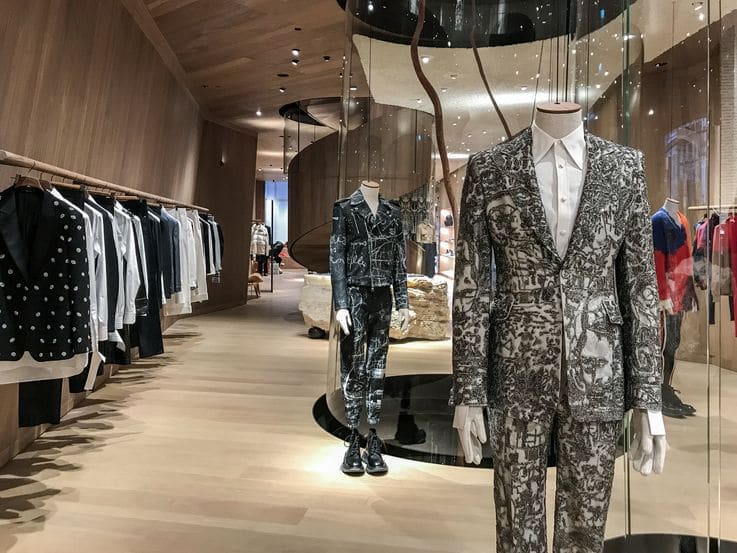 Think you know what luxury means in retail?
If it's more of the same then think again.
Luxury isn't just about the name above the door or the price on the product.
As a retail consultancy, we're always paying attention to what's new in luxury retail and the new stores from around the globe that best exemplify these trends.
From the usual suspects (Mulberry, Burberry) to newer players in bricks-and-mortar (Salon64, Matches Fashion), the 30 stores on this list are packed with brilliant designs, innovative concepts, and ideas that might just redefine what luxury retail really is.
Read on to find out why, and for even more inspiration don't miss our original top 50 luxury retail stores pick.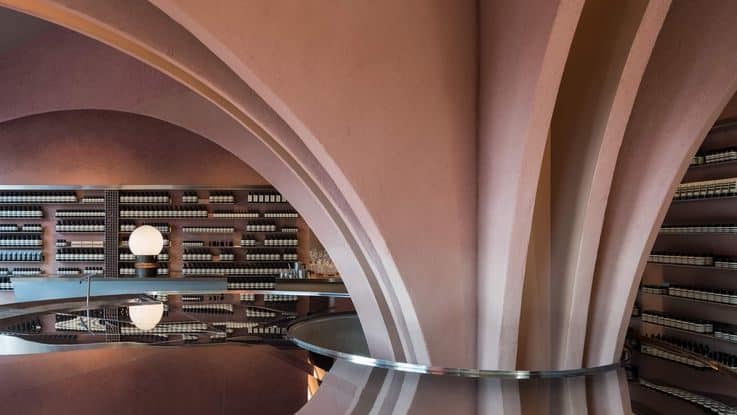 Image credit: Aesop
1. Aesop (London)
This store in the heart of Chelsea has been hailed the cult Aussie skincare brand's most Instagrammable. Created by the architect responsible for Europe's first underwater restaurant, the store is inspired by the opening scenes of James Bond films. The 1,163 square foot space just off of Sloane Square is now Aesop's largest in Europe. In a departure from its usual neutral palette the walls are painted pale pink and 12 dramatic arches line the shop's perimeter.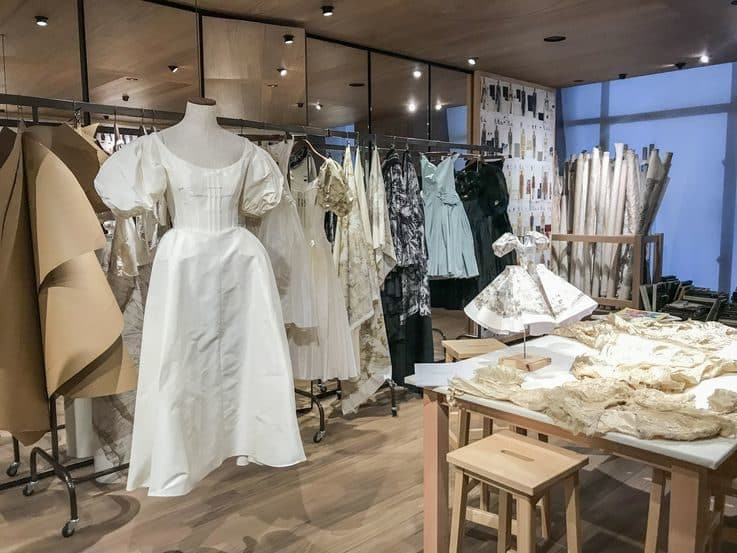 Image credit: Insider Trends
2. Alexander McQueen (London)
Alexander McQueen's new flagship store on Bond Street features archive designs as well as current collections. Photographs and artworks are displayed throughout the store which pays homage to the brand's fascination with nature. It will host talks and exhibitions to inspire students and hopefully foster new fashion talent. There are plans to refresh the interiors each season with fabrics from the Alexander McQueen studio, much like the products. The focus on storytelling is apparent here, with the top floor entirely dedicated to showing the history of the brand, and the stories behind specific designs. One for brand enthusiasts.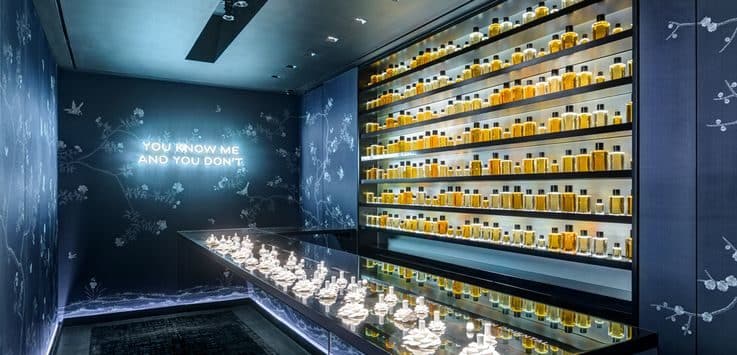 Image credit: Chanel
3. Atelier Beauté Chanel (New York)
Chanel's new beauty concept store is focused on discovery and play for a new generation of luxury shopper. The experience is designed to be personalised for each guest. The perfume bar is particularly exciting; entering through a black door by appointment only you are invited to smell different scents whilst blindfolded. The idea being that you will choose a scent based on smell alone without the influence of packaging. There is also a makeup station and skincare counter, encouraging customers to slow down and experiment.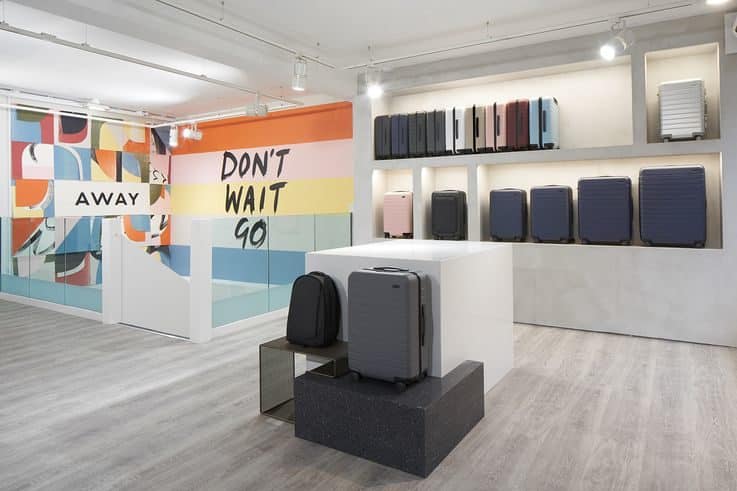 Image credit: Away
4. Away (London)
Luxury luggage retailer Away has opened its first permanent store outside the US in London. With a minimalist aesthetic, the beautiful bags and travel accessories shine through. In fact, products have been laid out in a very specific manner, to help customers build their own 'travel uniform' according to its co-founder. Located in Covent Garden, it's a celebrity-loved, Instagram-friendly brand, and this European flagship will help to reinforce that.
5. Balenciaga (London)
There is an industrial feel to Balenciaga's new store on Sloane Street. Historically the brand has pushed the boundaries of how collections are displayed and it's no different in this store – it has created hyper-real mannequins (based on models Eliza Douglas and Takato Harashima) to entice customers into store from the boutique's windows. In keeping with the industrial theme, clothes are suspended from a conveyor system. The bright colours of the clothes contrast greatly with the grey and metallic store decor which makes them pop. It's a great example of creating a minimalist space and the focus is on the product.
6. Balmain (Paris)
Balmain has opened a second flagship in the French capital. The new boutique is home to the label's full collection. It follows the concept of Parisian residential architecture; stepping through each archway to a conjoining room you are presented with a new interior of a Parisian living space. Ceiling height mirrors are reminiscent of a catwalk and giant chandeliers shine a spotlight on gold decorated glass cabinets, home to the latest accessories.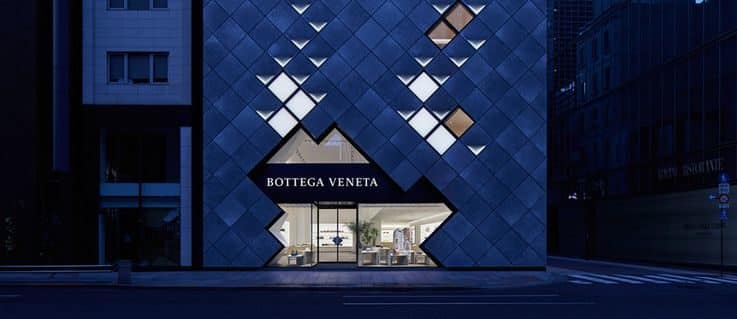 Image credit: Bottega Veneta
7. Bottega Veneta (Tokyo)
Bottega Veneta's new six-storey flagship store in Ginza is a bold statement. The exterior is clad in silver panels that mimic Bottega's trademark intrecciato technique. The interior is a nod to Japanese design featuring Kyoto white plaster and Tamo timber. There are plenty of Italian elements too, including Italian marble and furniture from two prominent Italian designers, Giò Ponti and Gianfranco Frattini, as well as Bottega's own homewares collection.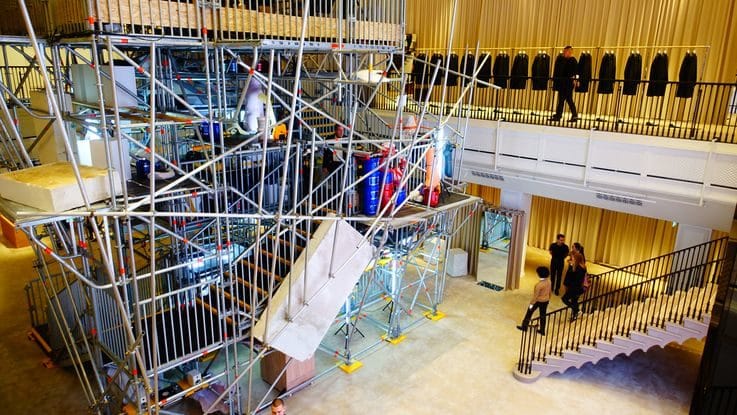 Image credit: Insider Trends
8. Burberry (London)
While Burberry's flagship store has been around for many years and needs no introduction, its new art installation, which has taken over the centre of this world-famous store, deserves a mention. Artist Graham Hudson has created a three-storey scaffolding design featuring 80 cameras that take 360 degree photos. The centrepiece is a robot that creates sculptures of the human body that are then displayed around the structure as art. This is Burberry's boldest move yet in its quest to transform experiential retail, and it really challenges the idea of what a store can be.
9. Burrow (New York)
Couch company Burrow simply invites you in-store to sit on one of it couches and watch Netflix all day. The company is taking the experiential store quite literally and selling you relaxation. There are bookcases with pillows and blankets available for purchase and fully built couches hanging off of walls. There's also plenty of displays of couch legs and cushions to show Burrow's different colour and material options. The store is meant to be an expression of home – where you feel most relaxed – so a kitchen where coffee and tea are brewed for browsing customers is a nice touch.
10. Canada Goose (Montreal)
The Canadian fashion brand has opened its largest store in Montreal and it comes with a walk-in fridge! Visitors to the store can test the outerwear in the store's 'cold room' where temperatures get as low as -25 degrees. This is a great way to show the quality of the product and customers are more likely to be persuaded to pay the high price tag if they know the products really work. The brand has been working with Polar Bears International for over 10 years and this is reflected in-store with polar bear sculptures made by Inuit artists; communities that the brand supports to continue living off the land and sea.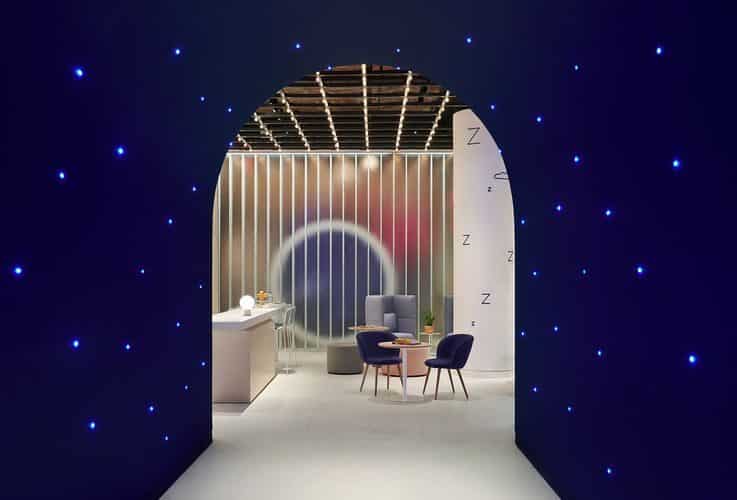 Image credit: Casper
11. The Dreamery (New York)
Luxury retail isn't just about big designer brands. More and more retailers are looking for ways to offer luxurious experiences to a discerning audience. It's in this vein that mattress startup Casper has launched its 'Dreamery' in New York. The space lets customers take a 45-minute nap for $25 in one of its pods, each complete with a Casper mattress and pillow. That fee also includes free healthy snacks, a goody bag with skincare samples and pajamas! You even get a cup of coffee to get you going once your session has ended. It's a really simple concept executed well, and a brilliant way of marketing the product, while offering something you can't get elsewhere.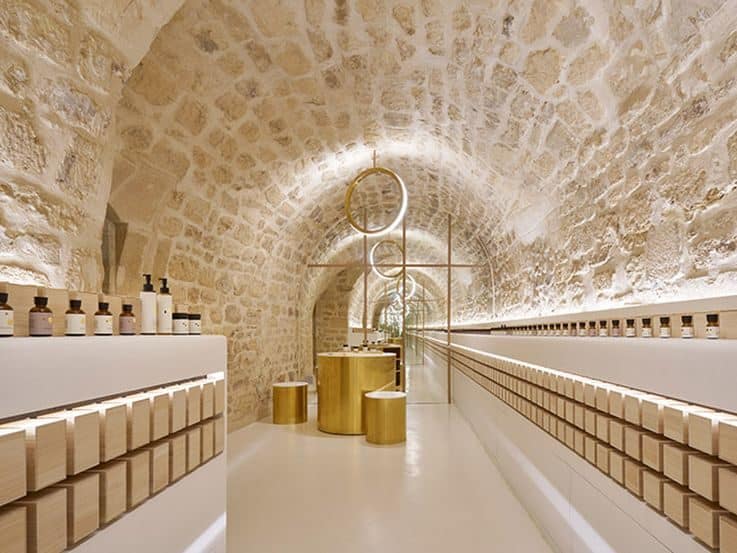 Image credit: Archiee
12. En (Paris)
Japanese cosmetics brand en has reimagined a stone vault for its first store in Paris. The boutique has been created by creative studio ARCHIEE where most of the original structure has been preserved. In Japanese 'en' can be translated as meaning 'beauty', 'circle' and 'connection' and the designers capitalised on this when creating the store. The brand has tapped into a major modern trend by allowing customers to create their own products from over 100 oils and essences.
The beautiful white and bronze treatment rooms enable en to offer massages, treatments and even counselling sessions. And the layout of the store creates an element of discovery and intrigue for the consumer. This gold and stone oasis also boasts a lot of natural light, creating a beautiful space to explore.
13. Escada (London)
German womenswear designer Escada's new flagship store on Sloane Street is looking to attract a younger, more digitally engaged audience. The new store concept is stripped back – golden abstract lighting fixtures hang above minimalist Japanese paintings. There are fresh flower arrangements adorning the surfaces and the walls feature hand-painted gold leaves, giving the space an elegant and inviting feel. The minimalist design is very much on-brand for this luxury retailer, but also feels part of a broader trend to use physical space purely to engage on a human level.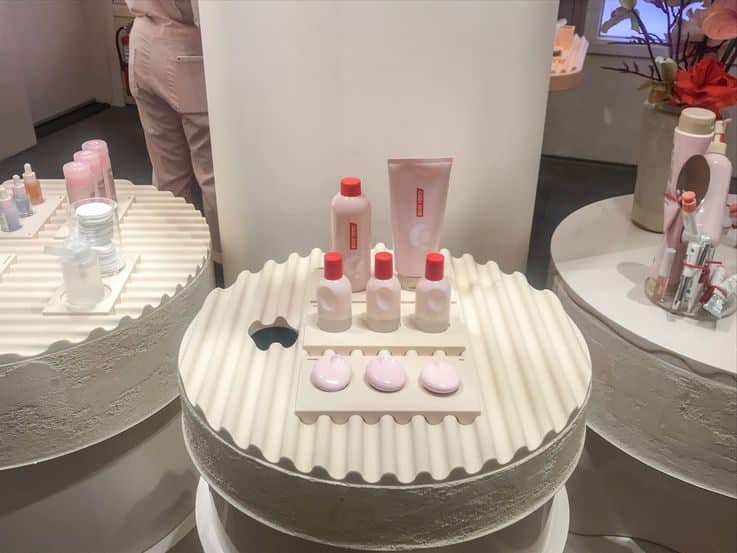 Image credit: Insider Trends
14. Glossier (New York)
Direct-to-consumer beauty company Glossier is probably not the first name you think of when it comes to luxury, but it's arguably part of a new movement towards less formal brands that garner the same fierce love that traditional luxury labels have among their customers. Glossier has opened its first flagship on Lafayette Street, Soho, the same address as where the brand was founded back in 2014.
It is a place for the brand's loyal community to engage further with it. The approach is more luxurious than your typical beauty store. Rather than stacking them high, Glossier puts just one of each item out on display treating the products more like high-end goods than affordable make-up.
There is a dedicated room for customers to create content and start conversations with the rest of the Glossier community. The space is about physical shopping, but has merged the online and offline worlds effectively. Customers can start browsing in store, add to their cart, and finish their shopping online once they get home.
15. Goop Lab (London)
The Goop store in London originally started life as a pop-up but is now a permanent home for the wellness brand. The store stocks a mixture of fashion, home, beauty and wellness products all specifically chosen to suit the tastes of UK customers. The interiors have been designed to reflect the ethos of the brand and mirrored walkways are lined with bushy olive trees. Goop focuses on sourcing organic and cruelty-free products and the store holds weekly talks on relevant subjects – something we're seeing from a growing number of ethically-driven brands.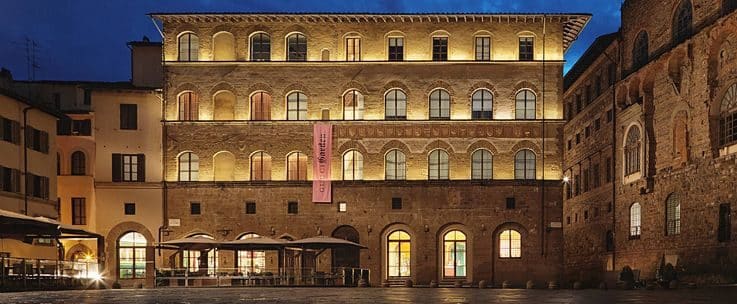 Image credit: Gucci
16. Gucci Garden (Florence)
Designer Alessandro Michele has redesigned and reimagined the site of the Gucci Museo and created Gucci Garden, a multifunctional creative space. The three-storey building boasts an exhibition space, a restaurant run by Michelin-star chef Massimo Bottura, and a boutique stocking exclusive merchandise with products only available at Gucci Garden. The Galleria tells the story of the house through video installations, artworks, and a clothing exhibition. The whole space pays homage to Florence through its craftsmanship; half the ticket price to the Galleria is donated to restoration projects around Florence. For Gucci fans, this may become something of a pilgrimage.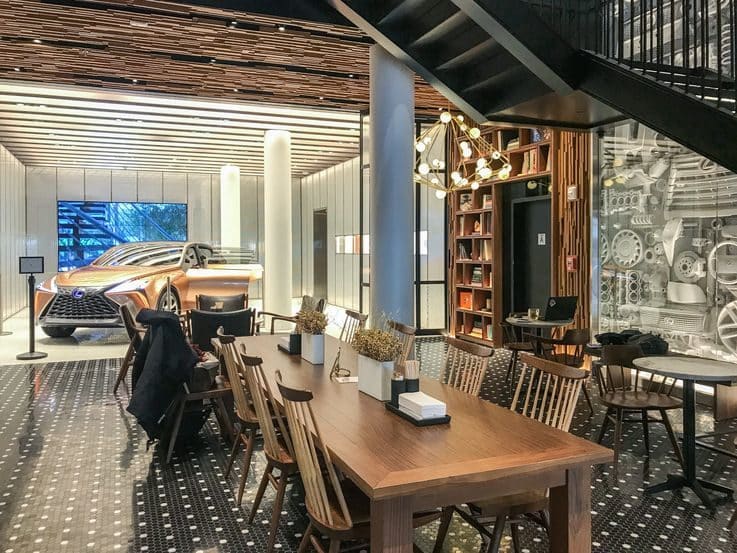 Image credit: Insider Trends
17. Intersect by Lexus (New York)
The new Lexus space in New York's Meatpacking district is an experiential car space with no cars in sight. The focus here is on creating a space for fans of Lexus to engage with the brand by selling the idea of what Lexus ownership is like. There is a coffee shop as well as a fine dining experience, a retail store and a gallery space. A nod to the products Lexus is known for is made with a spindle and parts wall, but ultimately customers leave here with memories of delicious food. This is Lexus' first foray into experiential retail, and follows the path laid out by other car businesses like Audi, whose car-free engagement spaces in urban areas have become an important part of brand building.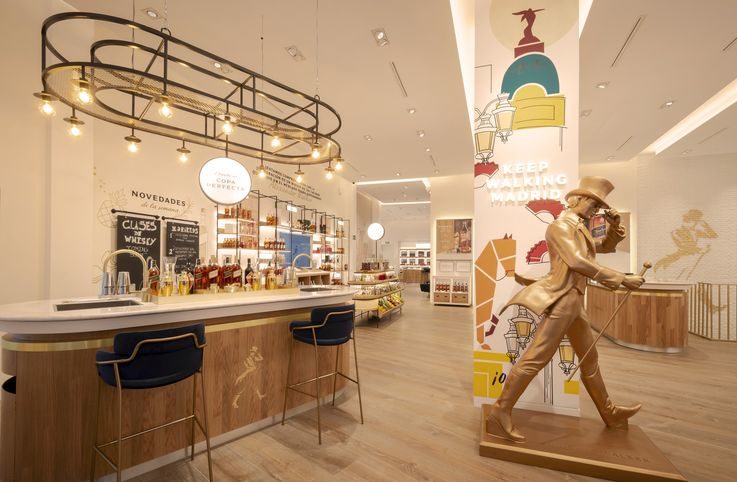 Image credit: Dalziel & Pow
18. Johnnie Walker (Madrid)
The Scotch brand has opened its first flagship experiential store in Madrid. Visitors to the store can learn the art of cocktail-making or join the tasting table where they can learn more about the flavours behind the whiskey. The personalisation station means you can leave with a unique gift that can be customised with bespoke engravings. And for the real whiskey connoisseurs, there's chance to purchase rare and exceptional single malts – many of which are exclusively available here. It's clear that the goal is not only to attract lifelong whiskey fans, but to convert some new ones too.
19. Leica (London)
Premium camera manufacturer Leica has opened a new flagship store in Mayfair. The store has a gallery space and stocks the full range of Leica's products. There are in-store imaging experts on hand to help you understand product features and photographic techniques.
The space will also be home to Leica Akademie which is the brand's photography training centre offering workshops to photographers of all levels. The courses are designed to inspire and educate a new generation of photographers. The Akademie will also offer bespoke one-to-one lessons. Plus, it will display exhibitions from celebrated photographic icons as well as up-and-coming photographers, all of whom use Leica cameras of course.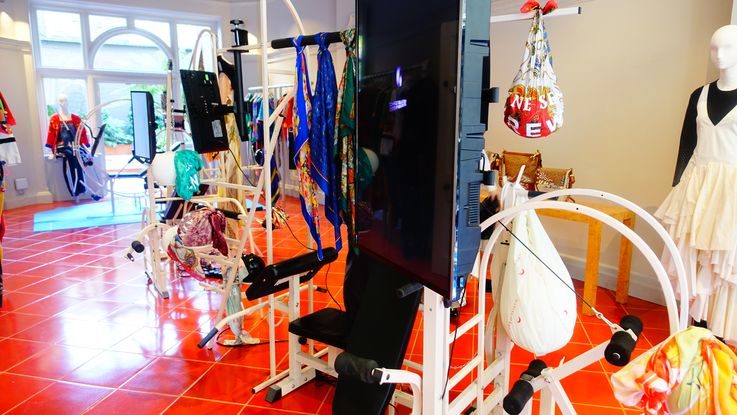 Image credit: Insider Trends
20. Matchesfashion (London)
Luxury fashion ecommerce business Matchesfashion opened its Carlos Place flagship in September 2018. Located in a gorgeous Georgian townhouse in Mayfair, it's a space built around engagement and discovery with regular events and personal shopping at the core of its offering.
The primary target is loyal customers who book personal shopping appointments via the Matches app. These customers can request the pieces they'd like to try on, but importantly, Matches' stylists can also curate a collection based on their previous shopping habits, online and offline. Furthermore, anything that isn't in stock can be delivered to the store within 90 minutes. The goal here is to create the ultimate luxury personal shopping experience, where technology plays a part but is mostly invisible.
21. Mulberry (London)
Mulberry opened its new London flagship in Regent Street, housing a number of innovative design features. There's a distinct mix of modern and heritage, and Mulberry is using the space to extend its omnichannel capabilities too. It will soon feature mobile payment points, click-and-collect, two-hour delivery and endless aisle shopping. Store assistants have been equipped with technology from tech agency Tulip Retail that can personalise the shopping experience for repeat customers, and create a seamless link between online and offline.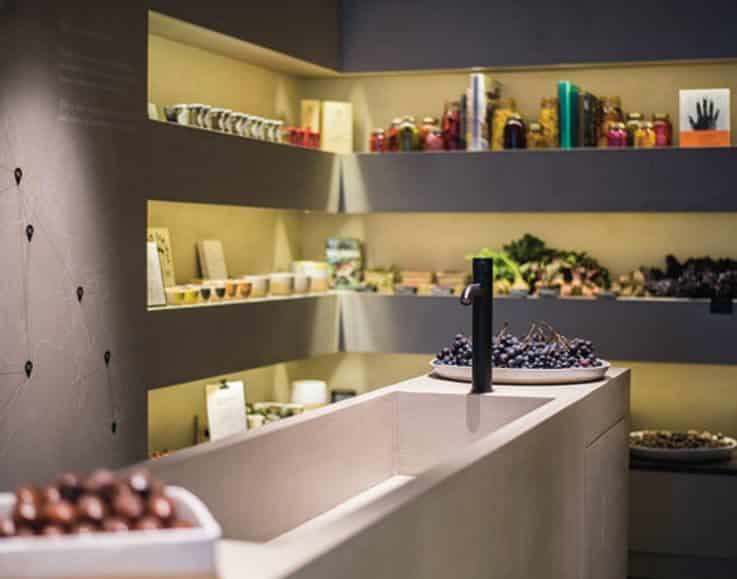 Image credit: Natoora Chelsea
22. Natoora Chelsea (London)
Natoora, a greengrocer for some of London's top chefs, has opened what's been described as 'the Aesop of vegetables'. Natoora's stated aim is to revolutionise the supply chain, and the words 'radical seasonality' are stenciled along the wall, alongside a map depicting the origin of its produce. The largely unpackaged products are showcased in beautiful ceramics, and with terraced displays and tube lighting each product is presented like a work of art.
23. Reformation (New York)
Sustainable fashion retailer Reformation has opened a new tech-focused store in New York. The store is operated like a showroom, essentially showcasing samples rather than stock. Customers do most of their shopping via touchscreens, which operate like the brand's website except they only list what's in stock. By typing your name customers can then create dressing rooms, which are carefully stocked with your selections as you continue to browse. The dressing rooms themselves have smaller screens, allowing customers to continue to pick and choose new sizes, colours and items. It's a really interesting perspective on the future of fashion retail, and how tech can help provide a more luxurious experience.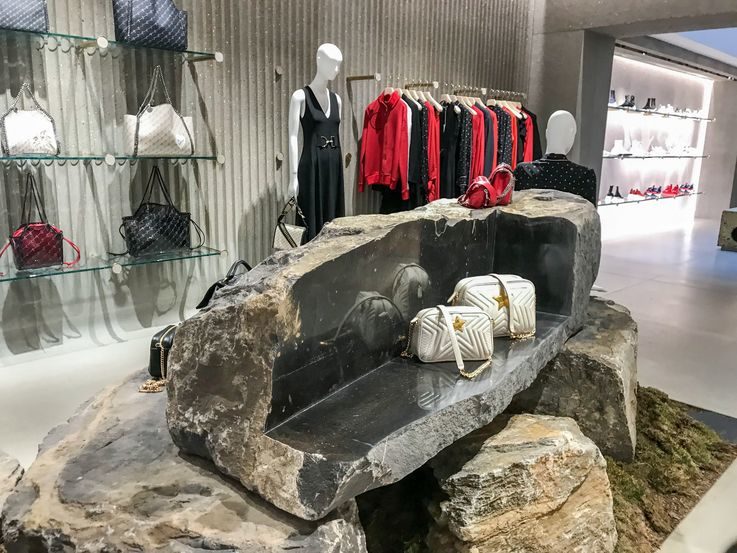 Image credit: Insider Trends
24. Stella McCartney (London)
The interior of Stella McCartney's flagship store is quite different to its neighbours on Old Bond Street. The space is lined with pebble dash, recycled foam and cardboard taken from McCartney's London offices. The label's sustainable ethos is reflected throughout the store; it has an air conditioning system by Airlabs that cleans the air using nano carbon technology. Any Paul McCartney fans out there will be delighted to hear that the custom speakers play unreleased music whilst the speakers in the changing room play BBC4's Desert Island Discs. The more curious customer can visit the club space on the top floor which has a roster of events and exhibitions.
25. The Curated (New York)
Christian Siriano's new fashion boutique in New York is a must-see for fans of luxury shopping experiences. Found in a beautiful Midtown townhouse, it boasts pink velvet couches, spiral staircases and beautiful artwork you can purchase. It's an eight-storey space, which includes Siriano's design atelier, offices and a gorgeous garden cafe. Best of all, true to the brand's DNA it offers something for everyone, from stunning runway looks to low-cost t-shirts and accessories. This is luxury retail for all.
26. The Maiyet Collective Concept Store (London)
Ethical luxury fashion brand The Maiyet Collective's new concept store began life within The Conduit – a new social ethics focused member's club in Mayfair. Maiyet opened a niche focus department store, and has chosen to stock a range of ethical brands, but interestingly not its own. Stocking its own brands would muddy the waters of its own ethical vision, its founders say, so the store is focused on championing and developing the best newcomers in ethical retail. It's a bold move from the brand, but it sets it apart from others. The space is now moving between locations throughout 2019.
27. The RealReal (Los Angeles)
Yet another e-commerce brand taking on a physical presence, The RealReal has opened the doors to its second space in LA. The luxury consignment store plays host to a selection of high-end brands but displays them in the same way that a discount outlet would. By going on a treasure hunt it really adds to the excitement when you find something that you like. The store is large enough to have a cafe serving coffee, pressed juices, pastries and salads so you can refuel yourself after all that hunting. The store also offers a handful of services, including authentication specialists for free fine jewellery and handbag evaluations.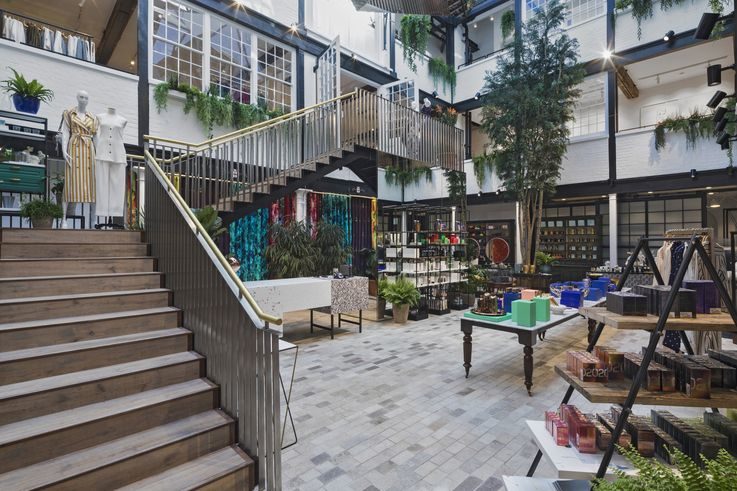 Image credit: Dalziel & Pow
28. The Shop at Bluebird (London)
The Shop at Bluebird's latest venture is a 15,000 square foot grade II listed former coach house in Covent Garden – and the building is just as extraordinary as it sounds. The centrepiece is a cobbled courtyard with a beautiful vaulted glass ceiling, and all of the original features have been beautifully maintained. The ground floor introduces customers to contemporary, niche or seasonal brands as well as beauty and homeware. A staircase winds up to galleries boasting a brow bar, Light Salon therapy rooms and major designer collections, while the top floor plays host to a cocktail bar and restaurant and an impressive roof terrace, packed with greenery. It's a stunning space filled with a suitably stunning array of ever-changing products.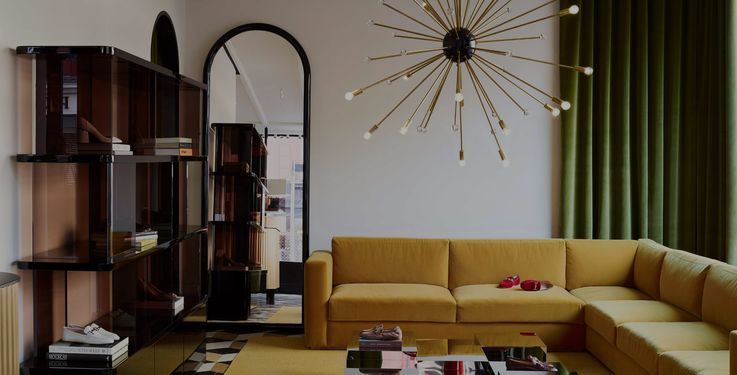 Image credit: Tod's
29. Tod's Sloane Apartment (London)
Luxury Italian brand Tod's has launched a boutique 'Sloane Apartment' in London. The chic interior is full of Instagrammable photo spots, with beautiful marble flooring and lush furniture. There are many lounge areas across the two-floor space, which is part of a clear aim to create a genuinely social store. There's also a bar by the entrance, which is in-keeping with a wider retail trend for in-store cafes and drinks spaces. It was opened during London Fashion Week, and it's sure to delight the fashionistas of Chelsea.
30. Venus ET Fleur (London)
Specialising in roses that last a year, Venus ET Fleur – the high-end florist – has opened a store in London. The super chic and Parisian themed interiors are a perfect fit for the brand, and the brand's signature wallpaper and loveseat featuring 2000 eternity roses make it perfect for social sharing. This is, after all, a brand that's become a big hit in the celebrity world, with Kim Kardashian amongst its many fans.