Retail
11 inspiring ideas for the future of travel retail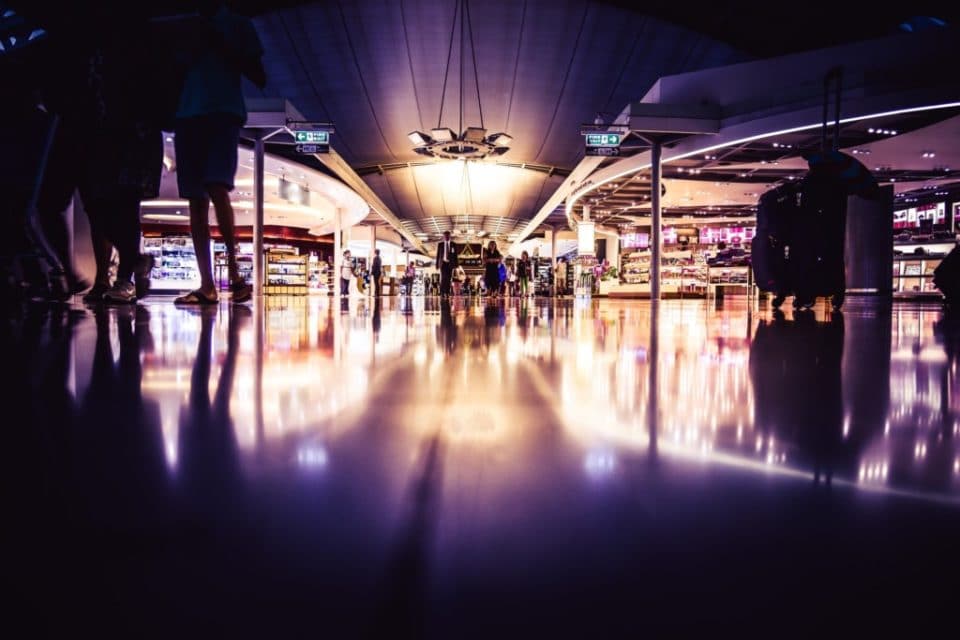 Boom. That's the sound of the travel retail sector blowing up as brands double-down on their efforts.
It's not surprising as the sector will be worth $125 billion by 2023 according to Allied Market Research. But it's also one that's full of challenges.
One is time. The requirements of air travel – security, passport control, gate closure – eat into the time that customers spend at the airport, even if they're there several hours in advance. Their shopping habits are guided by the airport timetable as it funnels them through the space.
Nigel Dolby Consulting reported that in 2013 the average amount of time spent in an airport globally was 150 minutes. By 2016 this had dropped to 133 minutes.
Of this, the average shopping time was 29 minutes. That's not a lot of time to draw someone in and it's certainly not got much wiggle room for masses of browsing and exploring.
Another issue is space. Most travel retail stores, counters and pop-ups are operating in a restricted amount of space. That can make it difficult to balance merchandising and experience.
Of course, an ongoing issue is around baggage allowances and product restrictions. Sometimes customers just don't have the ability to carry everything they might like to buy, which makes for difficult choices.
These, and other externally-set challenges, can make it seem harder to innovate in travel retail. But there are ways to overcome these constraints to create better buying experiences.
Here are 11 recent inspiring ideas that show how travel retail is moving into the future.
And if you're interested in finding out more about what's happening in travel retail, Insider Trends delivers future of travel retail presentations.
1. Free Kit-Kat's for delayed customers
Earlier this year, Sao Paolo airport debuted a special vending machine that aimed to take the sting out of flight delays. For obvious reasons these are one of the most frustrating parts of air travel. With Nestle's vending machine customers could scan their boarding pass and if it registered their flight was delayed, it dispensed a free Kit-Kat to ease their woes. It's a cute spin on Kit-Kat's 'Have a Break' slogan and it makes people think of the brand in a positive way (as compared to the airport that they're probably raging at). After all, who doesn't like free chocolate?!
2. Heathrow Airport personal shoppers
This was also the year that Heathrow Airport unveiled its new Personal Shopper Lounge in Terminal 3. It extends the airport's existing complimentary personal shopping service, which allows customers to book a session with an accredited stylist before they travel. The stylist then contacts them in advance to discuss what they're looking for, their budget and time available to shop. This is used to create a personal shopping plan and choice of outfits to try to maximise the available time.
Of course, the service comes with the luxury touches that you might expect, but it's a great way to help customers with the challenges of choice and time. If an airport doesn't already have a personal shopping option it's a top-of-the-list idea to try.
3. JFK Airport AR/VR experiences
One of the things that comes with air travel is time spent waiting around in airports. To try and make something of this dead time, JFK Airport in New York City has launched a new six-month VR experience centre. Created together with PeriscapeVR, the hub has 12 VR stations where customers pay $1-2 a minute to access curated VR content. The experiences last 5-10 minutes and range from whale encounters to exploring imaginary worlds in space. It's great to see travel retail embracing these new technologies to try and improve the customer experience. There's lots of scope for VR and AR to be incorporated and we're sure it'll be a key feature in the future.
4. TripAdvisor's Travel Retail Stores
Anyone in the travel industry, or who has ever been on a trip, should be familiar with the TripAdvisor name. The online review and booking site has been branching out into physical retail, and this year opened two travel essential stores at the George Bush Intercontinental Airport and the Phoenix Sky Harbor International Airport in the US.
While the stores offer key travel items like plug adaptors, the interesting thing about them is the large interactive screen that lets travellers find out more about the local area. The screen serves up TripAdvisor reviews and customer photos about hotels, attractions, restaurants and more in the area.
This is a neat idea. Whether travelling for business or pleasure, most of us need some guidance on where to stay and what to do when we go away. And yes, we can all access this information on our smartphones, but maybe you've just landed, and you don't have your phone configured for where you are yet. Plus, there's a great opportunity to have knowledgeable locals staffing the place who can talk customers through the results and help them narrow down the best things for them.
5. Bombay Sapphire Glasshouse
Taking its cues from the Bombay Sapphire installation in Schiphol airport last year, a new branded pop-up from the gin giant appeared in both Schiphol and Auckland airport earlier this year. Its striking design was based on the Thomas Heatherwick glasshouses at the Bombay Sapphire manufacturing site in England.
In keeping with this, when customers entered the space they could hear the sounds of birds and running water. The pop-up tickled the other senses as well with customers about to try their perfect G&T and smell the different gin flavours in scented vapour droplets in the air. We loved it because of its out-of-the-ordinary look and multisensory features which make for a moment of calm among a busy airport. And this is exactly what a lot of customers want.
6. Deliveroo at Schiphol airport
Deliveroo is one of several companies that have taken the take-away food idea and extended it to everyone's favourite food brands from Nando's to McDonald's. Earlier this year, it brought its food delivery service to the airport in a pilot with Schiphol and HMSHost International. During this time customers flying from Pier E could use their smartphone to order food and drink to be delivered to their gate within 15 minutes.
What we love is that this concept has recognised that customers have to spend a large amount of time at their gate, but catering options may be limited. Making more of gate time seems like a great opportunity for travel retail whether it's a Deliveroo-style service that delivers other products to them, or the ability to browse and order their in-flight duty free in advance.
7. Lotte Duty Free VIP membership
South Korea's Lotte Duty Free has beefed up its VIP membership programme this year. First up, it opened the Star Lounge in April – a private space for VIP guests with free refreshments and the ability to preview duty free goods. It also has a personal shopping service.
Following on from that, Lotte Duty Free also overhauled its VIP programme to offer more benefits to members. In the past a customer's level of membership gave them discounts, but now the scheme lets them enjoy a range of benefits in their preferred category of beauty, food or travel. The programme works with various partners to deliver the rewards.
Loyalty is changing and increasingly memberships are seen as being a more valuable option. At the same time, Lotte Duty Free is making sure that customers want to be members by offering them services and rewards that are useful to them – and with some personalisation.
8. VIMO WeChat payment
One challenge for travel retail is helping customers shop and pay in a way that is convenient for them while they are away from home. One fix for this is Vietnam mobile payment platform VIMO's partnership with SASCO which lets Chinese shoppers use WeChat to pay for their duty-free shopping at airports across Vietnam.
Introduced in January, the system lets Chinese tourists visiting Vietnam use their WeChat mobile application to scan a QR code generated at the checkout to pay without the need for cash or credit cards. WeChat is huge in China, so it makes a lot of sense to add it as a payment option within airports. It makes it more convenient for these travellers, which hopefully means they'll buy more, but also it just feels obvious. We're now using a huge variety of payment options from Apple Pay to cash, and the more travel retail can cater for these the better.
9. Shiseido NARS Lip Gallery
Screens are a common sight in travel retail, but not always in the most effective implementations. We loved what Shiseido did with its NARS Lip Gallery pop-up at Bangkok's King Power Rangnam duty free space. Its installation used AR and gamification to let customers try on tonnes of NARS lip products, without having to physically try them on. The Digital Lip Wall also let them interact with colour shades and share on social media.
It's not the only digitally-powered beauty activation in travel retail, there have been a few recently, but it's a good case study. AR in particular seems to be a super-useful technology for beauty travel retail because it allows you to try on multiple products and colours without having to have them physically put on your face and taken off again. Given how short someone's time might be before their flight this tech could be hugely valuable in getting them over the line to buy.
10. Moët Hennessy's multisensory pop-up
There are a lot of things assaulting the senses in an airport – the crowds, the endless announcements, the bright lights – so it's surprising that travel retail doesn't traditionally do more to counteract this. Moët Hennessy's pop-up at the Charles de Gaulle airport is one example that draws customers in through their senses.
Designed to promote the travel exclusive James Hennessy cognac, the obvious offering was product tastings. But the product was also sold via smell, with the pop-up home to ceramic plates infused with some of the scents within the cognac. The space also hosted visual storytelling about the namesake 18th century explorer and entrepreneur, which helps create a backstory and sense of heritage for the product.
Storytelling can be lacking or simplistic in travel retail, but this is a great example of how powerful it can be in creating links to a product before you even buy it.
11. Lego Store Passport
Ok so this one isn't so new, but it screams great idea for travel retail so we're including it. Customers who visit certain Lego Stores around the world can get a free passport which they can use to collect stamps from the Lego Stores they visit. Much like how we used to collect stamps from airports in our real passports.
The passports themselves are cute, with stickers for owners to customise them with, but they are also a great reason to seek out Lego Stores when travelling. We love the collector vibe and there's so much scope for international travel brands to do a similar thing with their airport stores ensuring that customers always visit them when they travel.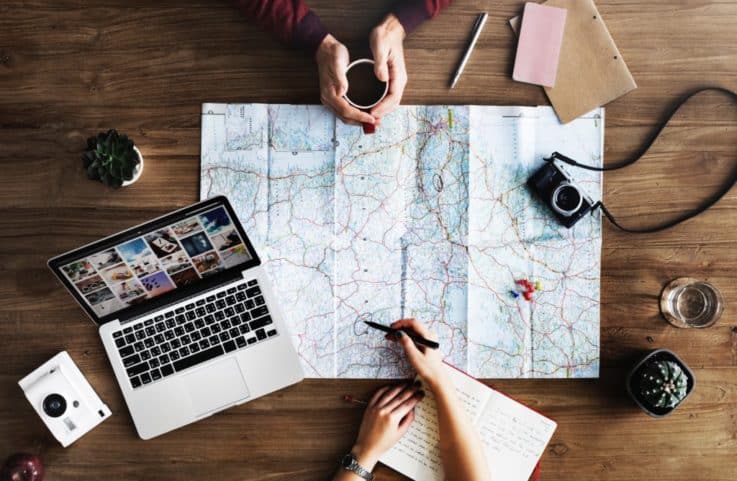 What does this say about the future of travel retail?
In many respects, the trends in travel retail are the same as physical retail with experience being front-and-centre. Travellers want more interesting, more immersive and more valuable experiences, whether that's information and guidance based or a multisensory pop-up. The unexpected, like Kit-Kat's vending machine, is also a great way to drive engagement, and provide a burst of interaction and fun. As shoppers we all want to see something new – even when we're travelling.
There's also still a big space for travel retail to take advantage of dead time like waiting at gates to create opportunities to buy, or to use services like personal shopping to help travellers make the most of their limited time. New digital technologies like VR and AR are also making an impact in providing a way to circumvent some of the time and effort challenges of beauty retail in a travel environment.
At the end of the day we travel to go to different places and experience new things – and this is what travel retail should keep in mind.