US
The Best New Retail Openings in the US – March 2023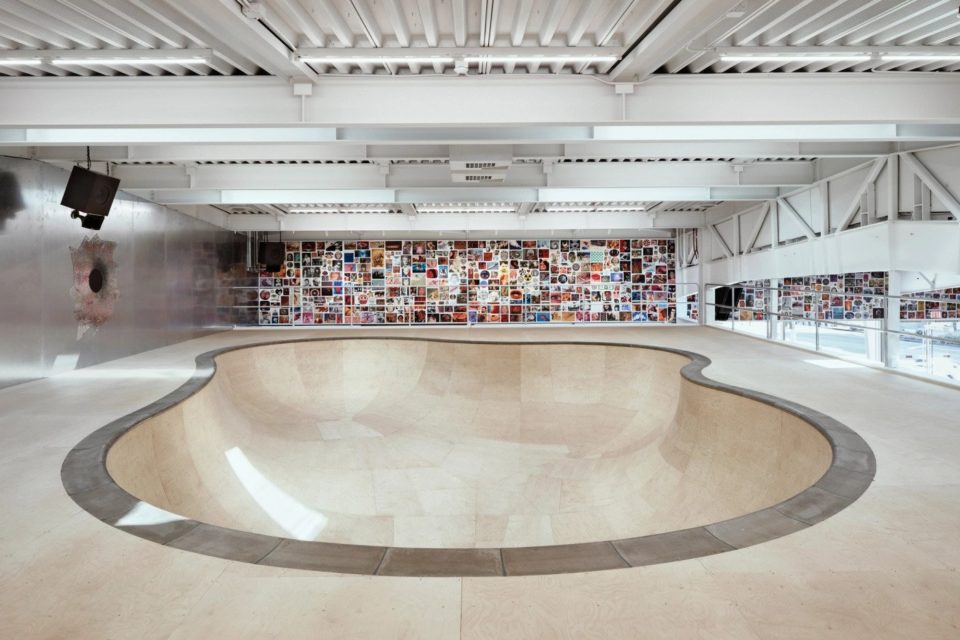 You all know we love New York retail, but it's not the only place where interesting spaces open up in the US.
Outside NYC, this month we've seen brands debut a range of new concept stores, designed to tell a story to the customer and invite them to learn more about the products and the brand behind them.
Many stores also want to embed themselves in the local community, partnering with artists, incorporating local elements into their design, or using data to find out customer wants and needs. We found a new supermarket that is not a store, a gallery within a gallery, and a confectionary store opposite the brand's new flagship.
Read on for our top picks of best new retail openings in the US.
Supreme, Los Angeles
Renowned skate brand Supreme opened its new flagship store on the Sunset Strip, known for attracting iconic musicians. The site was once the location of the Tower Records flagship, and the brand has used the clean minimalist interior to great effect.
Artists feature heavily, from the wall designs by Neckface, Josh Smith and Nate Lowman, to the Steven Badgett and Simparch designed skate bowl. Graffiti and brightly coloured paint adorn a racing car out on the floor, complete with a Lego racer inside.
The launch was preceded by a branded helicopter flying around Los Angeles, and the store has been packed ever since. Shoppers can browse the selection of skateboards on the walls, and the seasonal collection on the racks, nestled between the art. There are even casserole dishes for those customers wanting a little streetwear style for their kitchens.
Our Place, Los Angeles
UK cookware brand Our Place has opened a store in Melrose Avenue, designed by Ringo Studio. The look and feel of the space is cohesive, with the design matching the shades of the brand's iconic pans. The products are displayed almost like it is a home, with plates and cookware on shelves, and vases of flowers and plants scattered around.
A stand out element is the mirrored dining room designed to represent the store ethos of welcoming people to have a seat at the table, with the mirrors making the table look infinite. Customers can explore the space to purchase from Our Place's cookware and wider range, return products purchased online and have their items delivered the same day.
Coach Play, Chicago
A new concept store has opened in Chicago from luxury leather goods brand Coach. The brand wants to encourage customers to interact more with the space, designing it to reflect its heritage and location. The design is vintage meets bespoke, with street signs, baseball gloves and furniture all sourced locally, alongside flowers and sustainable furniture made by Skilset and Hudson.
Customisation is also a feature in the store via Coach Create; a craft area available for customers to personalise their items. The brand plans to invite local artists to provide workshops and help visitors create bespoke products. Shoppers will also be able to access over 100 design stamps to add monograms, prints and other embellishments to their purchases.
New Balance, Boston
New Balance is bringing more sports apparel to Boston with a new store in Newbury Street. The space feels more intimate and cosy, with vintage furniture, umbrellas and scarves juxtaposed with athletic clothing and footwear. The store brings storytelling to the fore, with carefully curated selections of stock designed to appeal to a younger customer.
The chairs in the space are designed to bring people together, from athletes to influencers, and will tell the story behind the products, showcasing the creators and their origins.
Kith, Miami
There are not one but two stores from streetwear brand Kith in the Miami Design District, as it opens a new flagship and a new Treats store. The flagship is a calming neutral space, with light wood, brass, marble and green accents, showcasing the range of products from brands and Kith's own label.
The upstairs features a footwear room including an exclusive collaboration with ASICS who has resurrected its GEL-LYTE III Remastered Super Yellow for the launch. The space also includes trendy New York eatery Sadelle's at Kith, which will serve its iconic brunch.
And if customers are still hungry, they can walk over the road to the new Kith Treats store opposite and treat themselves to a Bam Bam Milkshake. The confectionary is popular with a number of celebrities, including LeBron James, and this location will include an exclusive Waffle Program, with homemade waffle cones and monogram branding.
Beyond the Streets, Los Angeles
Following successful exhibitions at MOCA and additionally at a pop-up, last year street art show Beyond the Streets launched a flagship gallery in Los Angeles. The space showcases a variety of street artists, as well as limited edition merchandise, and other products like skateboards and t-shirts.
The gallery opened with Post Graffiti, a display from established artists like CRASH and Lady Pink, as well as contemporary pieces such as interactive installations by Felipe Pantone. Control Gallery, a space within the wider flagship, is a partnership with ICNCLST founder Sky Gellathy. The two spaces may combine or offer separate shows, exhibitions and events.
Beyond the Streets is additionally hoping to connect with the local community and hosted a zine fair shortly after launching.
Addie's, Massachusetts
Addie's, a new supermarket concept store, has launched in Massachusetts, though it is a store with a difference!
Addie's calls it the "Drive-up grocer" and it is a similar concept to click-and-collect, except there is no supermarket for the customer to shop in. Instead, it is a warehouse of grocery products, with a layout designed to help staff pick stock, and ensure an accurate pickup for the customer.
Shoppers will have to visit the online store or use the Addie's app, select their items, and choose a slot for pickup. The car park has been optimally designed to ensure that customers can pick up their delivery quickly.
Addie's believes this model revolutionises traditional supermarket offerings, as it allows the company to cut energy and offer higher wages to staff. Data from online orders and customer searches will be used to inform stock, helping Addie's maintain a broad range of national and local brands.
Explore the hidden retail secrets of Chicago, Boston or Los Angeles with us on a personalised retail safari.