Concept Stores
20 Inspiring New Retail Concepts (From the World's Biggest Brands)
by Jack Stratten
June 30, 2022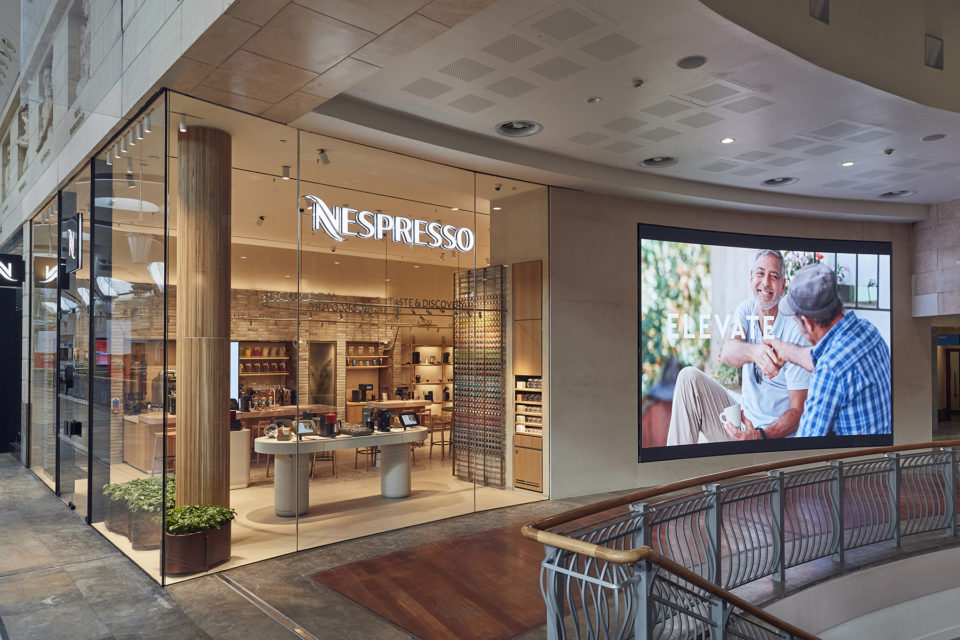 Retailers are increasingly experimenting with 'concept' spaces that represent a new way of doing things for their brand.
From cafes to event spaces, brands are providing multi-layered experiences in order to create exciting moments of discovery and bolster brand loyalty.
1. Pangaia Health
Cult, high-tech clothing brand Pangaia is turning its innovative eye to superfoods, with the launch of Pangaia Health. The first food item to be introduced is the superfood bar, made with Meltec fibre (made from partially upcycled ingredients) and sweetened using technology that increases the concentration of natural cane sugar at taste receptors. A carbon-neutral product, Pangaia collaborated with packaging company Tipa to ensure that the bar and its sustainable packaging are fully compostable.
Drawing on the experience of scientists, farmers and nutritionists, Pangaia plans to expand into more food categories.
2. Atelier 100 Ideas Factory
Iconic Swedish retailers Ikea and H&M have teamed up for the unique retail venture Atelier 100. Located in Livat, Ikea's first UK shopping centre in West London, this joint venture is a meeting place, ideation zone and workplace for designers and creatives, working across beauty, fashion, jewellery art and music. If the end product created is small enough for shoppers to carry away from the Hammersmith store, then the designers can apply for training, mentoring and a financial grant, so that the product can be produced and sold in store.
Atelier 100 has strengthened its connection with the creative community around London even further by cataloguing more than 200 design and manufacturing businesses.
3. Muji Kitchen
Japanese lifestyle brand Muji is bringing community and convenience to the busy area of Higashi Ikebukuro in Tokyo, Japan. The community-based small-scale store offers MUJI Kitchen, MUJI's first takeaway meal service offering freshly cooked lunch boxes and prepared foods. The store also stocks a range of daily necessities, including kitchenware and cleaning supplies, alongside MUJI snacks and hot meals for takeout.
4. Dior
Luxury fashion house Dior's latest concept store combines architecture and sustainability to showcase its Dioriviera women's collection in its best light. Two circular modules were crafted on Jumeirah Beach, Dubai, out of a range of natural materials including clay, sand and raw fibres. This stunning piece of sustainable architecture was 3D printed by World's Advanced Saving Project (Wasp) and shows Dior's increasing commitment to eco-friendly practices.
5. 'Bloomies' By Bloomingdales
Iconic Bloomingdales has set its sights on smaller, service-based hubs called 'Bloomies'. While a typical store covers around 200,000 square feet, these newer stores will be a tenth of the size, covering 22,000 square feet.
The first of these highly curated and convenient spaces is located in the Mosaic District in Fairfax, Virginia, and holds luxury apparel, skincare and beauty lines, alongside a local restaurant. A returns dropbox, a pick-up instore service for online orders, access to stylists, alteration services and tech-enabled fitting rooms, ensure that innovation and customer service are central to the shopping experience.
6. eBay's Wear 'Em Out Store
eBay, a marketplace for the new, rare, collectible and hard to find, is celebrating its consumers' love of sneakers with its first-ever sneaker store in Los Angeles. Co-curated with American rapper and businessman, Offset (aka Kiari Kendrell Cephus), styles can be snapped up for up to 70 percent off their market price. The twist? Customers have to wear their new purchases out of the store to get the best prices.
7. Shackleton Challenges
Shakleton's new community hub on Regent Street, London, is just around the corner from 4 Burlington Street where Sir Ernest Shackleton set up his polar expedition headquarters in 1913. Aiming to engage with adventurers and explorers, the seasonal concept store will focus on Shackleton Challenges, the brand's unique expedition travel and training programme.
Exclusive speaker events and a selection of Shackleton's London-designed high performance apparel promise to further engage consumers with this unique brand story.
8. L'Oreal Paris
To commemorate the fifty year anniversary of "You're worth it", L'Oreal Paris brought the best of Paris to Shanghai in a seamless omnichannel experience. A collaboration with AKQA, this space enables consumers to collect L'Oréal Paris discount points through participating in an immersive bike-ride along the streets of Paris. An in-store set lets influencers livestream from "The 'L'Oréal House of Worth".
Personalisation is a priority in this space. Face scanning technology provides a printed skin analysis report and coded key that unlocks personal recommendations around the store. Recommended products could be bought in-store or added to a digital shopping basket. Additionally, a personalised experience was provided on users' WeChat account via the L'Oréal mini-program on the platform. The brand could then continue the relationship with each user after they left the store.
9. Ikea Decoration
Ikea's new concept store in Vienna resembles a huge, glossy shelving unit. Designed by Querkraft Architekte, the store integrated over 150 trees in a series of green facades. A roof terrace lets the public enjoy the view while acting as a cooling air conditioner. Across seven floors, visitors can enjoy retail areas, a mezzanine level, outdoor spaces and even enjoy a stay at the hostel occupying the top two floors.
10. Philip Plein
German luxury brand Philip Plein's concept store is bringing crypto-currency and NFTs to London's Old Bond Street. Three floors of accessories and ready-to-wear apparel can be purchased in over twenty different cryptocurrencies. Furthermore, this crypto-themed flagship lets consumers access exchange rates in real time via a QR code on each product and visit the in-store NFT art gallery, dubbed The MoNA (Museum of NFT Art).
The primary focus of this store is to make the metaverse more accessible to all consumers, therefore staff (in information centres) provide tutorials on buying NFTs, digital fashion and setting up a digital wallet. Plein is also giving consumers free NFTs when they purchase physical products, some of which are automatically linked to an NFT which customers can keep or resell.
11. Ferrari
Luxury car brand Ferrari has created a glossy new concept store to celebrate its expansion into the lifestyle section. The store in Maranello, northern Italy (where Ferrari's factory is located) is the first to stock Ferrari's debut fashion collection, designed by Rocco Iannone. Walls of red glass decorate the single open-plan floor which stocks Ferrari models and accessories such as sunglasses. A smaller space within the store creates an intimate area dedicated to collaborations and capsule collections.
12. Uniqlo Cafe
Uniqlo's global flagship store in Tokyo's Ginza district has recently been redesigned to commemorate its 10 year anniversary and the most exciting addition is the Uniqlo cafe.
Alongside serving the retailer's new Uniqlo Original Blend Coffee (in hot or iced options), the cafe stocks goods from neighbouring businesses in order to create a sense of community. One is long-established pastry shop Ginza West, which provides Geisha hand drip coffee and butter cookies.
A lineup of new T-shirts and tote bags exclusive to the Ginza store takes this collaborative nature one step further by featuring famous local businesses that sell a range of products including stationery and incense.
13. OREFICI11
Iconic brands including The North Face, Timberland, Napapijri, Eastpak and Dickies sit side by side in VF Corporation's first multibrand store. Situated in Milan's high-end commercial district (between the Duomo and the La Scala opera house), the 2,050 m2 three-floor space houses a range of the corporation's brand portfolio.
OREFICI11 offers an omnichannel shopping experience by integrating digital offering such as a cloud-based mobile POS device and mobile check-out. The space also functions as a creative and cultural hub designed to create a community around key values of VF's brands such as circular design, sustainability and exploration.
14. Foot Locker
Foot Locker is focused on building a deep connection with the local community with its first community store in Brixton, London. This space is partly focused on the brand's new women's apparel and partly designed to celebrate the revamped House of Hoops Courtside concept, which houses premium sneakers. Several local artists and members of the Female street art collective, WOM Collective worked to transform the design of the store.
15. Coca-Cola Brand Love
Coca-Cola's first flagship store on European shores is part of the brand's 'Real Magic' makeover. The space in Covent Garden, London promises to be a hub celebrating "brand love", in order to build brand awareness and loyalty. Consumers can visit the Beverage Bar to sample unique Coca-Cola drinks.
Alternatively, you can shop clothing collections, including sportswear, workwear and limited editions or sustainable apparel and accessories made from recycled plastic. Designer collaborations from the likes of Soho Grit, Alma de Ace, BAPE, Herschel, Staple, BE@RBRICK will also be showcased.
16. H&M 'Innovation Stories'
H&M released a series of sustainable collections under its 'Innovation Stories' concept, which is dedicated to sustainability, modern design processes, and a circular fashion system.
Science Story, the first collection to drop, is made from bio-based yarn derived from castor oil and Desserto, an alternative to leather that is produced from cactus plants.
17. McDonald's
In London and North West England, McDonald's has brought its "convenience of the future" concept to life. To improve customer experience, through greater speed, efficiency and choice, the fast food giant is implementing 11 different ways to order. These different options include self-order screens, mobile and McDelivery – with over 50% of sales now going through digital channels, an omnichannel approach is key to fulfilling more personalised orders.
18. Nespresso
Nespresso's newest experiential concept is inspired by coffee as an art form. Localised and personalised experiences are the focal point of its space at the Bluewater shopping centre in Kent, UK.
Consumers are encouraged to engage with one-on-one coffee learning, tasting and machine demonstrations, carried out by coffee specialists. Customers can create their own coffee recipes using iPad tutorials and Nespresso machines in the 'Taste & Discover' area or take their recipe creation skills further in a 'Coffee as an Art' masterclass. To cater to consumers' growing demand for sustainability, insight is provided into the brand's AAA Sustainable Quality™ Program and how capsules are recycled.
To ensure a truly omnichannel approach, augmented reality (AR) experiences let consumers immerse themselves in the history and expertise behind Nespresso, which is an innovative way to create brand awareness.
19. DPD
DPD Germany is bringing emission-free deliveries to customers in the country's first ever DPD Store. Located in Berlin, this sustainable and service-based store can process returns and is a collection point where shoppers can examine and try on purchases. Additionally, surplus cardboard boxes are passed on free of charge to prevent excess waste, while electric cargo bikes deliver parcels to neighbours from localised micro-depots.
20. EE
Within BT's new London headquarters, EE has set up its own store to provide quick, free device MOTs as well as a recycling service for old handsets and accessories. Interactive zones are fitted out with touchscreens and demo areas showing converged technology. Aside from technology, human connection is fostered via face-to-face advice, accessible device repairs (provided within two hours of booking in) and a bookable event space for the local community.
Want to create an attention grabbing retail concept of your own?  Our retail consultants can help you map out a seamless omnichannel  strategy.
Related Articles
Below are other articles from our blog that cover similar topics: