Luxury Stores
30 Top Luxury Retail Stores for 2023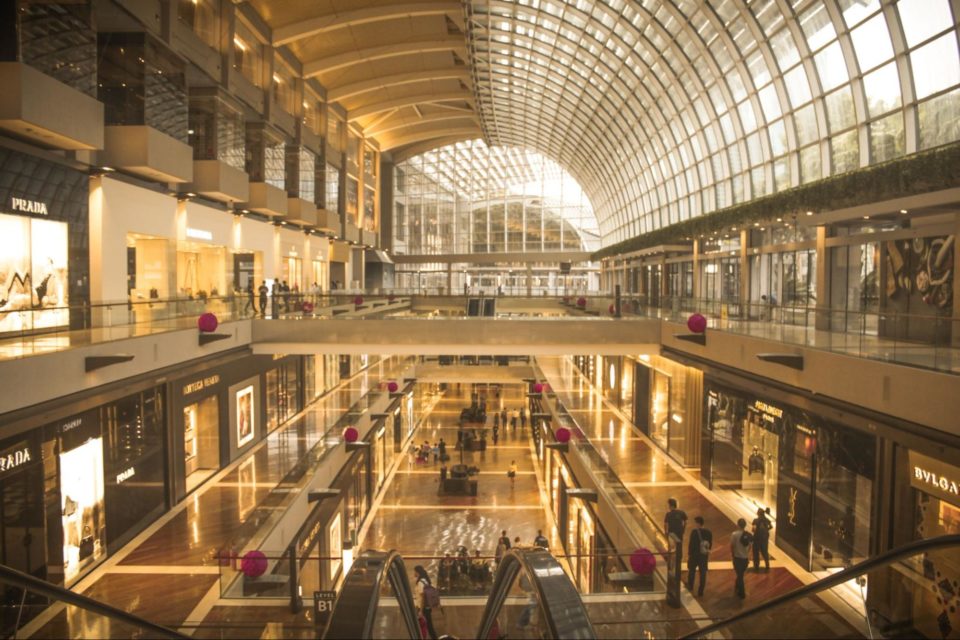 Luxury retail continues to evolve and meet the changing needs of consumers, despite the ongoing cost of living crisis.
Many customers are now prioritising quality over quantity, particularly in personal luxury goods, with Bain & Company predicting growth in the market from between 3-8%. The secondary luxury market is also gaining in popularity, with IMARC predicting growth at 9.1% for 2023-2028.
Luxury stores are also recognising that they cannot simply rely on their brand name alone, particularly for a younger audience. Customers are looking for more from their retail experience, with brands adding galleries, eateries, events, digital experiences, art installations and more to their physical stores.
So which stores are showing the rest how it should be done? Read on for inspiration from our top 30 luxury retail picks for 2023 (in no particular order).
1) Bentley Cube, Seoul
In Seoul's fashion district, Cheongdam, Bentley has launched its latest design concept, Bentley Cube. The launch of this lifestyle space was celebrated with an exclusive collection of Bentley Continental GT models from Mulliner.
Additionally, artist Ha Tae Im has created a series of unique artworks for each car in the collection. Clients can commission a bespoke version of the Mulliner Bentley Batur at the Batur Studio Suite, and afterward relax at the Azure Lounge.
Customers who are after the perfect in-car sound can visit the Sound Playground, in association with Bentley's long-term audio collaborator Naim, for luxury audio equipment.
2) Gucci Valigeria, Paris
Step back in time with this latest luxury store in Rue Saint-Honoré! Gucci Valigeria, a dedicated store for the brand's travel goods, harks back to the Gucci heritage, and its first shop in Florence that sold hat boxes and trunks.
The interior is designed to resemble vintage train carriages, with arches and beams. Customers can book an appointment to browse the collection of bespoke trunks, duffel bags and an exclusive collaboration with luxury designer FPM Milano in the form of an aluminium trolley.
3) Cartier, Paris
A new Cartier boutique has launched on Rue du Faubourg Saint-Honoré, with its own unique style. The atmosphere is light and airy with a neutral colour palette. Splashes of colour come from the marquetry, with the famous Cartier panther featured in the design. The panther motif continues in the cocktail bar, which is a vision of sophisticated glass.
Customers will be able to purchase all their Cartier faves, albeit reimagined for the boutique. The Objets et d'Accessoires area is for embellished beautiful objects, such as trinket trays and egg cups. And for the vintage enthusiast, there is a department for Cartier watches from the 1970s to 2010s, which are verified by Cartier.
4) Louis Vuitton, Tokyo
The Louis Vuitton store in Ginza Namiki has a very distinctive design, with glass panels made to resemble rippling water, reflecting all the buildings around it.
The water theme continues inside the store, with floating jellyfish and aquarium lighting, and curved wood and glass adding to the natural aesthetic. Visitors can purchase ready-to-wear clothing, fragrances, and personalised items, and also relax in the café, where they can buy LV monogrammed lattes. Exclusive clients can access a private lounge.
5) Dolce & Gabbana, Seoul
The latest luxury flagship from Dolce & Gabbana is a dramatic glass building encased between four black pillars in Cheongdam-dong. Prospective customers walking by are able to view the collections on each floor from outside.
The inside of the store takes customers on a journey, encouraging them to move between each floor of the store via a spiral staircase. The design is elegant and sophisticated, with gloss, glass, concrete and touches of wood. Products sitting at a variety of heights, allowing shoppers to follow the spiral.
The final area to discover is a relaxing terrace on the roof, for customers to engage in conversation around a counter.
6) Anya Hindmarch – The Village , London
Instead of a luxury store, how about an entire village!
Anya Hindmarch has launched an ambitious retail concept featuring six Anya Hindmarch stores in one London location, capturing British nostalgia and local village life.
The Village includes vintage eatery The Anya Café, rotating concept space The Village Hall, The Collection Shop for a curated edit of the brand's main collection, organisational tips and tricks in The Labelled Shop, and personalised products in The Bespoke Shop.
The newest addition to The Village is the World's Smallest Department Store, which focuses on service and carefully selected pieces.
7) Browns, London
Browns opened a new flagship in Mayfair, combining its past and the future, with retro designs and Farfetch technology incorporated throughout.
The new immersive experience allows customers a seamless journey through the store, where they can find out if items from their wish list are available, use QR codes to access more products, and book appointments and pay for their purchases. The store can also use this data to personalise its customer service, allowing sales staff to access past purchases to help customers find suitable items.
The space also includes a sustainable restaurant and private courtyard for dining, called Native At Browns, Thrift+ For Browns where customers can donate luxury items, and the Immersive Room, a space for rotating pop-ups and events.
8) Vacheron Constantin, New York
The largest Vacheron Constantin boutique in the world opened in New York as the brand's latest flagship.
All of the brand's boutiques incorporate elements of their location, and this site is no different, with a city installation inspired by Metropolis II, a piece by artist Chris Burden. The launch was celebrated with the display of the American 1921 Watch remake.
Customers can view the latest products, or examine Vacheron Constantin's vintage watches, Les Collectionneurs". There is also a custom strap bar for personalisation, with different colours, materials and embossing services available. The site also has a watchmaker who can be observed and interacted with, allowing customers to see the craft of watches.
There are museum elements to the space too, with a heritage display and the Chronogram, a touch screen that allows customers to view the brand's archives, such as old client letters. Finally, VVIP customers can access a private lounge and view the "Les Cabinotiers" pieces, of which only 25 are made a year.
9) Ralph Lauren, Tokyo
A pop-up store at a permanent location is the theme for the Ralph Lauren store in Ginza, Tokyo. The brand says this will allow it to update the store monthly, keeping its offering fresh.
The store features a staircase of history, with a timeline of events and photos of Ralph Lauren. There is also a Create Your Own Area for personalising items, including limited edition Ginza designs.
The store features a product many fashion houses are including in their spaces – a coffee shop, called Ralph's Coffee. Customers can sit with their coffee in the café, or go out into the garden, which will also be used for events.
10) Burberry, Shanghai
Burberry has opened its flagship in the iconic Plaza 66 in Shanghai, using architect Vincenzo De Cotiis to design the space. It is a meeting of the functional and the luxurious, with concrete fixtures, and the brand's signature check print throughout.
A mirrored ceiling increases the feeling of light in the space, keeping it airy and modern. The site is also carbon neutral and uses electricity from renewable sources.
11) Gucci, New York
The Meatpacking District of New York is host to a large Gucci store that oozes retro elegance and incorporates vintage looks throughout the décor and products. The interior evokes the New York location, with industrial metal ceilings, but also nods to the Gucci heritage, with marble flooring in a Florentine design.
The store is also focused on sustainability, using renewable electricity and LED lighting, and upcycling with Gucci fabrics from the past. There are also second hand items mixed in with new stock, reflecting trends towards the pre-owned market.
12) Chanel Atelier Complex, Paris
Chanel has opened a unique complex for its Métiers d'art and artisans, such as Goossens, Lesage, Massaro, Lognon and many others. Called Le 19M, the space houses 11 ateliers and holds events and exhibitions.
Inaugurated by President Macron upon its launch, the space is host to up and coming fashion designers in France, as well as exhibiting work from Senegal designers. There are also workshops, such as feather crafts for children, talks, activities and other events.
13) Dior, Paris
Dior renovated its flagship at 30 Avenue Montaigne to reflect its heritage and provide a contemporary store for its customers. The space includes art by Brigitte Niedermair and Azuma Makoto, as well as an exhibition of Dior history showing the rooms Christian Dior worked in, plus iconic event items.
Customers can buy fragrances, homeware and items like tote bags for books, and then visit one of the two eateries: Monsieur Dior, a restaurant, or La Pâtisserie Dior. There are also garden spaces for customers to relax, including on the roof, and even a luxury hotel suite.
14) Swaine, London
Established in 1750, UK luxury brand Swaine is looking to rebrand itself with the launch of a new flagship on London's New Bond Street.
The design of the space aims to highlight the brand's long heritage with an in-store museum, as well as the qualities of its full product offering. This includes Swaine brands Brigg umbrellas and Herbert Johnson hats.
A room dedicated to Brigg's umbrellas is particularly effective thanks to a feature ceiling which evokes rain falling.
Customers can access bespoke services and book private appointments in the space. Notably, workshops for Herbert Johnson hats and Swaine's leather items are above the store, shortening the distance between maker and customer.
15) WatchBox, New York
Pre-owned luxury watch retailer WatchBox launched a "Collector's Lounge" as part of its flagship in Manhattan. Designed by Andre Mellone, the aesthetic is relaxed luxury with the designer heralding early James Bond films as an influence.
The space also includes an area for events, such as the finishing stop for the WatchBox exhibition of watchmakers F.P. Journe and Denis Flageollet. Private showrooms are available for appointments with advisors and experts.
16) Salvatore Ferragamo, New York
Italian footwear brand Salvatore Ferragamo opened a new concept store in New York, during the NFT.NYC web3 conference. The launch marked a shift towards web3 and incorporating digital and experiential elements in the store.
The space has an NFT booth to help create the brand's first NFT collection. The customer chooses artwork from digital artist Shxpir, and then after their photo is taken, the completed artwork can be minted on the blockchain Ethereum.
A personalisation option for customising footwear is also available, but with another digital twist. Holographic projections will allow the customer to see the designed products before they are sent off to be made.
17) Arthur Sleep, London
Arthur Sleep, the online bespoke shoe brand, opened its first store in Savile Row, sharing a workshop with tailor Cad & The Dandy.
Customers can purchase ready-to-wear loafers, or order a bespoke pair that is handcrafted the same day, with a multitude of personalisation options to choose from, with different colours and embroidery available. They can also decide to immerse themselves in the action and watch the items being made in the workshop on the lower floor.
18) Hermès, New York
Hermès Maison Madison, the flagship from Hermès, has launched on Madison Avenue.
RDAI, architects from Paris, led the design project which combines three buildings, including the former Bank of New York. The style is art deco, designed to evoke New York history, while being warm and welcoming.
The site has been sectioned off into separate spaces to give each its own look and feel, including vintage items from Émile Hermès. The store has a large staircase in the centre, which spans all four floors, and the wall which supports it has been used to display artwork. The launch saw the sale of several collectible limited edition items, such as a jukebox and Kelly bags.
19) Louis Vuitton, Shanghai
This new concept from Louis Vuitton is the brand's first space dedicated to furniture and homeware only.
The appointment-only space is being trialled as a pop-up initially, but will become a permanent space if successful.
The press have only been able to confirm seeing a few items during their tour, including a Campana brothers chair selling for 700,000 yuan, lending intrigue and exclusivity to this space. There was also an exhibition of items by Frank Chou, as part of the Nomadic Objects collection.
20) Armani Beauty, Shenzhen
Armonia is the Armani Beauty flagship in China, designed to bring high tech and harmony to customers, where one can disconnect from modern life and find balance. Visitors to the store can check in with a QR code at the entrance, which gives them a "Harmony Profile" and suggests a journey for them to take through the store. They can take part in a ritual of water, stone or light and also receive digital art that can be used in designs on gift wrap.
Other areas in the store include the Red River, a continually moving area of makeup and skincare where customers can test out items. Customers can then book in at the Precision Lab for a consultation or master class.
Finally, the Emotion Lab allows a customer to create a calligraphy pattern in an interactive process, which helps them discover the Armani Privé that matches their mood, with the calligraphy design being printed on the bottle.
21) Heaven, London
Marc Jacobs' latest collection aimed at Gen Z, Heaven, has got a new dedicated store in Soho. The space has an early Millennium aesthetic, with pink carpets and retro displays.
The store will feature a range of collaborations that rotate monthly, including books from Climax, retro band shirts from Jerks and other products such as memorabilia.
22) Celine, Paris
The Rue Saint-Honoré Celine boutique aches with elegance and luxury, thanks to its interior of marble, brass and Slimane furniture. The design is both art deco and modern, with mirrors, gold, and polished brass shining from every surface.
Art is featured throughout, with paintings by Will Boone and a specially commissioned brass and glass mobile by Virginia Overton. Customers can purchase jewellery and other items on the ground floor, and then make their way to the mezzanine to find a display of bags from the collection Haute Maroquinerie.
Finally, the top floor has a relaxing lounge space for customers to sit around an antique fireplace.
23) The Royal Suite by Gucci, London
Luxury brand Gucci has entered into the luxury hospitality market in a collaboration with The Savoy hotel in London. The Royal Suite by Gucci is on the fifth floor of The Savoy and is decorated with items from Gucci, including opulent chairs and a four-poster bed.
Guests have access to a Savoy butler as well as Gucci gifts, champagne and Italian aperitifs. The space also includes a number of experiential digital elements, including VR headsets to watch Gucci shows, a projection that transforms the dining table into a forest, and QR codes to learn more about the fine art throughout the room.
24) Balenciaga Couture, Paris
Balenciaga returned to its heritage and the world of couture with a newly renovated store at 10 Avenue George V, where its couture site was originally located in 1937.
Architects Sub has designed the appointment-only couture store to resemble Balenciaga's 20th century origins, with dark glass, marble staircase, vintage ottomans and retro branding. It still has a hint of the brutalist aesthetic from the outside that features in other Balenciaga stores, with a brooding and mysterious look and feel.
25) Fendi, Seoul
The Palazzo Fendi Seoul is the new flagship boutique from Fendi, located in Cheongdam-dong. The design and name are a nod to the Fendi HQ in Rome, with LED arches lining the glass, juxtaposed by the stainless steel enveloping the rest of the structure.
Inside, each floor is uniquely designed with its own marble, such as Patagonia Black and White, perfectly suiting the neutral colour palette and lighting. Art pieces are featured throughout, including The Ruins Series by Roberto Sironi that combines the industrial and classical. The launch was attended by Korean celebrities and Fendi ambassadors.
26) Philipp Plein, London
Philipp Plein has opened a Mayfair flagship that incorporates cryptocurrency and web3 throughout. The store is thought to be one of the first to accept Bitcoin, Ethereum and other cryptocurrencies, and customers can check prices via QR codes.
The store also includes a gallery, Plein's Museum of NFT Art (MoNA), which aims to showcase NFT artists and help engage customers with the metaverse.
27) Montblanc, Paris
Hotel meets retail at the Montblanc flagship at 152 Avenue des Champs-Élysées. The style evokes luxurious heritage, with an art deco look of gleaming gold and black.
A vintage reception counter, from a 1950s Montblanc boutique, greets customers at the front of the store so that they can "check in". Pen nibs are incorporated throughout, in a display over the ink bar and as zips on leather items.
There is an Ink bar for customers to test out nibs and coloured inks, a VIP salon and corner suite, and consultation can be arranged in a private room to inspect rare pens. Customers can purchase pens, watches, sunglasses, belts and other personal luxury goods.
28) Pinko, Milan
Pinko's debut store is a riot of fuchsia in the Galleria Vittorio Emanuele II, a luxury shopping area in Milan. The pink inside is enhanced with angular mirrors and black and white marble flooring, with the brand creating a virtual store in exactly the same style.
The launch was celebrated in collaboration with Pasticceria San Carlo, a local pastry shop, who created branded panettone. Pinko aims to release exclusive products from collaborations every three months, embedding itself into the local community. Customers are also able to purchase limited edition Love Bags and customise labels on every item in store.
29) Versace, Paris
Versace has renovated its flagship at Avenue Montaigne in Paris, with elegant luxurious materials and design. It is a vision of marble and gleaming metals, with pops of bright colour from statues and figurines. Versace's signature designs, the Barocco and Greek fret, are found throughout the walls and floors.
The space includes rich blue tapestries and opulent velvet armchairs for customers to relax while they admire the Versace range of ready-to-wear clothing and accessories.
30) Khaite, New York
Khaite opened its first flagship in Soho next to the former Marc Jacobs store. The location is unusual, as the space was previously a car park, and architect Griffin Frazen has let the original lighting influence his design.
The store uses light dramatically to highlight elements and tell a story for the customer. Two skylights, part of the original building, showcase a tree and a clothing rack, with interior lighting replicating the sun's movements, moving from the front to the back of the store.
The look has also been enhanced with music and soundscapes, with dramatic monastic music in the main area of the store, which changes when the customers enter the dark red fitting rooms.
No matter what sector you're in, you can learn a lot from luxury retail. Book a retail safari today to discover new inspiration.