Concept Stores
The Best Concept Store Openings April 2017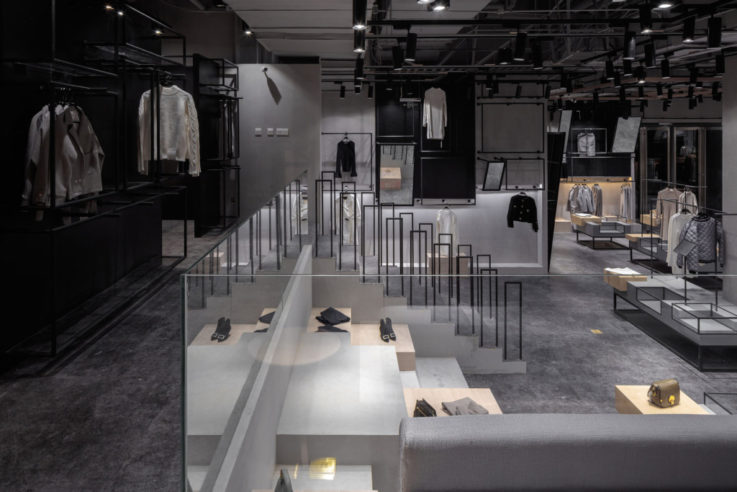 Great concept stores are becoming harder to get right, with so many jumping on the bandwagon and pointing the name to their own retail opening. Have you read our guide on what makes a concept store? Thankfully, there are still some true lifestyle concepts coming through onto the market and we're discovering new retail techniques every day. Here's our April round-up of the best openings in the last few months.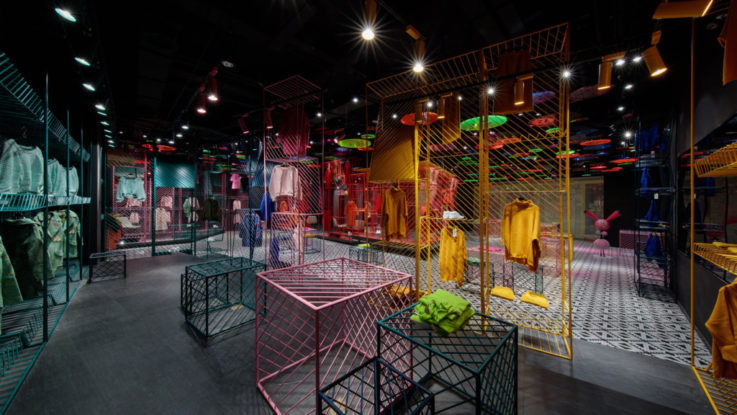 JOOOS fitting room, Hangzhou
JOOOS fitting room in Hangzhou, China have launched a new retail experience merging the top 100 fashion brands from the sales list of retail site tmall.com. In a bid to compete with what it describes as the 'emptiness' of online shopping, the store has been split into four collections, each with a different woman and shopping experience in mind.
Clothing rails made from pieces of colourful metal mesh, lengths of bamboo and black frames define different zones inside this shop and each interior aesthetic differs dramatically, hoping to capture the imagination and cater for different styles.
Large screens throughout the store are intended to provide a connection between the offline experience and the online shop, merging the two aspects of retail. Designed by X+living, each zone also has a rest area, a make-up area and a selfie area, closing the loop between physical and digital retail.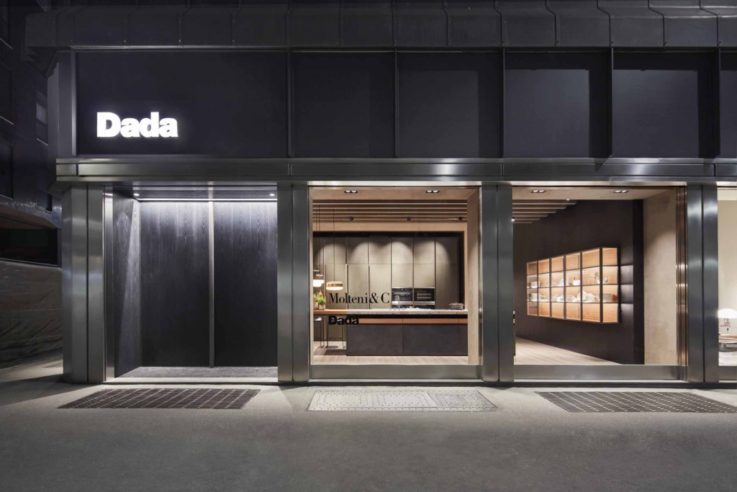 Molteni&C | Dada, Milan
Belgian architect Vincent Van Duysen has created a new concept retail space for historic design brand The Molteni Group in the centre of Milan. The biggest flagship store to date has been designed to feel like a secluded home-from-home, encompassing Molteni&C home living collections and Dada, the Molteni Group's luxury kitchen brand.
Split over two levels and featuring 15 shop windows, the concept store aims to showcase the brand's ideas of contemporary home living. Black oak panelling on warm grey walls creates a warm and welcoming environment for visitors, while wooden ceiling beams that match the floor are intended to blur the boundaries between the various living and dining spaces.
Launched during Milan Design Week, the new exhibition space showcases furniture brands thinking further about their offline presence, creating a lifestyle to match the brand.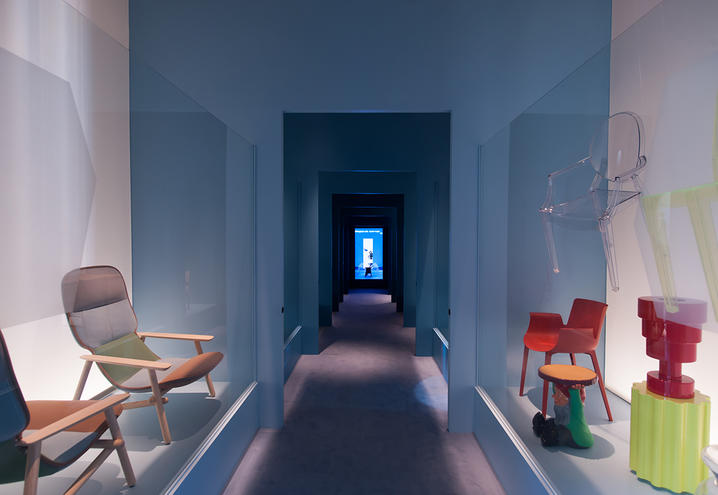 Elle Décor Concept Store, Milan
In another special opening for Milan Design Week, Elle Décor have opened the doors to a new generation store on via Palestro. Only open for the remainder of the month but still worth a mention for its use of virtual reality and digital technology, the store is a truly immersive space with a focus on people rather than the product.
On entrance to the store, visitors are given an e-reader they can use as they walk along the exposition route to gather information about the products and build their own personal mood-board. Making use of video interfaces, hologram glasses, apps and other advanced digital technology, the experience is truly unique to every customer and offers insight into how brands of every realm, from kitchens to automotive, can make use of the incredible technology we now have at our fingertips.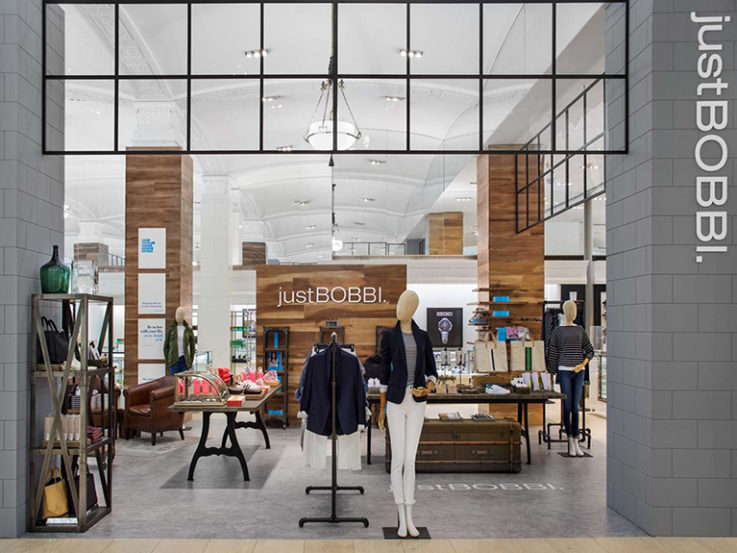 justBobbi, Manhattan
Lord & Taylor have launched an in-store shop concept, justBobbi, in their Manhattan store, reflecting the lifestyle of Bobbi Brown, previously of Bobbi Brown cosmetics.
Designed to give customers a 360-degree view of Brown's life, the shop features products ranging from wellness and beauty to apparel and accessories that reflect Brown's "unique aesthetic and holistic lifestyle," The space is due to be updated monthly with items hand-picked by Brown and exclusive digital content with Brown will be released every week, offering customers further access to her personality and lifestyle advice.
With celebrities and icons becoming so important to consumers, it's interesting to see a brand adopting this concept and running with it. While of course, we've seen collaborations with people of interest, this is probably the first time we've seen it go further than a name to a clothing tag.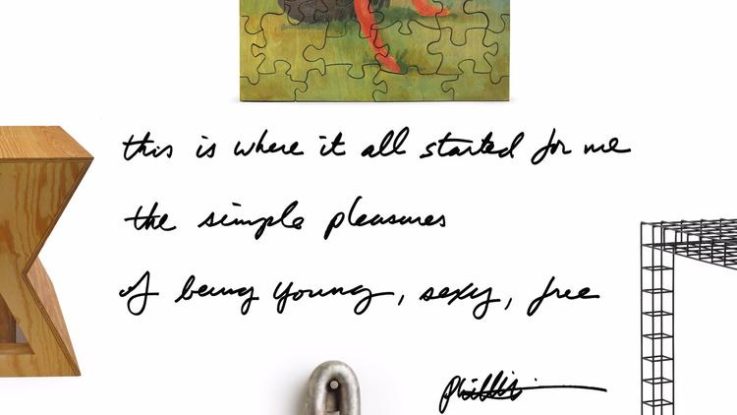 3.1 Phillip Lim, Los Angeles
Designer clothing brand, 3.1 Phillip Lim is returning to the Los Angeles neighbourhood with a brand new 5,000-square-foot store, designed to become a home for conversations and connections with a new retail concept for the brand.
Designed in collaboration with New York-based retail designer Kate McCullough and New York-based architecture firm MR Architecture + Décor, the store has a residential-meets-gallery-meets studio vibe, reflecting on its L.A. surroundings and encompassing the simple pleasures of 'desire'.
While the store will still stock the women's and men's ready-to-wear and accessories and footwear collections, it will also feature partnerships on non-fashion items designed by like-minded brands including Apparatus, Patrick Parrish Gallery, M. Crow, and Li Inc.
Stay posted for the latest retail openings in London, coming to Insider Trends soon. In the meantime why not experience the best retail spaces for yourself by joining one of our London retail trend tours? We'll show you the latest in retail trends and help you out with any questions.