Retail
The best worldwide retail initiatives November 2017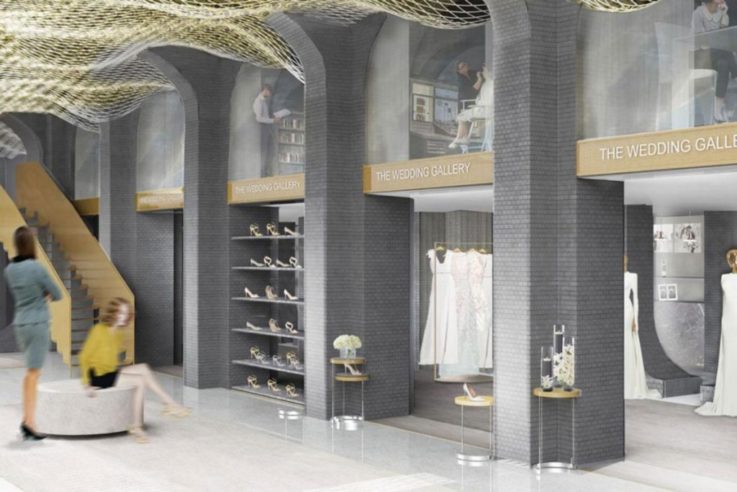 It's time for our very last round-up of retail initiatives for 2017. We wonder what 2018 has in store for us? Have you been enjoying this post rounding up the retail initiatives that have been changing the world of shopping? Let us know!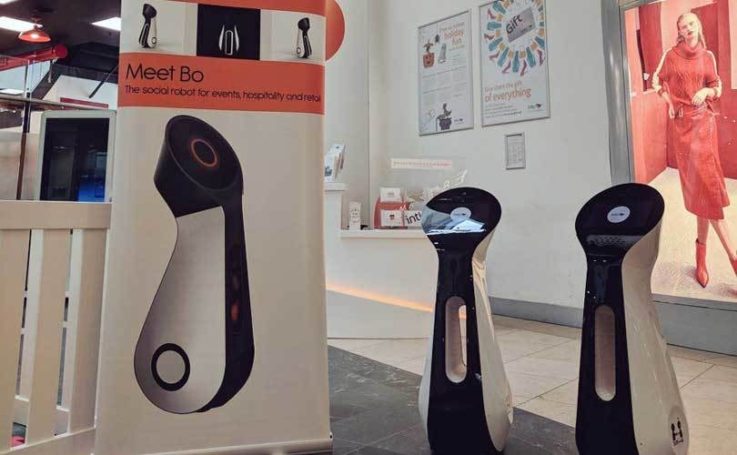 Bo the Shop Bot
Ever felt like robotic retail assistance was a thing of the future? Well, get ready for Bo, Europe's first ever shopping centre robot, who took over intu Milton Keynes shopping centre last month, directing shoppers to different parts of the centre and collecting feedback about their shopping experience.
Robot specialist BotsAndUs, the brains behind the one-metre-high 'shop-bot', is one of seven start-up businesses collaborating with intu to test new retail technology at its shopping centres across the UK. As well as directions and feedback, Bo also told visitors about special offers they could take up at Starbucks and Pret A Manger to test the potential of the technology to drive shoppers to stores and other locations.
intu is also working with WoraPay on trialling queue-jumping technology at intu Trafford Centre in Greater Manchester in partnership with several of the shopping centre's cafés and coffee shops, including Leon and Shake Lab. It allows customers to order and pay for food and drink on their phone as they shop and then collect them when they are ready, bypassing any queues. Are you ready for the robot revolution?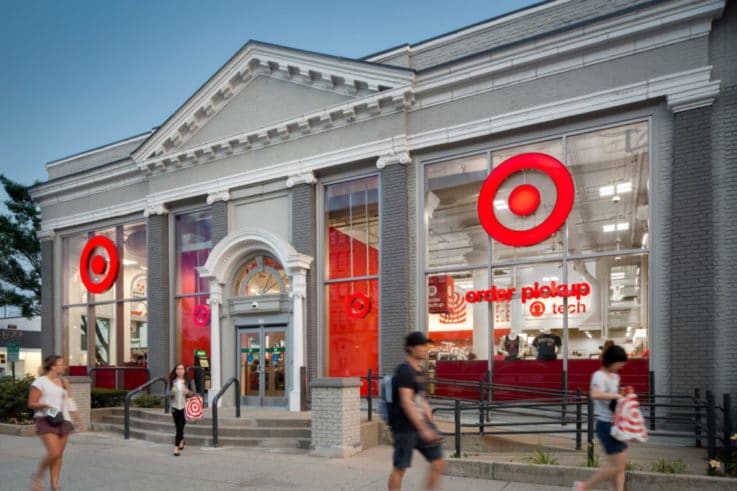 Target
Discount store retailer Target has opened 11 small-format stores across the US as part of its ongoing readjustment of its brick-and-mortar strategy. Offering same-day delivery to customers as a perk, the stores can be found in densely populated urban and suburban areas, where consumers are likely far from a full-sized Target.
The new format aims to create a streamlined shopping experience with square footages that range from 12,000 to 80,000, significantly smaller than the 145,000-square-foot average for a standard Target store.
With fewer square footage comes a smaller inventory and the brand has therefore curated each store to its location. Employing tools like data and focus groups, Target is trying to tailor each store's product assortment to the needs and interests of local consumers, as well as making them feel at home by incorporating artwork and architecture that make the stores feel natural to the neighbourhood. As examples. the new location in Herald Square in New York City features trinkets for tourists who frequent the area, while the new Brooklyn location resembles the movie theatre that previously stood there.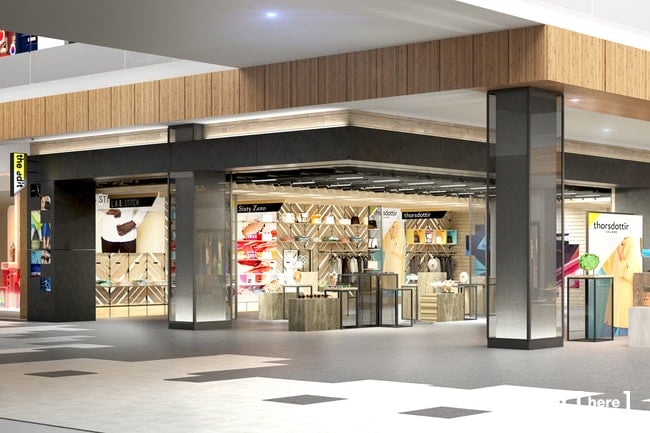 The Edit @ Roosevelt Field
Roosevelt Field, a shopping mall in Long Island, New York, has launched a new scalable retail platform for both budding and established brands to pilot new products. Titled 'The Edit @ Roosevelt Field', the new space allows for a place for businesses to try out new retail initiatives, strategic product curation, disruptive positioning and online efficiency.
The initiative offers retailers early on in their businesses the opportunity to set up shop, typically on a quarterly basis, in spaces that span 20 to 200 square feet. All spaces will be enclosed in a dedicated portion of the mall so that shoppers know they are in the curated space. Design-centric, experience-driven, and completely transitional, The Edit @ Roosevelt Field is the place to discover and support the new.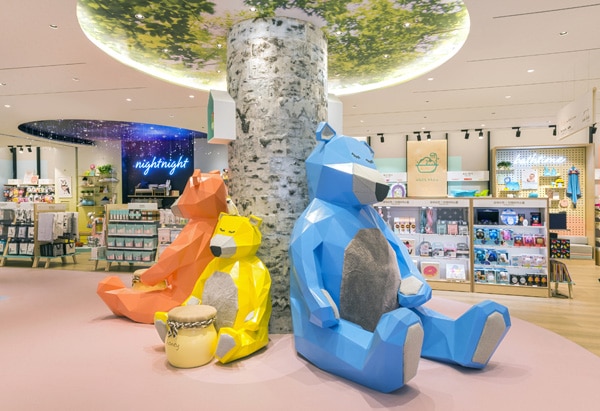 Marie's Baby Circle
South Korean brand Marie's Baby Circle has opened a second store designed by Dalziel & Pow, located at Starfield Goyang in north-west Seoul. The brand answers the need for extra knowledge and reassurance for new parents, building a supportive community for all things baby. Focusing on new and expectant parents, the store has been designed to create a comfortable and relaxing shopping experience for parents and mums-to-be.
Larger than the brand's flagship launched in late 2016, the new store features an expanded Baby Canteen cafe and seating areas as well as digital design features to highlight key services. Socialising and support is key to the store with two changing areas and two feeding rooms, and plenty of seating to offer respite for any tired feet.
Activities such as pre-natal classes, product demos and well-being activities are held in the new studio, which also transforms into a children's play area on the weekends when more families visit. Another feature includes a dedicated pop-up space, taken over once a month by Korean specific brands.
And for those with children already? A digital wall invites children to interact with an enchanted landscape, touching the mural to trigger different animations and audio. New enhancements include a soft-play area of foam-covered woodland, soundscaping and gobos projecting leaf patterns on the floor. Additional seating by the digital wall lets parents relax while children are playing.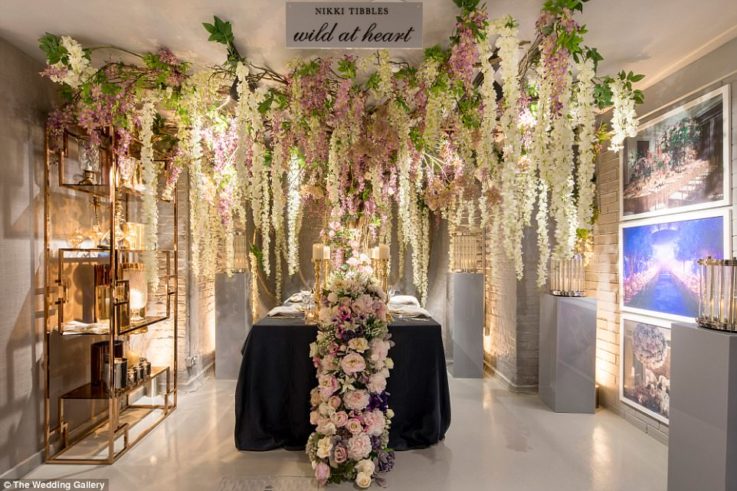 The Wedding Gallery
A permanent wedding retail, planning and inspiration destination, named 'The Wedding Gallery' has opened in London, featuring a bespoke jewellery offering.
Located within one of the capital's most lauded wedding and events venues, One Marylebone, the wedding department store aims to provide an end-to-end wedding planning experience, curated by leading industry experts and will be available to visit via appointment only.
The new store will guide brides and grooms through the entire wedding planning process in one space, saving the time and money visiting a variety of stores in different towns and cities. It will double as an exclusive member's club for the wedding industry offering meeting rooms, a multitude of event spaces, a café/bar and library as well as playing host to regular trunk shows and networking activities.
The store will also feature a beauty, hair and makeup studio and will showcase vendors including venues, cake makers, stationers, florists, caterers, a gift lists provider, photographers, filmmakers, honeymoon destinations and entertainers, alongside providing a service for consumers to shop bespoke jewellery designs.
Lastly, visitors will have the option of taking advantage of the in-house expert team, where they will be able to book a 90-minute appointment with a Wedding Gallery Consultant who will guide them through the space and the wedding planning process. It makes it sound easy, right?
For more of our expert knowledge and to find out about the latest trends in retail, take part in one of our London retail safaris or register for one of our New York retail trend tours.