Coronavirus and retail
Can Selfridges really make socially distanced shopping joyful?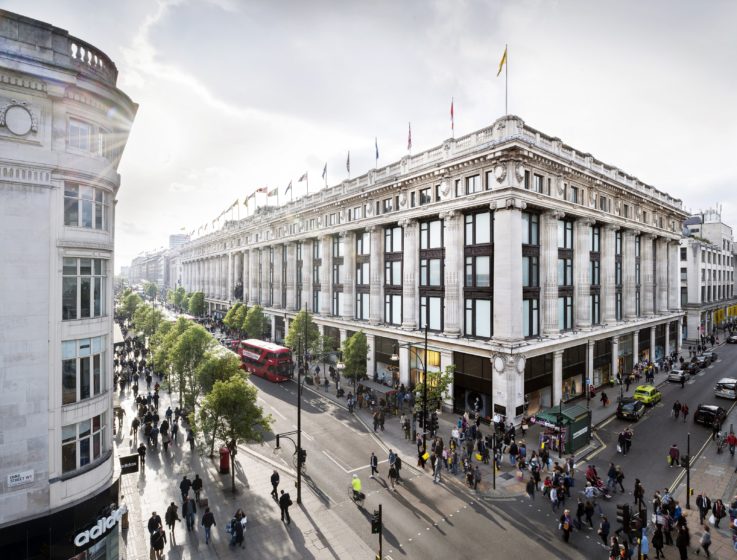 In just a few days, non-essential retail stores in the UK will reopen their doors.
They won't be the same as before though.
Social distancing and hygiene measures will mean the physical shopping experience is very different.
Retailers know this is an issue. In recent years, they've doubled down on the selling points of shopping in-store over online.
You know – things like being able to touch and test and try on things before you buy. Being able to browse and take your time exploring. Being able to engage with expert staff for guidance and support. Being able to take part in fun and unique experiences or explore installations. Being able to access services like personal shopping, make-up consultations and so on.
Covid-19 has turned those selling points into things to avoid.
According to EY, 70% of shoppers have reported that they'd be uncomfortable shopping in stores.
Even worse is that Meepl found that more than two thirds of consumers will only return to physical fashion stores if hygiene and social distancing are maintained. In fact, 20% have said they'll never go back to physical even after lockdown.
Clearly anxiety around in-store shopping is high.
The industry's answer has been to strip back the high-touch elements to make sure stores are safe for shoppers.
The problem is that what's left is a bit sterile by necessity. How many can say that shopping in masks and gloves, worrying about maintaining distance and not being able to touch things is their dream retail experience?
Selfridges is aiming to counteract this by offering a 'joyful' experience when it reopens despite all the social distancing and hygiene requirements. Initiatives include putting on entertainment for those queuing outside such as live entertainers and DJs.
It's testament to the brand that it has identified that physical shopping is lacking in joy right now and is looking for ways to address this fact.
Is this really what customers are looking for from stores right now though?
In the past people have used shopping as a form of entertainment and socialising. That hasn't gone away. People are still looking for retail to provide moments of joy while their day-to-day lives are disrupted. This is why sales of everything from jigsaws to garden supplies have exploded during the pandemic.
But in these cases, the joy comes from the products not from the experience of buying them. Customers may be treating themselves when they do the grocery shop, but they don't want to hang around in the store.
Perhaps offline retailers need to now be taking a leaf out of the ecommerce book because convenience is the name of the game now. That's the experience that customers are looking for. That's the experience physical retailers need to be providing.
What's interesting is that Selfridges has identified that queuing customers are a captive audience. However, the question is whether DJs and entertainment will brighten their mood or just be an annoyance.
Perhaps what would be better is to find ways to bring convenience to queuing. What if customers could be browsing the in-store selection from their smartphone to identify what they want to buy? Or checking out the store floorplan if it has changed or there's a one-way system in place?
Can the store display real-time stock information? Can customers chat with employees over message from their phone while they wait? Can they notify that they've arrived to collect a parcel so it's ready and waiting when they get in? Could the store window displays be shoppable via QR codes so people can buy from outside?
Convenience may mean not even going into store. John Lewis are reportedly exploring the idea of having a drop-off bin for returns at store entrances, so customers don't need to enter the space. Likewise, retailers could explore click and collect lockers outside the store or in a different part of it, so those customer journeys are more efficient.
The in-store experience may not be joyful right now, but it can still be useful. And that might just be what makes customers happy.
We're offering a free bespoke sales plan for large retailers! If you'd like free insights into how to grow your sales, get in touch now.