Retail
Highlights from NRF: Retail's Big Show 2018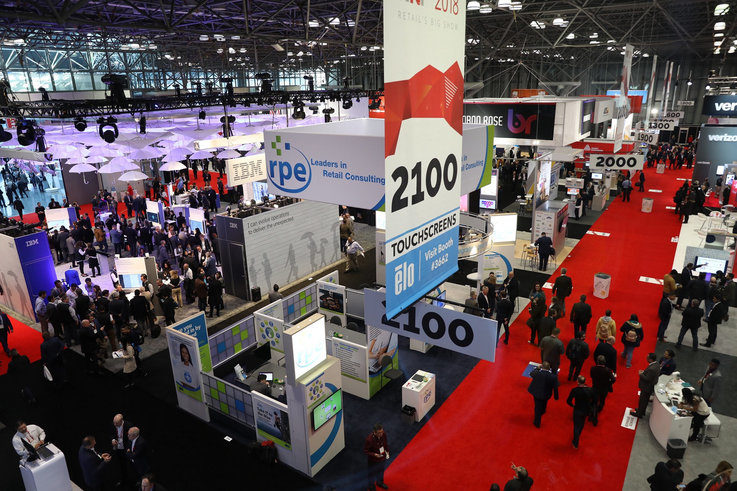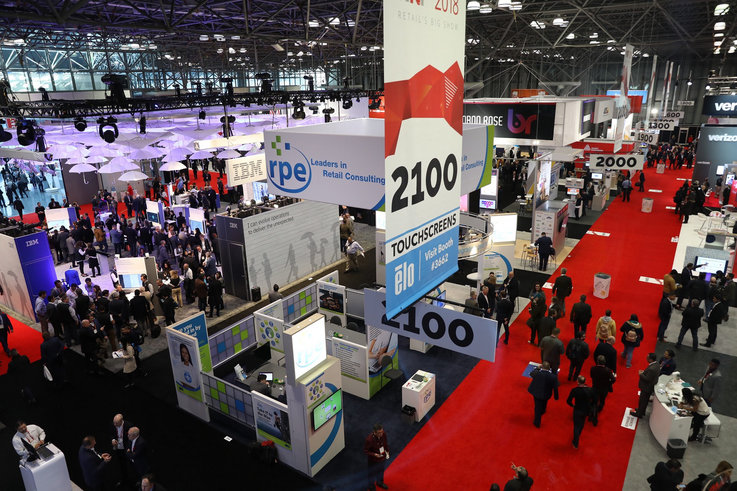 It's an annual must-visit in many a retail diary. This year's National Retail Federation (NRF) Big Show was no exception.
With a huge array of tech on display, inspiring presentations, and detailed discussions across the three days, we've rounded up our favourite highlights to bring you a small taste of the Big Show.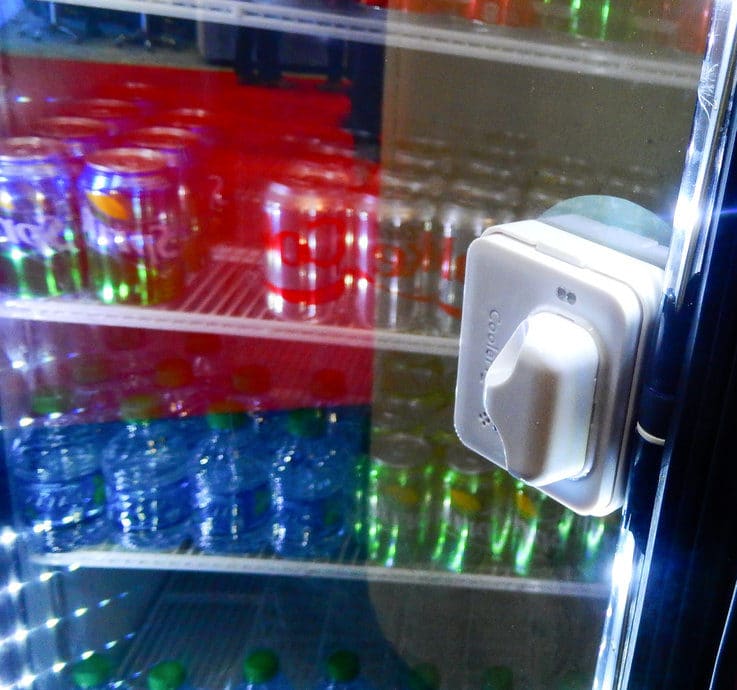 AI
One of our favourite developments from the three-days came courtesy of Insigma's Cooler iOt and Aptos. Designed to help optimise product assortments in fridges, the Cooler iOt widget houses two cameras. The device is placed in front of the fridge door. Every time the door is opened the cameras beam what they see to the cloud where it is compared with the planogram of how the fridge should be laid out. It gives retailers an idea of what the stock and layout situation is compared to what it should be.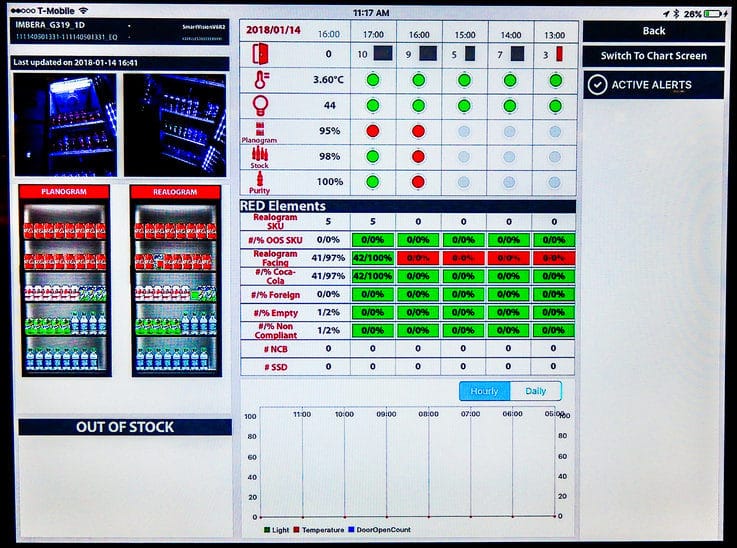 As well as helping identify that stock there is, where products have run out and how many have been sold, Cooler iOt also ensures that the products are presented correctly. This is often a big problem for manufacturers who may provide shop owners with fridges for free, but then see them stocked with other things.
This kind of data could prove valuable for both store owners and manufacturers in continually optimising their in-store stock. It could also help retailers move toward a future where what's in every store is based on what sells well in that specific location.
One glance at the future came via CompuCom's Self Healing Store. The system is designed to 'self-heal' tech issues as much as possible. Currently designed around the point-of-sale, the AI technology is installed on in-store devices and peripherals such as receipt printers. They are then able to monitor themselves and detect any issues. If a malfunction occurs, then the system will present the user with a number of troubleshooting options to try and fix it. These might be 'reset Wi-Fi' or 'turn off and back on again'.
The idea is that retailers save money and time by not having to dispatch technicians as often. It also empowers staff to fix problems as much as possible, which reduces downtime. They then learn how to resolve issues, which can help if the same problem occurs in the future.
It's an interesting concept that seems as though it will only become more valid in the future. With more tech being brought into stores, the more there is to break, so anything that helps maintain up-time will be very helpful.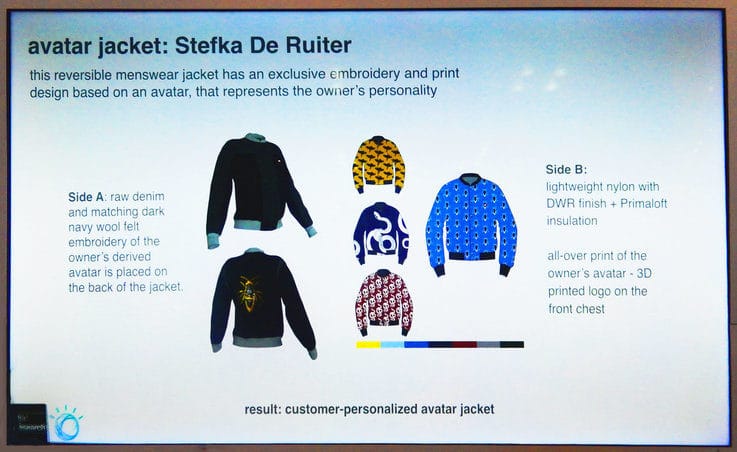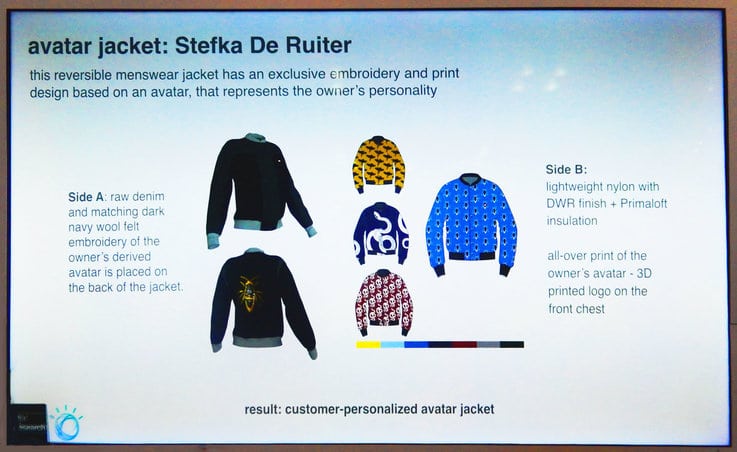 Also on display was Tommy Hilfiger's collaborative AI project. Developed in partnership with IBM's Watson and Fashion Institute Technology (FIT), the project applied AI to 15,000 Hilfiger catalogue images and 200,000 catwalk images to learn what looks are 'in'. It was then able to start to predict what might be coming next.
Different students at FIT applied the system in different ways to produce tech-driven designs. Of note was the Avatar jacket. The AI looked through the wearer's Twitter Feed to get a sense of their personality and then assigned them an avatar image that fitted with that. These included a bee, bird and snake. The jacket design incorporated this avatar to make something. Other designs incorporated colour-changing fibres that responded to analysis of social media and voice.
The project not only raised questions about how AI might influence design in the future, but it also the role social media might have to play in aesthetic.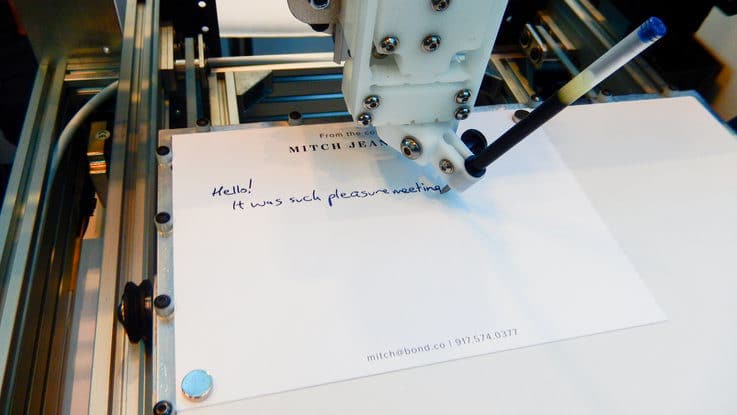 Robotics
The personal touch has always gone a long way in retail. It's a staple of the luxury sector, but increasingly it's being seen as important at all ends of the scale. It can be hard to implement for a large operation with many locations or a retailer serving many customers around the world.
As such, Bond's machine for producing handwritten notes at scale offers a lot of inspiration. You can load any sample of handwriting into the system, which it can then replicate to create pen-written notes – as though you'd written them yourself. Much like a mail merge, each message can be personalised with an individual's name.
The machines themselves are not for sale, but customers instead place their orders with Bond for production. It then sends out each note to the end customer. For international customers the notes are sent out together from the US and then distributed to the individuals once they arrive in their destination country. This saves on international postage.
Bond states that its notes have almost a 100% open-rate, which suggests that customers still see a lot of value in handwritten messages. This is likely because of the time and effort associated in producing them – something that Bond reduces.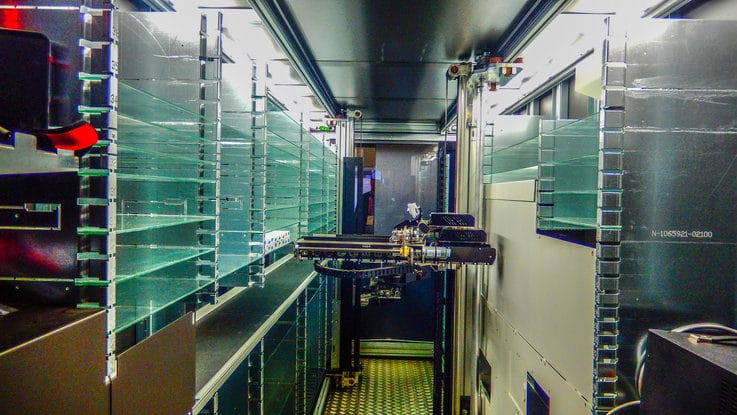 Another interesting development making use of robotics is RAX. The company produces a range of automated loading, storage and retrieval systems. In particular, the rBox automates the picking of items, as well as helping to reduce the amount of space needed to small items.
It also helps retailers to keep better control of their inventory by automating the checking of what's available in real-time. This type of tech could be useful back-of-house for retailers to help save space and reduce the time required to retrieve items from stock rooms, or for click-and-collect customers.
Tech
While there was plenty of interesting tech on display, some of the best came courtesy of PERCH. Its array of interactive physical store displays are some of the best examples of 'tech that just works' we've come across.
Customers can pick up physical products from the shelves to activate digital content about them including more information, reviews, video tutorials and more. It was great to see its latest system, the Shelf Touch, in action. Created for Color Splash nails, users were able to tap the sample shelf to find out more about each nail polish, or swipe along a selection to learn more about that group of products.
The tech also captures data for analysis on the volume and type of user interactions, which can help retailers to improve their product offering. Notably, Shelf Touch can be integrated into existing shelving with ease. This is important as for many retailers the barrier to new tech adoption is the inability to integrate with what they already have in place.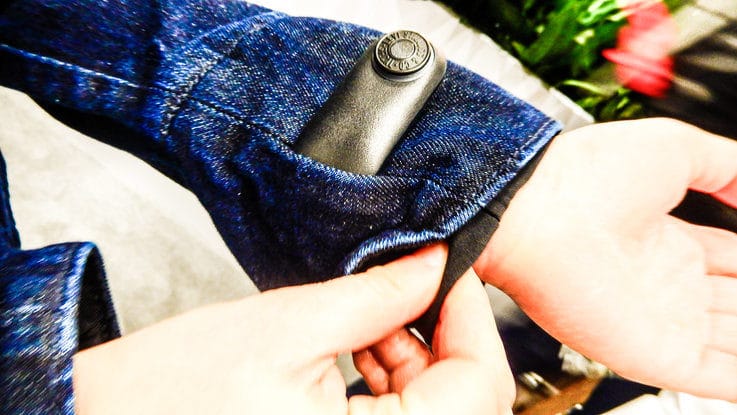 It was also cool to see Levi and Google's Project Jacquard jacket in action. The Commuter Trucker jacket is the first garment to have the Jacquard tech incorporated. The sleeve responds to four different gestures, which can be programmed to perform certain actions, such as start playing music or skipping tracks. Although the options aren't vast yet, we're excited to see where the tech goes.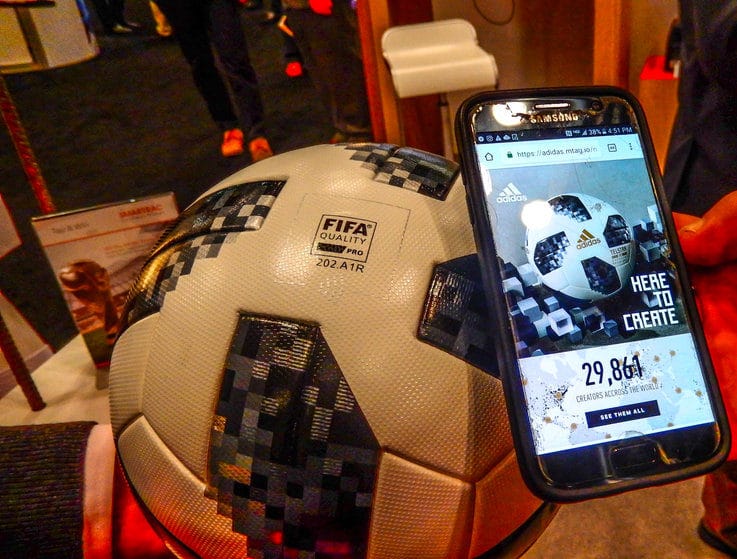 A different use for an increasingly-familiar technology was Smartrac's RFID enabled FIFA football. The football had a built-in tag which when tapped with a smartphone displayed its unique number. The tech suggests an interesting way of identifying limited edition or special products with the identification number as part of the item itself.
There's also an option for this to be linked to the blockchain in the future, which could mean that sales and past ownership are logged for easy access. Buyers will be able to see where products have come from and prove ownership after a sale. The technology could also be used to embed exclusive content into a product for customers to access after they've bought it.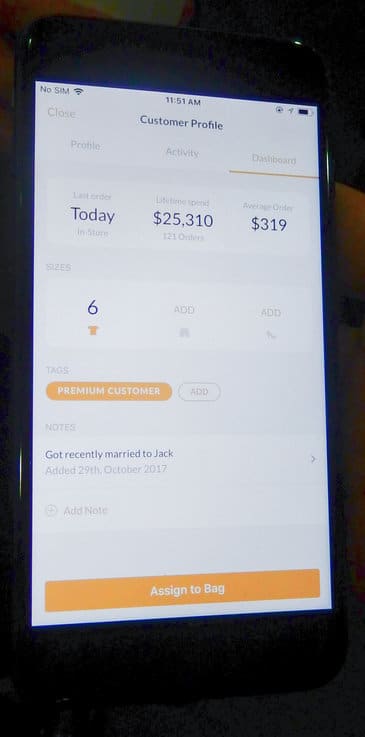 Another company working to bridge the online and offline experience was NewStore. Its platform unifies a brand's inventory, comms and data across all sales channels to give staff one view of the customer. For example, if a customer goes in-store to click-and-collect a product, the store assistants can access their profile and recommend items that go with it.
Assistants can also use the platform to access an endless aisle of all products in the store to help customers find what they want. If it's out of stock they can place and order or have it shipped from another store. The tech helps retailers to use their store inventory more effectively by making them hubs for distribution. The ability to do everything from one place is becoming more and more important to retailers as the amount of tech and channels in retail continue to grow.
Insights
There were plenty of insights to be had through the show. Of note, was a presentation by Alibaba's VP, North America Lee McCabe. If you're not already familiar with Alibaba you should be. The 'Chinese Amazon' is not only a huge force in ecommerce, but also physical retail, marketing, cloud computing, finance and more.
McCabe expressed the importance of knowing the customer inside-out. Armed with this knowledge, Alibaba has been helping retailers to launch in China. This includes Mattel who Alibaba helped to select the 200 product lines (from the 10,000 Mattel maintains) that would give them a good footing in the market. It was able to do this through a combination of data and consumer insights – an approach that has proved effective time and again in its home market. We'll be talking more about Alibaba on the blog soon so stay tuned.
Canadian fashion brand Roots' James Connell, VP of ecommerce & marketing, discussed how the company used its app to offer a new iteration of 'see it, buy it' at its fashion show. The app used the show soundtrack to trigger which content was shown at any time. As such each model walked to a different audio cue, which showed in-app the outfit that was on the catwalk at that specific moment. Customers could buy their favourites in one-click using Masterpass.
It's a great example of how brands are being more innovative with their experiences and using tech to deliver more immediate gratification.
Elsewhere, MM.La Fleur's director of offline retail, Rachel Mann, talked about how the company is disrupting how women buy workwear. The classic experience is to visit a department store where the customer is broadly left on their own to hopefully find something that suits them. MM.LA Fleur's stores take all of this hassle away to make for a fun, personal shopping experience.
Staff get to know each customer via a survey about their personal style, but also through subsequent visits. If a customer tries something on and rejects it they won't be shown it again. Likewise, they will be recommended new items that may go well with what they've bought before. If the customer makes an appointment the stylist will prepare the dressing room in advance with things they think the customer will like, in their size.
There's also a bar, kitchen and social space, as well as a spa/salon area run by local partners. Customers can also order a curated box of clothes online for delivery at home. Mann notes that 80% of MM.La Fleur's customers choose to have their purchases shipped from the store to their home rather than carry the bags.
The whole experience is luxurious, but also delivers the right end result for the customer. That was the biggest overall takeaway from this year's event. While there's all sorts of tech and innovation out there, retailers' greatest focus needs to be on delivering the desired end result for their customers. If they obstruct that or overlook it then they'll find that all the innovation in the world won't help.
Don't miss our look at the 45 most interesting participants in NRF's Innovation Lab.
We also discovered a whole host of great new stores in New York as well. It's an inspiring time for retail in the city, so a perfect opportunity to book one of our New York City retail safaris. Get in touch to find out more.