Department Stores
How London's department stores are innovating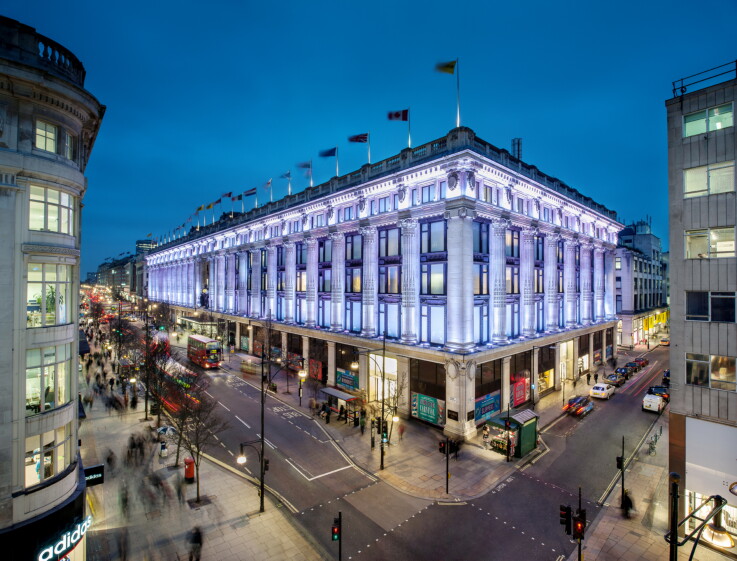 Department stores are a way of life in the UK. It's not surprising really given that many believe Harding, Howell &Co's Grand Fashionable Magazine, opened in London in 1796, to be the world's first department store.
While there are now department stores from established names like John Lewis, Debenhams and Marks & Spencer on almost every high street, London retains its leading position. Harrods, Selfridges, Fortnum & Mason, Harvey Nichols and other like them are universally known names and must-visit destinations for shoppers from all over the world.
Although the long history of the department store can mean this model gives off an air of 'tradition', London's department stores are actually undergoing a continuous programme of innovation and development to stay ahead of customer expectations.
Here's how four of the best are doing it:


Harrods
The iconic luxury department store is doing innovation in a number of ways. Having first launched its mobile app in 2011, the company isn't resting on its laurels, but continuing to update the offering. The latest version has a new in-store mapping tool that uses beacon technology to show customers where they are within the store and follow a route to a chosen destination or brand. Much like on Google maps. The app also links up with Harrods printed magazine letting customers scan advertising and editorial content to shop featured brands.
Elsewhere Harrods is partnering with Quividi to use audience recognition technology to track who is responding to the digital advertising used throughout the store. Although the data gathered is anonymised, the facial recognition technology can measure the age, gender and view time of each viewer in real time. Advertisers can then identify who their audience are and how they are engaging with each campaign. It also tells Harrods more about who is visiting its stores and the types of brands they take an interest in.


It's not all about the digital tech though. Harrods is continuing to ramp up its customer experiences through bigger and better brand partnerships. Recently this has included an "Experience Innovation At Harrods" campaign with Samsung that incorporated exhibition and advertising space. Past takeovers from Prada and Fabergé have also let customers interact with their favourite brands in new and unique ways, and often be first to get their hands on new products.
Harrods is concentrating its innovations on learning more about its customers. Whether that's how they move through the store or the advertising that resonates with them, all of this data helps Harrods to better tailor its offering. Customers feel like the experience is built around their individual shopping journey, while brand partnerships differentiate the store from others.
Selfridges
Selfridges has a long history of innovation, whether that's the theatre around its product displays or the way it operates (the company wasawarded the World's Best Sustainability Campaign by a Department Store at this year's Global Department Store Summit).
Recently this has included the launch of a dedicated Internet of Things (IoT) department to demonstrate connected products to customers. Sales are not the main focus, the aim is to let customers interact with products, ask questions and discover how the IoT might fit into their lives. Customers can even pre-book curated product tours with staff to get the most out of the experience. This all helps to make Selfridges a destination for this growing area and a trusted partner for customers looking to buy into the IoT.


Selfridges is also strengthening its omnichannel offering with the launch of a shoppableiOS app. With a large proportion of the company's online traffic coming from mobile, the app builds on Selfridges' massive overhaul of its website last year. Users of the app can personalise their homepage by choosing their favourite brands and receive alerts for new arrivals or product drops, alongside editorial content and more.Customers can even shop directly from an integrated in-app Instagram feed in a first for a UK retailer.
What makes it particularly special is that the app offers a complete shopping experience, while also tying in with Selfridges' offline spaces. Customers can access store and event information, order products to pick up in-store, and sync information like wish lists across all devices, so they don't have to start from scratch every time.
Selfridges is continuing to make great strides with its omnichannel strategy by improving the different elements through which customers interact with the store. The app also helps Selfridges' to better leverage its social media following and make it easier than ever for customers to buy featured products. As an already trusted name for many, Selfridges' is capitalising on its position by helping introduce customers to new technology early on. This makes them more likely to come back to Selfridges for support and recommendations over the life of the tech.
Fortnum & Mason
In the last year this more than 300 year old retailer has brought its e-commerce offering right up to date. Rather than just revamping its website, Fortnum & Mason rebuilt it from the ground up in a £1.2 million project. The aim was to make the site fully responsive to give customers a better experience when shopping from mobile and tablet, as well as from desktop computers.
According to customer experience director Zia Zareem-Slade the redesign is in keeping with Fortnum's innovative history. "Fortnum & Mason was the first multichannel retailer – it sent goods all over the world when the telephone was first invented," she said.
Notably Fortnum's is making use of the data gathered by the site to improve its pages, create seasonal features and effectively translate the store experience online. The company is also publishing regular new editorial content to increase customer visit time, including integrating video from its YouTube channel.
From a user perspective, aside from getting a fully functioning site on their mobile and a better overall browsing experience, customers can also benefit from the live chat option to get support, information and guidance in real time. There is also a click and collect option for customers to pick up their purchases from the Piccadilly flagship store further strengthening the online/offline link.
Fortnum & Mason has focused on improving its online shopping offering to better meet the expectations of customers who are used to exemplary service in-store. A better functioning website also helps strengthen Fortnum & Mason's position as an omnichannel retailer, and provides valuable customer data that can be used to improve relationships right across the business.
Harvey Nichols
Harvey Nichols has completely revamped the ground floor of its Knightsbridge flagship to put experience at the heart of its beauty strategy. It has done away with the individual beauty brand counters that department stores are known for to create an open-plan high-end boutique-like space. The Beauty Lounge lets customers indulge in beauty and skin treatments, while the first dedicated Beauty Concierge offers tailored advice and suggested products from 130 top brands. The feeling of indulgence along with the beautiful surroundings makes it a space that customers want to spend time in.
It's one of several recent innovations as part of a four-year renovation plan for the entire store, including a reimagined menswear department, Brands have been split into specialised boutiques enabling customers to shop according to their specific needs. Style advisors and a concierge suite providethat extra level of service, while an in-store barber helps to make Harvey Nichols into a one-stop-shop destination.
For the longer-term you need to look to Harvey Nichols' Birmingham store, which has been a test-bed for the innovations now being rolled out across Knightsbridge. An open-plan layout has been adopted throughout to make it easier for customers to move through different spaces and brands, a concept Harvey Nichols is calling 'controlled disruption'. This new approach encourages customers to wander and browse and to explore, as opposed to visit the store to make a specific purchase and then leave.
The use of tech is also changing the way customers interact with the store. There are 360-degree changing room mirrors that record a customer from all angles and then play back the video to give them a better idea of how different items fit. Staff are using tablets rather than traditional cash registers to complete transactions on the shop floor, which reduces any waiting around for the customer. Plus, Harvey Nichols' own loyalty app rewards customers with points as they purchase which can then be exchanged for vouchers or experiences. Yet again this is another reason for them to keep returning to the store.
For Harvey Nichols innovation always come back to how customers interact with the store. As a destination store, Harvey Nichols' wants customers to spend as much time as possible in its space and this means creating an environment that encourages that. Additional services like an in-store barber offer another reason for shoppers to visit, while clever tech enhances the experience.
What does innovation look like?
Loyalty, customer experience and omnichannel are familiar trends right across retail, but continue to feature heavily in the strategies of all four department stores. What keeps changing is their approach. By bringing new ideas and technologies into their stores, and even changing their entire look, London's department stores are ensuring that they remain top destinations for shoppers.