Retail
How to use retail design to impact customer experience and increase sales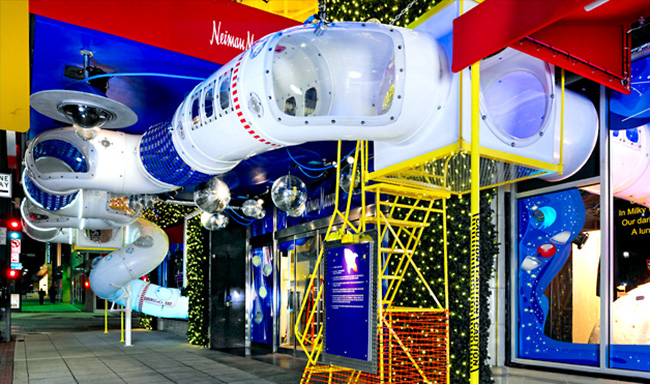 Online interactivity, although useful and immediate is still ultimately a solitary experience. The Internet has for a long time sold itself as a 'space', somewhere you 'go' to find information or to purchase goods. What it lacks however, is real human interaction.
It's a fact that human beings enjoy being around other human beings. Talking with others increases well-being and generates new feelings, thoughts and beliefs. Reciprocity leads to a willingness to participate and higher levels of self-confidence.
Importantly, from a marketing point of view, one person's interactions can also influence another's. Consider this study covered in the Wall Street Journal that observed the effects of hotel signs that ask people to be more environmentally friendly:
When the in-room hotel signs asked for customers to reuse towels using the message 'Show your respect for nature by reusing towels,' not many people followed through. However, when the signs read: 'Join your fellow guests in helping to save the environment', there was a 25% increase in the reuse of towels. Participation and community spurs action.
Create meaning
Brands are beginning to understand that for offline marketing to have a resurgence, the spaces they occupy must be compelling enough to drag their customers away from their phones and tablets and back onto the high street.
The only thing that people enjoy more than ease and comfort is good stories. As author Philip Pullman says: "After nourishment, shelter and companionship, stories are the thing we need most in the world."
Marketing is no longer a case of 'them and us'- on a deeper level what really matters is that human beings have a real need to create meaningful memories. Narratives help people to understand themselves, to make sense of a complex world. Creative retail strategies and design need to reflect this need for self-exploration in a significant, tailored way.
Why would someone leave their house to go and buy something they can have delivered? It is human nature to get the best result from expending as little energy as possible. The consumer needs to experience positive, memorable engagement that is of real emotional benefit to them.
The relationship between buyer and seller is complex and can impact the shopper on a very real psychological level. People don't want to be referred to as 'users' or as part of a 'target demographic'. We all want to feel unique and important.
Consider the statistic that says 70% of buying experiences are based on how the customer feels they are being treated.
Crucially, fMRI neuro-imagery also shows that when evaluating brands, consumers primarily use emotions, personal feelings and experiences rather than brand attributes and features. There has to be a meaningful transaction in the customer's mind for action to occur.
No one wants to feel susceptible to heavy handed marketing tactics which benefit the retailer more than the consumer. As we become more aware of how our spending decisions are influenced by advertising, the less willing we are to 'be tricked'. As retailers, how can we overcome the traditional retail model and level the psychological playing field?
Enhance the environment
There are hundreds of tricks you can play to influence purchasing decisions such as 'chevroning' and being aware of your retail space's transition zone. There is plenty of data and insights on consumer buying behaviour, all of which is important but ultimately they still treat your customer as if they are not 'in' on the experience. The benefits of real immersion cannot be underestimated.
A great example is Glade's Museum of Feelings which fascinated New York for three weeks. The S.C. Johnson company created a sensory exhibit that was built to showcase the connection between scent and emotion. Each of the five scented rooms at the 'museum' was designed to generate different feelings and emotions. Temperature changes, fluffy clouds, ambient sound, reflective surfaces all added up to create a festival-like experience that generated two-hour lines and 22,000 colorful Instagram posts.
Perhaps it is not a surprise that Glade also sold a lot of products over those three weeks, while also reinventing itself as a brand that is innovative and relevant.
An event like this goes to show that even a mundane product such as air freshener can be sold in a way that is truly experiential and life-enhancing.
Think theatrically
The research points towards the effectiveness of these kinds of strategies. 79% of brands say they executed more event and experiential programs in 2015 with a 12% spending increase over 2013. Brands investing in real-life experiences saw better performance in sales and marketing. More than half of brands directly correlate experiential marketing to stronger sales, and many more companies are increasing their focus in this area.
While it is obvious that not every retailer can pull off an event like Glade's Museum of Feelings, it goes some way to understanding the importance of giving the customer an experience to remember.
Lighting, clever visual merchandising, interesting interior design- all these things can be added to even the most humdrum space to add theatricality. Even the smell of a retail environment has been proven to affect people's purchasing habits. For instance, when feminine scents such as were used, sales of women's clothes doubled.
With the rise of the pop-up shop, retail spaces are becoming more unusual and varied. Old factories, gallery spaces, deserted cinemas. Less of the bright white spaces that we are used to, these spaces have massive potential for providing the consumer with a brand new type of shopping experience.
Provide escapism
Entering a shop should be like entering another world. Consider this quote from Psychology Today:
"We finally became endowed with two modes of awareness. One outward-looking, utilizing the five senses and faculty of reason… by means of which we are enabled to comprehend the essential nature of things and happenings in the outside world, and thus respond intelligently and practically to them. The other which is more inner-directed… inducing imaginative, contemplative thoughts, and levels of feeling, by means of which we assess the relative significance and value of external events in one's life… and come to ponder, as is said, 'the meaning of it all.'
Therefore the most efficient- 'ideal' consciousness- can be described as one that is both objectively acute, and subjectively insightful: a combination resulting in the varying levels of psychological partnership that ultimately determine the nature of one's particular- if not unique- individuality."
Individuality is at the heart of modern marketing. Retailers need to appeal to each customer's desire to be unique. An 'ideal' state of consciousness results in mass sharing (extra validation) both online and by word of mouth. Provide a distinctive backdrop for this need to share, to become part of something- and your customer will remember how you made them feel.
Become a curator
Carefully edited merchandise is a way to escape the overwhelming number of choices available to the consumer. Treating each product as an 'exhibit' is a great device for making your space feel more like a gallery. The short-lived Bathing Ape store on Melrose Avenue in LA used a huge display column in the centre of its store, which featured a parade of brightly coloured shoes displayed sushi-style on a conveyor belt. A shop in the Netherlands uses one steel pole per shoe. Handbags are hung from what looks like a living tree.
Although it sounds a little avant-garde, curated retail ensures focused shopping and product relevance- it also provides consumers with the choices that will most interest them. Mobile apps also help to personalise in-store shopping by providing information on deals and products.
Curation puts the customer right at the centre of the retail process- his or her preferences are highlighted as being important and the shopping experience becomes uncomplicated and compelling. Most importantly, customers experience a sense of validation and empowerment.
Take fun seriously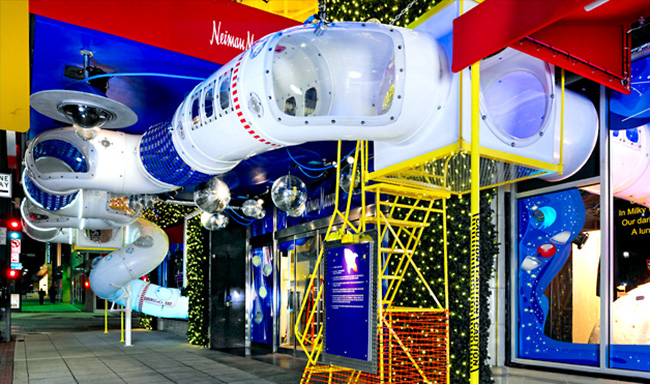 Neiman Marcus' Dallas storefront invites kids to climb into a tunnel then go down a slide that routes them back out to the sidewalk. Adults can also get involved, controlling special effects in the display while their children crawl around inside it. Which department store do you think the kids want to visit? Children have always hated traditional shopping. Imagine if in the future we could create spaces that inspire movement and drama while also combining utility with fun.
The human mind craves intrigue and entertainment. The use of touchscreens and navigation apps and other retail technologies can turn your space into a kind of giant playground whilst also providing personalisation and competing directly with online retailers.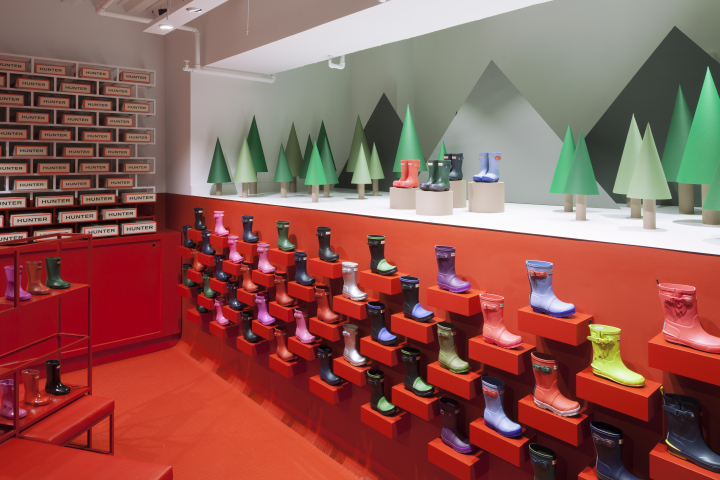 A great example of a company who have done this well is the Wellington boot brand, Hunter. It developed and implemented a unique environment in its new flagship store in London, the focal point of which was a five-metre-high LED video wall running through the three-storey building. Bespoke soundscapes reflect the feel of different retail zones across the space, based on references to music festival culture. The store also incorporates live feed-driven 'wet weather events' in the form of video and audio sound effects such as heavy showers and thunderstorms.
Although not as a fun as a real festival, it is still a hugely immersive experience that has the potential to transform a customer's day, tapping into personal memories whilst also creating new ones.
Stories are a way for us to feel that we have control, creating patterns where there might otherwise be confusion. Humans like narratives because they lend meaning to our lives. Understanding this deep psychological need in people makes it an exciting time for retailers who have the opportunity to create an entire world that serves to reassure and involve their customer whilst also strengthening their brand and celebrating their product.
Article & images by Emma Hammond
Watch this space for more interviews, retail openings and retail innovations. You can also follow us on Twitter, Facebook or check out our LinkedIn page. See you soon!