Interviews
Is Box the ecommerce delivery model the retail industry needed?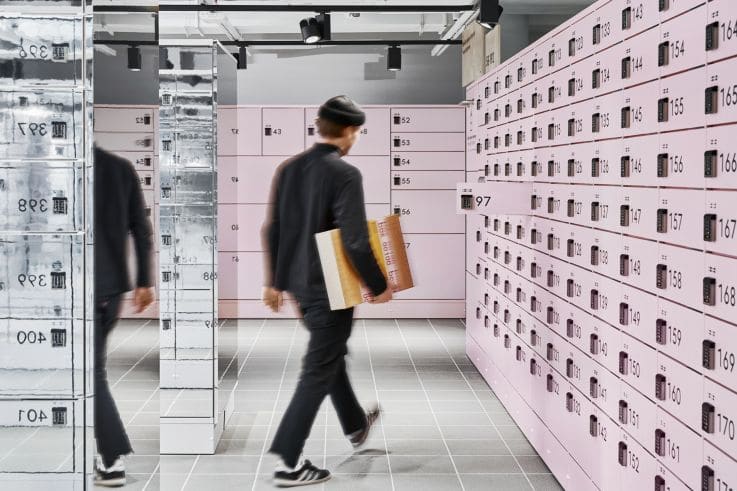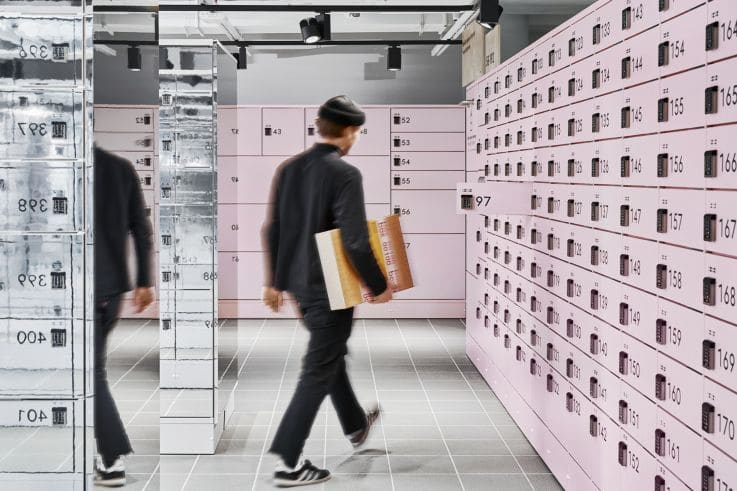 While ecommerce offers convenience in terms of buying without leaving your home, the model also comes with a number of friction points. From delivery wait times to needing to be in to get your goods to returning unwanted items, online shopping can quickly become the inconvenient option.
Finland's Posti is looking to solve these pain points with its new concept: Box.
The largest parcel locket in the world, Box is a place where customers can choose to receive their parcels (rather than have them sent to their home), use the available fitting rooms to try on clothes they ordered, and package up anything they don't like to be sent back straight away.
It's revolutionising the way we receive parcels, but Posti also sees Box as a development platform for its future core business as post becomes more about parcels than letters.
We spoke to Posti's head of customer experience and channels, Kaisa Ilola, about what sparked the idea, how Box functions as a test lab for new services and concepts, and how the way we move goods around may change in the future.
Kaisa Ilola, Head of Customer Experience and Channels, Posti
Can you tell us the story of Box's development? How did it start?
There are three main things that contributed to Box's development.
The first thing was the move from the old traditional post-office towards an ecommerce store.
Our company has been on a path of closing its own stores for years and outsourcing the traditional services, like buying stamps and sending letters, to partners. But this was the old Posti, which wasn't relevant to consumers anymore. Our company, even though it's a 400-year-old one with a strong history, had changed from that. In the past fifteen years it had moved towards ecommerce. We needed a new concept for our stores; we needed to think about it as a new business.
The second thing was helping e-tailers. We were having many discussions with small Finnish ecommerce companies who didn't have the possibility to own physical stores or do pop-ups in the centre of Helsinki, or anywhere else for that matter. We wanted to find a way to help them.
The third thing was introducing new offerings to consumers. In Finland, there are 1,700 parcel lockers all over the country, which is a huge amount compared to our population, especially knowing that only 45% of people have already tried parcel lockers. We wanted more people to start using these lockers and our mobile application, and we needed a place where we could make it easy and at the same time sell new features.
How long has the concept been in development?
The concept was ready last April. When we heard there was a good location available at the centre of Helsinki we didn't have a concept ready yet, but we took it anyway as location was the number one priority in our eyes. We needed to make sure we were where everything happens, as this was a long-term commitment, not only for a couple of years.
When we found the location last year, this is when we started to build a concept.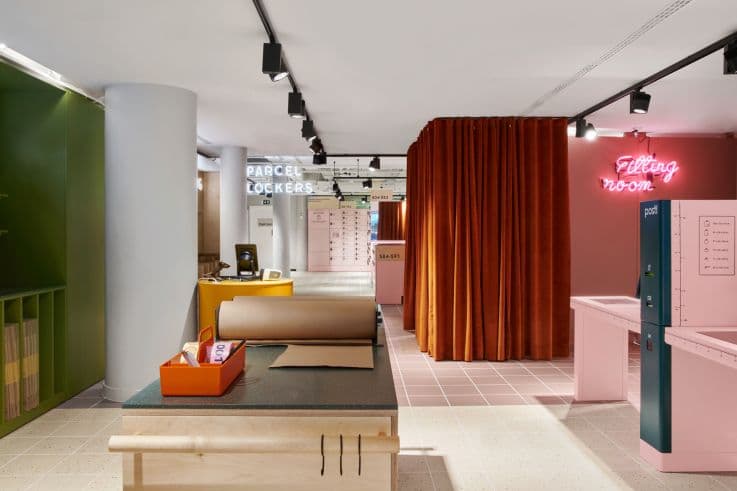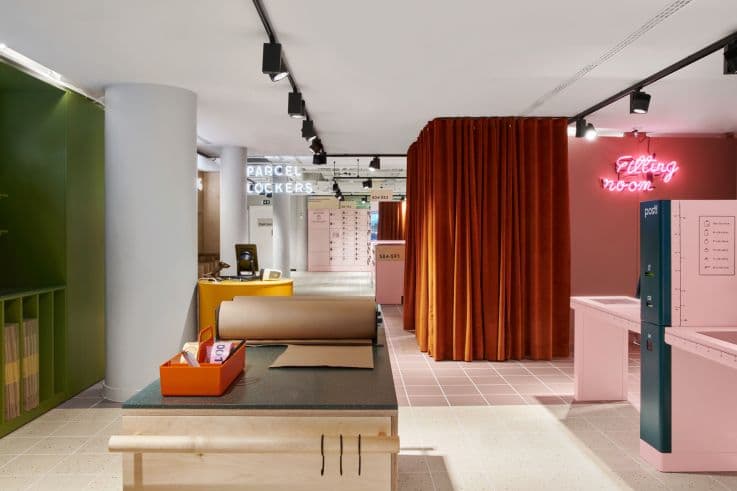 What is Box's business model?
Box is divided into an upstairs and a downstairs.
Upstairs we have the store base and around 600 parcel lockers. The reason behind that is that we need a lot of parcel locker space, which doesn't come for free. Instead of renting it out we now have our own space with a huge number of lockers in the very centre of Helsinki. From a volume perspective this allows us to offer fast delivery in the city.
Another upstairs concept is our unique wrapping paper, which is a beautiful branded material, different from anything else you can get.
Downstairs, we have a growing concept which is pop-ups and showrooms. We offer it to our e-tailer customers who don't have their own physical shop and can rent it out to set-up a pop-up, for example during Christmas time. They can also benefit from our marketing channels, as we have a connection to almost everyone in Finland.
On top of renting the space, we also offer our personnel to help with customers. Some e-tailers prefer to be there by themselves, as the faces of the company, but others need more help, so they use our personnel and train them to know about the brand, their mission, values etc. It really depends on the size of the company, but we can accommodate both ways. That's one concept we are really developing.
We also have events happening downstairs on an almost daily basis, with our partners or our B2B customers. Even our own company events all happen in that space.
How are your service designers staying close to customers?
Our service designers have their own studio area downstairs where they can work, and they can go upstairs when needed. They are constantly trying to understand customer behaviour in order to find out what needs to be done next regarding new features to be added or even to be removed if they become obsolete. They do spend a lot of time in the store.
It's very easy to go back to the old post office way of working, so we need to be constantly shaking up the way we think to make sure we don't behave like we used to.
For example, we are developing a self-service kiosk where you can buy everything online and have a video connection with our customer services. These kiosks allow us to have a presence in other places as well. We have now spread to at least four other locations where there are no personnel available, such as malls and the countryside.
Has Box changed the way people shop? Does it appeal to a particular type of consumer?
We don't have enough data on that point yet. We opened in November, and then it was Christmas time, which makes everything different. But we have noticed that once people get familiar with Box, they start using lockers more and more and changing the way they receive parcels.
The people who often shop online seem to like using Box. We can show them new ways of ordering and receiving, even new ways of returning. It takes away the scary side of buying from e-tailers, especially for people who worry about not receiving the correct order or not getting help if there is a problem, etc.
Our packaging material is reasonably priced, and the tape and package decorations are free. We have put a lot of focus on sourcing material that is reusable and sustainable.
One interesting group of customers that comes to Box is the very young, who are ordering using their parents' money for example. They have a very sustainable way of doing it, they leave the package material to be recycled, or they try on the items in the fitting rooms available and send the parcel back straight-away.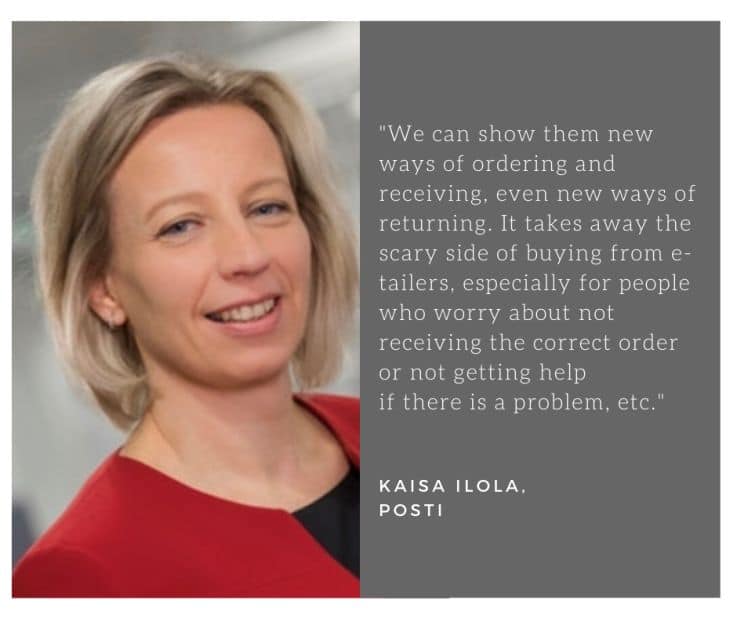 Are the skills of the people employed at Box different from the ones that work in the post-office?
The profile is totally different.
At Box we look for people who know how to build a bond with the consumer, and who want to provide the best service. We don't look for a specific background, but we try to find people who have experience in face to face customer service or have worked in hospitality/retail companies.
We put a lot of effort into training them and make sure they get daily feedback. Helsinki has a lot of tourists who visit as well, so we also try to train them on understanding different cultural behaviours.
How do tourists use Box?
The interesting thing about the tourists is that they usually send parcels. There are a couple of very popular places next to Box where they can buy souvenirs, and the Chinese and Japanese tourists, for example, like to send them to their relatives back home. Now they have a nice place in the centre of Helsinki where to do so.
We are having discussions and meetings with stores around the city so that they can promote us to their customers.
It's not the normal post office where you have a queue and you have to wait and be frustrated. This is a place where you can get help, sit down, have a coffee, and use nice wrapping material for your parcel.
Is it a particular focus of Box's concept to never have any queues?
We do try to never have any queues. The whole area at Box is built in a way that allows you to help yourself. There is an unboxing area, a wrapping area, etc., and the design is done to facilitate finding them.
Our staff are always available should you need help. They will come over and engage with you, help you if you want to pick-up a parcel but don't know how it functions, for example. Therefore, you can either do it yourself or get help, and that has allowed us to avoid queues as much as possible. Of course, we cannot always avoid them, but we do try to make it as nice as possible so if you do end up having to queue there will always be something to do while waiting.
Can you provide some insight on your KPIs and the level of customer satisfaction?
We measure it differently to how a traditional store would.
We measure the customer satisfaction, and then we measure the number of people in the Helsinki area who have chosen Box as the place where they always pick-up their parcel or go to send it.
We also measure our popularity amongst Finnish e-tailers, in regards to how many pop-ups are getting done there, their satisfaction with Box, how much traffic they are getting etc.
At this point the space is performing very well. People seem to like the overall concept. They do like the colour scheme which is different to a normal logistics business. You usually have bright colours like blue or red, whereas at Box we have beautiful soft colours.
The people that are coming into Box and scoring the customer satisfaction are giving us top marks. When something is new you do tend to get good scores in the first phase, which is why we need to keep working on Box, so it never stops evolving. We need to focus on building an even better service concept and keep moving constantly.
We cannot isolate people from the other things we do in other parts of our retail network. We are about to close the old post office in the centre of Helsinki and not everybody is happy about that. It's a tradition for them to go to the post office, so we are being met with some resistance to change it to Box. We need to get those people to visit Box so they can see that it is a good move.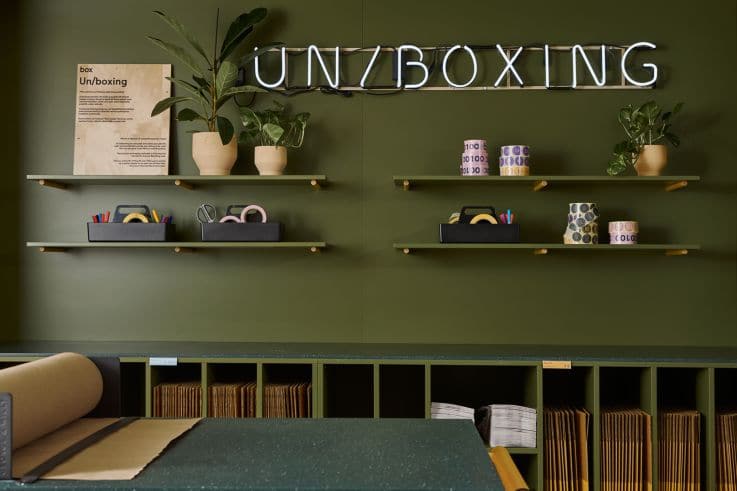 How does your approach differ in cities versus rural areas?
We have now started to build two models of what we have in Box, one for the city and one for the countryside. If you take the kiosk for example, we already have a prototype in production of a kiosk inside a glass container, which we can take to the countryside or any other area. We just need to be considerate of the location. For example, we need to get the landowner's permission and provide some electricity; or we can also rent out a small space in a shopping mall and set-it up there.
We actually already have one of those kiosks in front of our head office in Helsinki, and we have more coming soon.
We have parcel lockers all over Finland but that's only for parcels, so now we can add our mobile application at the kiosk for buying or sending.
Can you provide more insight into the parcel delivery industry in Finland?
There are more and more players on the market. Of course, it's different whether you live in Helsinki or in the countryside, but there are a lot of choices available. We are the biggest one and we deliver everywhere; but there are also cherry pickers who choose, for example, only busy streets, or home / food delivery etc. We have seen many small and different logistics companies entering the market recently and of course we have all the international players working here as well.
Everybody in Finland knows our brand, so we don't really need to work on that point. Our main focus is to successfully explain to consumers that we are not only a mail delivery company; we are also a parcel delivery company and we are very good at delivering parcels. Part of our strategy is to be able to communicate that and show that our business has changed. We are working with each consumer to try to better understand their needs and see how we can answer them and improve.
Is Posti planning on embracing automated deliveries such as drones for example?
We have to try everything, but we need to be very careful about what is actually possible in Finland, especially as the weather conditions are quite difficult. It would of course be helpful to automate as much as possible, but we need to really take the time to test everything. It won't be happening in the next few years, it's still too complex at this point.
Most of our customers live in a city anyway. It does limit us in what we can do but it does provide the volume. The parcel locker network is growing really fast but automating all processes won't be done anytime soon.
Why do you think we are not seeing more concepts like Box?
I think it's difficult to know what's happening with brick and mortar. I do believe that we will see some interesting and different openings, which will not all succeed unfortunately.
When we did the market study, we were surprised not to find anything similar in Europe or in North America. There are a lot of interesting concepts over there, but you can't really compare New York with Helsinki. You need to know the local markets, find the right concept, etc, and have a big company behind it as it's a big investment.
You need to have the budget, but the dilemma is that big companies usually have a very traditional structure with an old way of thinking. You need to have people in that company with the spirit of trying something new.
What are the future plans for Box?
We are not planning to open new Box's at the moment, but we are of course keeping our eyes open. We will spread out in Finland, but maybe not in the entire country, as it is more of a city concept.
Box needs to be constantly developing and demonstrate new concepts. We do have lots of ideas, but at the moment we are mainly working on getting Box better known by the public and offering the best service in Helsinki.
Whatever we do, we want to do it together with the e-tailers, whether it's developing more the pop-up concept, or adding digital marketing, or any other features that can help them grow.
Are there any companies you feel are doing interesting things in the ecommerce industry?
There is a Finnish clothing company called Makia which is doing very interesting things. They are not a new company, but they have recently shaken everything up and tried to reinvent their business. They are trying new things like tailoring and they have a big focus on sustainability and using history in an ethnic way.

Images courtesy of Posti