Brand Focus
Retail Innovation Factfile: Made.com
by Cate Trotter
September 2, 2015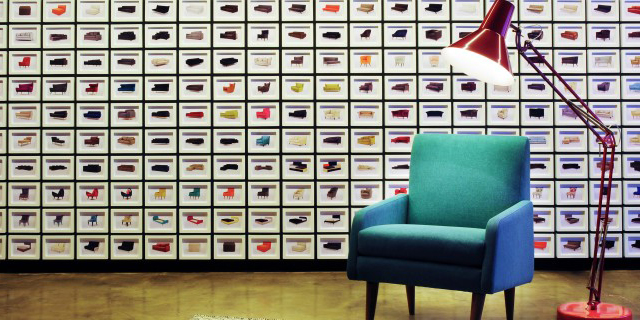 Retail innovation factfile: What is it?
Made.com is an online-only furniture retailer that launched in 2010. The company sells high-end furniture from independent designers for up to 70% less than its competitors. It cuts costs by shipping items direct from the manufacturer to customer and selling online. Items are only manufactured once enough orders build up, which eliminates the need for warehouse space. In 2014, the company turned over £42.8 million.
It opened its first showroom in 2012 – this large showroom space opened in January 2015. There's another showroom in Yorkshire.
The store makes use of NFC technology provided by CloudTags. Every item on display has an NFC chip, as do all 600 drawers that each contain postcards of items for customers to take away. The brand is currently working to sync up data called in across users' devices, giving them a much more comprehensive view of customer intent and behaviour.
Technically, the showroom is not transactional – if customers wish to buy after their visit, they can use computers at the back of the space to order and pay via the standard website.
In London, Harvey Nichols and Heal's are applying CloudTags technology in different ways. The Made.com example is the most inspirational and interactive use of its tech so far.
Retail innovation factfile: Why is it worth visiting?
Made.com currently offers on of the world's best connected shopping experiences. The showroom's technology adds value to both the customer and the retailer, is reliable and intuitive. It links the online and offline shopping experience in a meaningful way. Made.com say that part of the reason its tech is so successful is that it designed its space with technology in mind from the start.
By holding one of the showroom's digital tablets in front of a clearly marked NFC tag, customer can access extra information about the products they're interested in. They can save the items they like to a wishlist that they can email to themselves to continue mulling on an item or to show to their partner when they get home. By being so easy to use and offering practical benefits, the tablets are used by almost three quarters of customers.
Amazon-style personalised recommendations can be given to customers via the tablets as they browse. This is made possible in part by beacons dotted throughout the store, which tell Made.com which parts of the store the customer is spending the most time in. This is added to information about the items a person saved, and also scanned but didn't buy, to provide a series of powerful, personalised recommendations on an ongoing basis, both online and instore. The brand can also start to learn who its most frequent visitors and most valuable customers are. As the customer makes further visits online and offline, Made.com's understanding of who the customer is and how they shop gets richer and more beneficial to both parties.
The CloudTags tablets gives Made.com a huge amount of data on in-store interactions – it can now see the products customers are most interested in, the areas of the store that are the most popular and the showroom's best-performing members of staff (as they also wear an NFC tag that they scan when they help a customer).
The brand is one of the first in the world to be able to understand how online sales are driven by its offline showroom space. Currently, 41% of customers continue the experience at home after leaving the store, and 5-6% of its sales are generated by people who visited one of its showrooms.
According to Made.com staff, customers who only view items online tend to spend around £250 each. When customers come in store and use the tablets, their average spend is closer to £1000. As Ollie Bath, UK Managing Director of CloudTags, puts it, "The more engaged a customer is, the more they spend."
Despite all of this, Made.com sees its showrooms as primarily a space to engage customers and let them discover the products. It puts discovery far before the hard sell. This mirrors the approach now used by many websites, especially those selling big-ticket items. Knowing that major sales only come by building a relationship with customers over time, many websites prioritise capturing visitors' email address over direct selling. CloudTags' technology helps Made.com get more out of its investment in the space, capturing the email addresses of around 21% of people who walk in. It's the real-world equivalent of an email capture form online. The brand aims to create a healthy, ongoing relationship with customers, which is a lot more profitable than a quick sale.
Even if customers cannot see the exact item they're thinking about in the flesh, the showroom gives customers an overall sense of the quality of Made.com's products. It's important with all purchases – 2014 research from the International Council of Shopping Centers found that 73% of customers want to touch or try on items before buying. It's likely to be even higher amongst customers considering a £700-£1500 spend.
Despite this, Made.com still has a lot more stock than its showroom could ever fit. To communicate this, the space displays life-size projections of products that are only available online. The showroom is also rumoured to be trying out 3D projections of items.
Retail innovation factfile: key trends
Spaces, not stores
Personalised interactions
Omnichannel retail
Tech that works!
Online coming offline
Relationships before instant sales
Interested to know more? Join us on a trend tour. More details here.
Related Articles
Below are other articles from our blog that cover similar topics: