Interviews
Retail trends for 2016: The year of Hyper Personalisation and Human-Centric Retailing


"2016 will be the year where retailers' confidence will catch up with the 21st century"
Peter from Dandy Lab
Industry experts predict the biggest retail trends for 2016
Key retail trends for 2016
Hyper Personalisation
Human-Centric retailing
Mixed-reality systems
Mobile focus
Customer/User Experience
Artificial intelligence
Big data
Hyper Personalisation and Human-Centric retailing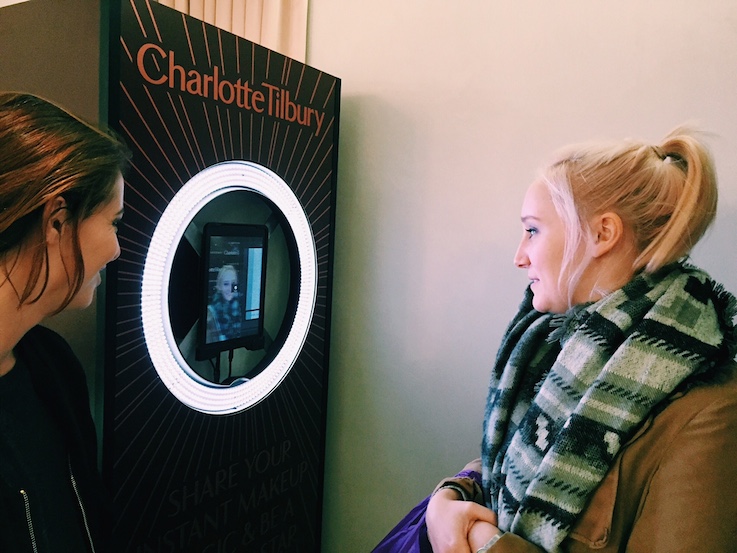 Experiential retailing at the Charlotte Tilbury flagship store. Photograph: Emma Palin
Expect experiential retailing that creates unique journeys for each customer, encouraging them to spend, return and spread the word. Peter from Dandy Lab says, "Every retailer is going to want to deliver individualised experiences to encourage sales. Better and more personalised customer service, which ultimately leads into retail theatre. Which also feeds into human-centric retailing. Retailers have always been very product centric, but this year the trend is also to create meaningful experiences and embodying the concept and the idea."
Human-centric retailing takes the trend one step further, allowing the consumer to become immersed in the product's purpose. As Duane Holland from DH Ready explains:
"Shelves stacked with products will become secondary, as immersive shopping will leverage new technologies that transport people into the heart of the product occasion. For example, outdoor ski brands could start to use VR to transport people to the Alps, streetwear brands turning their spaces into live music venues supporting emerging acts, and luxury brands creating incredibly exclusive and one-off moments."
Mixed-reality systems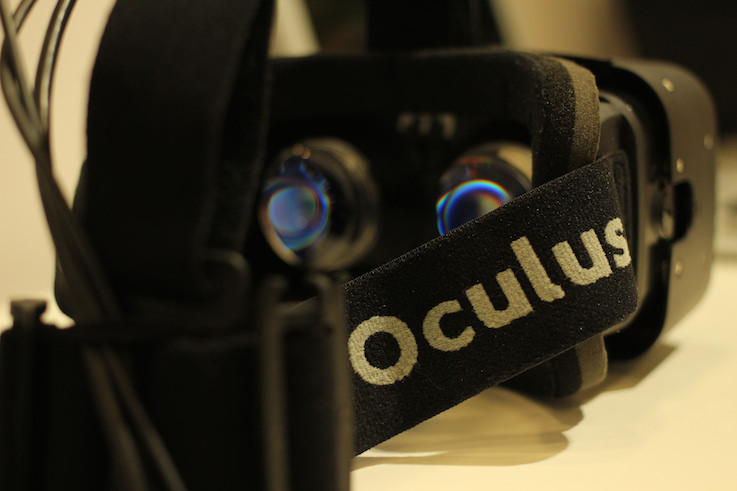 Image credit: Maurizio Pesce
Jim Whyte from Fitch says: "Virtual Reality has been promised for a long time, but we're reaching a tipping point with this technology. Chevrolet, Mercedes, Dior and Marriott Hotels are just some of the companies that have launched trials in the last 12 months as the technology finally becomes increasingly practical and affordable."
As Duane suggests, "Without being clichéd, 2016 is the year for mixed-reality systems. With PlayStation launching their consumer VR displays, Samsung Gear upweighting their activity and Oculus' accessible headset, it's pointing to 12 months of virtual entertainment. However, we'll also see this blended with real-world and real-time activations and where AR, neuroscience and haptics join forces to make it a much richer experience. If you can get over the fact not even Nick Wooster can pull off a VR headmount display with style, you'll have a blast in experimenting with these fully immersive experiences."
Mobile focus

Image credit: Jason Howie
Michael Langguth of Poq, Duane Holland from DH Ready and Oisin Lunny from Open Market all agree that social media and retail apps will be making major developments in 2016.
Michael Langguth believes that, "Retail apps really took off in 2015. Ecommerce sales are expected to top £60 billion thanks to sales made on smartphones. This trend is only going to get bigger. In 2016, we'll see an increase in retailers adopting apps with new innovative features that enrich the offline shopping experience and make shopping more convenient and exciting for customers … 2015 saw a wave of support for retail apps come to life. Google kicked this off by penalising websites that do not cater to mobile audiences, and took it further by announcing in-app indexing. The introduction of deep links and universal links means that retailers who offer apps have a significant advantage over those who don't. Additional to this, features such as the iOS spotlight search now displaying search results for installed apps above website search results, gives us a glimpse of the future. At Poq, we like to say that the mobile web is dying: in the future, customers will journey from app to app, rather than from mobile site to mobile site. Loyalty will become truly omnichannel in 2016."
Duane Holland emphasised the importance of "utilising back end technologies to really connect the physical store to the customer." In addition, he believes social media will play an important role with "brands really capitalising on social media to retail goods and for these social technologies to become even more sophisticated and loaded with retailing tools. Also utilising back end technologies to really connect the physical store to the customer." As Jim Whyte from Fitch adds, digital personalities like PewDiePie – with 40 million subscribers to his YouTube channel – offer a huge opportunity, but brands and retailers are only just beginning to wake up to the potential. That will change rapidly in 2016 as brands seek to develop closer partnerships with leading vloggers and streamers. When you tune into Twitch.TV on a Sunday afternoon and find an online audience of 350,000 watching two teenager gamers play League of Legends in a packed arena, it's clear these a very important brand platforms."
Customer/User Experience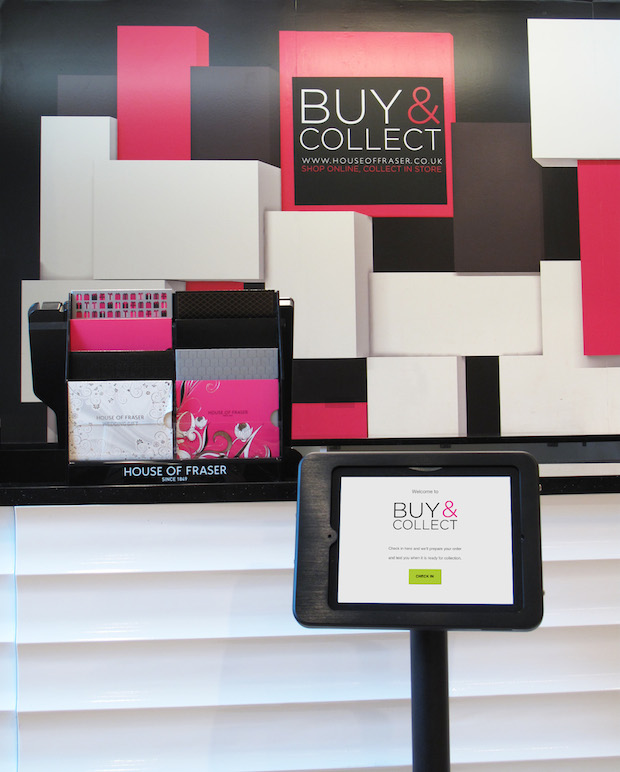 Image credit: Qudini
Oisin Lunny said "retailers and e-commerce providers who focus on Customer Experience (CX) are leading the way with innovation. Technology should never get in the way of a good CX, and ideally should be an almost invisible conduit to a superior CX across the entire customer lifecycle. I think Lens Crafters really "get" this and will continue to innovate, and we are delighted to support their work at OpenMarket. In the UK, John Lewis, Shop Direct, Thomas Cook and Naked Wines are also delivering great CX. Startups Dressboom and Finnay (a company I advise) are also interesting ones to watch in terms of new business models."
In agreement with Oisin's focus on CX, Ed Heal from Qudini expresses a passion to resolve consumer frustration. We talked about the popular development in click and collect – it poses as a helpful way to avoid the long queues and neglected customer service, yet customers can find themselves in exactly those situations.
Ed talks about how Qudini is planning to instigate customer journey management for a number of retailers in 2016. "Customer journey development is being able to identify customer needs through location technology or their position in store using the instore wifi. Being able to take the friction out of customer journeys, using new technology. It's about the customer engaging and bringing human interaction into a digital journey. Making it easy for the customer and losing the customer frustrations that had lead to staff abandonment. Giving the consumer a cohesive journey that they can start the journey right from when they leave home, to arriving in store, and home again where they leave feedback."
Tommy Howard from Holition also thinks this is also a key trend for 2016: "User experience or UX has definitely been the buzzword of 2015. But I believe it's an incredibly important one and what we have learned and created this year will carry through to the innovations we are developing for 2016. Understanding UX in retail environments is constantly shifting and developing. We work closely with our retail clients and when developing the installations we prefer to be 'Reactive' rather than 'Interactive'. When shopping in-store consumers do not have the time or confidence to explore complicated new user experiences. By creating an experience that reacts without any user input allows any barriers to technology to be removed and ultimately encourages those consumers to explore further if they wish.
Artificial intelligence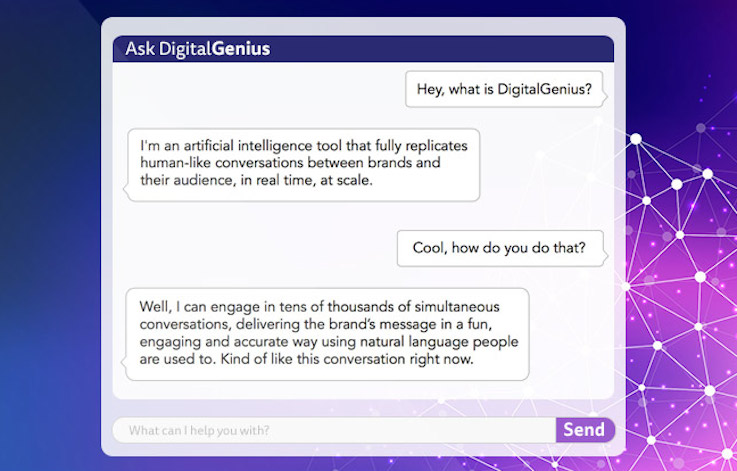 Image credit: Digital Genius
Tommy Howard also believes that "Artificial intelligence is also a hugely captivating area in which lots of R&D is being made at the moment. The idea that online or offline digital can make recommendations based on the weather, where you're going, your future diary plans, or your morning run is certainly powerful if used correctly.
Oisin Lunny connects the use of AI to mobile and "suspects that the team at 'Digital Genius' will be busy adding their AI solutions into retail mobile engagement projects. For example, the technology can free up a huge amount of call centre resources to focus on more 'high-touch' customer care, and strategic tasks. Many retailers will also be adopting a mobile engagement strategy, offering multiple brand touch points to consumers without assuming their position as a 'destination' app on their customer's handsets".
Big Data
Tommy Howard from Holition believes that, "Big data is another important theme for 2016. Almost everything we do can now be recorded. But what does this mean? How can we harness this data and understand its importance? Visualizing this data real-time in an understandable way is hugely powerful, providing brands with the ability to seek trends and predict problems."
Will 2016 in retail look as our experts suggest? What do you think? We'll be reporting on the latest retail trends and retail tech throughout the year, so watch this space for more. And find out how an Insider Trends presentation can help you get ahead of your competitors here.
Thank you to Duane Holland, Peter from Dandy Lab, Oisin Lunny from Open Market, Jim Whyte from Fitch, Michael Langguth, co-founder at Poq, and Tommy Howard from Holition for their valuable insights.