Interviews
Smell of success: how Perfumarie has brought our senses back to retail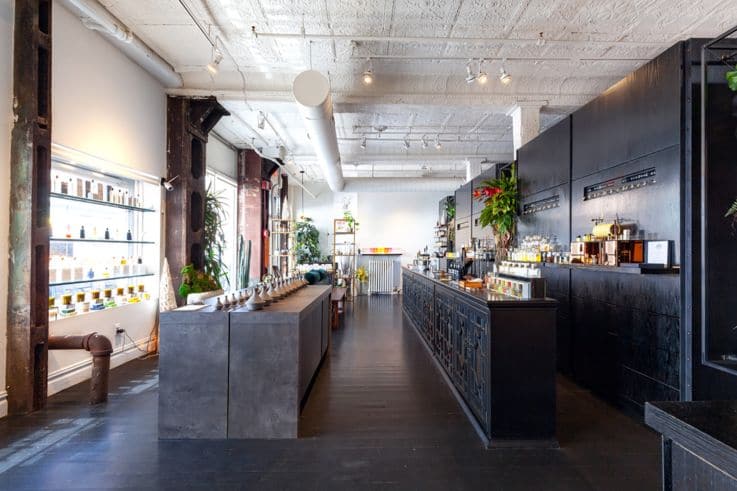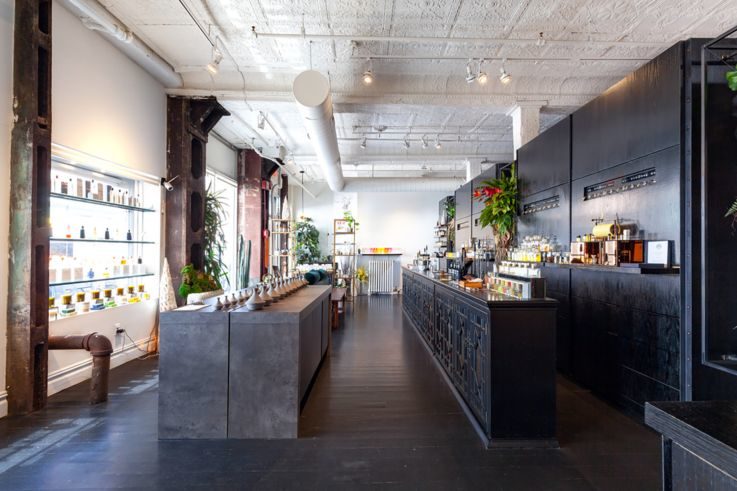 Perfumarie might just be the ultimate sensory retail experience. While its high-touch service reminds of luxury retail, the brand's New York spaces can be enjoyed by anyone. A visit means the opportunity to try out a rotating range of innovative fragrance brands and other sense-tickling experiences.
It's about much more than just perfume though. Perfumarie is home to a retail innovation lab, brand incubator and private club, as much as it is retail floor. The company wants to educate and excite people around the use of scent, whether that's in a traditional fragrance or a new tech-powered experience.
We spoke to founder Mindy Yang to get the lowdown on the concept, the challenges its trying to solve in the fragrance industry, and why education is the true driver of meaningful customer interactions:
Mindy Yang, Founder & CEO of Perfumarie
Can you explain what Perfumarie is in a nutshell?
We are a retail lab and incubator. We are that special intersection between commerce and consumer experience.
We are working with key retailers on innovation programmes, retail psychology and strategy, as well as facilitating business development for the brands that we manage. We work behind the scenes with clients on scent branding projects, product development and innovating multi-sensory experiences.
We do a lot of corporate training for the flavour and fragrance industries. In this very specific niche, there has not been any kind of gathering place and ongoing exploration and sharing space for people to get support before now.
We've recently expanded our flagship space in New York to include a private club. It's designed for sensory ventures, so it's used for events, co-working, showrooming and other additional programming.
It's multisensory – whatever is retail ready is in the front third and the other two thirds at the back is flexible space. The entire floor is designed to be reconfigured on a regular basis.
It's almost like a live media platform. The reconfiguration is always anchored around the experience – whatever the experience requires we will reconfigure as required.
Where did the idea for Perfumarie come from?
I spent the first decade of my career in brand experience design, but I have always loved fragrances. I noticed in the commercial brand agency work that scent was never a part of the communication design which was very surprising.
I then spent a full decade as a distributor and curator and then a creator of niche fragrances. After having the great pleasure of launching successfully around the world, I re-evaluated what I was doing and how the landscape was changing. I noticed that consumers were buying differently. They were starting to get into prestige and artistic fragrances; niche and indie were already on the rise.
There is a lack of education on the B2B side as well as on the consumer side though. I felt that what the world really needed was a place for people to gather and be educated. The Perfumarie is not really a shop. It's a platform built on connections, community and commerce. We're more of an exhibition and demo space for brands.
We had a lot of other business models in mind. We looked at Airbnb. We looked at Amazon. We looked at all the companies trying to do pop-ups. Pop-ups are great for experience but they're not deep engagements. The biggest challenge that brands face nowadays is how do you cultivate a loyal following that is authentic? How does a brand authentically build that connection when we are so overly saturated with everything?
We are trying to help brands foster these deeper connections by celebrating and empowering the makers through creating an ongoing engagement opportunity in a brick-and-mortar model.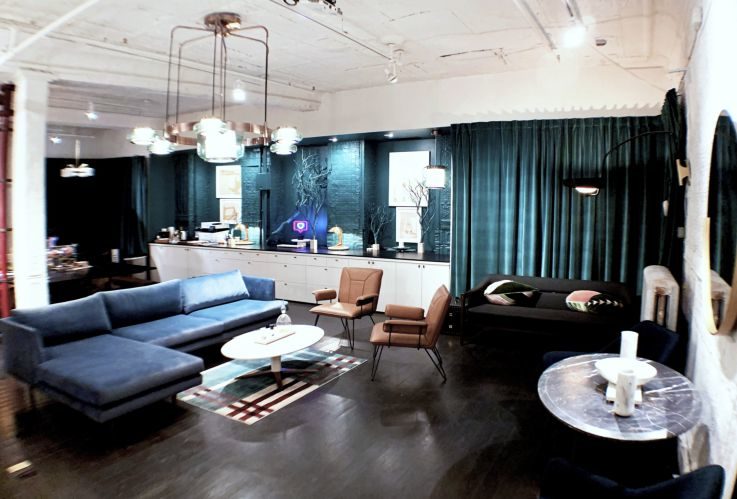 How do you choose the brands you work with?
We're very active in the market. I'm also a trend hunter so I'm always looking for sensory ventures doing cool things with fragrance as the activator. I believe that there are so many interesting projects out there and products beyond just a perfume.
We explore different applications around aroma and flavour. If a company is doing something interesting with their positioning, I invite them to apply. We test all kinds of stuff with scent from mnemonics to healing to entertainment to AR/VR tech to marketing. We produce different experiences to see what kind of consumers come.
We have different rotating collections that explore other media. We have interactive jewellery, artisan chocolates, indie hot sauces, super popular salts, tasting kits for cheeses and so on.
Can customers just walk in or do they have to book an appointment?
We're open seven days a week, so customers can just walk in, but we strongly encourage them to book in advance wherever possible. It's a super high-touch environment, so for us to really deliver the kind of experience that's required for our guests we really try to have one staff member to no more than four or five people.
Everyone that comes in is automatically a member and is set up with a digital profile that they use when shown around the space, although you can opt out if you're not interested in receiving any communication from us. If customers go through the fragrance flight, we email them their notes so they can revisit them anytime. We also keep track of what they don't like.
They get deep immersions with each product because we don't show them everything on the floor. We have thousands of products on the floor and it's always rotating, so it's very overwhelming. It's guided based on their preference. We're very hands-on. We're really about the human experience because I believe that sensory things are super personal. It's completely driven by culture and age more so than gender.
When customers register their profile, they are asked to enter their birth year, so that we can track whether a brand is popular with Gen Z versus millennials or baby boomers. It's also helpful for the brand to determine price points and launch marketing and branding.
For the brands, we are helping them understand what's working and what's not. Often these brands are coming to us prior to going prime time or they've just created the products and they want general feedback – not just about what's in the bottle, but also packaging, price point, positioning.
Often products are priced incorrectly, and they don't have the ability to scale because the margin is already too low. In the indie market a lot of these makers have never been taught how to think about cost of goods and things like that. We give them that education along the way.
Consumers understand that when they come in they're directly responsible for helping a brand succeed. If they love something, we want to encourage them to support the brand even if it's just with feedback. Most brands are only with us for about three months. If the consumer likes a product, we refer them back to the official website of the brand, as well as our own website, so we completely pass that consumer on to the brand.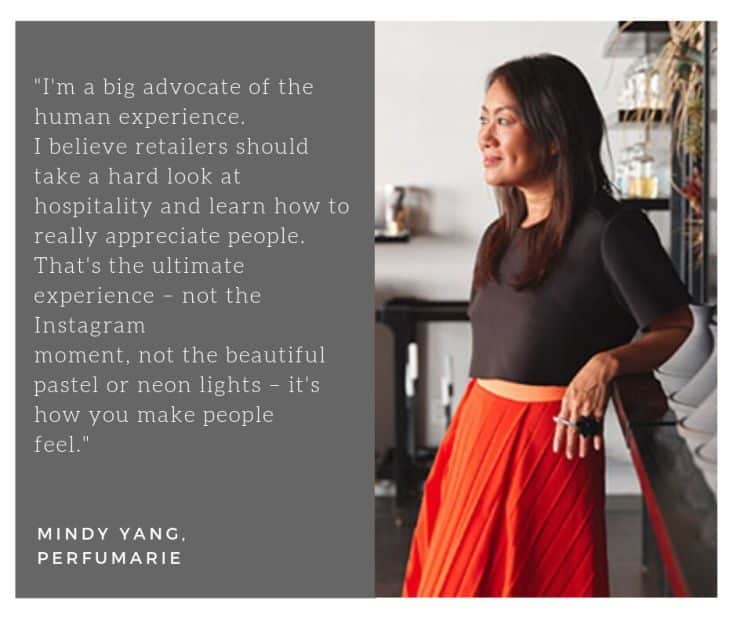 Can customers buy things to take away?
They can purchase anything right off the floor. For certain brands that are no longer in an active campaign with us we would send them back to the official website or send the brand the order concierge style and then they will take care of it for the customer.
Scents are available by the millilitre and the fragrance is priced against what would be MSRP in full packaging. So, if a fragrance is usually $100 and they want to go home with five millilitres of it they can buy that for $5. This helps us educate our guests and helps them become collectors without spending a ton of money. We've also launched a fill/refill bar to encourage people to be able to bring back bottles and we will fill them for them.
What's the customer response been like?
We have about 17,000 people in our member base. In the New York metro area, we have a 40% customer return rate. The average visit time is 48 minutes per person and our online retention time is 9+ minutes. I think it's really important to remember that with everything becoming digital nowadays, authentic human connections and the human experience are becoming kind of rare.
What's really astounding to me is that 43% of our customers are men. Men really do not like the traditional fragrance and shopping experience. They are actually amazing collectors and they spend more on purchases happily if you just help them find the right thing. When they know what they're buying, they're incredibly loyal and they're incredibly curious. They love exploring within a brand or collection. I think they come back because they find our space very similar to a normal tasting room experience for wine or beer.
Why do you think scent is often overlooked by brands?
Scent is such a powerful and primal trigger. It's a wonderful vehicle to foster connection.
When we do blind smelling, we always intentionally put something really controversial within a flight because it evokes a reaction. We put perfume raw materials in there, and we put a lot of throwbacks in because sharing happens almost naturally. If you smell something that is familiar, you're almost stuck. You can't really think about anything else because you can't help but try to remember what it is.
We really love the experience. I tell my associates on the floor that their only job is to make sure that they're helping our guests have the best, most fruitful time. It's not about selling. It's about really communicating and connecting with each customer. I think what makes us different is that they're matchmakers more than brand ambassadors.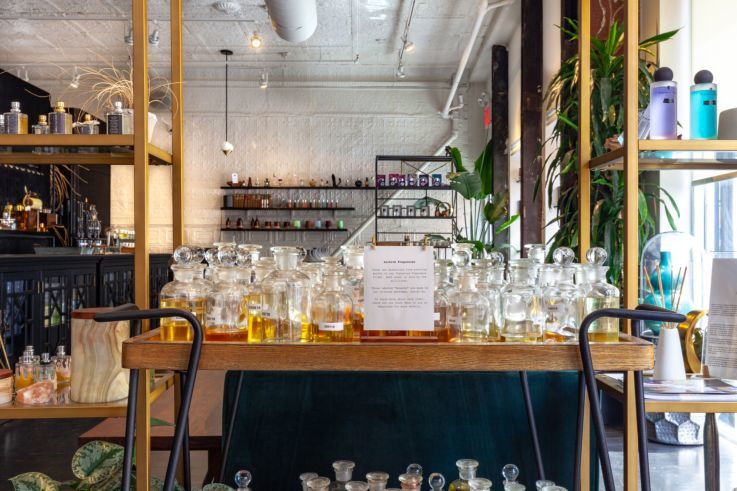 What challenges are you trying to solve for people?
We work with a lot of smaller companies and we are seeing a huge challenge within the fragrance business because it's the Wild West of beauty. There's very little regulatory guidance for people that are creating fragrances. Where you source ingredients from absolutely matters and in fragrance you're dealing with aroma molecules and oils where even natural products can be very toxic above a certain dose.
You have self-taught perfumers that are watching YouTube videos and ordering ingredients online from all around the world. You cannot technically do that without understanding if what you ordered should be combined because it literally can be toxic. We're very focused on trying to create a support network for people that want to do it, because I celebrate entrepreneurship.
We've spent two years bringing together alliances like The Fragrance Foundation and The American Society of Perfumers. We want the makers to join our private club so they have proper support as they grow, because at some point a lot of these companies are going to have to reformulate to get the proper paperwork, so that retailers can afford to order from them.
The fragrance business is designed to be very secretive traditionally. Fragrance houses are competitors and they have proprietary materials because ultimately they're manufacturers. We've created this space to cultivate challenger brands and point them in the right direction. We host private panel events and roundtable discussions, but we're also putting together programmes for aspiring perfumers with the chair of The American Society of Perfumers.
It's almost impossible to sell most sensory things purely online because you have to really experience it, the fragrance needs to be on skin, food needs to be tasted before someone becomes a loyal customer. Lowering the barrier of entry and making things more accessible is a win-win as the consumer gets to be a part of this journey and also the first to buy it.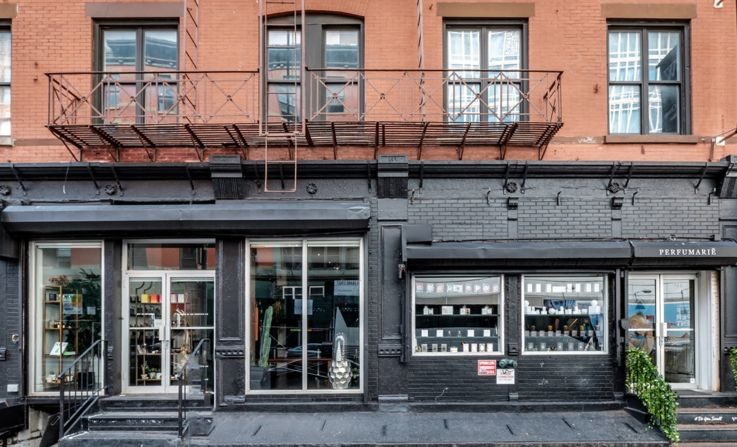 Is there's anything that you've learned in particular from Perfumarie?
I think the industry generally is undervaluing men as potential consumers and also Gen Z and even younger generations. We're doing Smelling University with a partner who is this amazing perfumer who teaches children how to smell.
I think the younger generation are so amazing. They are super savvy consumers and they really care about the maker stories and they want to learn how to collect. Education is the most important thing to me. I feel like that's the most overlooked component in retail. A lot of people are doing fun Instagram moments, but I think that's very shallow. Also, influencers – we work with them, we love them, we think it's so important to have ambassadors – but it should not be a big part of your marketing mix. It should not be the strategy.
A lot of brands really want exclusive partners and I believe fragrance brands should stop trying to be so exclusive. They need to be in more key markets. They need to be in brick-and-mortar spaces. They need to be experienced and they need to find as many opportunities as possible for people to really understand what they do.
We get submissions from all around the world and only up to 2% are accepted into our incubator and/or on the floor. Everyone thinks that their products are so special, but everyone needs to spend more time understanding what makes them different. Everyone is talking about the best raw material. Everyone is handmade and small batch. Everything has CBD in it.
I think people are so quick with launching a brand and creating products that they're not thoughtful enough about why they are special. It makes it very difficult for someone like me who's curating to support what they do every day. A lot of them are just shallow glossy marketing and we have to go deeper than that.
I'm a big advocate of the human experience. I believe retailers should take a hard look at hospitality and learn how to really appreciate people. That's the ultimate experience – not the Instagram moment, not the beautiful pastel or neon lights – it's how you make people feel.
What's next for the Perfumarie?
We have a formal partnership with The Salon Project which is the salon and spa of Saks Fifth Avenue. We are the official sensory curator and helping them develop new products. We've also opened a perfume bar on the seventh floor, which we will use as a supplemental spotlight and retail lab. This fall there is going to be a second location within the same building at the penthouse.
Over the next two years, we'll be rolling out other locations with The Salon Project starting with Long Island and Florida. We have six brands that we look after full time in North America, so they will always have some kind of placement based on what I think would be best for each location and then supplementary there are opportunities for other brands to participate. Those will be rotated out every month.
If you think about it as a salon guest, theoretically you are going to visit the same place once a month. We are creating a sensory concierge service menu and aromatherapy service menu to really help enhance that experience to the next level.
Images courtesy of Perfumarie
Perfume from a vending machine? Find out how this well-known retail model has become part of multiple strategies from luxury goods to everyday essentials. Want insider insights on the latest retail trends? Get in touch to book one of our New York retail safaris and find out how to boost your business.