Retail openings
The Best New Retail in Tokyo – July 2023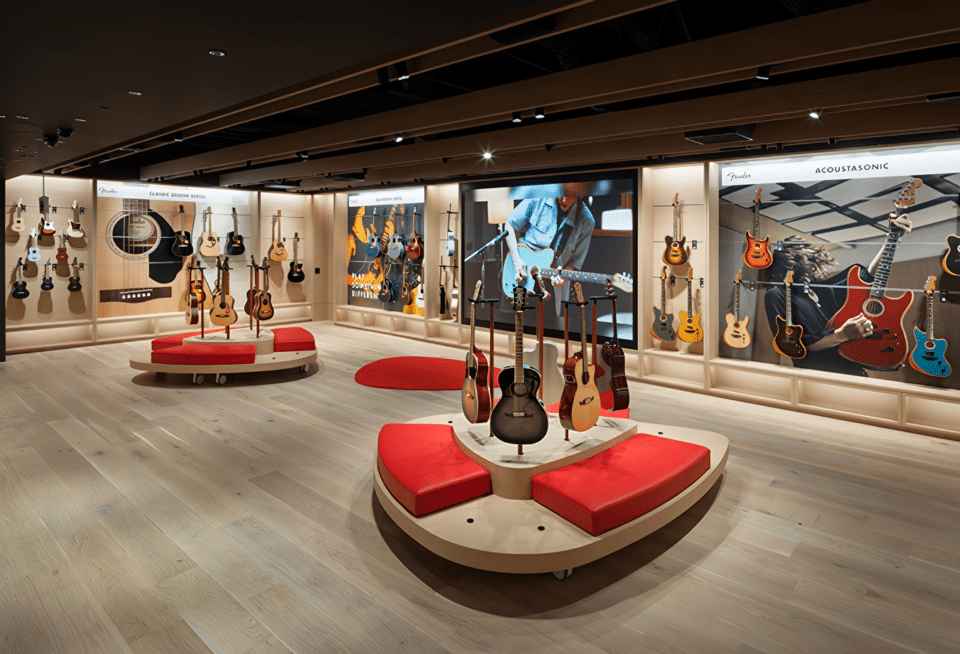 Tokyo is one of the most exciting places for retail, with innovative new designs and trends. This month's collection of stores demonstrates this creativity with striking architecture and chic interiors.
We have found stores inspired by volcanic lava, classical Italian design and contemporary Japanese living spaces. Stores are continuing to make their spaces multifunctional, with cafes, bars and event spaces in many of those featured.
Collaborations with other brands and limited edition collections only available in-store are also an ongoing trend, offering exclusivity and fresh designs to customers.
Read on to find out the best new retail happening right now in Tokyo.
Fender, Harajuku
Iconic musical instrument brand Fender, known for its signature guitars, has opened its first ever flagship store spanning four floors in Tokyo.
Designed to be a new landmark and community destination for musicians, the interior incorporates elements of Fender instruments, such as the curves of the guitars, into the design.
Customers visiting the first floor will find a range of new guitars and bass guitars, accessories and merchandise from homeware to hats. The Japan flagship will also see the launch of a new and exclusive clothing collection F is for Fender, an urban unisex brand.
For musicians that want to try out an instrument, the second floor contains a soundproofed room, and for those looking for something more bespoke, the third floor houses the Fender Custom Shop. Fender instrument builders are onsite to help people design their very own custom guitar.
Finally, customers can relax on the basement floor with the Fender Café from Verve Coffee Roasters. The store is also planning to host a number of events in the basement space.
H&M, Ginza
Retail fashion brand H&M has returned to Ginza with a new store designed to make shopping more enjoyable.
The store is the first in Japan to have a coffee shop, with takeaway options available. The coffee is from brand Ogawa Coffee and is both organic and fair trade, and there are also vegan cookies available from Ovgo Baker.
The store is also debuting H&M Home in Japan, with a curated selection of interiors and homeware available on the first floor. Clothing can be found on the second and third floors, and H&M is partnering with a number of brands to offer a broader range of clothing to customers. The launch was opened with a dance performance from staff, and a new collection of clothing made in collaboration with legendary designer Mugler.
The Conran Shop, Daikanyama
The Conran Shop, known for its chic, contemporary furniture, has launched a new concept store in Tokyo.
The ethos is to showcase localised homeware and design, with The Conran Shop curating a selection of items from 60 Asian designers known for their innovation and quality. The store also includes beauty and clothing products from brands Nonfiction and 5W.
Each area of the store is designed to look like a serene, airy living space, with music curated from Art into Life records. The space includes a new gallery and the Chokeikyo tea bar, where customers can view the exhibition from Kan Ito, a ceramic designer, and drink cocktails inspired by tea.
Helinox, Harajuku
Helinox Creative Center Tokyo is the new flagship store from outdoor furniture company Helinox. It celebrates the brand's tenth year in Japan.
The two storey site has an industrial look on the first floor to match the brand's Outdoor Line and Tactical Line packable furniture ranges. The second floor contrasts this with a warmer feel for Helinox's fashion, accessories and lifestyle products. Artwork and displays are also dotted throughout the space.
A collaboration with streetwear designer Hiroshi Fujiwara formed part of the launch, with the release of a collection influenced by the Tactical Launch range, including engraved poles and other features.
Fope, Ginza
Fope, a fine jewellery company, has opened its first flagship in Tokyo, with a design inspired by classical Italian buildings.
The exterior of the building is covered with terrazzo with lighting between the sections, making it sparkle at night. Entering the store, customers are met with a welcome area and series of display cabinets, with arches separating the sales floor for trying on items, and a VIP room.
Upstairs, shoppers can find a café and another VIP room. Fope plans to hold events across both floors and also stock limited edition ranges.
Isabel Marant, Omotesando
A bright yellow building appeared in Tokyo for the launch of Isabel Marant's latest store.
Called Yellow House, the design of the space is a collaboration with artist Yukata Sone, taking inspiration from his work on cooling volcanic lava. The interior combines a floor designed by Isabel Marant with more of Sone's sculptures and luminous yellow shelving.
The store opened with a special event and will stock the brand's clothing and accessories collection, including the recently released Oskan Moon bag.