Berlin
Berlin's Top Retail Trends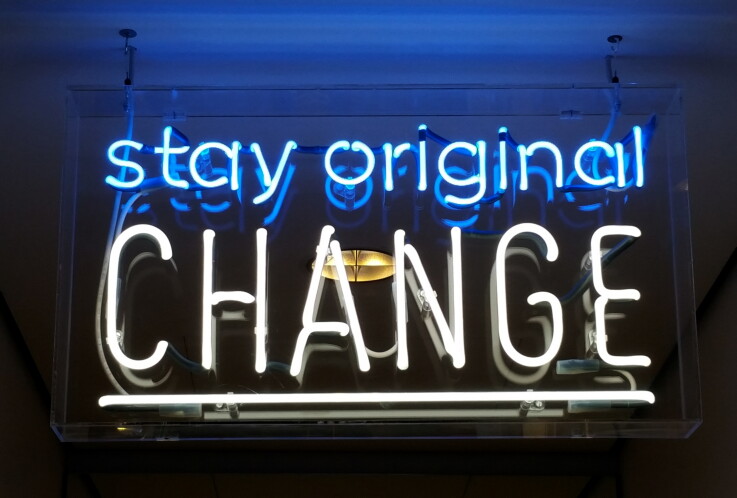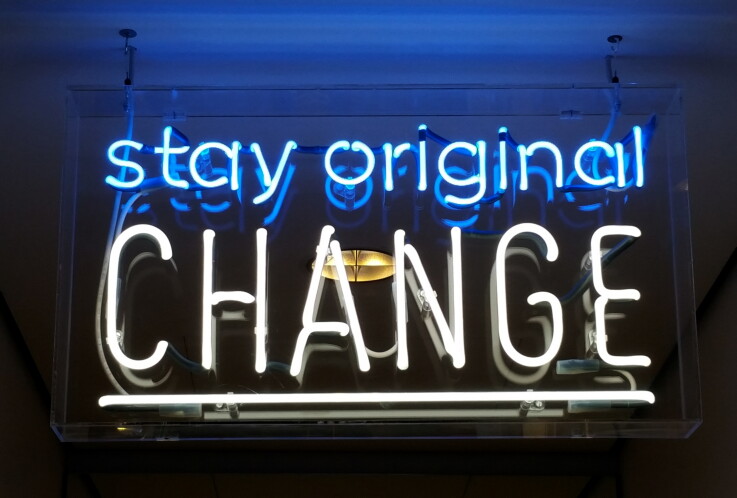 As far as capital cities go it's safe to say that Berlin feels very different to London. Although there is a gap between the two cities in terms of GDP, both are home to large populations and world-leading businesses. London thrives on its financial, media and tech businesses, while Berlin is known for its thriving service economy, science, media and creative sectors, and entrepreneurial scene.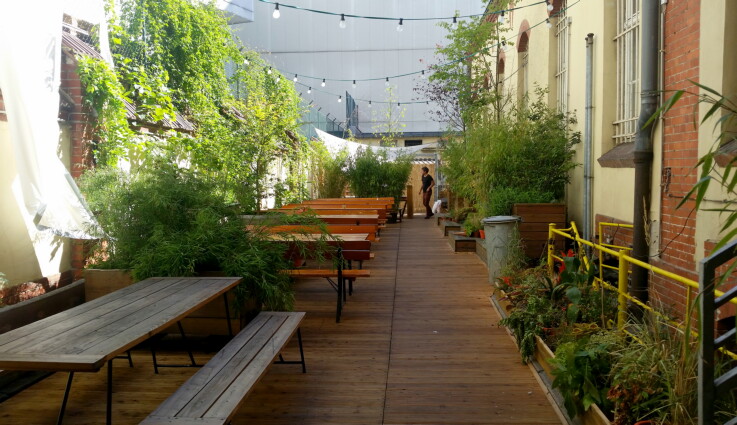 When it comes to retail Berlin feels like more of an open playing field, a place where all types and sizes of businesses can thrive. This largely due to the fact that rent in Berlin has traditionally been cheap, which enables individuals to do things through their own means, as well as large corporations. As a result, there's a real opportunity for retailers to be creative and experimental, whereas in London stores have to work financially because of the sometimes prohibitively high rents.
So what are the top retail trends flourishing in Berlin? Where are the city's retailers finding success?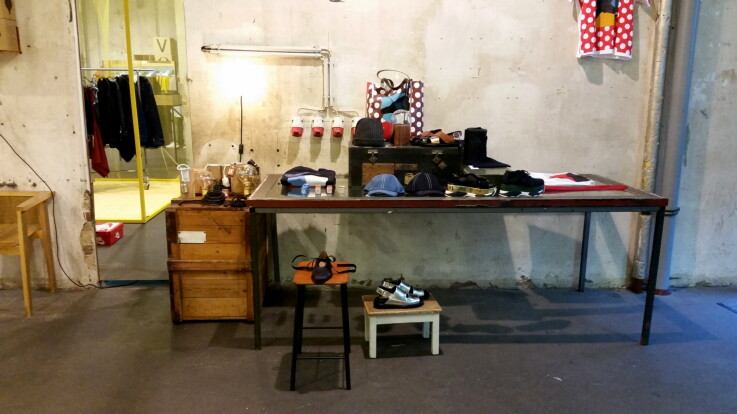 New retail concepts
The most innovative retailers in Berlin are forging new concepts and ways of shopping. In some cases these work incredibly well by flipping the traditional way of retailing on its head or by disrupting the typical way of doing things.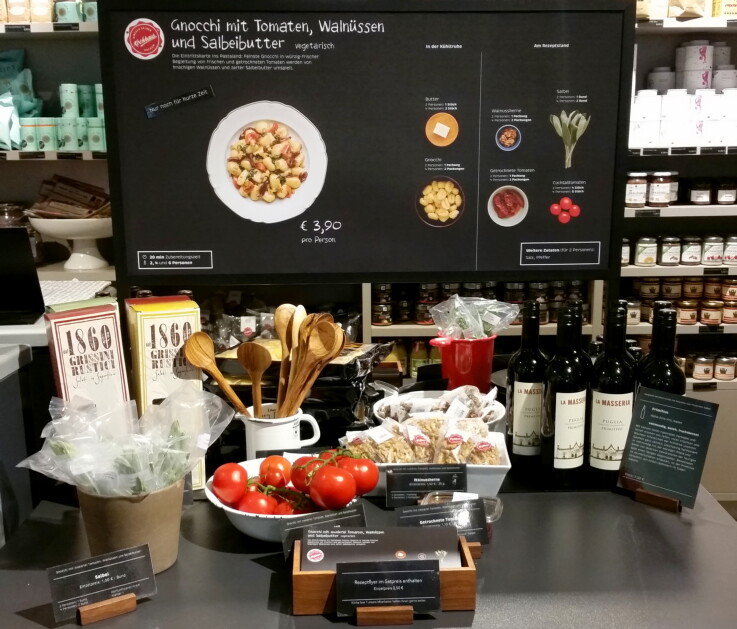 For example we visited a grocery store that felt more like a walk-in shoppable recipe book. Throughout the store there are different points that have a large featured recipe hanging from the ceiling and in front of it all of the ingredients needed to make the dish. The idea is that customers are inspired to cook the meal, but don't have to visit different parts of the store to pick up all of the necessary ingredients. This is flipping the idea of grocery retailing on its head with a model that is closer to the growing area of subscription services that deliver everything you need to cook a meal to your door.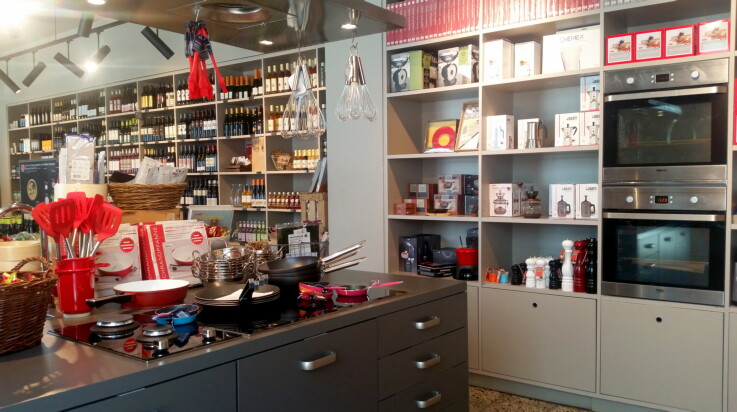 The whole store is dedicated to celebrating food with numerous tasting opportunities spread throughout the space and a café, which gives customers all sorts of reasons to keep visiting. There is also a cookery area selling cookery books and kitchenware, which is actually a multipurpose space used for cookery classes. In the evening the items for sale are taken off the countertops where they are displayed and the space is a fully functioning kitchen. This is a great way to build a relationship with the customer and positions the store as an expert in its field.




Another retailer has disrupted the standard process of buying glasses. Rather than having to make an appointment in advance and then wait to collect the finished product some time later, this store enables customers to be completely spontaneous if they like. The store assistants are fully trained optometrists so the customer can walk in without an appointment, ask for an eye test and be seen immediately. They can then pick some frames and the lenses are put through an in-store machine that tailors them to the specific prescription, so the customer can walk away with new glasses the same day. Taking as little as 30 minutes to complete the process this retailer is changing what it means to buy glasses.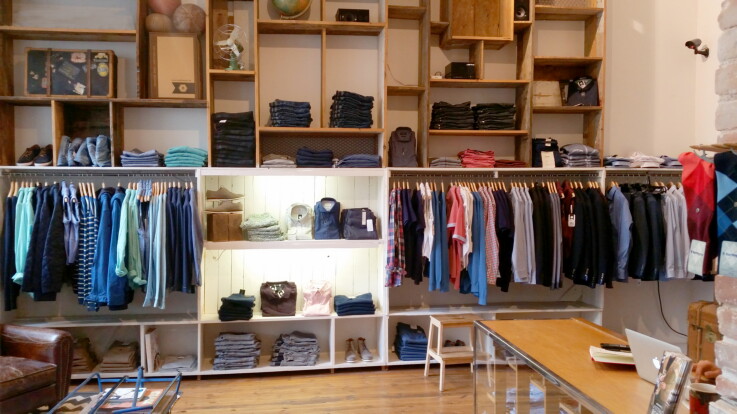 We also visited a store that is combining an online clothing subscription business with a physical element. Customers can go into the store to browse the type of products available, talk to staff and have them get to know their likes and dislikes, and then the retailer will send them clothing through the post to try and buy. Although subscription services are now a major trend, combining it with a physical space creates a new entry funnel for the retailer, particularly for those customers who want to see and feel the type of item they will be getting before signing up. It's a great example of a space using physical retail to enhance its online business and tapping into the customer experience.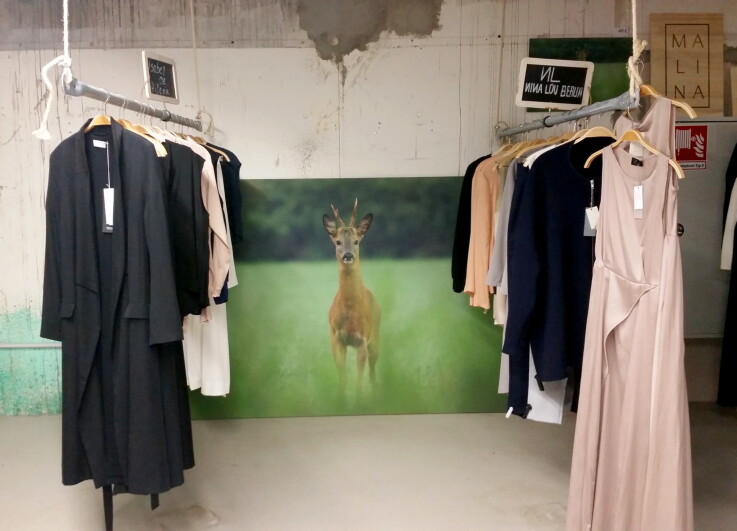 Multipurpose spaces
Another trend that many of these retailers are also engaging in is the use of the store as a multipurpose space. Throughout Berlin there are stores that are manufacturing, selling and office space all in one. Aside from fostering stronger relationships with customers, it also helps retailers to adopt a hyper-local position in their community. It also means the lines of communication between the different parts of the business are shorter and the retailer is able to react and pivot more quickly.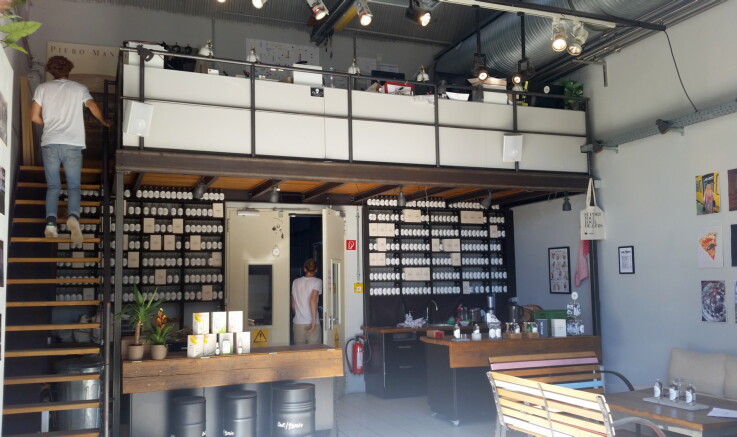 One such space is an initiative from big spirits conglomerate operating across 12 cities that has the appearance of a small local business. The space is designed to be more than a store with office space above, a distillery at the back, and sales/café area at the front for engaging with customers. It's a much more experiential way of buying spirits as customers feel close to and can engage with the whole process.In keeping with the local feel the brand also teams up with other local companies to offer new flavours.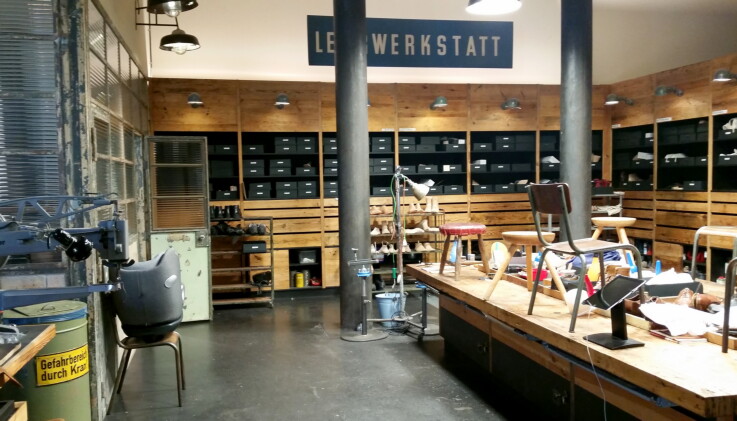 It's a trend that also works for small businesses as we visited an independent shoemaker that had its workshop and sales space all in the same store. It suggests a more traditional and authentic way of doing things, with a focus on expertise and tailoring, rather than cheap and convenient retail. Customers can also get a more personal service by directly talking to the creator of their shoes and feel engaged in the entire manufacturing process.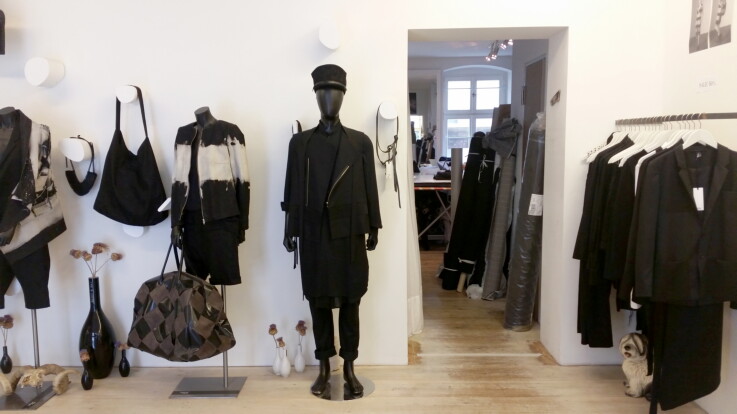 We also saw a designer who has her studio at the back of her shop. This allows her to operate the space according to her vision and also to talk to customers about the designs, and what resonates with them and what doesn't. It also reduces expense from operating two different sites, as the two sides of the business can support one another.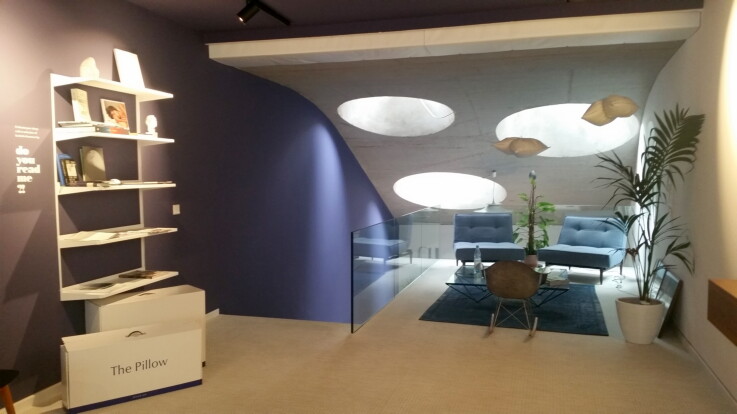 Retailers having their office space as part of the store is a consistent trend throughout Berlin. One retailer has created a space themed entirely around the perfect sleep environment with mattresses, pillows, books and pyjamas all available to buy. Having its office as part of the store means it can keep a close eye on what is working and what customers are looking for or the problems they face, and react accordingly. It also makes it easier to experiment with new products and see what the response is.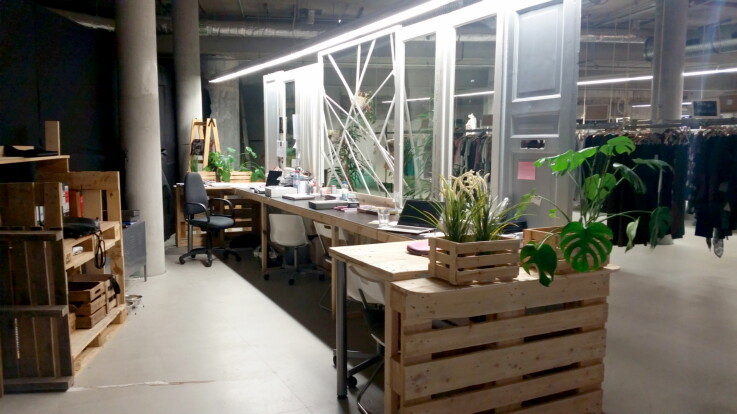 This trend is also being embraced by different types of businesses. We visited a store with a full blown creative agency operating from the back of it. For the agency, which works with designers and artists, having a store that gives its clients a platform to sell products is an obvious business benefit. It also helps the agency differentiate itself and to attract new clients by offering them a purpose-built way to grow their business. The agency can also use the space to host events as part of its day-to-day business, which reduces costs and makes it a destination for customers.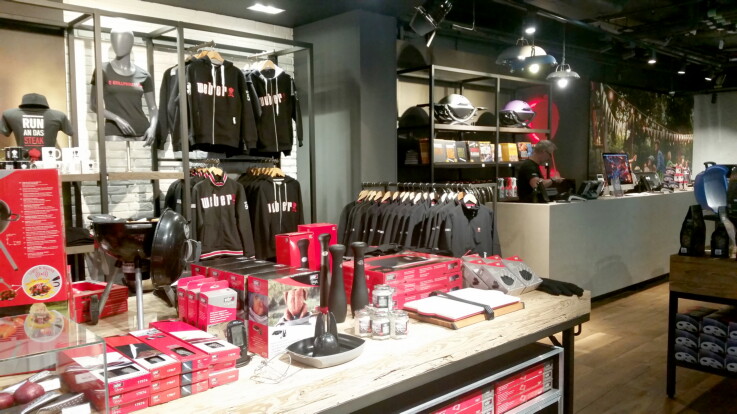 Another retailer is using a multipurpose space to turn its high-end BBQ products into a lifestyle brand. Customers can browse and purchase BBQ grills from displays that include experiential elements like flame projections, but they can also buy branded accessories from spices to clothing.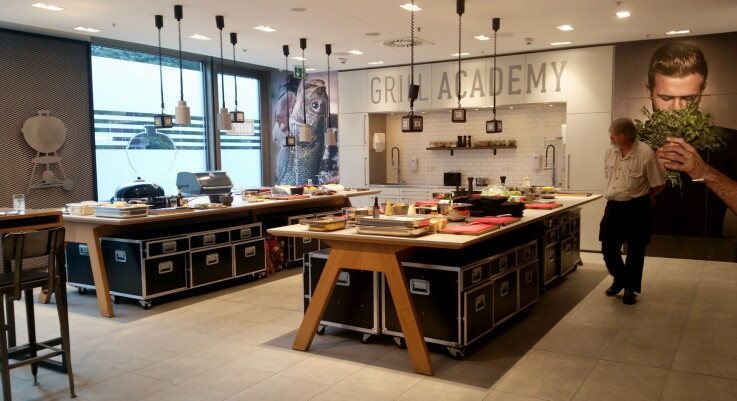 At the back of the store is a cookery course space, which is linked to the sales area by a bar. Visitors can have a drink at the bar before or after taking part in a cookery experience that enables them to see what the retailer's products are like in action. The whole space is about elevating and celebrating the brand by engaging with customers rather than selling.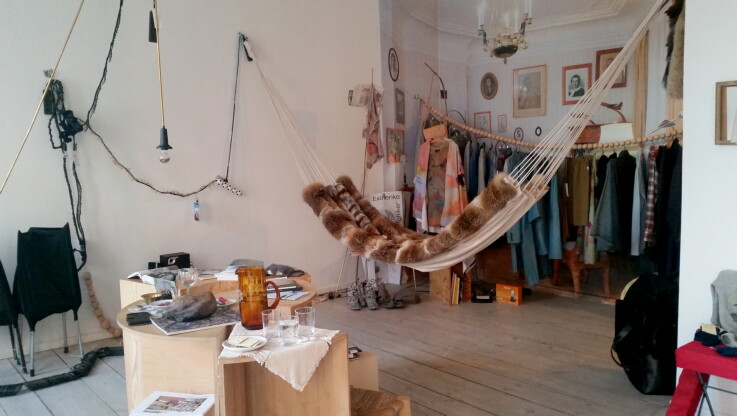 Spaces don't come much more multipurpose than a store that the sales assistant lives in. We visited a beautiful apartment/store which is stocked with the retailer's products, but lived in by staff. During 'opening' hours visitors can walk around the entire space and look at the products in-situ. Everything on display is for sale and the fact that someone lives in the space makes it easier for customers to imagine the wares in their own home. Being a shoppable home the space still has an air of exclusivity, even though with many shoppers now having smartphones everyone knows about and can easily find it.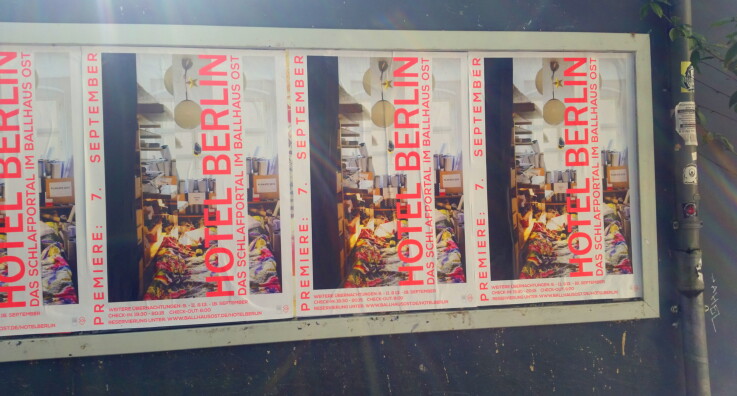 It's not just traditional retailers that are finding multiple uses for their space. In Berlin we saw a production and performance space for theatre and arts that turns into a pop-up hotel at night. Visitors can book to stay on the stage itself, in the administration office or in the circle, on beds that are brought in for the night and back out during the day. It's a communal hotel, much like a hostel, but it gives visitors and arts lovers a way to feel truly connected to the space and a unique experience.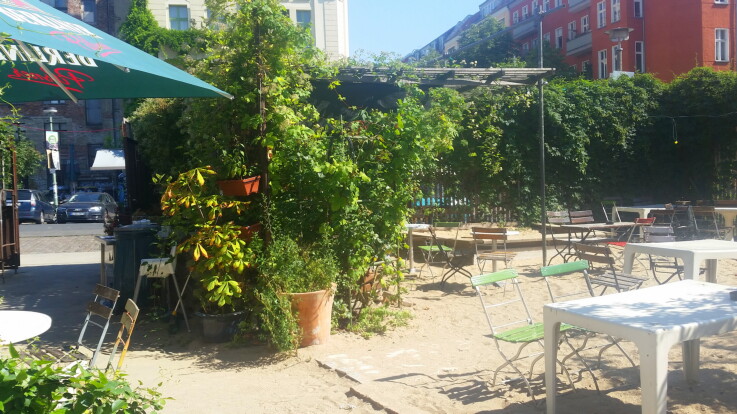 Brand communities and Hangout spaces
The difference in rents also means that a lot of stores in Berlin have gardens, or entrepreneurs are making use of outside space to create wholly contained businesses. There's a cultural element to this trend, which sees the role of the store changing to being a place that invites people in.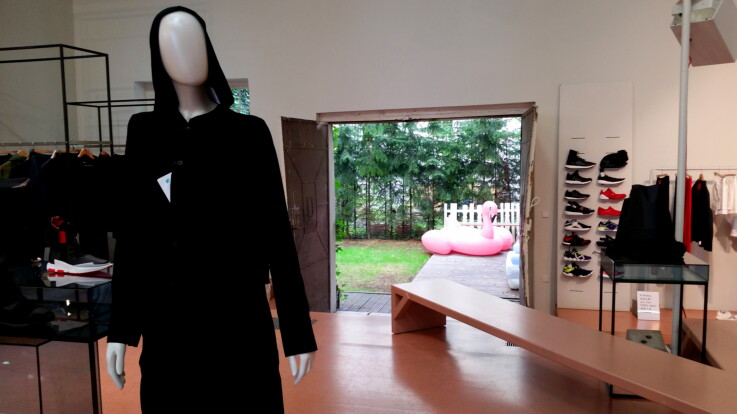 Some retailers have used this green space to create a hangout area for their customers, which encourages them to spend more time and potentially money. It can also help create the feeling of a community, which brings customers closer to a brand.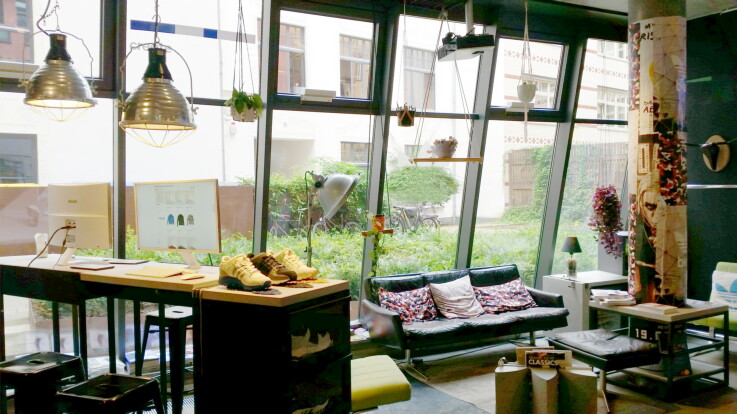 One retailer we visited is also offering other types of hangout spaces including a dedicated lounge. It features a customisation station, where customers can change the colour of a pair of shoes or jacket, but it's also an area where shoppers can just sit down with a magazine and a free drink if they want to. The aim is to feel welcoming, rather than just a place to sell to people.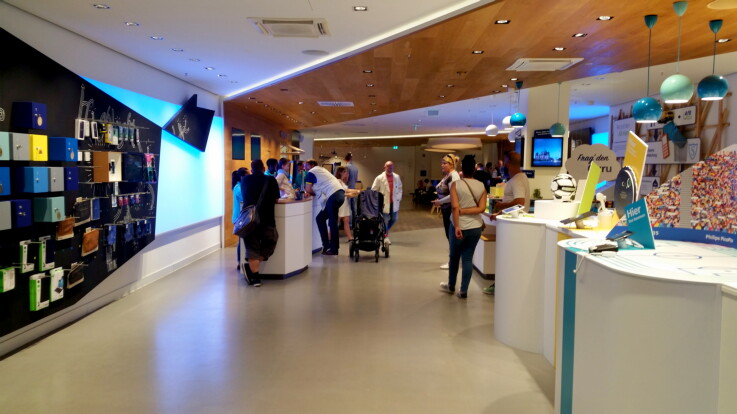 A major telecoms service provider has also reimagined its space to make service, advice and exploration the focus, rather than sales. There's a free kitchen in the back offering drinks, an events space, and support staff on-hand for troubleshooting and fixes. Customers can also charge their phones in special lockers, explore different virtual reality products, and even race smartphone controlled robots. The aim is to help people think about the new world of the smartphone and what it can be used for. It also gives fans of the brand space to meet, talk and engage with the company.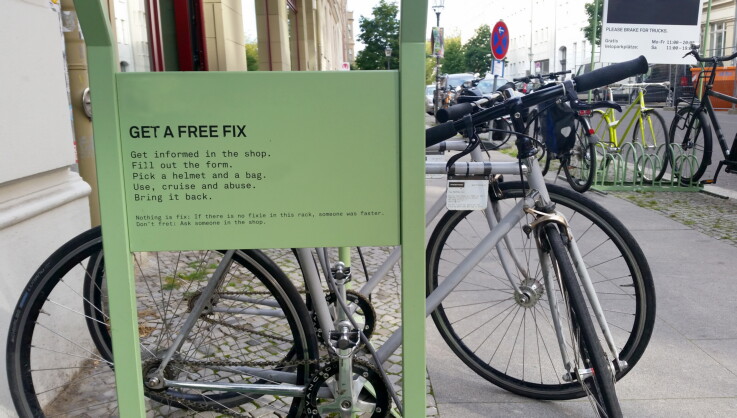 The move away from just selling is also the approach of a cycle courier bag maker that uses recycled materials to make unique products. The store lets anyone borrow a bike and a bag for a cycle round the city. With no pressure to buy, it's a great way for people to see the city, but at the same time lets them feel as though they are taking part in the brand. Using the products in a real-life setting is also a great test run and lets customer see what it would be like to own a bag themselves.




Inside the store there's a strong focus on storytelling, with drawers telling customers how the bags are made, alongside shelves of products. Sustainability makes up a big part of this, with one drawer even making the point about products being compostable by letting customers dig about in some compost.Every element contributes to and helps to build this story and lets customers really engage with the brand and its ethos.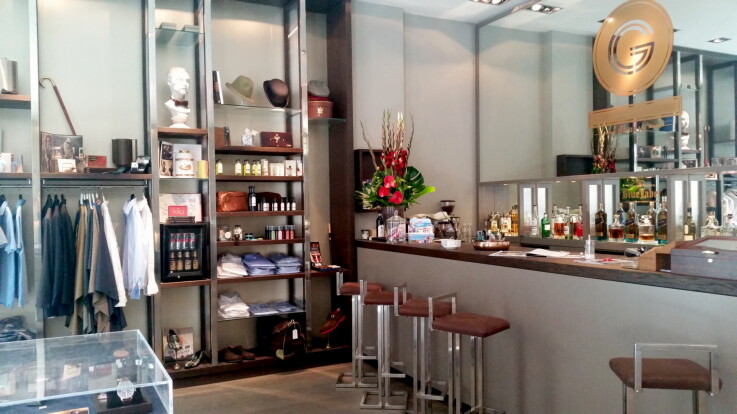 It's very easy for stores to shoehorn in experiences or spaces designed to make customers stay for longer that don't necessarily work very well. We visited one store that combines selling interesting things for the modern traditional man, such as umbrellas and bowler hats, with a barber shop and cocktail bar. Each element is done properly though. It's not mainly a shop with a bit of a bar, the space is almost equally split between the three different offerings, but feels cohesive. It's not difficult to imagine customers spending an afternoon browsing the shelves, having a drink or visiting the barbers.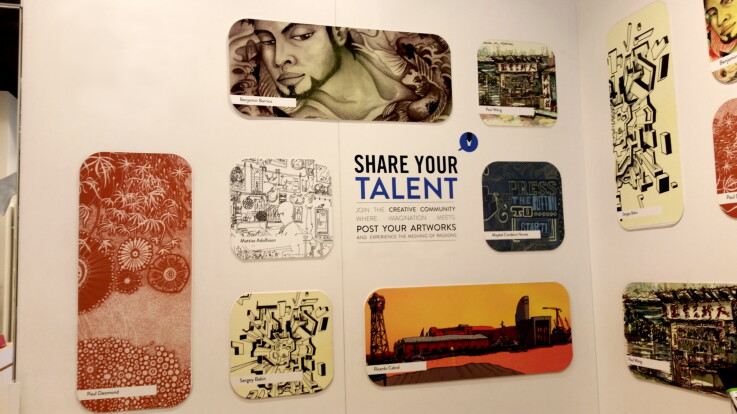 Another brand has found a way to better integrate its online and offline spaces by building a community. The stationery brand has created an online community around customising notebooks and creating art, with the Berlin store also having a physical gallery space to showcase the artwork of participants. With hints and tips also available online, it means the customer feels more involved in the brand beyond buying a notebook.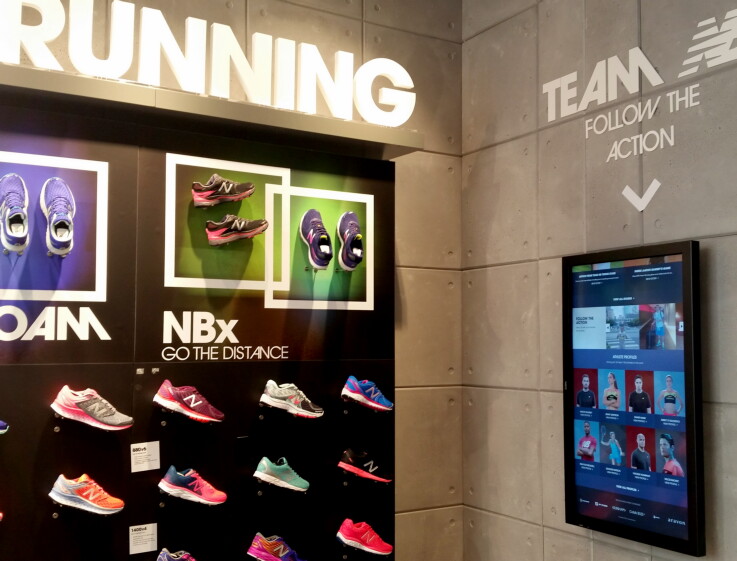 Storytelling and Visual merchandising
Storytelling is another major trend in Berlin, with the execution as varied as the stores themselves. One retailer we visited uses screens to help customers explore content, including the athletes that they sponsor.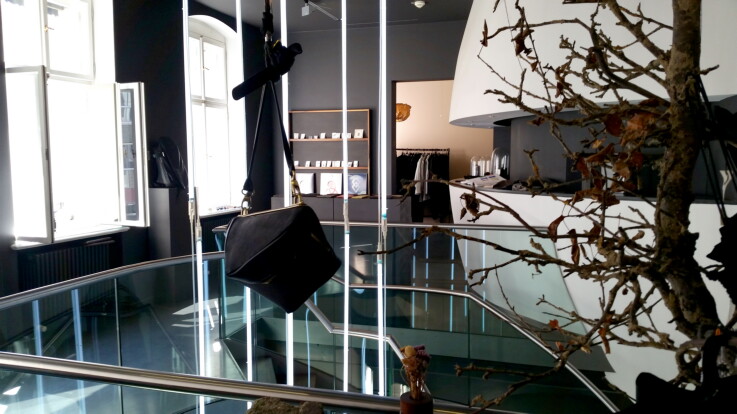 Another store shows that beautiful visual merchandising can be done without huge cost, by creating a great display using strip lighting. The store itself mixes cool clothes and products with a café space, with storytelling about the chosen brands and their ethos hung on the walls for customers to engage with.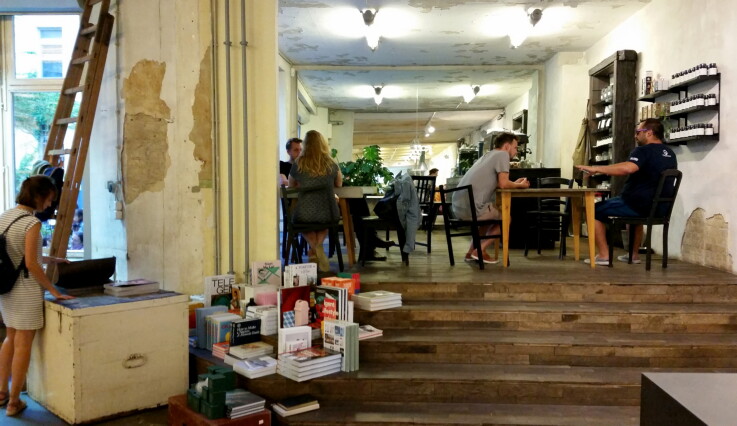 Other retailers adopting the same mix of selling space and café offering show how diverse this approach can be. One well-known concept store takes a lifestyle approach to the products on sale, choosing clothes, books and homewares that together create the feel of a way of living. It also has a café space for customers to spend time in, all beautifully set against a warehouse background. It's an aspirational and covetable space that shoppers want to keep visiting and to replicate in their own homes.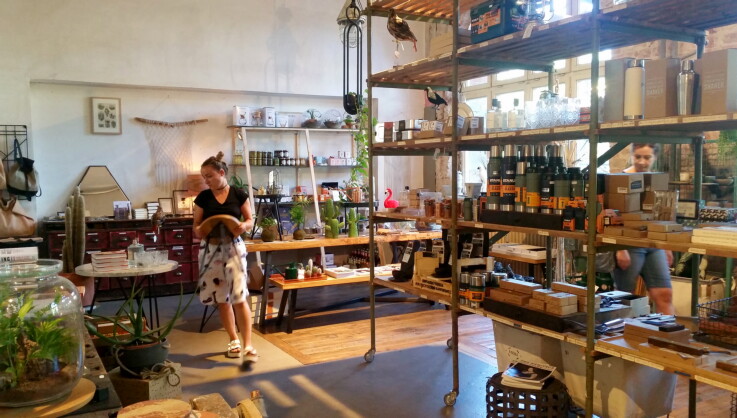 With a lot of retailers in Berlin having access to more space than in London, many have developed their offering to make the most of it. One store ties together its café and sales space with a beautiful dedicated garden to create a complete lifestyle offering. Customers can then buy products to recreate the same sort of aesthetic at home.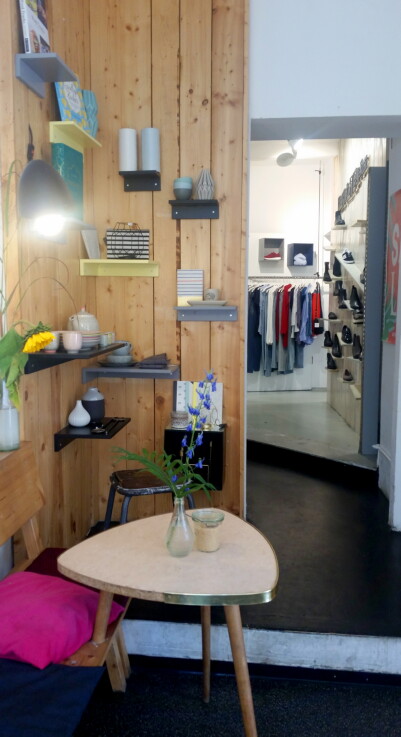 Yet another store is differentiating itself by creating an almost apartment-like feel in its upstairs retail space. This is divided up into lots of little nooks and crannies all with their own aesthetic and range of products. This makes it feel as though customers are moving between roomsand lets them imagine the products in their own home. It also might encourage them to purchase items as collections by seeing how they interact together.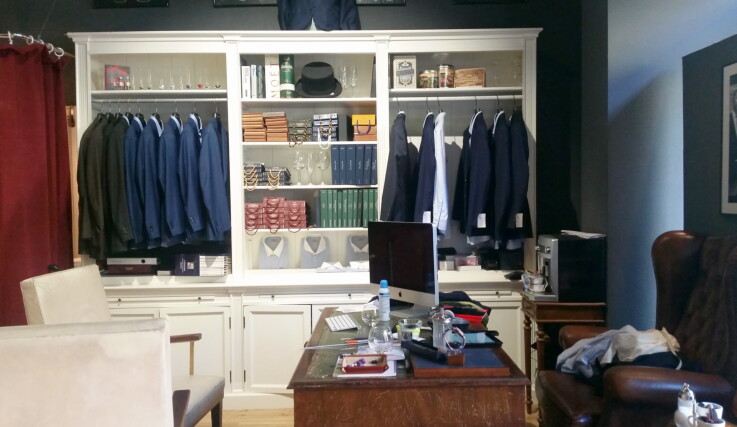 A different type of visual merchandising is taking place in two different modern tailoring companies. Both mix the best of old and new. One is happy to display the technology that it uses, alongside its old-style luxury aesthetic, making it feel accessible to customers who may be put off by traditional tailors.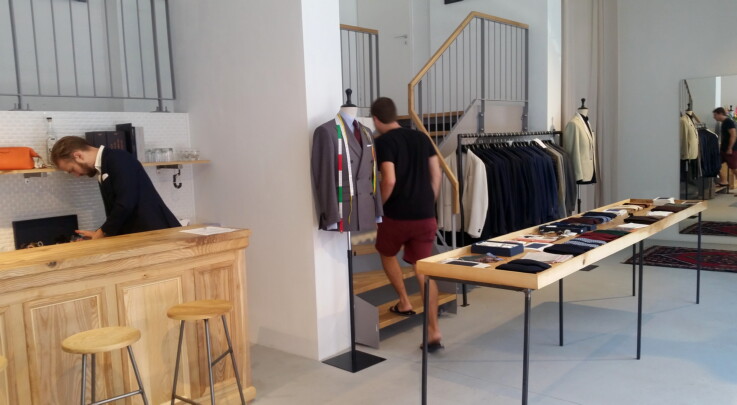 The second hasno tech with everything stilldone by hand as is traditional of tailors. However, the store environment again feels welcoming to everyone showing how retailers can provide a high-end experience for the average shopper. It's light and bright with room for customers to move around and browse. Both stores tap into a growing trend towards accessible luxury, where products and experiences that may have in the past been marketed as exclusive are now available to more people.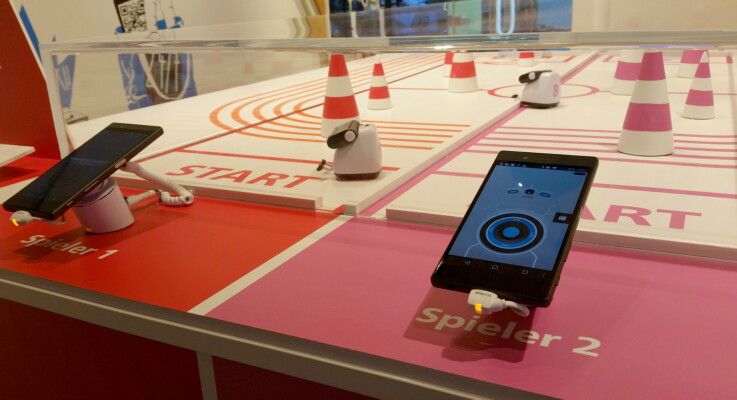 Technology
Much of Berlin retail is focused on delivering the best customer experience through interaction, as opposed to pursuing the latest in tech. Yet there are some stores utilising technology to deliver something different to customers.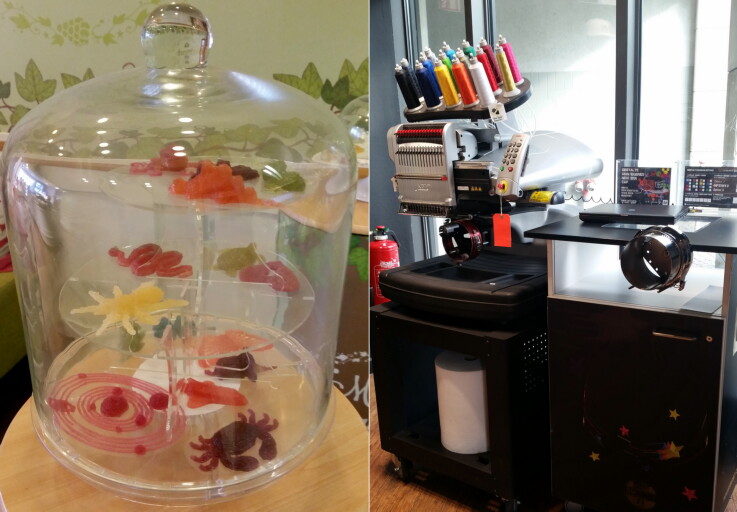 This includes a sweet shop that harnesses the exponential technology of 3D printing to create personalised sweets. These range from printed creatures to the customer's name. The store acts as a promotional space for the company, with other sweets also on sale, plus a café.What's interesting is the experimentation with this new tech in the public domain, which offers a new way for retailers to offer custom items. Another retailer is using a different type of tech to personalise hats for its customers in a twist on the same trend.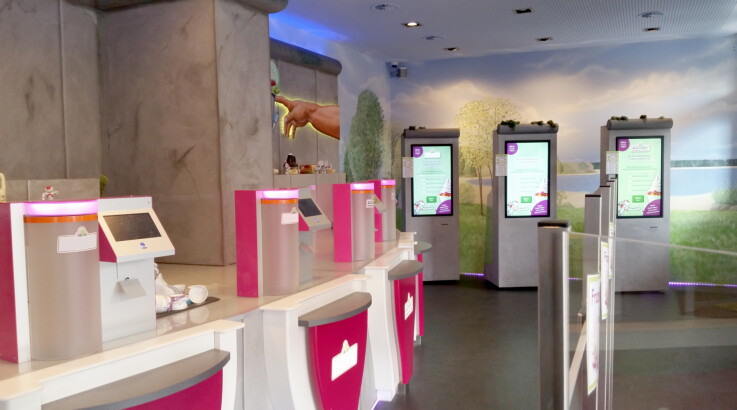 Another interesting experiment with technologyis also taking place in the food sector. Customers use touchscreens to order and pay ice-cream, which is then dispensed by another machine. They can then pick toppings to finish off their treat from a large range. Using technology like this speeds up the purchasing process and reduces the amount of staff required to serve customers.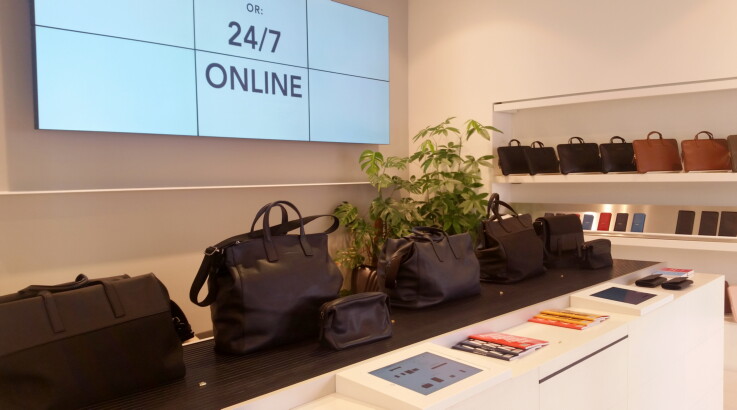 Technology enables any size of store to offer a better service. One retailer we visited with a very small space utilises on-wall screens to display messaging, which can be more quickly and easily changed over than traditional advertising. Customers can also browse products on iPads which reduces the need for space to hold lots of stock, enabling the store to focus on displaying a few products well. It's a simple execution of digital, but one that works.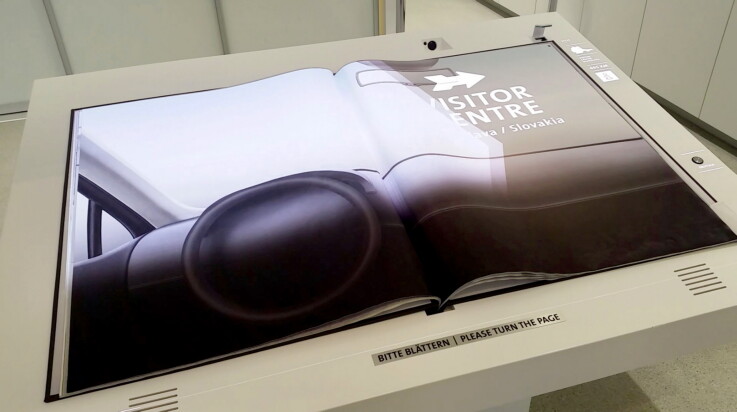 Less simple is another retailer's digital book. This is a physical book that had projector above it, so that the pages are turned theprinted content is animated. Each page is designed to interact with the projected overlay, which is also combined with a voiceover. Although more work needs to be done to make it truly engaging, it's an interesting development at a time when the likes of augmented reality is becoming more mainstream.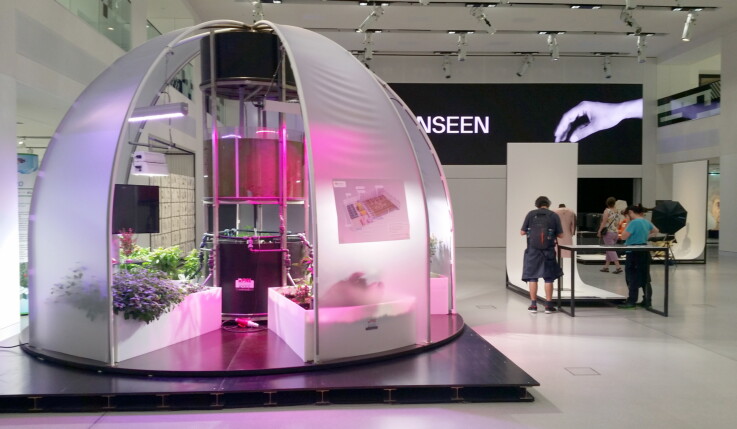 The same brand also operates a large exhibition space showcasing a regularly changing series of innovations. This includes robots carving things from polystyrene, wearable tech and an in-store greenhouse.Aside from showing customers the latest in tech and allowing them to interact with new developments, it helps position the brand as a leader in innovation.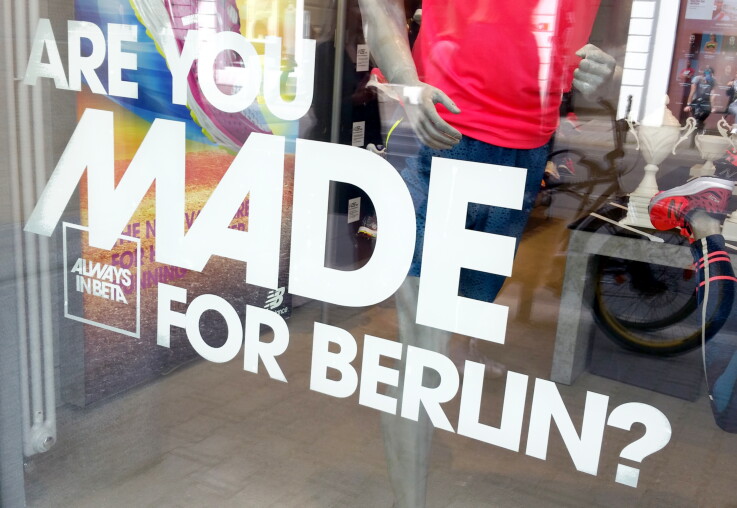 The trends shaping Berlin
At their heart the trends driving much of Berlin's retail are similar to those in London or New York – customer engagement and interaction, streamlining the purchasing process, offering something unique or special. The breadth of different types of stores, from small one-person operations to major firms, means they are being interpreted in different ways though.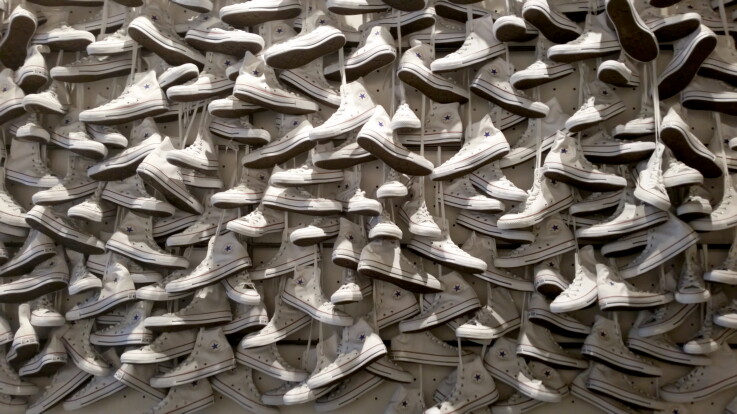 In many cases it's the small companies that are disrupting things the most as they have the flexibility and autonomy to try new things and experiment. The entrepreneurial spirit means stores are increasingly creative. Likewise, bigger brands are leveraging their often greater access to resources, such as technology, to offer high-end experiences to every customer. Both are making Berlin a hotbed for retail trends though.


If you want more content like this, or you want to keep up with retail trends, click here to join our community.
Image credits – Cate Trotter