Retail
Top 30 Electronics Store Brands Worldwide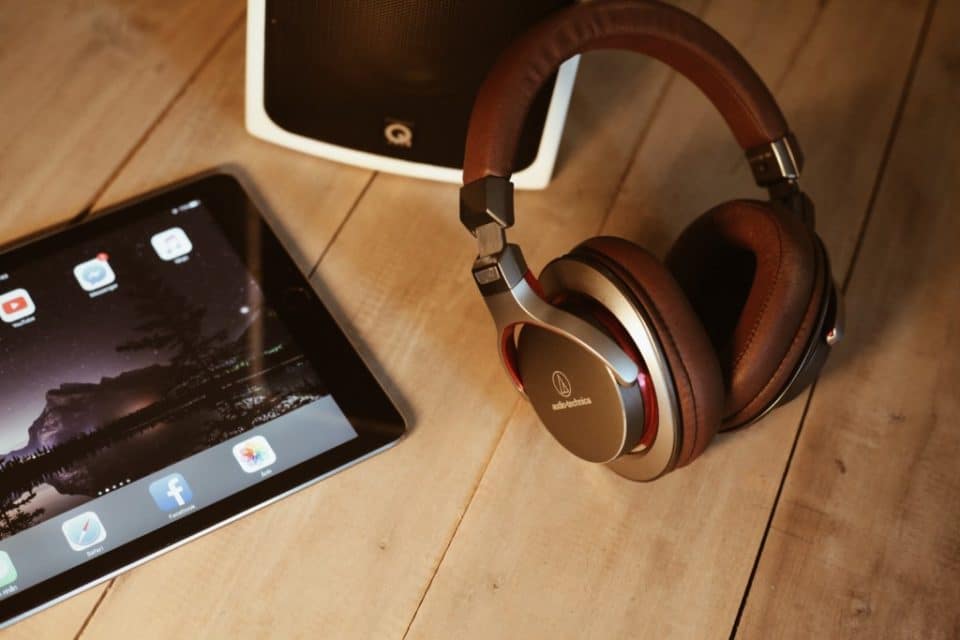 With more and more people choosing to purchase electronics online, paired with the fact that Maplin announced that it was collapsing into administration, the fate of electronics stores has recently come under pressure.
That's not to say all hope is lost though. Here we outline 30 of the physical electronic store brands that, through various innovations, are standing their ground.
1. Lowe's and b8ta (US)
According to Statista, the global smart home market is expected to be worth over $53bn by 2022. Aware that electronics that optimise the home are big business, Lowe's recently collaborated with b8ta to create a store-within-a-store that offers an innovative shopping experience for those interested in smart home products. Not only can customers discover, experience and learn about the various products but the space offers an array of on-site support from expert 'b8ta testers'.
2. Google at Flatiron (US)
Though Google's Flatiron pop-up is now closed, it was an impressive example of how to go about selling electronics. Filled with a variety of Google products to pick up and test, the store also included a dedicated VR area and Google Home Max room where consumers could test the Home Max capabilities.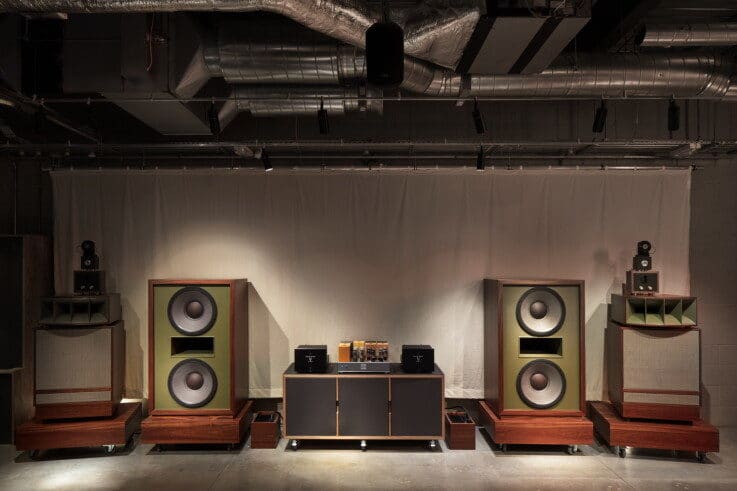 Image credit Ed Reeve
3. Spiritland (UK)
Set in London's King's Cross, Spiritland is a cafe, bar, radio production studio and retail space built around a world-class sound system. Designed for those with a deep appreciation and love for sound, the store takes pride in being able to transport visitors to a new appreciation of music and sells a range of specialised audio equipment.
4. HARMAN (Global)
Another sound specialist on the list, Harman has stores across the globe. Wanting to redefine how consumers interact with audio products and experience sound, the stores display a range of different products, and hosts various musician and DJ performances, as well as shopping incentives and events.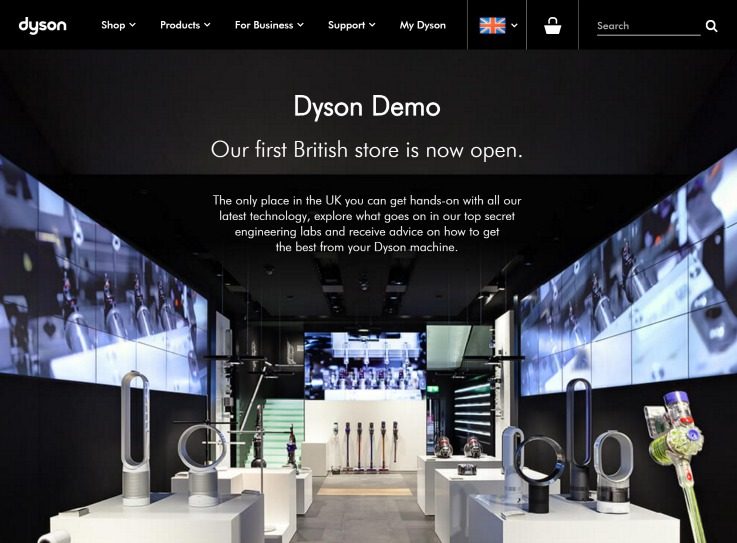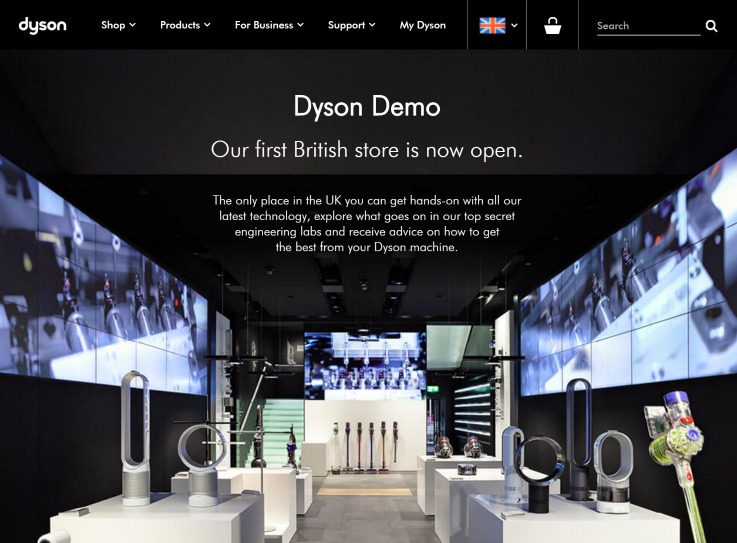 5. Dyson (UK)
If there's a brand that knows how to sell electronics, it's Dyson. Its UK-based Dyson Demo Experience space is testament to that and, opening in 2016, is equipped with a vacuum cleaner demo area to test each product on different floor (and dirt) types. There's also a hair salon so consumers can test all its super expensive hairdryer to understand why it's worth the investment.
6. De'Longhi Group Experience Centre (UK)
Known for its wide range of electronic goods, The De'Longhi Group decided to bring together products from its Kenwood, Braun and De'Longhi brands into one place with the Experience Centre. As well as being able to experience all the products on offer, friendly staff are on hand to guide consumers through the range, demonstrate those products in a live setting and, in some cases, even taste test the results.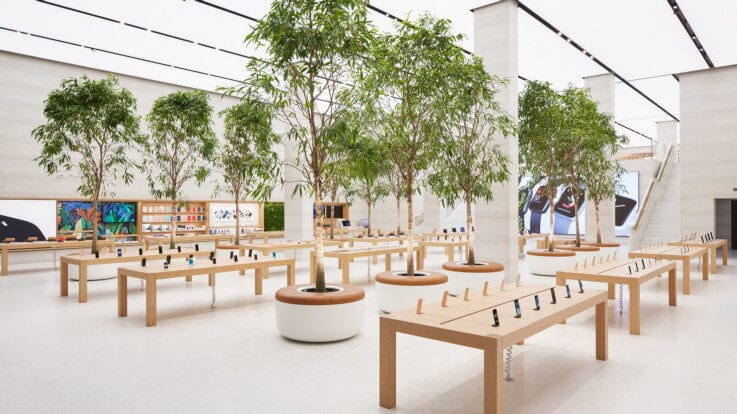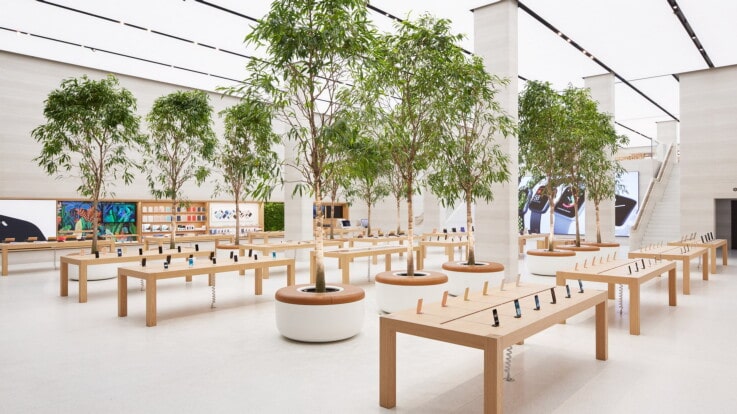 Image credit: Apple
7. Apple (Global)
With stores that look more like lavish temples than spaces to sell electronics, Apple is at the top of its game when it comes to shifting products. Whether it's innovative concepts like the Genius Bar, its try-before-you-buy mentality, or simply the fact that consumers feel connected to the brand as soon as they step foot in the store, there's a lot to say for Apple's design ethos.
8. Technogym Milan (Italy)
Set across three floors, Technogym launched its revolutionary flagship store, dedicated to fitness electronics and gym equipment, in Milan. As well as being a space within which consumers can test the brand's products and digital technologies, the beautifully designed space includes educational and training areas and hopes to offer a holistic approach to fitness.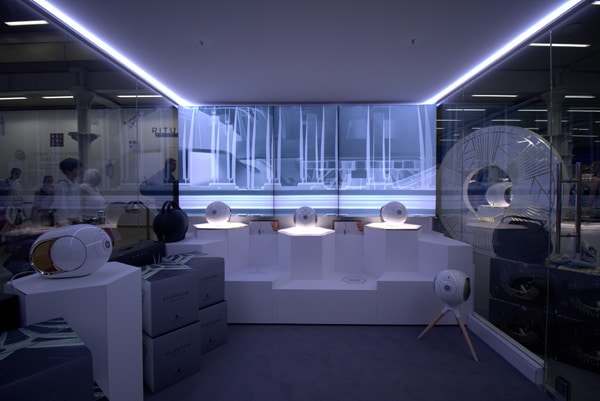 9. Devialet (Global)
Wanting to take visitors to a whole new emotional level of listening, audio brand Devialet has developed soundproof Immersive Rooms to show off its products in the best way possible. Whether in its pop-ups or its permanent stores, the Immersive Rooms combine great design with a space that prospective customers can use to stream the music of their choice to the Phantom speaker as though they were in their own home.
10. Sennheiser (US)
With a brand mission to 'shape the future of audio', Sennheiser has launched a number of initiatives with which to sell products. In its 2016 New York City pop-up, it allowed audio enthusiasts to test a $55,000 pair of headphones. Its Malaysian flagship store, launched at the beginning of this year, offers appointment-only listening sessions within private spaces and other exclusive products.
11. Best Buy (US)
As one of the leading retailers for consumer electronics in the US, Best Buy is on a mission to revolutionise the way in which customers purchase products. In Montreal, the brand launched a retail concept complete with live demonstrations and high-impact vendor displays and towards the end of 2017, the brand said it was partnering with 3C Interactive to enhance in-store pick-up and purchases.
12. Samsung Experience Stores (Global)
Wanting to let its consumers get the most out of their products, Samsung's Experience Stores let customers try before they buy, and them talk to experts on-site. It's not just about smartphones, but a wide range of Samsung electronics including smart fridges. Consumers can also experience the brand's VR offerings, discover everything their Galaxy smartphone has to offer and pop-in for any technical advice.
13. Sony Square NYC (US)
With a tagline that reads 'igniting creativity and curiosity through extraordinary experiences', Sony Square NYC is committed to showcasing electronic innovations from the Sony brand that cross music and movies to gaming. As well as offering a space to test various electronic products, the space hosts installations and exhibitions that cover various creative disciplines.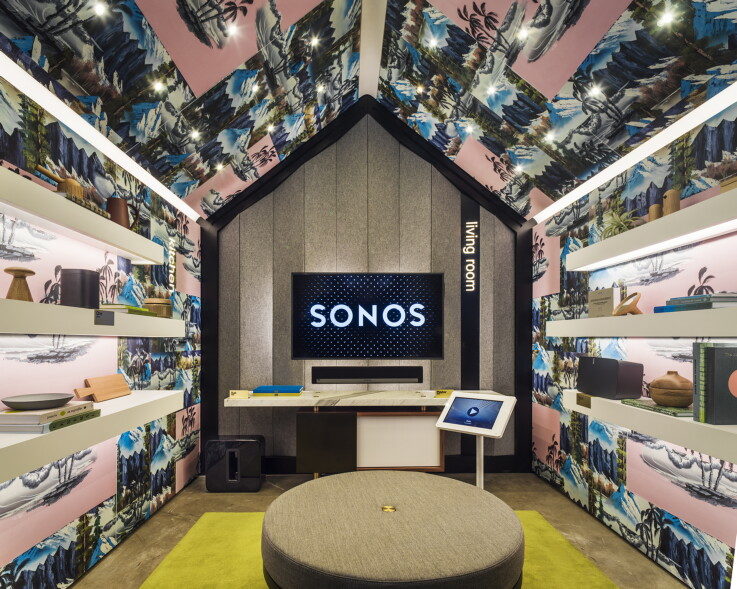 14. Sonos (Global)
While Sonos only opened its first New York based physical store in 2016, the brand has done well to appeal to the electronics consumer. Last year, the brand opened a new concept store in London, equipped with listening rooms and an event space for screenings, talks and installations. Minimal and attractive in its design, the space wants to recreate a sense of discovery and build on the idea that the best place to discover Sonos is at a friend's house.
15. Yodobashi Camera (Japan)
As one of Tokyo's largest electronics shops, Yodobashi Camera is set across 13 pavilions and, in the case of the Multimedia Pavilion alone, nine floors. Though the company started off selling cameras, consumers can expect to find everything from phones and televisions to printers and gaming gear.
16. Panasonic and Plug and Play (US)
Last month, Panasonic announced that it was beginning a new chapter as the first ever strategic partner to Plug and Play. As a result of this collaboration, the brand has developed The Store of the Future, hosted at Plug and Play's headquarters in Sunnyvale, which will feature demos dedicated to re-imagining the in-store electronics experience.
17. Dixons Carphone (UK)
Designed to offer a range of premium products also focused on convenience, Dixons Carphone wants to simplify the way in which electronics are purchased. The brand's flagship store, on London's Oxford Street, put this ethos into practice and on its opening implemented a virtual queue management system, multi-functional tablets and O2 powered heat maps to show customer behaviour in store.
18. Video & Audio Center (US)
Earlier this year Video & Audio Center unveiled its new flagship showcase store in the Westfield Century City mall. Combining audio-visual products, appliances and smart home accessories, the new design featured branded display areas where customers can get up close with the electronics. Interestingly the product mix and design is reportedly achieved with the input of mothly focus groups to ensure the store offers what shoppers are looking for.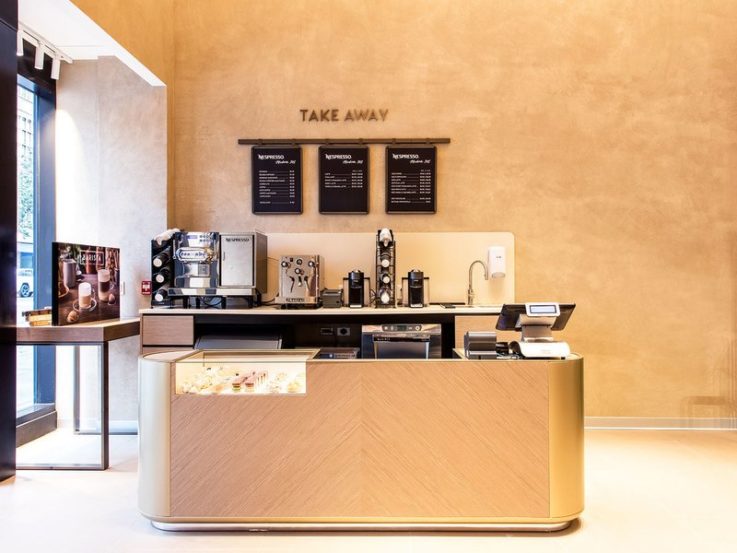 19. Nespresso (Global)
Coffee is big business and so too are the electronics and gadgets surrounding it. Nespresso, one of the leading brands for coffee consumption, is tapping into this with its attractive, luxury-looking flagship boutiques. Split into rooms for varying experiences, their stores have dedicated areas for Nespresso Club Members, tasting areas and recycling stations.
20. Bose (Global)
Bose is another sound-led brand that knows how to shift electronics. With stores across the UK and beyond, Bose wants consumers to try its products before they buy them, and to make the most out of the highly trained experts that are on hand. In 2017, the brand also opened its first experience store in Shanghai.
21. Control4 Showrooms (Global)
Last month Control4, a leading global provider of smart home solutions, announced that it would be launching showrooms in 140 locations around the world. Wanting to change how people learn about, experience and interact with smart home electronics, the stores are said to be 'an exceptional resource for consumers exploring smart home solutions'.
22. Bang and Olufsen (Global)
In a recent interview, Johannes Torpe, former creative director of Bang & Olufsen, said that he wanted people to feel 'magic' when entering a Bang & Olufsen store. 'Not magic in the sense of a fairytale story like Hans Christian Andersen,' he said. 'But in the very tactile way of creating a sensory experience that people feel when entering one of our stores.' As a result, stores have rotating walls to display different TV solutions and specialist fabric covered sound wall panels.
23. Microsoft (UK)
With the announcement that Microsoft would be opening a flagship store on London's Regent Street, Cindy Rose, head of Microsoft in the UK said that 'this will be so much more than just a great place to experience all that is possible with Microsoft'. With plans for the store to offer consumers the chance to try out their products, it will also host free workshops, education programs and eGaming competitions.
24. iMakr (UK)
Situated in London and New York, iMakr deals with everything 3D printing. Whether you're after 3D printers themselves or refills, maintenance repairs or spare parts, iMakr has it. Alongside its range of products, the brand also hosts a number of events and exhibitions and allows visitors to print on demand in the iMakr Studio.
25. Facebook (US)
It's no secret that Facebook is betting big on virtual reality and earlier this year the brand put that thinking to practice with the launch of a New York based pop-up store to show off its Oculus Go headset. Designed to look like an upmarket sneaker store, the space let visitors try out the technology and the various apps on offer.
26. O2 (UK)
A company at the forefront of mobile electronics, O2 has had its fair share of in-store innovations and consumer incentives. In the past, Dalziel & Pow has helped them design a store complete with relaxation areas and hubs to try new technology and browse O2 priority gigs, as well as interactive 'inspire zones' to get to grips with VR and connected home devices. The brand also held technology tutorials on tech-related topics, such as keeping safe online and using technology to keep fit.
27. Bic Camera Inc. (Japan)
Bic Camera Inc is a Japanese icon when it comes to consumer electronics. The largest store in the chain is the Yurakucho Honkan space where customers can buy everything from computers to audio equipment. There are even in-store restaurants to fuel customers during their shopping spree. Although the stores aren't examples of the greatest interior design, it's the sheer scale of what's on offer that makes it a major draw.
28. Comcast (US)
Comcast may be a cable company but its new Xfinity stores combine experience and practical services. Customers can go into the spaces to pay their bill or sort out equipment, but the design is more akin to Apple with plenty of tech on-hand to try out. Screens, tablets and smart home products combine to show what Xfinity Apps can allow you to do, or customers cna just enjoy a coffee and some free Wi-Fi.
29. Smeg London (UK)
Smeg's flagship store showcases everything Smeg from the iconic fridges to cookers and home appliances. Downstairs is a purpose built live cooking theatre where demonstrations can be beamed to large TV screens. The store is about exeriencing the brand at home so customers can have a coffee from a Smeg machine or even buy produce as well. A huge floor-to-ceiling living wall makes it seem like a completely different environment to your average electronics space.
30. GAME (UK)
Although the internet has taken a big bite out of high street sales of video games, GAME is aiming to keep customers coming into the store with a change in strategy. As well as being able to access expert advice and to buy consoles and games as usual, a number of GAME stores now also incorporate BELONG Gaming Arenas. With comfy seating, big screens and the latest consoles and games, the Arenas let customer test out products before they buy or take part in gaming events or competitions. They can even rent out the spaces for parties.