Brand Focus
Top 40 On Demand & 3D Printed Products in Retail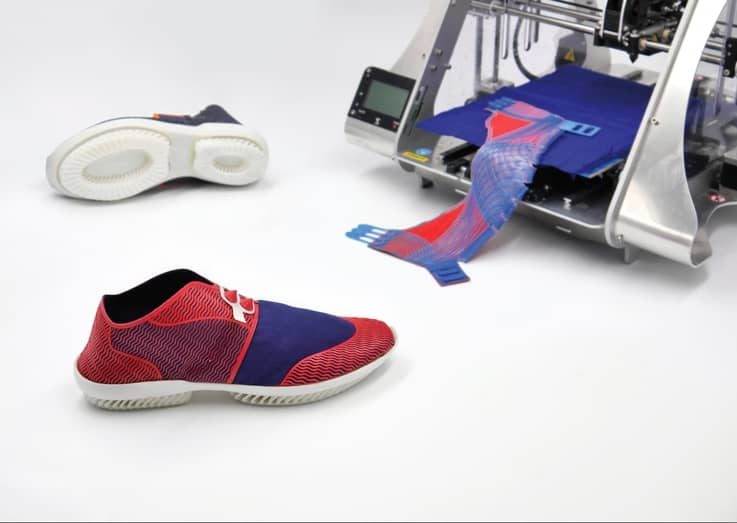 Developments in rapid prototyping and short-run production mean on demand and custom-made options for consumers are faster, more personalised and more cost-effective than ever.
3D printing is one-such rapid prototyping technology, re-thinking commonplace products as we know them from jelly candies to bicycle frames. Create-on-demand boasts impressive sustainability credentials – it means products can be made with zero waste, warehousing is unnecessary and distribution from A to B is shortened or made void.
Here's a run-down of 40 products and retail innovations (in no particular order) ready and waiting to be made on demand or printed online or in-store very soon…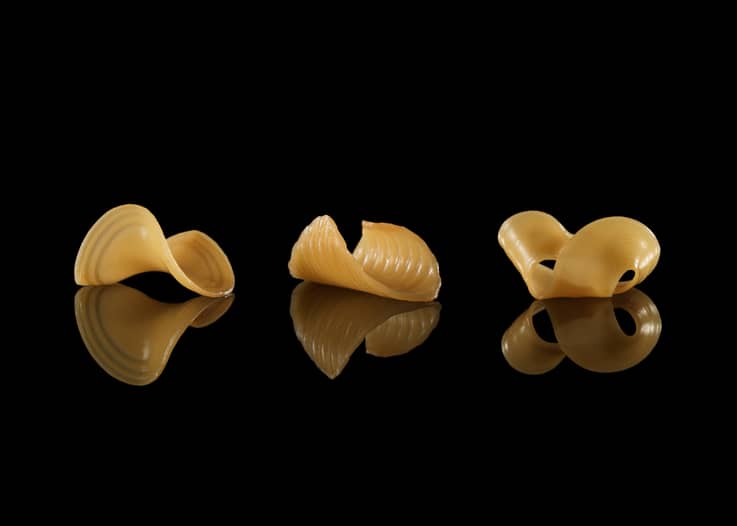 Photo Credit: Michael Indresano Production


1. Flat-pack pasta by MIT Tangible Media Group
The Tangible Media Group at MIT Labs is re-thinking the future of groceries with its flat-pack pasta concept. The pasta is formed of flat sheets that are animated into 3D shapes when water is added. Not only does it reduce waste and costs in packaging and transportation at retail, it paves the way for a more innovative product for customers with more complex shapes possible such as flowers. Technologically, the product is achieved through hybrid fabrication, 3D printing a strip of edible cellulose, protein or starch over a gelatin layer.
In partnership with fellow Massachusetts design company, Nervous Systems, New Balance is the latest sports footwear company to explore 3D printing technology. Using underfoot sensors, it recorded the force that the foot strikes the ground with as it pushes off in several different runners. Coupled with inspiration from naturally occurring lightweight-yet-strong foams in wood and bone, the result is a series of custom soles, adapted to the wearer's foot and gait.
Food Ink points to a future where an at-home 3D food printer could be your next essential kitchen gadget. At present, the firm is showcasing the possibilities of the technology through a series of immersive, futuristic dinners where all the food, utensils and furniture are completely produced through 3D printing. In this context, 3D printing is enabling a zero-waste approach to the dining experience.
Madame Jeanette attempts to bring sustainability into the print magazine mix by enabling readers to print copies of the fashion magazine on demand via an 'Espresso Book Machine'. A collaboration between the Amsterdam Fashion Institute and The American Book Centre, customers can print and bind a monochromatic version of the magazine (with a colour cover) within minutes. Full colour versions are available on demand online.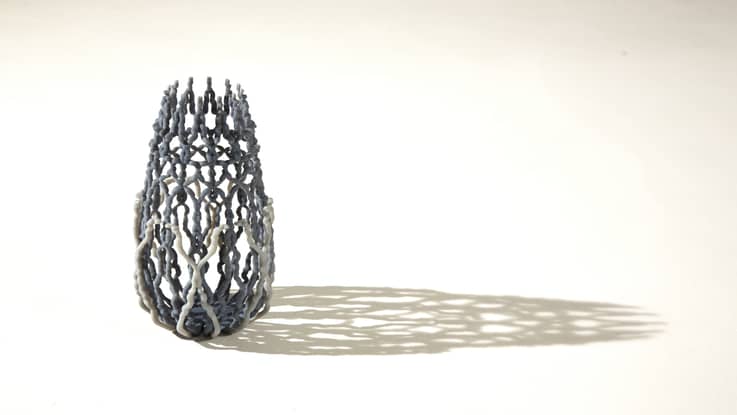 Photo credit: Otávio Pacheco
A lucrative possibility of rapid-printing technology is the chance to create personalised souvenirs and mementoes. The Love Project by architect Guto Requena is one such example. Participants are asked to recall a detailed account of a personal story whilst wearing emotion-monitoring sensors. The data collected from the sensors is fed into custom software that produces a 3D printed model. It points to a poetic future where we could be surrounded by product design that tells our stories.
The MIT Self-Assembly Lab collaborated with global furniture brand Steelcase and product designer Christophe Guberan to mastermind a new 3D printing innovation dubbed 'rapid liquid printing'. The breakthrough enables the creation of large, custom furniture pieces in minutes. Rubber, foam, plastic and other industrial liquid materials are 'drawn' into gel, and hardened by a chemical reaction on contact with the gel.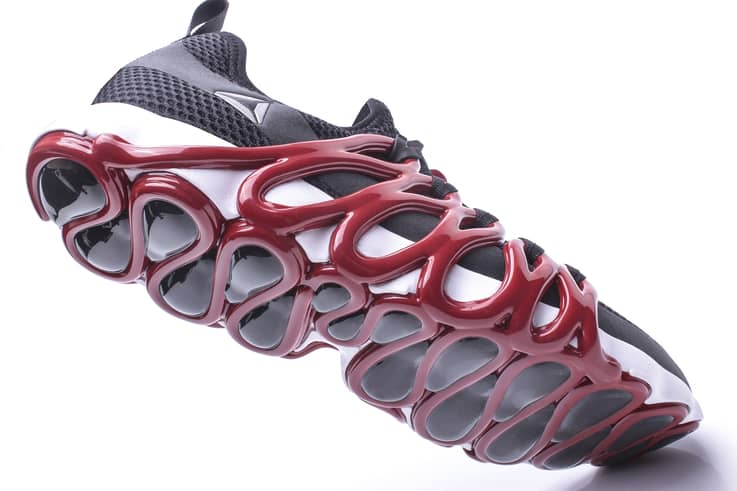 Photo credit: Reebok
Lead time on sports footwear is notoriously lengthy (on average 18 months) thanks to the labor-intensive, time consuming mould-making process. This cripples the ability to send innovative ideas to market rapidly. Bill McInnis, a former NASA rocket scientist was put in charge of Reebok's innovation division, Reebok Future – his first mission – to eliminate shoe moulds and thus increase production speed. The result is the Liquid Factory. In short, industrial robots are engineered to behave like a simple 3D printer and dispense/draw liquid polyurethane into 3D printed shapes.
Ikea has started to introduce 3D printed home objects to the masses. The Omedelbar collection is a series of intricate, stylistic 'hand' shapes to be hung on the wall or used as a decorative hook for jewellery. Produced in collaboration with stylist Bea Akerlund, the pieces use selective laser sintering (SLS) where a powdered material interacts with a laser to create intricate shapes. The products mark an effective introduction to commercial 3D printing, through the application of impressive, decorative objects.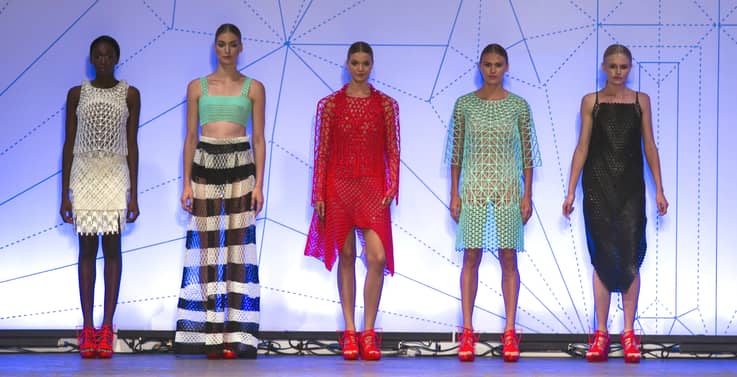 Photo courtesy of Daria Retiner
Coupled with a 3D rendering software called Blender, designer Danit Peleg experimented for over nine months to find the ideal filament for a completely 3D printed fashion collection. The result was filaflex – a strong and ultra-flexible plastic with the capacity to be crafted into a full apparel range with shoes.
Another great example of mass-market on-demand manufacturing, Los Angeles based e-commerce site Frilly is able to accommodate the creation of a fully custom-made wardrobe, thanks to its privately-owned factory facilities. Customers can select 'building block' designs across skirts, dresses, jackets and trousers across four luxury brands, and then dictate necklines, hems and fabrics.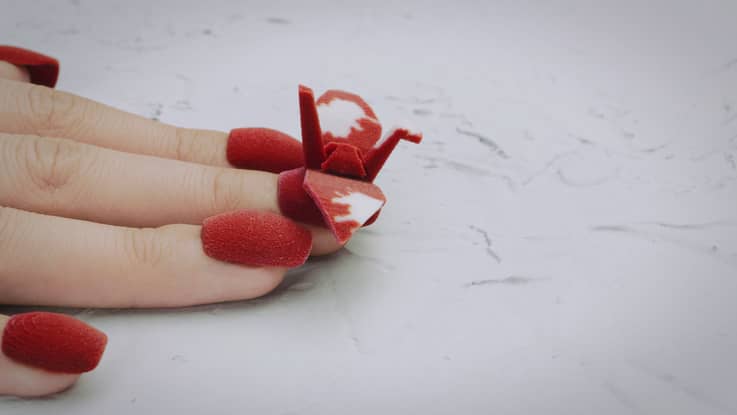 Photo credit: ©TAIYO KIKAKU co.,ltd
Japanese manicure artist Hatsuki Furutani partnered with film production company TAIYO KIKAKU to create a stop motion animation depicting three-dimensional nails transforming into storytelling scenes. The nails began life as 3D modelling, then the animated data was imported into a full colour 3D printer and fabricated into 521 artificial nails. Something to consider for campaigns, it's a fun and creative way of exploring the relationship between digital and physical objects.
Ukrainian patisserie chef Dinara Kasko ups the ante in the battle of the bakes with her complex geometric desserts. Combining her training in architecture with her culinary skills, Kasko applies industry standard Autodesk's 3DS Max Software to create silicone cake moulds. Painstakingly applied piping is used to create crisp graphic lines and accentuate the unusual geometry of the pieces.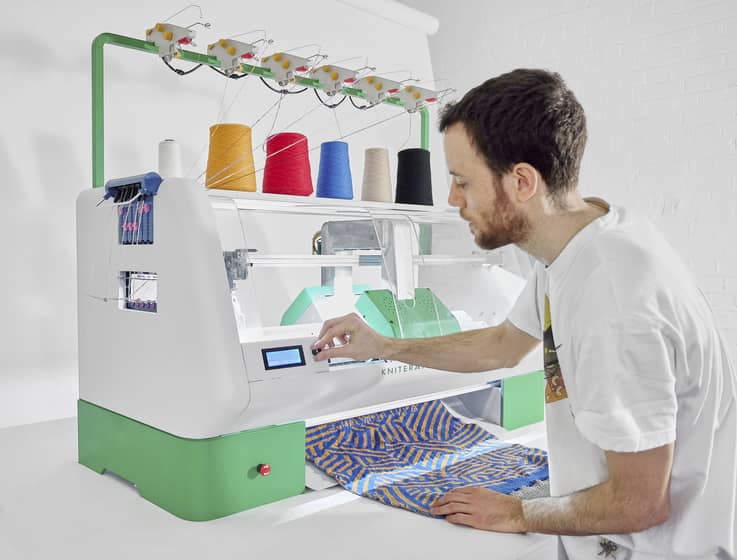 Image courtesy of Kniterate
Kniterate is another app-based fashion-fabrication concept. The digital knitting machine is accessible and affordable even for design novices. Individuals can choose from a series of pre-set patterns or upload a design from their own software. We'll see retailers ease consumers into the world of 3D printing through easy-to-follow guidance applications and softwares.
Othr is an online concept design store, collaborating with a hand-picked edit of designers to create useful, aesthetic and unique objects made exclusively for the shopper. Imbuing each item with preciousness, each product is embedded with a unique number to 'reflect your participation in its creation'. The environmental benefits of this mode of production are highly important to the retailer's concept of 'good designer' and it emphasises the lack of excessive waste and warehousing.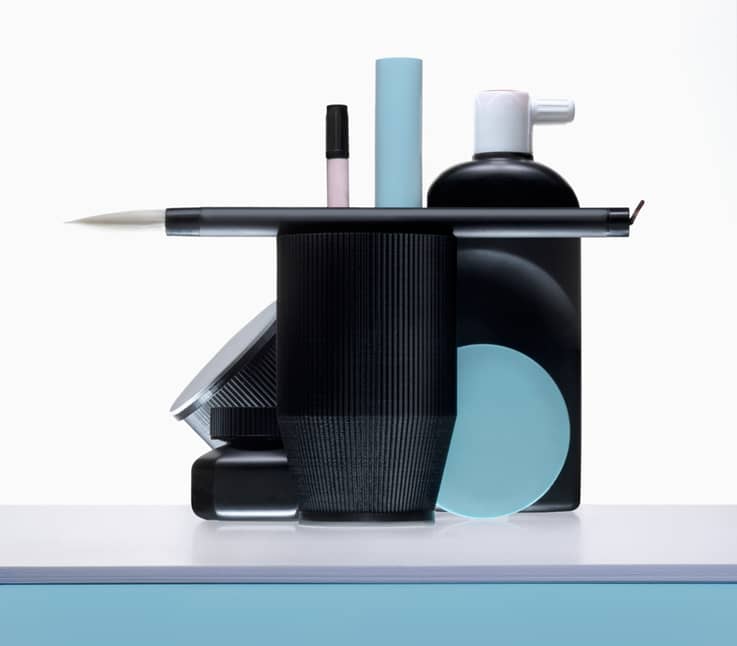 Photo credit: © Alberto Prise courtesy ICOSAEDRO
Barbara Busatta and Dario Buzzini of New York-based creative agency ICOSAEDRO have created 'The Machine Series', a series of open-source design files that make up a collection of 3D printed stationery containers. The files are available for public download or on-demand production and have been drafted so as to allow for easy modification, adaptations and material experiments.
Taking digital fabrication into the realm of luxury design, Belgian optician Patrick Hoet collaborated with Melotte 3D printing to create the first 3D printed eyewear in titanium. There are two options available to customers – a partially customised design that can be turned around in a week and a fully 3D scanned, 3D modelled, 3D printed option. All glasses can be personalised with the name of the customer.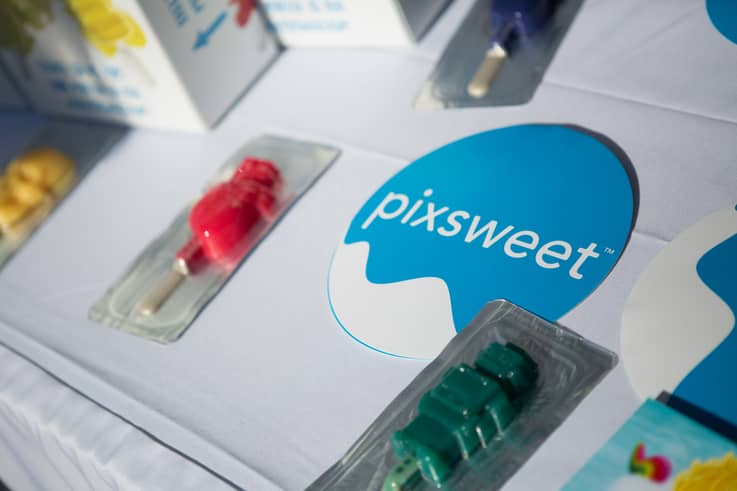 Photo Credit: Pixsweet/ Patrick Reynoso
A great example of the reactive capabilities of 3D printing, the Pixsweet platform is best known for its US election-themed popsicles. Pixsweet utilises its own custom "3D Munchifier" (a kind of search engine) to generate fast, bespoke designs or a 'taste of the internet'. Users enter a search term, the Munchifier searches the internet for an image match, detects the edges and translates it into a 3D shape. The shape is uploaded to the production line which creates a mould in 1.3 seconds. The mould is packaged, the chosen flavour injected into the shape, then sealed for shipping.
Product designer James Novak has created a concept 3D printed bike frame. Tailored to fit his own proportions, the frame took 150 hours to model on SolidWorks and is impressively lightweight thanks to the complex lattice structures. Currently in prototype phase, the frame is drafted in resin but could soon be a reality thanks to strides in steel and titanium manufacturing.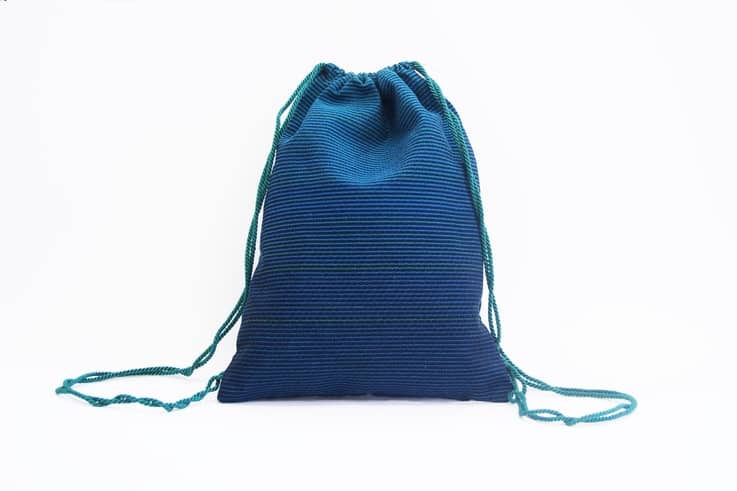 Image courtesy of Wovns
Rather than consumer-facing finished products, digital platform Wovns is a platform for designers. It is an on-demand weaving process that enables designers to upload patterns and print their own Jacquard fabrics, starting from lengths as low as one yard. The platform allows designers to order their fabrics in small production runs, by producing multiple, similar designs as one piece of fabric, meaning the loom does not need to be recalibrated between each design.
In one final example from the MIT Tangible Media Group, the team has developed a method for 3D printing artificial 'hair'. Each thin can be printed as small as 50 microns in diameter and fashioned into high-density furry surfaces. Future applications for this innovation range from functional, velcro-style fastenings, interactive tactile surfaces to paint brushes with custom strokes to eco-friendly 'fur' fabrics.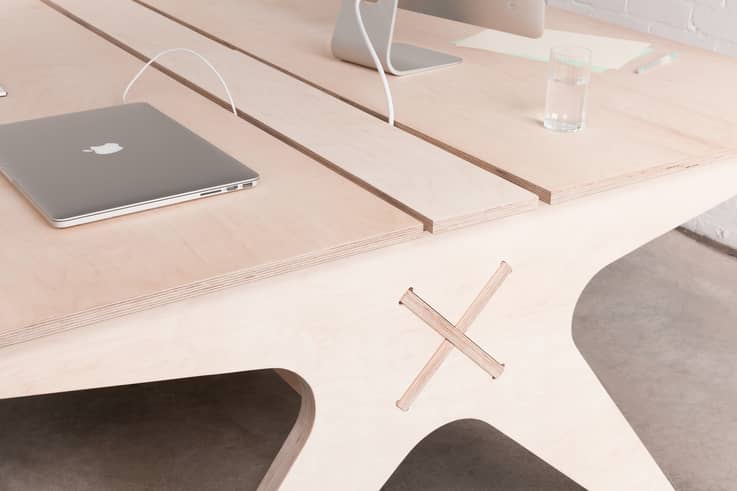 Image courtesy of Opendesk
Opendesk is a London-based open-source workplace furniture brand. They collaborate with designers all over the world to create beautiful furniture pieces that can be distilled into shareable designs, downloaded and fabricated locally on-demand by neighbourhood makers. Its ambition is to create a new kind of supply chain for beautifully crafted furniture, cutting out expensive shipping, showrooms and storage. Nike, WeWork and Google already boast Opendesk furnishings.
Mink is a $200 device that links to your computer, reads a colour code of your choice on screen and communicates that to a 3-D printer which mixes pigments and raw materials inside the machine. The result? Totally bespoke foundations, powdered eye shadows and lipsticks. The technology points to a future where you'll be able to 'eyedropper' a celebrity's red-carpet lip colour from a Google Image, print and wear it yourself that same day.
Whilst Mink is still in beta phase, Finding Ferdinand is a fully fledged custom makeup offering. Customers receive a lip palette in the post, mix their preferred shade, submit an approximation of the colours on the website where it gets mixed, produced and posted. There are up to 65,000 possible colour combinations and the brand currently dispatches up to 10,000 units every four months.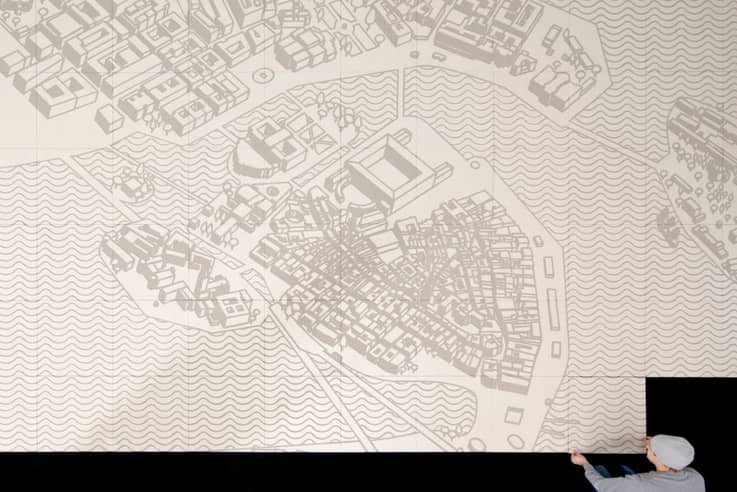 Photo Credit: Mariket
Everyday household construction elements from tiles, to wallpaper to flooring could benefit from the custom possibilities enabled by digital manufacture. New Swedish brand Tilemark has launched with a debut range designed by Form Us With Love. Using an online design tool, the brand has been able to create an illusion of hand-carved ceramic tiling – and at a fraction of the price. The technology enables them to create highly intricate designs, with the same precision as a craftsman. The machine can be programmed with custom designs.
The ultimate application for selfie-lovers, My 3D Twin creates miniature sculptures of your likeness. Photogrammetric scanners use 64 powerful DLSR cameras that take your photograph at exactly the same time and at different angles. A specialist programme stitches together all 64 2D images to create a 3D avatar. At this stage the mini-model can be edited (how about adding a new fashion item, or branding?), then printed using thousands of layers of coloured powder.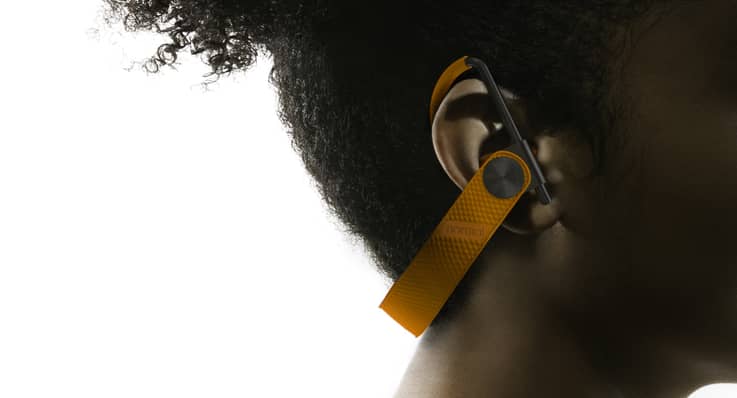 Image courtesy of Normal
Whilst it's possible to purchase custom eye frames and adjustable watch straps, earphones have been slower to catch up. Using a downloadable app, Normal shortcuts a process that would ordinarily take weeks (and include a trip to the doctor). Using a 'coin' as a point of size reference, the user uploads photos of their ear, selects the cord length and colour and a customised pair of buds is ready to ship within 48 hours. The pledge is an optimised listening experience enabled by headphones that seal your ear correctly.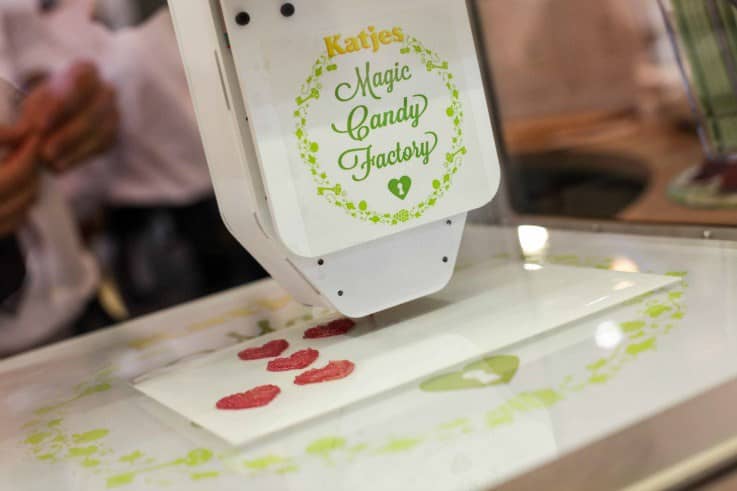 Image courtesy of Katjes Magic Candy Factory
This machine can create impressively complex gummy candy confections in 3-10 minutes (comparable machines can take up to an hour). The process uses a unique fruit gum liquid to produce seven colors and flavours in weights between 15g and 20g. The company creates theatre around the making process by inviting children to learn about 3D printing technology and the ingredients in store.
Shapeways is a simple, user-focused platform inviting designers to prototype and print their 3D own designs for everyday objects. Popular items include smartphone and tablets covers, jewellery pieces and home decor objects.
Customers can upload their design files and get an instant cost estimate. Then automated and manual checks test your model's 'printability' before you print – and there is no maximum or minimum order.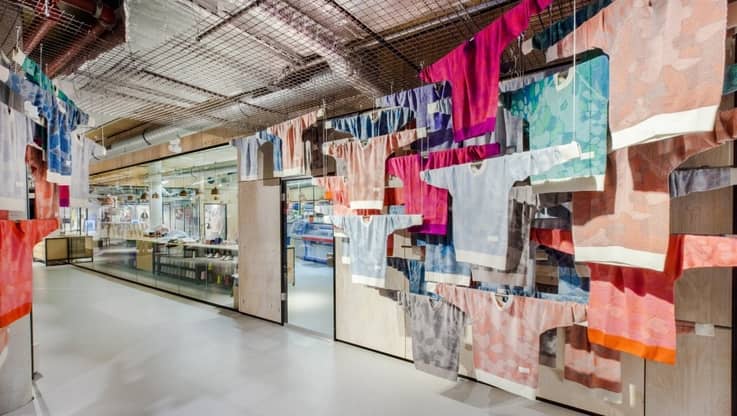 Image courtesy of adidas Berlin
This pop-up store brought consumers a taste of the future high-street retail experience. Upon arriving, the shopper enters a dark room where an array of patterns are projected onto their chest. To change the design, they simply swipe their hand to scroll through the options. They are then invited to a full-body scan before hitting the 'print' button to send their custom sweater into production in a row of knitting machines, before their eyes. The concept evolves the current retail model from 'see it, buy it' to 'think it, test it, make it, buy it'.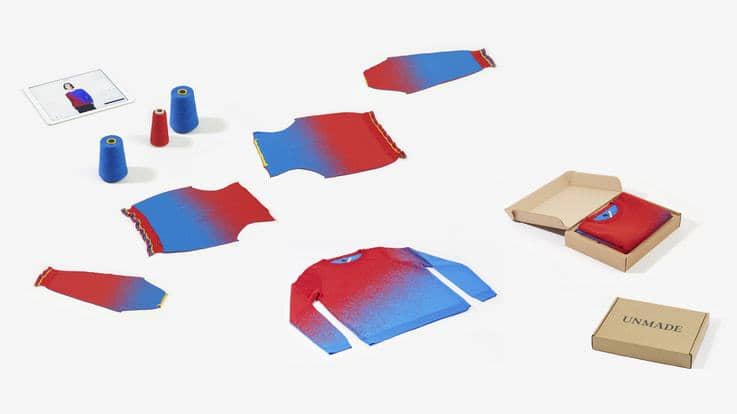 Image courtesy of Unmade
Similar to Knit For You, Unmade takes the principle of DIY design and makes it scalable across e-commerce. Its 'Personalisation Editors' tool is a consumer-friendly interface allowing shoppers to directly modify the clothes they buy before they are made. Similar to programmes like Nike iD, customers can change the colour, modify patterns and add their own monogram to existing designs. This tool can be 'plugged' into existing e-commerce websites for selected pieces so customers can purchase custom items and pre-made items in the same basket.
Waft is an online customised fragrance service. Guests to the site enter the 'Waft Lab' where they answer a series of questions and respond to various imagery to help refine their preferences. Then the Waft Fragrance Artists analyse the data and create a scent just for you. Your custom fragrance is labelled with your name and sent to you bundled with two free 'mini you' layering fragrances.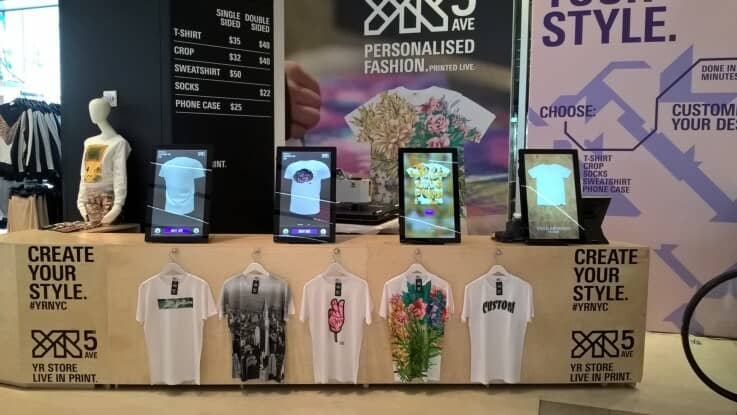 Image courtesy of YR Store
YR started off as a live design'n'print boutique. The service was readily picked up by brands looking for interactive consumer experiences, so now YR exists as a live customisation service for the event and retail industries. The company can provide a placement print or all-over print service and produce each item in minutes.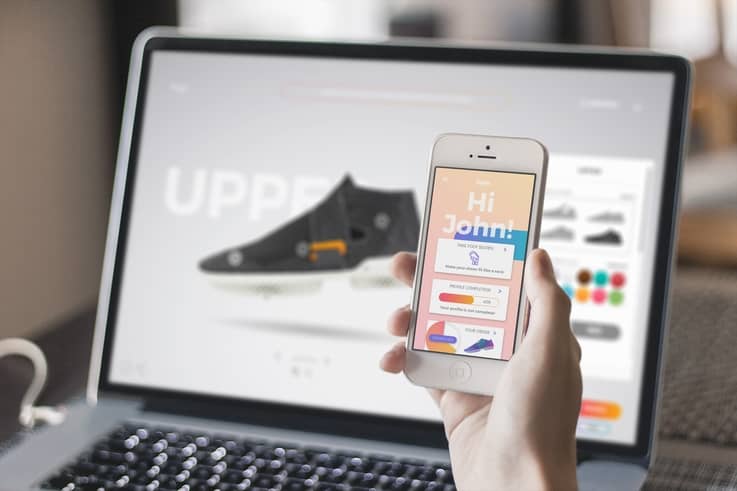 Photo studio: Zuza Gronowicz and Barbara Motylińska
33. Shoetopia by Barbara Motylińska and Zuza Gronowicz
With 20 billion pairs of shoes created each year, and 300 million thrown out annually, Polish design students Barbara Motylińska and Zuza Gronowicz have taken on the challenge of creating a completely sustainable model of footwear production and distribution. Customers can personalise their own design via an app then send a print-ready file to a local digital fabrication centre.
Environmentally-friendly and durable, shoes are created from a biodegradable filament printed onto a natural textile based and constructed without glue.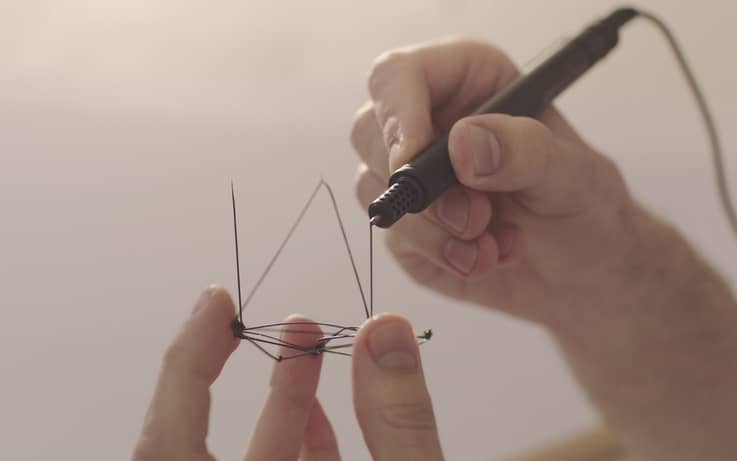 Image courtesy of Lix 3D
The smallest, circular 3D Pen in the world, LIX enables you to write and draw 'in the air'. Design sketches and nascent thoughts can now be visualised and reviewed in real form. The pen quickly melts and solidifies coloured plastic creating instant, rigid, freestanding structures.
Definitely a luxury future, Romy specialises in hyper-personalised skincare. An app gathers data about the user and their environmental data (it also allows an Apple Health plugin for more nuanced data.) This connects to a 'Nespresso coffee machine' style device that dispenses capsules containing a cream or serum targeted specifically to the conditions of that day. It can also connect to Apple Health to add further in-depth analysis.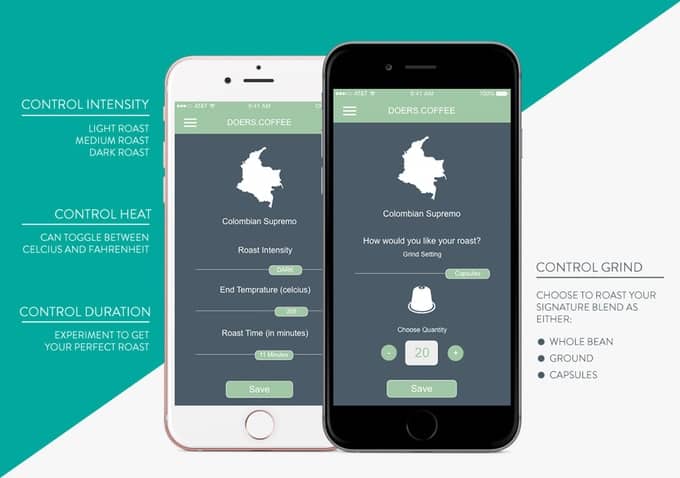 Image courtesy of DOERS.coffee
Customers are increasingly becoming 'connoisseurs' of coffee, increasingly more attuned to their own tasting preferences. DOERS.coffee is a successful Kickstarter brand that invites coffee drinkers to select their own custom-roasted signature coffee blend and have it delivered to their door in either bean or capsule form. A simple app offers a series of custom opportunities around the grind, heat and intensity.
Taking the concept of on-demand clothing from online services to in-store reality, The Ministry of Supply brings theatre to the experience and prints custom alterations to your clothing before your very eyes. Across eight US stores, customer can choose a garment and then re-design it as they wish with alterations from the materials to the buttons.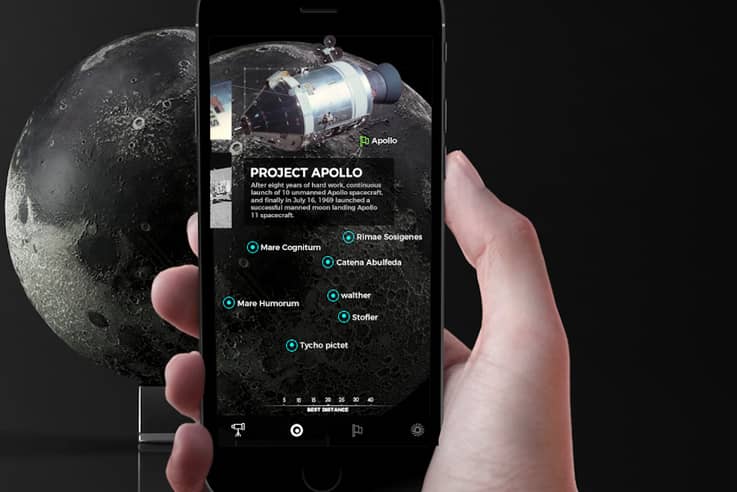 Image courtesy of AstroReality Lunar Pro
This is an interesting example of how physical objects can work with digital to create a richer content experience. Designed as an educational tool, the AstroReality Lunar Pro is an intricate 3D-printed model of the moon based on data captured by NASA's Lunar Orbiter team. The models are paired with an augmented reality smartphone app that offers facts and trivia about the moon as well as simulations of NASA missions to the moon. You can imagine how this type of digital-physical pairing could bring museum objects to life, or provide updated information about a product post-purchase.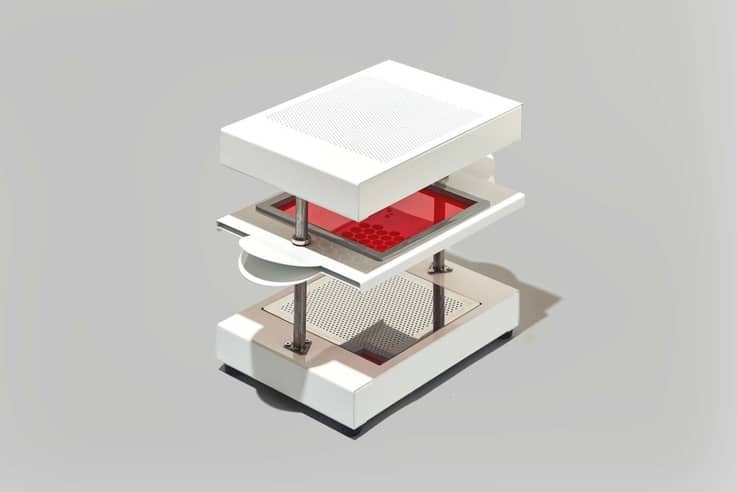 Image courtesy of Mayku
FormBox by Mayku is a device offering makers a simple at-home solution for creating vacuum-form moulds, before casting them into 3D designs. The box uses a vacuum cleaner to heat a material before it is placed over an object. When the material dries it leaves a mould that can be used to cast a variety of materials such as resin, plaster or chocolate. An extended kitchen gadget for a wannabe Michelin-star chef or an at-home repairs shop.
Bloom and Wild is a custom floristry subscription service sending a selected bouquet of hand-packed flowers through the door with free next day delivery. The handy app enables customers to quickly and efficiently send flowers to a loved one on the go, with real-time delivery tracking to monitor progress. It also sends reminders around birthdays and special occasions.
For more inspiration as to the future of retail, check out our list of the top 50 innovations in retail.
If you want more content like this, or to keep up with the latest retail trends, click hereto join our community.