Food and Drink
12 food retailers giving consumers a taste of value
by Cate Trotter
October 6, 2015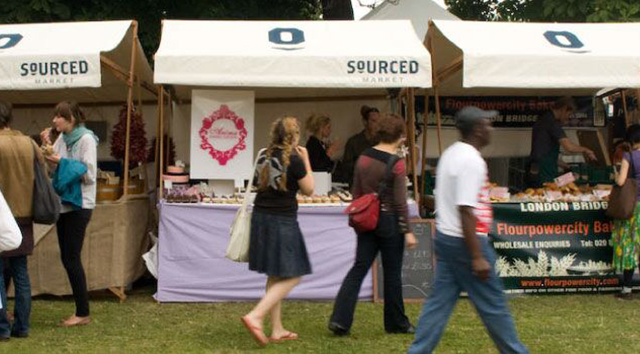 By Simi A Mira
Price is the amount of money the customer pays for a product. Value is what the customer perceives the benefits of that product to be, and the emotional connection he/she has to the product, the employee, and the company in relation to the price. Food retailers around the world are in constant competition with each other for consumers, battling over the lowest price title. But, to some retailers, an important motive is to deliver added value and to bring new customers into stores through benefits and connections. Giving buyers the opportunities to feel connected to a product or brand in any way is a sure fire way to draw them into stores. We've searched the world to bring you these 12 examples of food retails how give consumers a real taste of value.

Shopper input on production
Whether the demand for value is basic or high, the challenge that faces retailers is to cultivate a service that treats each customer as an individual and maintains satisfaction and loyalty levels. Companies are experimenting with new ways to make the customer feel more involved in their overall shopping experience, and what better way to do that than collecting their opinions about a brand/product? Consumers love knowing companies are listening to and valuing their opinions on brands/products and their production. Not to mention, before ever entering a store, 62% of shoppers already know what they want to buy through prior research. And guess what has the most influence to them? Consumer-written content on the product/brand.

Albertsons
Grocery stores have tried to make the experience easier for shoppers with the introduction of the self-checkout counter and online shopping but, in the main, buying groceries has changed little: push a cart up and down the aisles, then wait in line to pay at the front of the store. But what makes Albertsons so unique? Taking in customer input on improving the checkout process, this large grocery chain is experimenting with new technology to do just that. Called Shop 'n' Scan, Albertsons is so far leading the pack in using such scanners. Eventually, the company wants to integrate it with other services to help people plan their shopping list, putting an end to the forehead smack that comes with remembering on the way out of the car park that some crucial purchase was forgotten!

Lay's "Do Us a Flavor" Campaign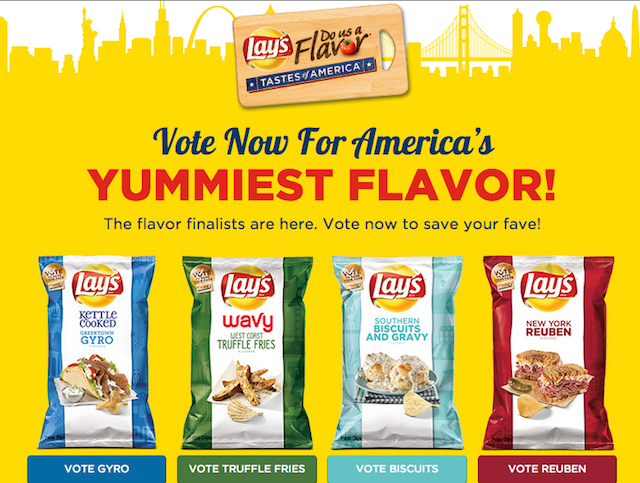 The "Do Us a Flavor" campaign, now in its third year, capitalizes on social communication about the movement through platforms like Twitter and Facebook. This genius marketing plan urges consumers to vote for their favourite flavours to be created. Keeping things fresh for consumers so they are interested enough to continue providing input is key. This year, the crisp brand is using conversations from social media platforms and turning them into puppet shows to be broadcasted on YouTube.

Meal solutions
Food is a necessity for all consumers! But what is important is how businesses choose to display consumable items so it's attractive to the consumer and meets their overall needs. Meal planning is not the norm amongst shoppers. Almost half of all grocery trips are quick trips, and consumers are predicted to become even more mission-focused in the future. Convenience is king as consumers look to make thoughtful purchases amid time constraints. Now, more than ever, foods and beverages are being looked at as critical factors impacting health and wellness.
Hello Fresh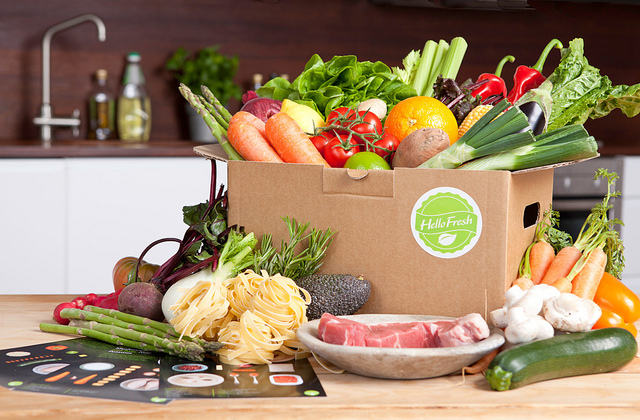 Image credit: SITS Girls
Hello Fresh is an innovative new approach to cooking and eating healthy. It allows customers to order fresh ingredients and a recipe online to make meals with exactly the right number of portions. Recipes are developed by in-house chefs, and customers can check out the images and instructions and simply order all of the ingredients – in the correct quantities – to be delivered to their home, along with cooking instructions. Hello Fresh reaches out to busy families and working professionals by addressing the lack of time and inspiration to cook delicious and nutritious meals from scratch at home. Hello Fresh is focused on providing superb service and high quality produce for everyday cooking.

Lunchbox London
Lunchbox London provides fresh lunches to business and office works daily. Workers can place an order a few hours before lunch and have it delivered. The Lunchbox has quality and name brand products and caters to every special dietary need, making the company very consumer friendly.

Kochhaus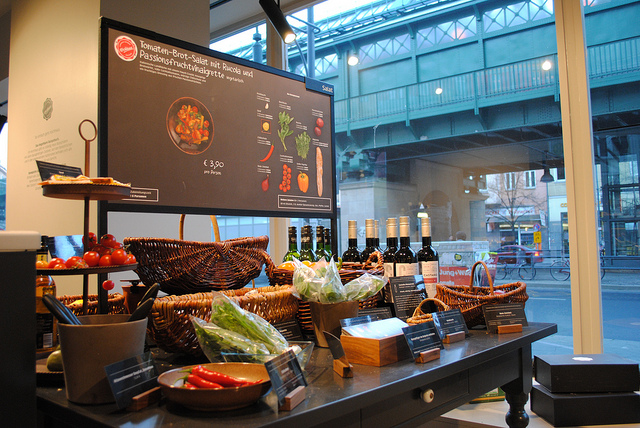 Image credit: Oh-Berlin.com
The Kochhaus, or "House of Cooking", is a new kind of food store that is focused on encouraging people to cook well for themselves. This store offers incentive, ingredients, and advice to its shoppers, but in a unique format. There are twenty tables set up, each devoted to a different recipe. There are three starters, two salads, one soup, four pasta or vegetable dishes, three fish and four meat main courses, and three desserts. Each table and its adjacent cooler provide everything needed to make a specific dish, and an artfully designed poster mounted on each table shows photographs of ingredients and the finished product. This set-up creates a whole new way of how the customer perceives food preparation.

Healthy Living
Healthy living is becoming a mainstream topic amongst consumers. As an economic necessity, retailers now have the opportunity to promote this lifestyle and make it appealing at the same time. Consumers want to eat better and they want to do it in a way that fits their routines. So it is up to the retailers to cater to that need.

Sobeys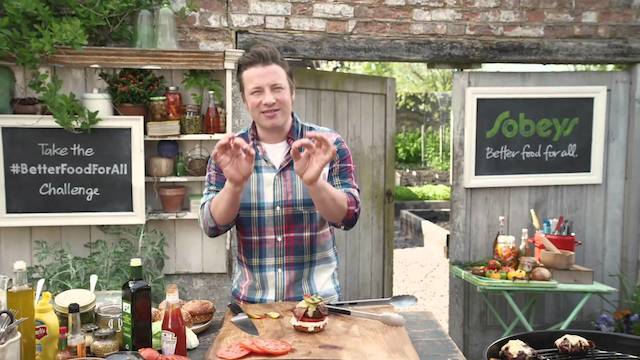 Sobeys is a company dedicated to fresher and tastier lifestyle by delivering quality refrigerated meats. Fresh new products arrive in Sobeys stores each week. These products are made without additives or preservatives, making them appealing for the healthy lifestyles of consumers. Sobey's has also teamed up with Jamie Oliver to start an operation to promote healthy food changes by posting their stories, photos and videos and other multimedia on Twitter and Instagram with the tag #BetterFoodForAll.

ICA
Only 1 in every 4 children in Europe has the recommended amounts of fruits and vegetables in their daily diets. The Swedish supermarket ICA is trying to change that statistic. ICA carried out a year-long campaign in 2013 to encourage customers to eat more fruits and vegetables, and maintained its focus on inspiring children and young people to adopt a healthier lifestyle. Children were able to take a piece of free fruit in-store to support customers' healthy choices.

Safeway
All of the Safeway stores were founded around the philosophy of offering customers the products they wanted to buy at a fair price, with lots of tender, loving care. They aim to continue that service today. The stores are now working on fundraising for childhood hunger in America, trying to lay a foundation for a healthy lifestyle in the youth of America. Safeway (USA) also propositions shoppers with 10% off their food purchases when getting a flu vaccination, establishing the retailer's ambition to lead on health and wellness.

Local sourcing
Local sourcing is trending with greater interest in supporting your own community, but if there is a significant price difference that feeling of support will vanish. Finding cost-effective local sourcing can give a company some variety in their product line-up and greater agility. Changes in the market necessitate supply chain adjustments. Local vendors can make adjustments more quickly and as such are more agile. By utilizing locally produced goods retailers can broaden their product lineup while simultaneously build closer relationships with customers. There is a sense of pride when a consumer goes to the store and buys goods and products from people they know or from companies they see in their own backyard.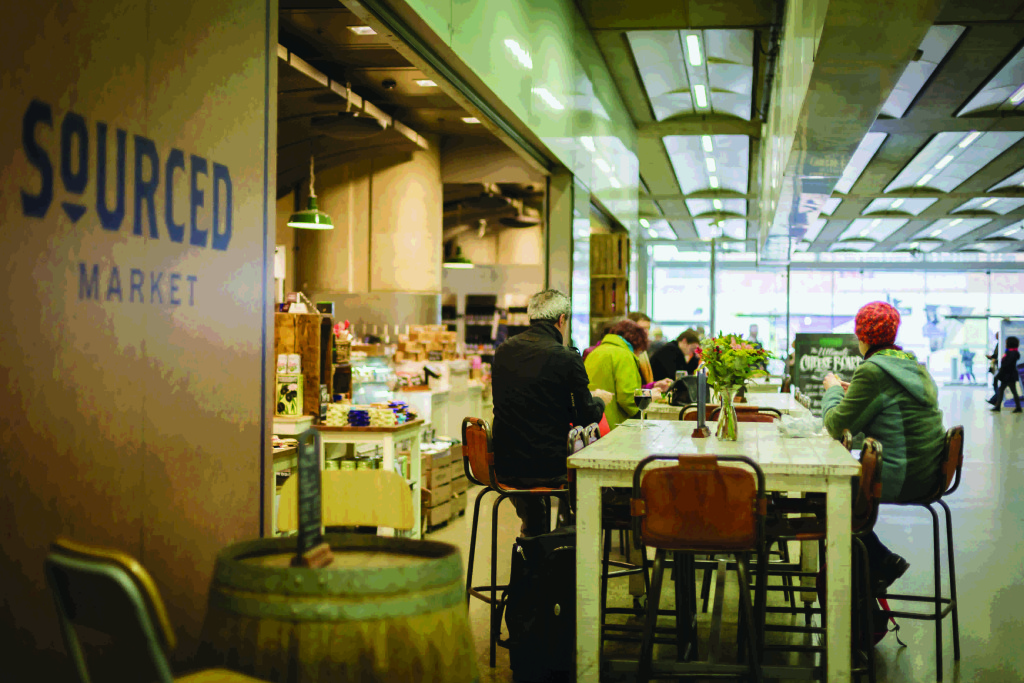 Sourced Market
London's Sourced Market takes the concepts of a farmer's market – high quality, locally sourced produce – and gives it a convenience store format, with a permanent site in the busy St Pancras Station, making it convenient for commuters. It's been so successful that they're expanding their current site as well as opening a new one by the end of the year. You can read our interview with Ben O'Brien of Sourced Market here.

Waitrose
Waitrose supports 'British farmers, artisan producers and organic growers' and 'championin regional suppliers' when things are in season. All of Waitrose's fresh chicken, beef and pork, bacon, duck and goose is British all year round. All of the turkeys come from the UK or Ireland and they sell the best of British seasonal lamb and venison when in season. Waitrose looks for suppliers who offer quality ingredients combined with very high standards of preparation and cooking skills. Traceability is not just a legal requirement, but essential for Waitrose local and regional suppliers to ensure the claims made on each pack and other marketing statements are substantiated. Traceability means suppliers must be able to demonstrate they can establish the origin of all their raw materials and show documentation of supplier names and batch codes.

Time and Place relevance
Companies are realizing that they can capitalize on consumers and their needs if the businesses focus on delivery at the right place and the right time. Retailers need to deliver pertinent shopping encounters that provide value to the consumer in real time throughout the shopping experience.

Ministop and Starbucks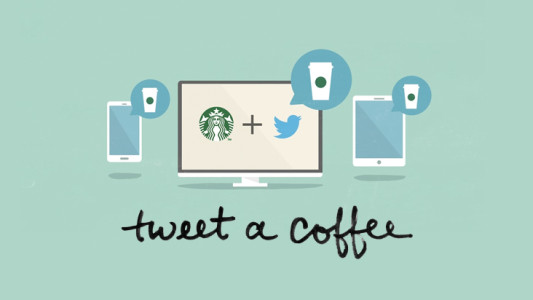 Ministop uses this business module to provoke impulse purchases by offering 20% off their coffee from 9am until midday.
Starbucks uses social media to keep up with time and place relevance with their customers. Their program, Tweet-a-Coffee, lets a purchaser give a $5 gift card to a friend by putting both "@tweetacoffee" and the friend's handle in a tweet. To do so, users had to link their Starbucks account to Twitter and their credit card to the account.

Conclusion
There are many different approaches food retailers have taken to add value to their products and brand names in order to connect to their customers. Ultimately, customers will generally be prepared to consider paying more if they perceive they are getting more value for their money, be this in a functional, emotional, expressive, or other form. Brands putting forth the effort to establish value to their consumers have the capacity to add this additional value whether real or perceived.
Want to go straight to the hottest retail technologies, latest disruptive thinking and simplest new ways to lower costs and boost sales? Transform your team's thinking using Insider Trends' little black book. Find out how here.
Related Articles
Below are other articles from our blog that cover similar topics: