Concept Stores
50 Best Concept Stores in the World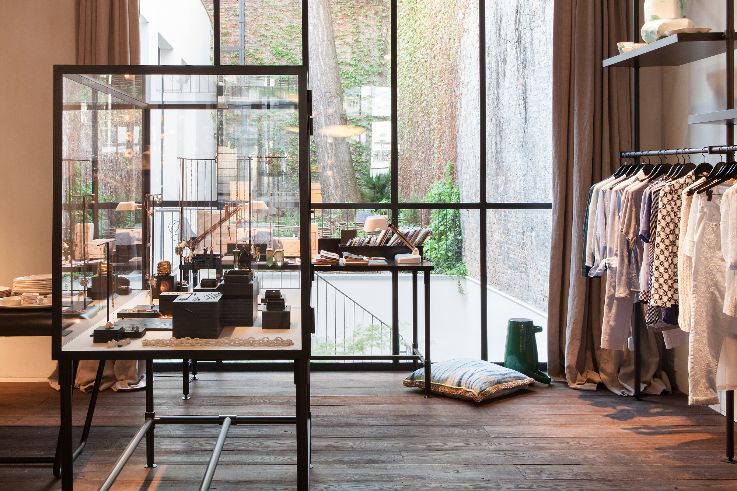 The term 'concept store' might be a popular one, but not all such stores are created equal.
Here, we shine a light on 50 concept stores from around the world that define beautiful, whether that's the store design and layout, the building itself, or the products they sell. Or in most cases –all three.
Some have been open longer than others, but beauty trumps novelty when it comes to these must visit concept stores.
By concept store we mean a shop that combines culture with the business of selling. Concept stores sell a curated selection of products that suggest a certain lifestyle or theme. Typically these products are from different brands and designers, and appeal to a certain audience.
There's also a focus on improving the customer experience through the store design, the intermingling of product and additional elements such as events or accompanying services.
Each of these 50 stores tick these boxes, so in no particular order, be prepared to be inspired.
Or if you want to be the one wowing the customer, talk to our retail consultants.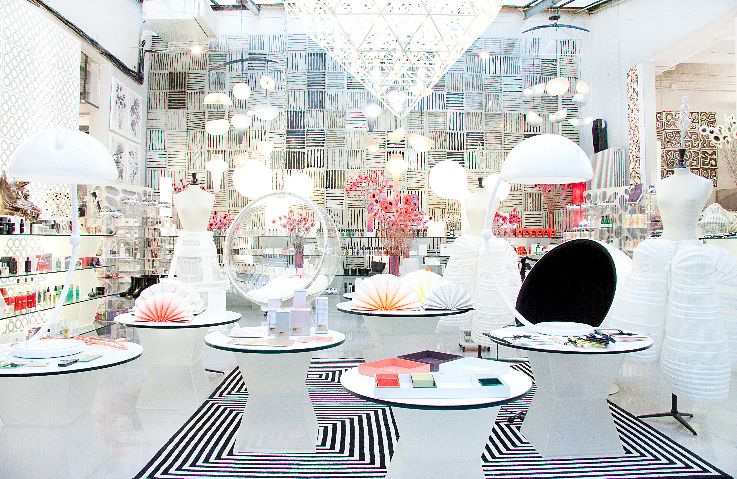 Image courtesy of 10 Corso Como
The store that the term "concept store" was first coined for, 10 Corso Como describes itself as a "multifunctional space, a meeting place, union of culture and commerce". Celebrating its 25th anniversary this year, 10 Corso Como's1200sqm of space incorporates a bookshop, gallery, store, café/restaurant, and three room hotel. Customers can shop for fashion, art, food, music, design and more across the beautifully designed interwoven spaces, and enjoy a break in the rooftop garden.
2. Barber & Parlour (London)
Part of the Soho House company, Barber & Parlour nails the essence of the concept store. Spread over three levels, the former workshop has a beauty parlour, hairdresser and barbers where customers can satisfy all their grooming needs. There's also a café for grabbing a coffee, light meal or purchasing Soho House's own House Press cold-pressed juice range. Intermingled in the space are various items for purchase from accessories to stationery. In the basement is the Electric Cinema, where customers can watch the latest films from armchairs with side tables.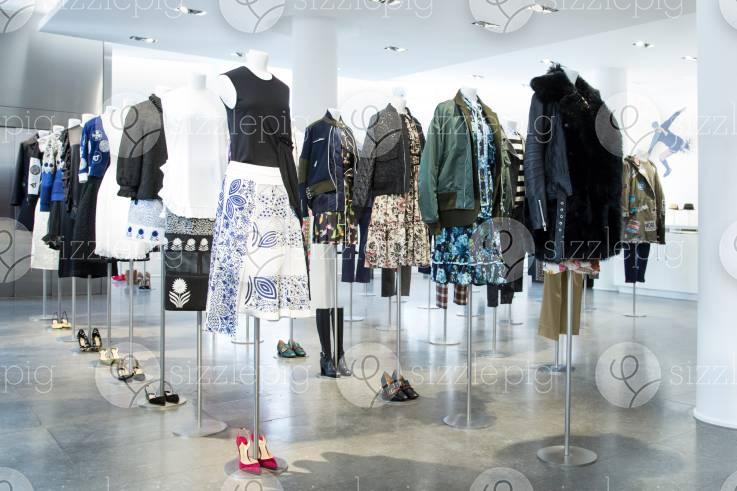 Image courtesy of Colette
Colette is anotherfigurehead for concept stores. This Parisian store boasts three levels of some of the best in tech, fashion and art, with an aim of offering the latest and greatest, as well as the surprising. Known for its eye-catching design, the space includes a book and magazine library, candle bar, gallery and beauty department. Colette is also home to the water-bar restaurant, which serves over 90 different brands of water.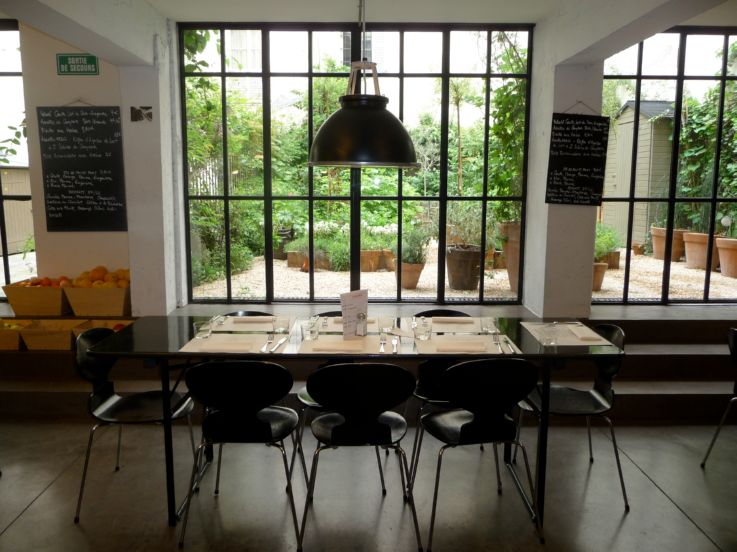 Image courtesy of Merci
More minimal in style than some concept stores, Merci makes the most of the big and bright space of a former wallpaper factory, complete with glazed roof. The store mixes vintage and contemporary, emerging brands and established names, limited editions and rare pieces with affordable items. It also offers exhibitions and events around different themes, whether that's a designer or a trend, and original design built around that.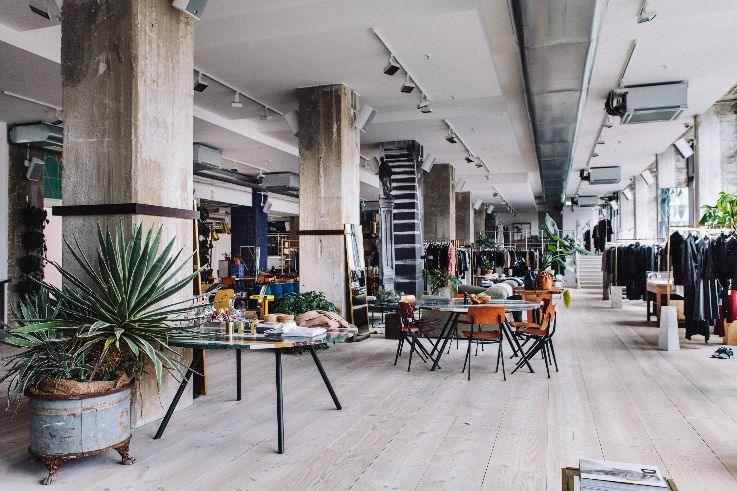 The Store. Image credit: Robbie Lawrence
The Stores are a series of soon-to-be three beautifully designed spaces in Berlin and the UK. Each of The Stores is different in its look and feel, but all subscribe to the same idea of mixing retail and culture. At the flagship Berlin store shoppers can visit The Store Kitchen, alongside browsing furniture, art, books, music and fashion. A third Store in central London is due to open in September. It will offer a permanent space for large exhibitions, as well as retail, creative and restaurant sections.
Considered a rival to Colette and 10 Corso Cosmo, Fivestory is a young, but luxurious, retail space in New York. Despite the name, the store has just opened a third floor in the townhouse it occupies. Fivestoryis actually a nod to "the distinct stories and histories behind each product placed within its walls." What's on offer is a mix of international designers, exclusive collaborations, as well as jewellery, accessories and home décor. A visit is as much about enjoying the store design as it is the products.
7. 33 New Road (London)
The New Road Residence (33 New Road) is a shoppable Georgian townhouse from clothing store Hostem. The three-floor 'curated residence' can be booked for overnight or longer stays by visitors. The beauty comes from the careful refurbishment of the building, and selection of furniture, art and items that fit in with their surroundings. Notably almost everything in the residence is available for sale should you become attached during your visit.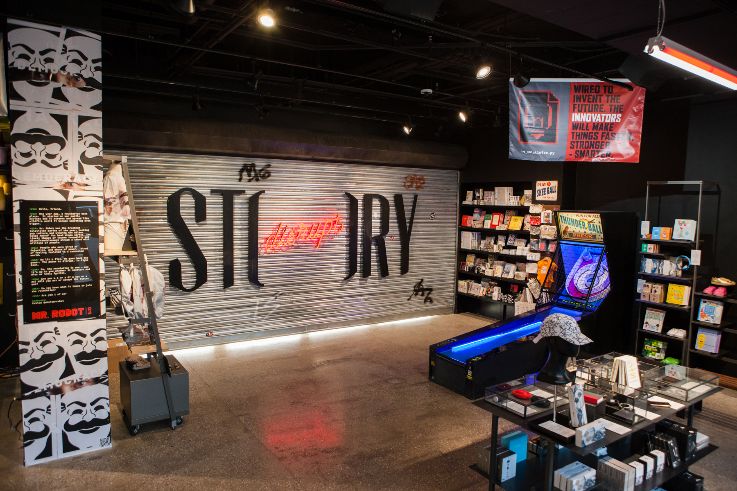 Image courtesy of Story
Story is self-described as a space that "takes the point of view of a magazine, changes like a gallery and sells things like a store." This New York store reinvents itself every month or so based on a new theme. This informs the design of the space, as well as what's on sale and the events held that month. The themes are put together with brand or designer partners, with previous collaborators including Pepsi and General Electric. Themes have included "Disrupt", "Have Fun!" and "Feel Good!".
At The Broken Arm wares are displayed simply on rails, tables and shelves, ensuring that customers' eyes are drawn to the products themselves. The rest of the store is in keeping with this simple, clean mood with plain, white walls helping show off the clothes, books, and objects for sale. A bustling in-store café add brightness.
Opening Ceremony is a store of surprises. Each of the four floors sells womenswear, but is also home to a children's area, bookshop, and shoe gallery. Souvenirs and zines add an extra cultural element. The design routinely changes with new installations and configurations to keep customers coming back.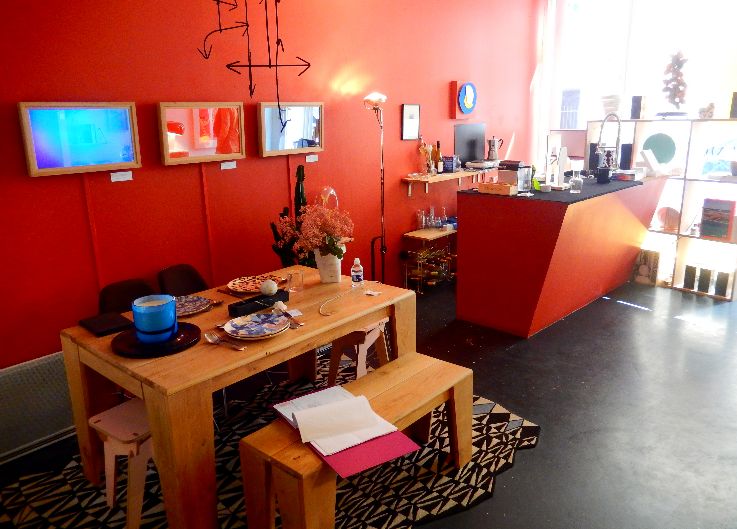 Chez Moi. Image credit: Cate Trotter
At first glance Chez Moi looks like the kind of cool apartment you'd love to live in. And that's exactly the point. A store that looks like an apartment, complete with bathroom, bedroom, living room, Chez Moi's owner actually lives in the space. Populated with fixtures and furnishings chosen by a discerning eye, customers can see the products in-situ and buy anything that takes their fancy. In this store/living space everything is for sale.
Although you could class Avoca as a mini department store, the lifestyle feel also makes it a concept store. The space is busy, full of things to buy, and bursting with colours. It's a lot like a favourite small boutique or vintage store, but on a bigger scale. With kids toys and clothes, fashion, homewares, a food hall and café, it sells a more grown up, but attractive lifestyle.
Since opening the first L'Eclaireur store in Paris 36 years ago, the brand has expanded to six stores across the city. Each offers its own take on the incredible interiors and installations that L'Eclaireur has become known for. Although fashion dominates, the stores also sell homeware, accessories and other lifestyle luxuries.
Image courtesy of The Corner
As the name suggests, The Corner is based in a stunning corner building in Berlin. Inside magazines, fashion, art, books, and more are all available to buy in a space that is often bold in design, but with a focus on room to move. Even the seating for trying on shoes is beautiful and high quality.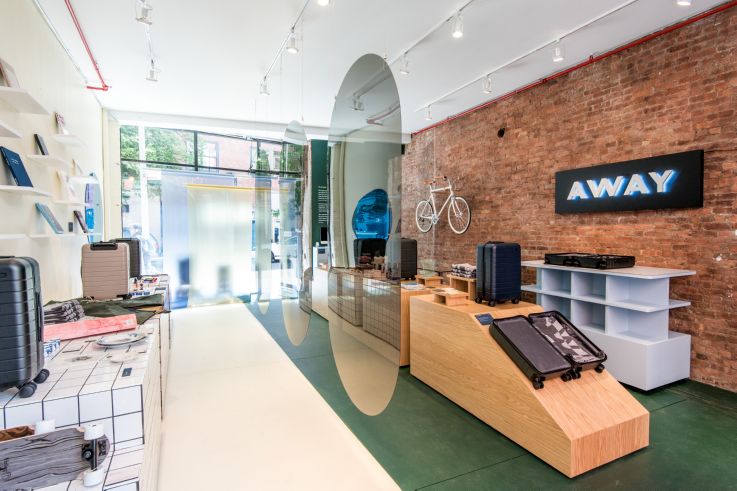 Image courtesy of Away
Travel accessory brand Away's New York concept store celebrates its founders' favourite destinations – Tokyo and Stockholm. Using transparent screens to divide the store in two, each half has its own entrance and design aesthetic. As well as Away's own range, the shop carries a curated selection of products from each country. This includes some limited edition products specially designed for the store from brands like CAP Beauty and Tokyobike. As products sell out, the range will be replaced with new items creating an ever-changing offering. Away is also running a series of events from the store, which is open until September 11th.
Following on from his Pool Aoyama concept store, designer Hiroshi Fujiwara has launched a new retail experience – The Park-ing Ginza. Based over two floors of what looks like a multi-storey car park, it has a different definition of beauty. Neon and concrete are the main materials. On one floor is a café and record store. On the other is a curated brand offering, including some limited edition and special products.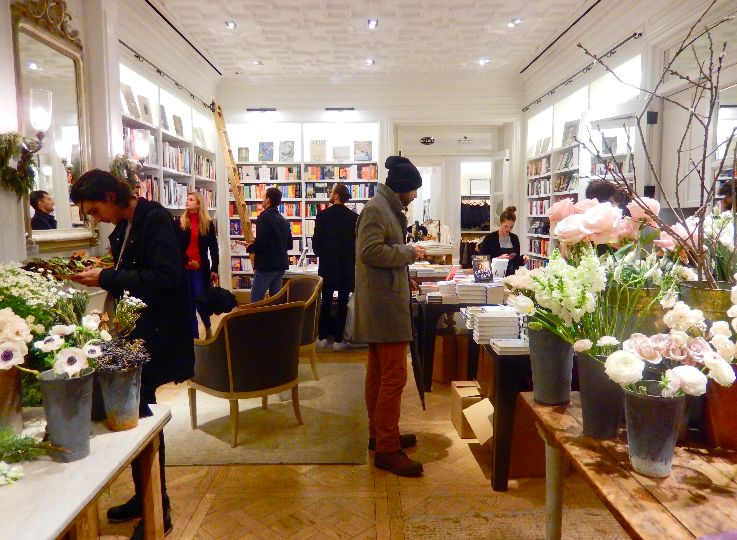 Club Monaco. Image credit: Cate Trotter
17. Club Monaco (New York)
Club Monaco's flagship store in New York manages to take a mansion-like space and make it somewhere people would want to live. The multi-level space incorporates menswear, womenswearand accessories, with different aesthetics for each section. The store also has a resident florist, a library operated by iconic local bookseller The Strand, and a café run by Toby's Estate Coffee.
18. The Apartment (New York)
The Apartment is another store that looks like a home. Created by the Line, customers can experience furniture, beauty, art and home items in their intended environment. They can also book private appointments in the beautiful light-filled apartment to access the Line's range of other shopping services in an exclusive setting.
No Youth Control is a concept store all about age being a mind-set and staying young at heart. Books, fashion, homewares and accessories intermingle in a space that is light, bright and airy. The website adds to the theme with a lifestyle blog and insights.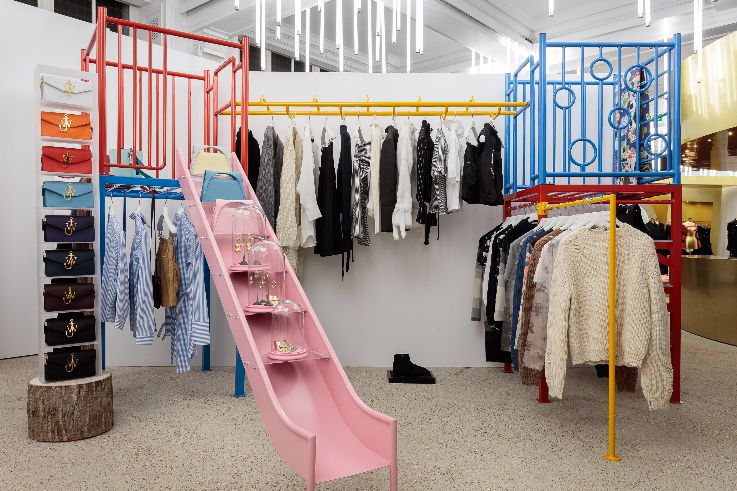 Image courtesy of Dover Street Market
20. Dover Street Market (London)
Recently relocated to a new home in London's Haymarket, Dover Street Market is five storeys of covetable objects and high-end bakery. The overall space has been designed by Comme des Garçons' ReiKawakubo, but brands with designated space have been allowed their own design control. As a result, each part of Dover Street Market is imaginative and unique in look and feel, often with the feel of an art installation.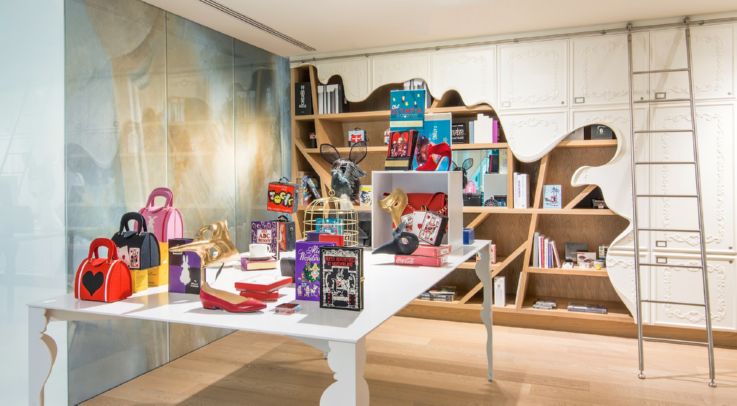 Image courtesy of Secret Location
Secret Location focuses on creativity and discovery. The huge 10,000 sqft space feels roomy, even though its home to fashion, books and homewares from a range of covetable brands. The design puts brights against a neutral background, with unique flourishes throughout. The store recently closed its top quality restaurant to focus solely on the retail side.
Image courtesy of Couverture & The Garbstore
It looks small on the outside, but Couverture & The Garbstore is surprisingly spacious inside. The upstairs is home to Couverture which lovingly pull together clothing, accessories, homewares, kids' stuff and furniture. Downstairs is Garbstore which sells its own label menswear, as long as curated footwear and womenswear from other brands. The décor is neutral and brightly lit, putting the items for sale in the spotlight.
Image courtesy of LN-CC
East London's Late Night Chameleon Café (LN-CC) is a diamond in the rough. Hidden down an unassuming alleyway, the formerly appointment-only store comes from ex-Selfridges and Harrods buyer John Skelton. Inside, the space is built around a stunning central tunnel with individual rooms off to each side. Clothes from big name and rising star designers are displayed like art installations, alongside a library of rare vinyl and books. The store also has its own bar/club available for events.
24. Space Ninety 8 (New York)
Space Ninety 8 is technically an Urban Outfitters initiative, but its wider lifestyle elements make it more than a branded store with interesting concepts. The five-storey space has a rooftop bar and restaurant, music store, and a packed calendar of events. Of real interest though is The Market Space, which is home to products from local creators, and The Basement, which sees a rotating series of brand pop-ups.
25. Happy Shop (Berlin)
Developed with local architects Fingerle&Woeste, Happy Shop is a flexible retail space that can be rearranged as desired. Clothing is hung from suspended rails, each lit by their own strip light, with accessories and other curated items dotted around the floor space. The walls are an odd mix of wood and neutral white, but as a backdrop to the bright and eclectic range it works perfectly.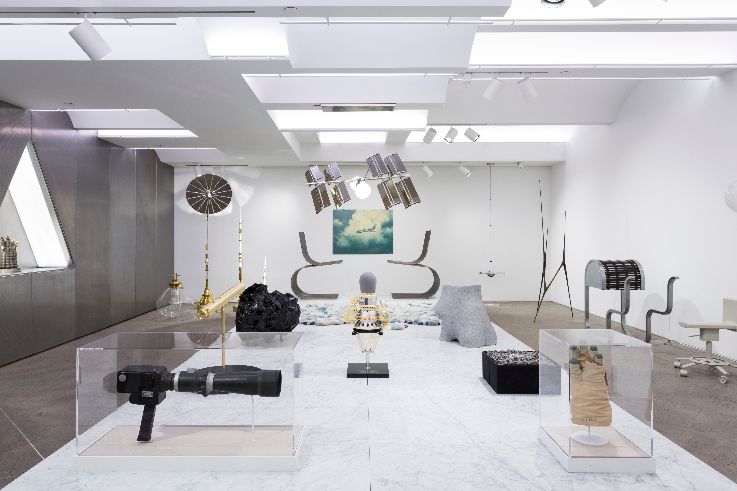 Chamber. Image credit: Guang Xu
26. Chamber (New York)
More gallery than store, Chamber is an intriguing concept store from Juan GarcíaMosqueda. Limited edition, vintage and specially commissioned objects are all curated around a theme that changes every two years. Each new curator can also change the displays, but currently items are on platforms and shelves and under glass adding to the gallery feel. Created as a destination store, each Chamber collection is accompanied by a limited edition perfume.
Concept stores aren't just for adults. Bonton is a children's concept store, which sells clothing, toys and necessary accessories, alongside experiences like a hairdressers. As you'd expect, the interior is bright, cheerful and fun, but also surprisingly grand with its chandeliers and sweeping staircase.
Better check the directions carefully if you want to visit Darklands. This concept store regularly changes its location, which means its look changes with it. Currently in a giant hanger-like space, the carefully selected range of dark menswear is suspended from rails in front of white walls. Footwear, accessories, jewellery and homewares add to the dark theme.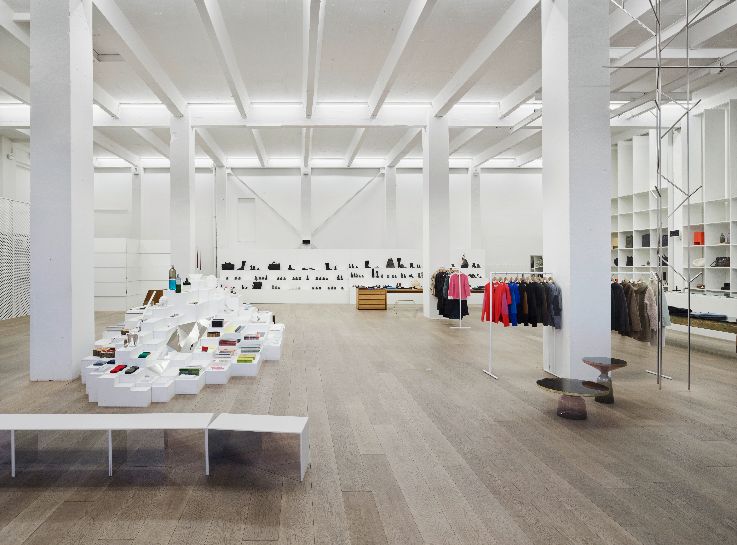 Image courtesy of Andreas Murkudis
Andreas Murkudis' concept store reflects his experience as director of Berlin's design museum Museum der Dinge. The all-white 1000 sqm store exudes the feeling of space. Products are carefully displayed around the edges and centre, leaving plenty of room to move around. A central stepped platform makes the accessories, homewares and magazines the main focus. There are no limits on the product range, just things that Murkudis thinks are beautiful.
The flagship Conran Shop is located in the historic and stunning art deco Michelin House in Chelsea. However, it's the Marylebone store that really nails the concept ideal. Inside it appears neutrally decorated, but its window displays demonstrate bright flashes and neon colours. On the top floor is the Conran Apartment that provides inspiration about the Conran lifestyle, the Conran Kitchen and the Rooftop Garden. Throughout the store, specially selected furniture, homeware, gifts and more let customers replicate that lifestyle.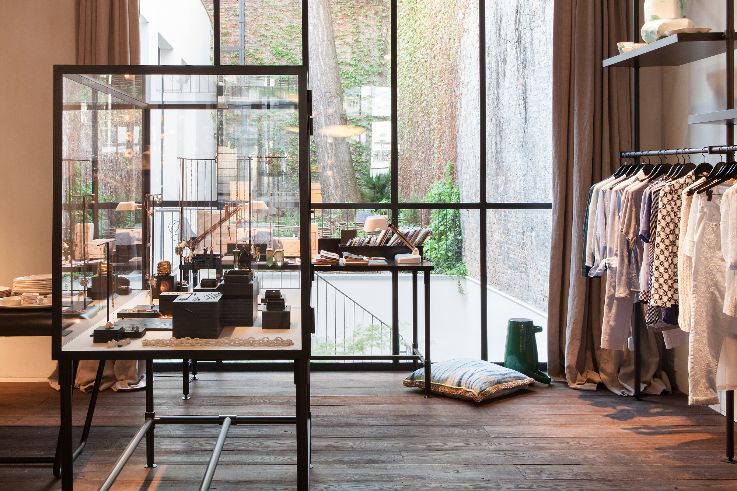 Graanmarkt 13. Image credit: Frederik Vercruysse
A restaurant, gallery, apartment and store in one, Graanmarkt 13 is housed in a beautiful townhouse in Antwerp. On the ground floor is the store proper, complete with curated fashion and collectables. Above it is home-styled gallery space, which is also used for events. Having originally been the home of owners Tim Van Geloven and IlseCornelissens, the stunning contemporary top floor apartment is now available to rent. In the basement is the restaurant complete with award-winning chef.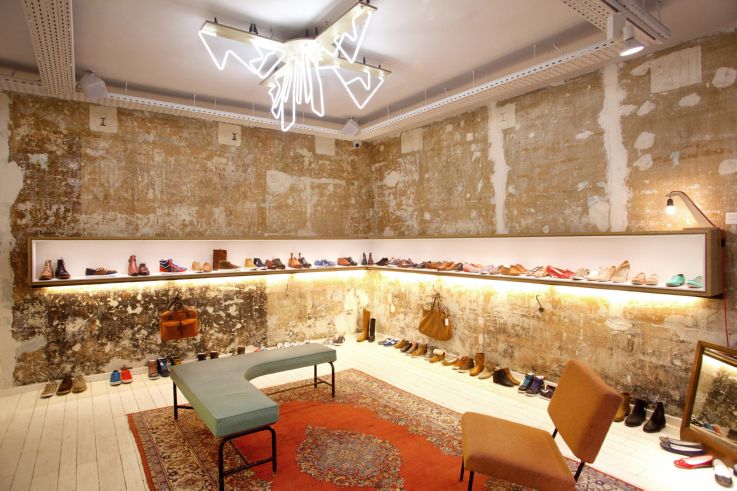 Image courtesy of Centre Commercial
Centre Commerical is built around the idea of social and environmental conscience. This theme is adopted throughout the store where simple exposed walls and wooden floors mix with neon and bright lighting. As well as locally made products and labels from across Europe, Centre Commercial collects vintage furniture, second hand bikes and art.
Described as a 'concept living' store, Bodie & Fou curates timeless products for all parts of the home. Furniture, gifts, bathroom and kitchen items, lighting, home accessories and children's products are all displayed in the same simple, but desirable fashion. A palette or mainly neutrals and black makes the store feel effortlessly chic, with the suggestion that shopping there could do the same for your home.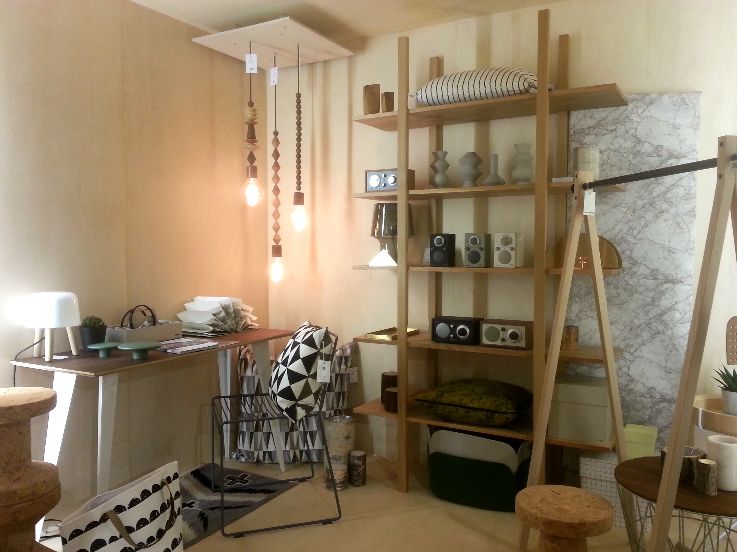 The Goodhood Store. Image credit: Insider Trends
Selling a curated selection of clothing, accessories, homeware, beauty and other lifestyle products, The Goodhood Store aims to cater to its local east London audience. Wood, metal and Perspex change the feel of each part of the store, but never the sense of cool. A basement café completes the space.
From the outside Alter Concept Store is bold, bright and blue. Inside it's much more muted, with nude tones and low lighting. The wow factor comes from the stepped interior on the floor, walls and even ceilings. Mannequins give the impression of changing perspectives, while Alter's collection of lifestyle items and fashion are laid out across surfaces ready to be picked up.
36. Pentreath & Hall (London)
It may only be a small shop, but Pentreath & Hall is still a covetable space. The window displays are like looking into a cool, mismatched, vintage living room – a theme which carries over into the rest of the store. The space is heaving with products, but they're all impeccably put together in a space that seems almost liveable.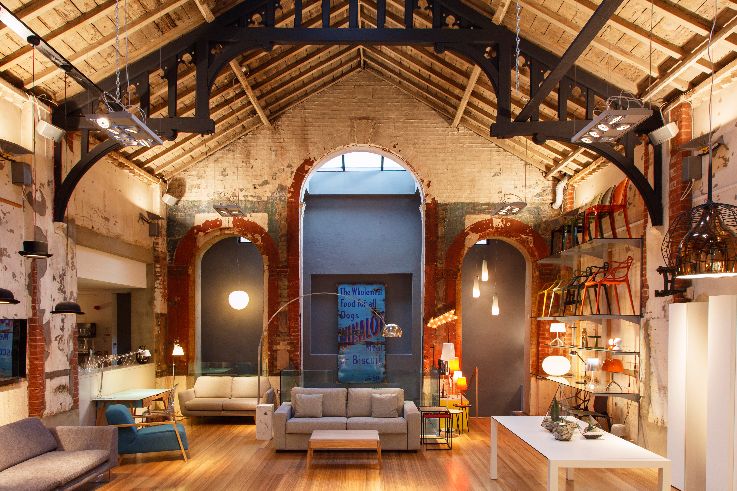 Image courtesy of Aria
The white wood outside makes Aria an arresting sight, but it's nothing compared to the inside. Based out of Barnsbury Hall in Islington, the store makes the most of the high ceilings and massive space. The walls are kept distressed, which serves as a design contrast to the mix of contemporary and vintage furniture. As well as a wide range of furniture and lighting, Aria offers products for all other parts of life including jewellery, homeware and beauty.
38. Belief (Moscow)
This super cool men's lifestyle concept store was the first retailer in Russia to introduce a new era of predominately Japanese premium brands. The dark interior and bare brick wallsare punctuated with vintage rockabilly design flair, neon and graffiti to give it anurban edge. Clothes, shoes, accessories, fragrances and novelty items are carefully curated from the best Japanese brands to give local shoppers a taste of overseas lifestyle.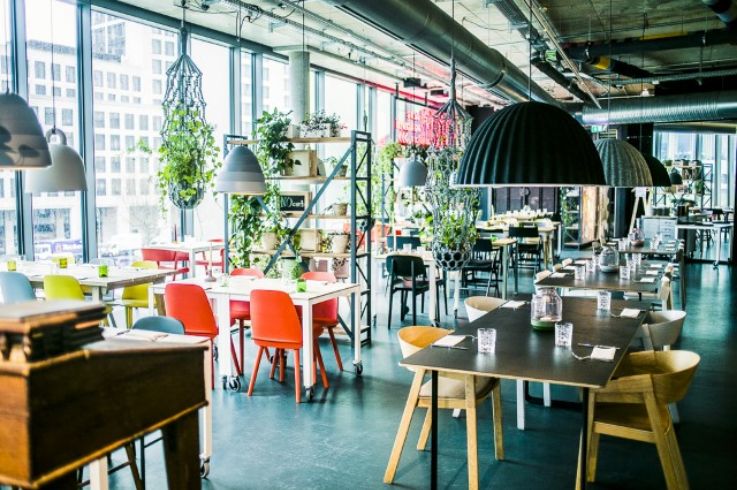 Image courtesy of Super
SUPER employs the concept "Enjoy the space and shop what you see!" A mix of retail and restaurant, supposedly everything in SUPER is for sale. If you like the chair you are sitting on or the glass your drink comes in, you can take them away. The store embraces its industrial feel, painting the overheads pipes in garish colours as opposed to hiding them. Every surface is covered in contrasting products, encouraging customers to explore and look at everything.
40. The Shop at Bluebird (London)
On entering The Shop at Bluebird's King's Road store your attention is immediately drawn by the ceiling of hanging lightbulbs that illuminate the wares below. Everything on sale is chosen with an eye for design from beauty to fashion to homewares. The store also has a Blink spa and brow bar enabling customers to combine luxury treatments with their shopping.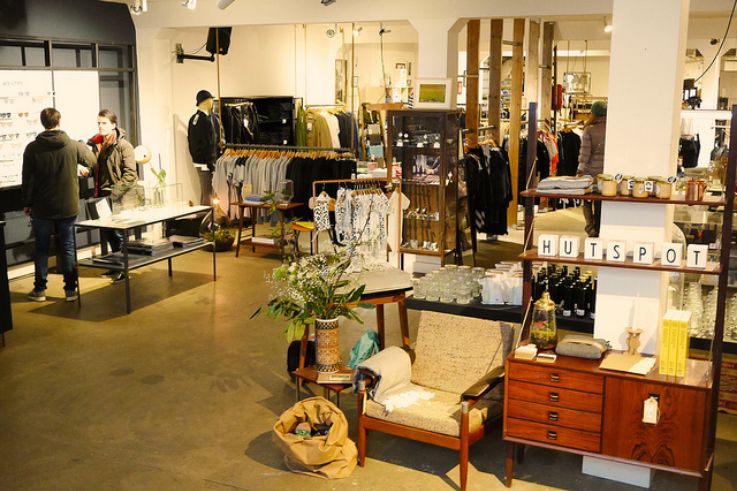 Hutspot is another concept store where apparently everything is for sale. The Van Woustraat store has a large open plan café space on the top floor, a barber and photo booth on the bottom, and somehow in-between a beautifully chosen range of books, fashion, art and more. Large windows and glass sided stairs make it feel big and bright.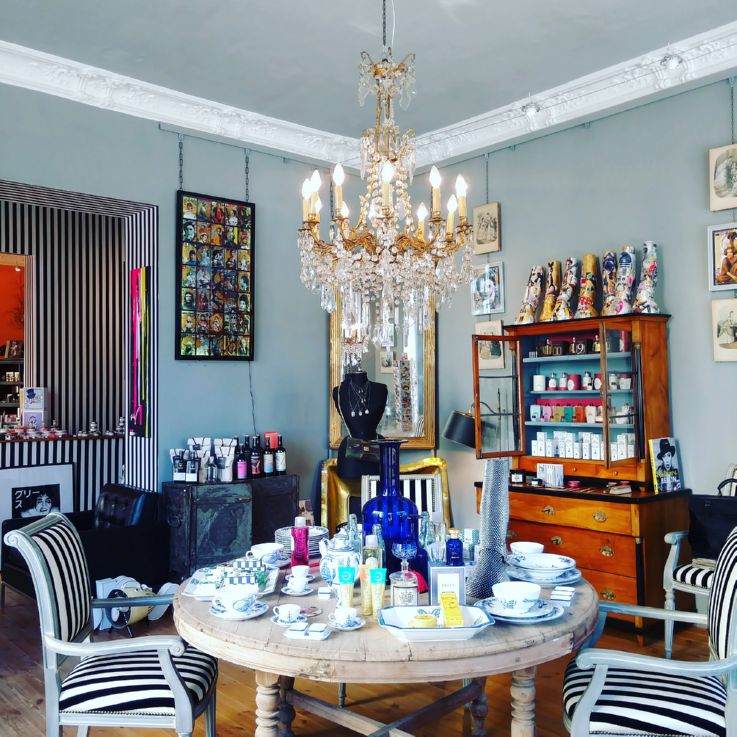 Image courtesy of Soul Objects
This Berlin concept stores uses an Oxford dictionary definition of soul – "the emotional or intellectual energy or intensity, especially as revealed in a work of art" – as its core theme. Everything in the store is considered a work of art by the owners, whether its art, beauty and grooming products, furniture, fashion or homeware. The interior is a mish-mash of decadent and old-school cool, which perfectly fits the eclectic wares.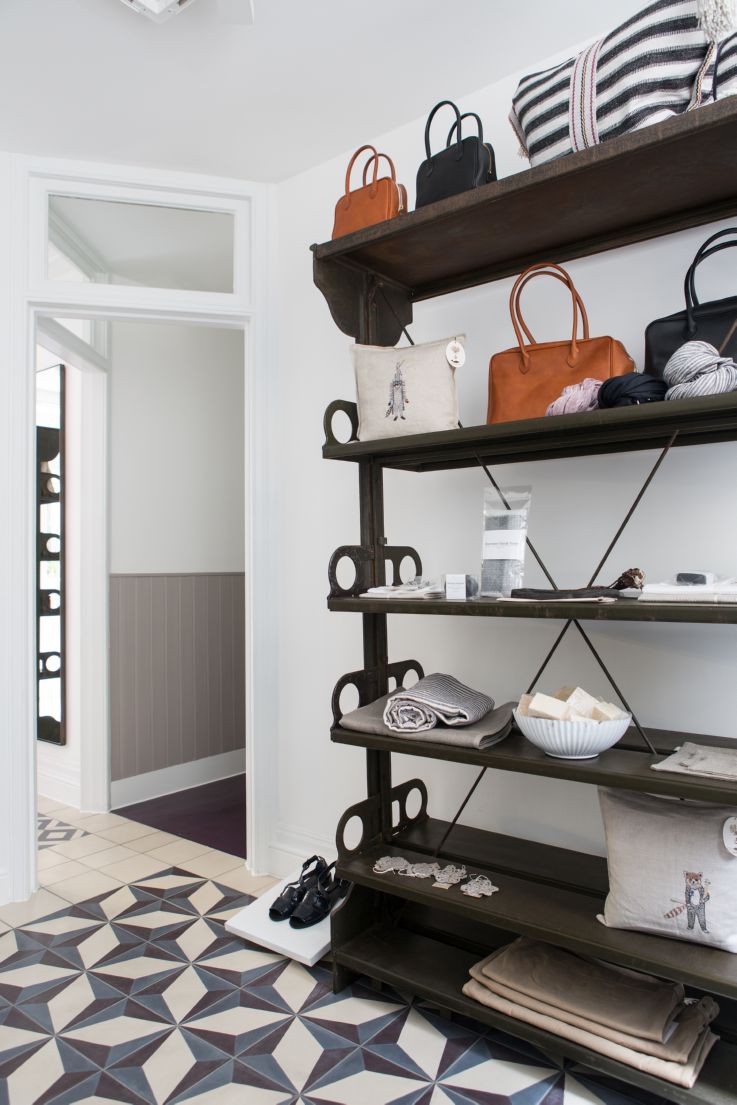 Image courtesy of Mouki Mou
43. Mouki Mou (London)
On its top floor Mouki Mou is like a modern art gallery with overhead strip lights and a selection of jewellery displayed in on-wall cabinets like works of art. A black spiral staircase takes shoppers down into a space boasting a carefully curated selection of clothes, accessories and beauty products. The design is minimal, but effective in creating an almost tranquil shopping space.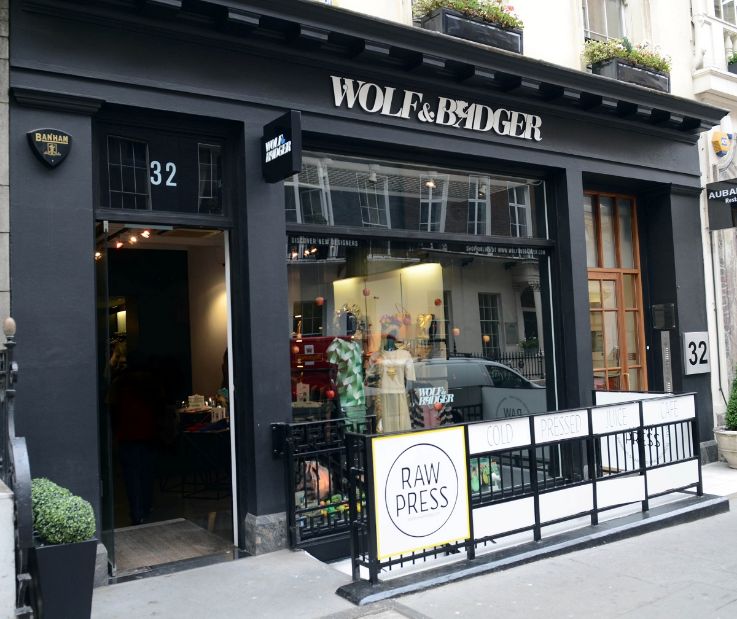 Image courtesy of Wolf & Badger
Stocking only independent labels from the UK and beyond, Wolf & Badger spreads its concept across two stores in Mayfair and Notting Hill. Each has a different range of labels and products, from fashion to homewares. They also employ two very different aesthetics – the Mayfair store is dark glamour with chandeliers, while the Notting Hill store has white walls, bright lights and modern displays.
Seven Rooms is in fact one huge white brightly-lit space conceived as seven different areas. There is a bedroom, kitchen, living room, library, garden, bathroom, and walk-in closet. Each houses a small selection of appropriate items from designer fashion to fragrance. There are even snacks and drinks in the kitchen. All of the wares are displayed on white platforms giving it a gallery like feel, but one you could live in. Seven Rooms also hosts regular events and exhibitions featuring artists, musicians and designers.
Hostem is currently based in a temporary space, while the always fascinating flagship store is being renovated. However, beautiful design still applies with the space filled by a wooden structure inspired by the work of Oscar Tuazon. The large range of clothes is paired with furniture and artwork from notable names. The experience is added to through complimentary drinks and a bespoke sound set-up with daily playlists.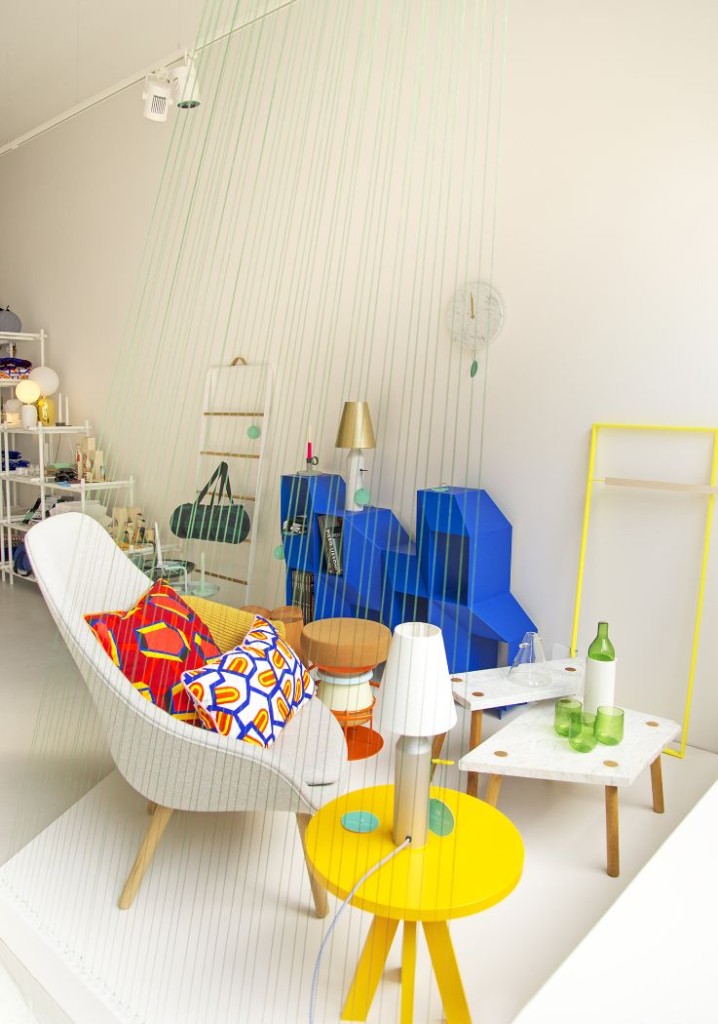 Image courtesy of Monologue
The concept behind Monologue is contemporary design. Selling homewares, furniture, lighting, candles, stationery and more, there are a lot of bright colours and geometric shapes dominating both design and products. Products are curated from up-and-coming designers, as well as established names.
Derelict chic would be a good way to describe Voo's aesthetic. A decadent central column is partly exposed to brickwork, as are a number of the walls. Filling the space is a constantly changing selection of men and womenswear, gifts, books, gadgets, beauty and more. An in-house coffee shop completes the shopping experience.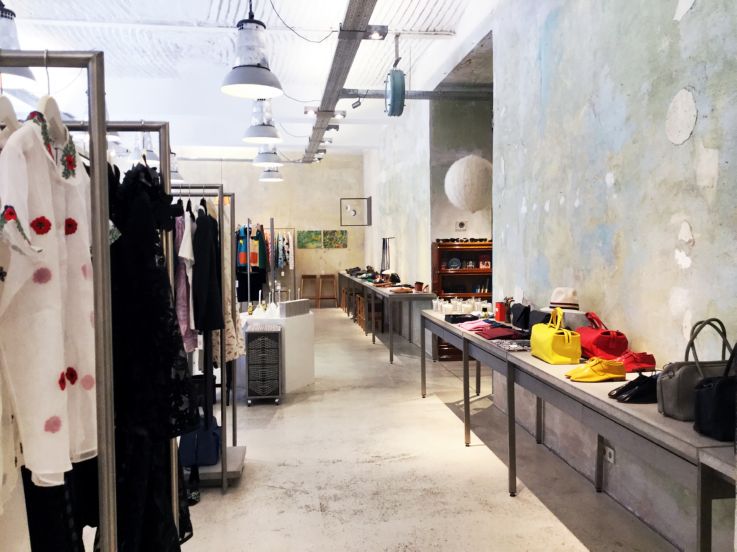 Image courtesy of Song
A beautiful rustic-feel space, Song marries peeling paintwork and swirls of colour with metal overhead lighting. Outside the black window frames and red overhangs suggest high-end boutique, but inside also manages to feel like a gallery. As well as displaying the clothes, furniture and lifestyle products for sale, Song also puts on regular exhibitions from designers and artists.
Portrait has two main descriptions – the first is 'beans, cotton & things' which describes everything for sale. The second is "you could call this home, but you do not have to the dishes", which sums up the whole concept behind the space. That, and Scandinavia, as the majority of the specially selected men and womenswear comes from Scandinavian brands. All of the furniture in the space, which ranges from new to vintage, is also for sale, and again inspired by Scandinavian design. A coffee shop completes the offering.