Concept Stores
50 Best Concept Stores Worldwide – 2017 Update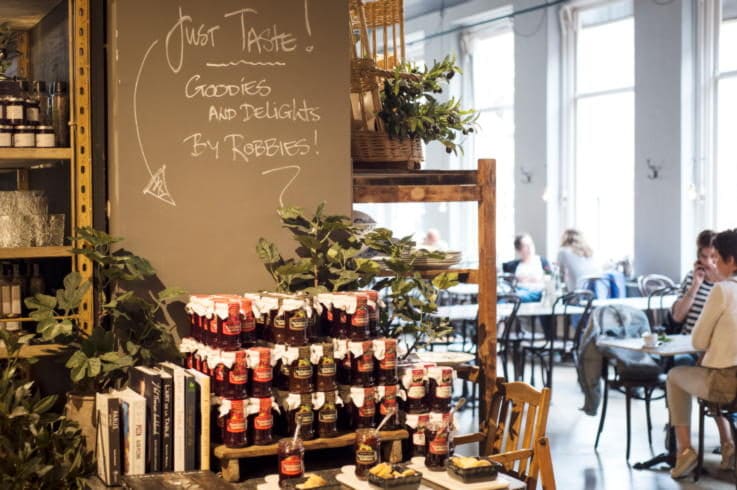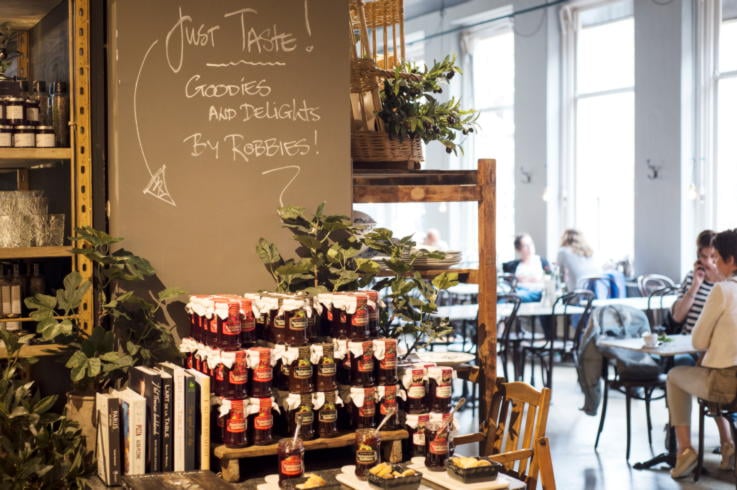 We continue to be surprised and inspired by new iterations of the concept store. Whilst a well-worn term, retailers worldwide are constantly rethinking the format. There are five storey department stores with 'secret' stockrooms for those in-the-know. There are gallery-stores that refresh with the seasons. Flower shops operate under the guise of a cafe.
For us, a concept store is broadly defined as a multi-brand store, retailing a highly curated selection of products, directed by a clear theme, lifestyle or philosophy. More often than not the retail component is wrapped in an experience.
Following on from our initial Top 50 shortlist, we've cast our net wide to unearth hidden gems and fashion favourites. From Austin to Mumbai, Brisbane to Lagos here's our edit of the next 50 to watch: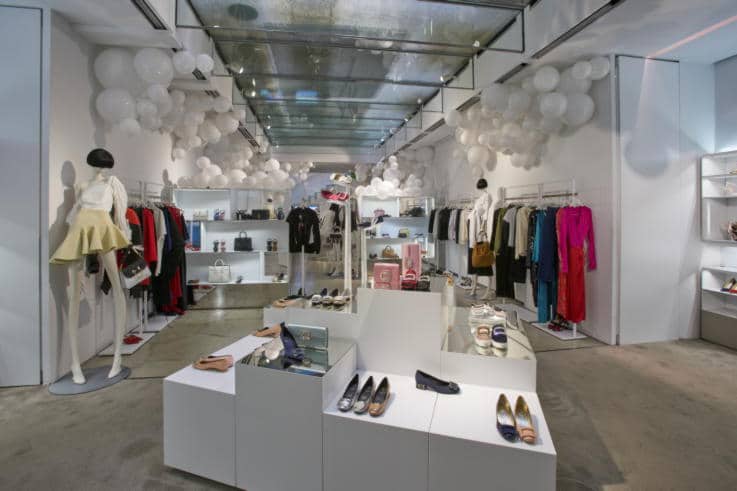 Image courtesy of Luisaviaroma
1. LUISAVIAROMA (Florence)
One of the original concept stores, LUISAVIAROMA is a key destination for luxury shopping for menswear, womenswear and kidswear. Stocking a who's who of the seasonal catwalks, the extensive offering is mirrored online. It was one of the first to launch the "Buy It First" service inviting customers to pre-order from the collections before they reach stores.
Totokaelo's story evolves across five storey's of avant-garde fashion, art and objects. Between industry heavyweights like No6, Yohji Yamamoto and Rick Owens, and their own RTW women's line, this is the place to uncover 'insider' labels. There's even rumour of a secret stockroom. The soaring atrium makes for a dramatic entrance, before you meander the airy labyrinth of displays, dressing rooms and courtyard.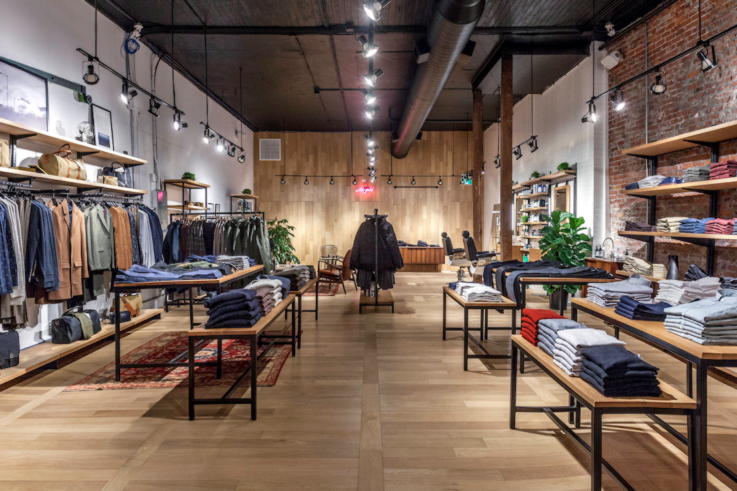 Image courtesy of Frank & Oak
3. Frank & Oak (Montreal)
Frank & Oak actively encourage 'showrooming'. Shoppers are invited to contemplate purchases in their own time over a trim at the on-site barbers or lazy latte in the on-site cafe. One-on-one appointments offer advice with a personal stylist, encouraging you to try sizes and looks before buying in store or later online.
Twice a week on Tuesday and Thursday afternoons, the doors open to a beautifully restored 18th century shoppable apartment, and living installation of 20th century furniture, contemporary art and design. Under the curatorship of Tina Seidenfaden Busck, the home is a place to discover stories. Alongside private consultation services around interiors and art, the objects serve as conversation starters for private dinners.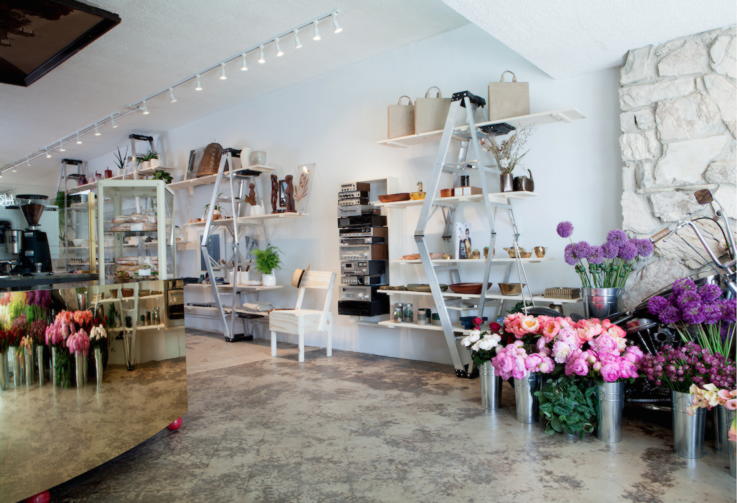 Image courtesy of Flowerboy Project
Jamaican-born designer Sean Knibb has extended the 'grab-and-go' flower stand principle to a 'grab-and-go' concept shop. The store is first and foremost a contemporary florist, with a supporting cast of curated off-the-shelf gifts, cards and trinkets. The on-site cafe sells pretty coffees and cakes finished with dried flower petals and seeds.
6. En Route (Tokyo)
En Route was conceived for Tokyo's stylish sporting community blending city-casual with contemporary running wear. Reflecting the duality of the space, glamorous skylighting and neon contrast with products displayed on industrial-inspired fixtures. The USP of this venue is its second floor running station featuring locker rooms, showers, powder rooms and maps recommending running routes in the city.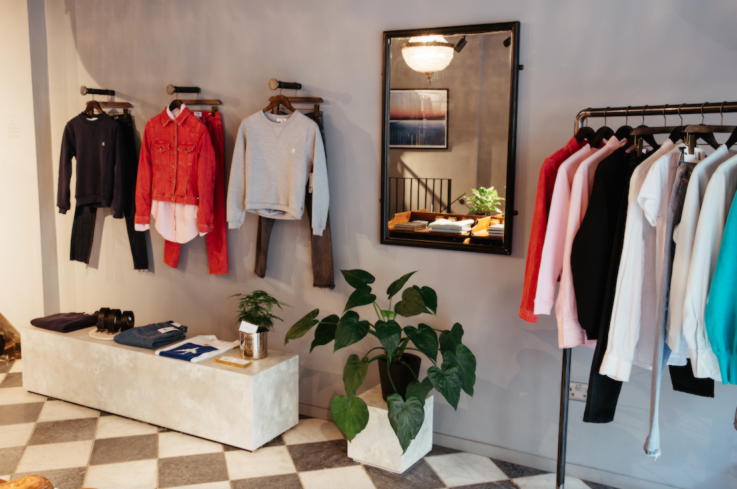 Image courtesy of Modern Society
Modern Society perfected their formula with a bricks-and-mortar store in 2016, following a three year series of pop up trials. The store has a small café and a boutique of left-of-the-middle brands (alongside their seasonless/genderless own label). There is also a series of quarterly exhibitions programmed with photography collective If You Leave. With an open policy of collaborating with the like-minded, Modern Society is the place to find something surprising.
Taking cues from effortlessly-stylish Scandinavian store design, Silver Deer offers a premium and luxury selection of contemporary menswear. A.P.C, Thome Browne, Visvim, Kitsune, DS Durga, Dries van Notten and Lavin feature side-by-side in the wardrobe. The store also features a shoe lounge, a patio lounge, travel mezzanine and a VIP room with tailoring services.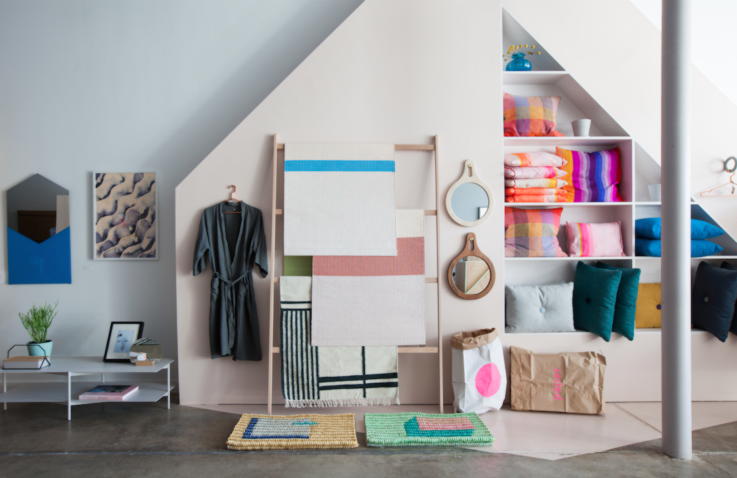 Image courtesy of Nannie Inez
Founders Deeyn Rhodes and Lonzo Jackson travel the globe in search of design gems for the home. They challenge themselves to find truly unique pieces not available in other stores with a focus of supporting small, innovative designers and art practices. Every single item is selected and stocked for its stand-out design aesthetic, craftsmanship or story behind the collection.
"Your medicine for a style cure and you don't need a prescription to visit!' – specialising in street and trend wear, the store stands out from other retailers with a similar mix through its all-out set design which entices shoppers to engage and play. From medicine cabinets to apothecary bottles, bell jars, skeletons and hospital paraphernalia – if you're going to theme your store, no point going in half measures.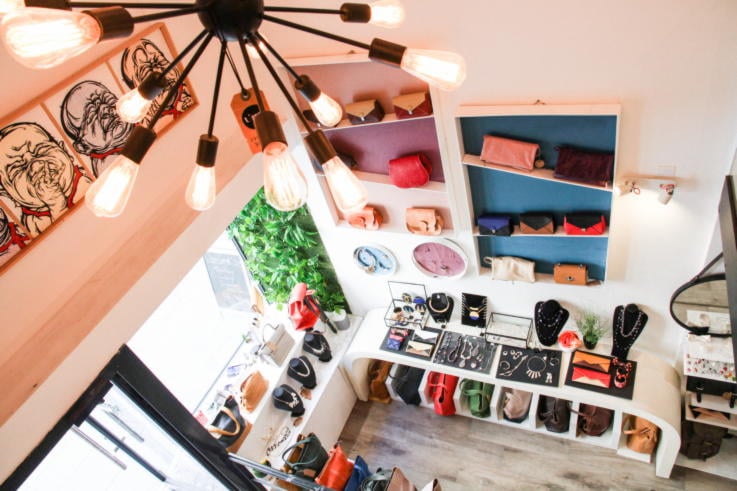 Image courtesy of Upper Concept Store
A chameleon of a location, Upper embodies its hybrid identity. The seamless layout eases between a boutique of hand-picked items, a revolving contemporary art gallery, a co-working space and a private events venue. A one-stop shop taking you from work to play, the decor is deliberately pared back, the layout purposely open and airy allowing the 'content' to do the talking.
Storm is a stripped back store bearing streetwear gold for tastemakers. Here, collectors can get their hands on rare finds from big brands like Adidas, highly limited edition Yeezy products, cult classics from Kitsune, statement fragrances from Escentric Molecules and directional, street-inspired items from Raf Simons.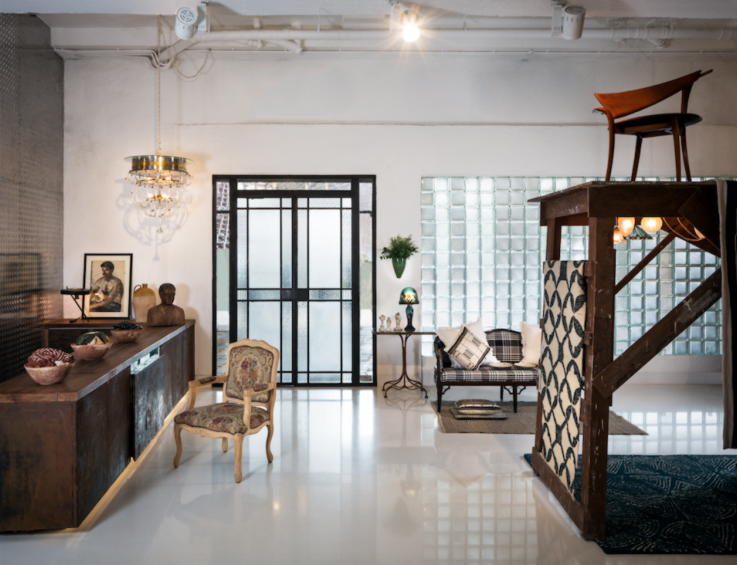 Image courtesy of Bungalow 8
Mumbai's first concept store is frequently name-dropped as a compulsory pitstop amongst international design and celebrity clientele. Like walking into a (rather refined) grand home, contemporary homewares, interiors and textile pieces are displayed in carefully considered assortments – creating a portrait of modern Indian taste. Antiques are sourced from all over India and sit alongside avant-garde labels, quirky one-off finds and other design curiosities. Previously housed in a historic building, and now part of the iconic Wankhede cricket stadium, Bungalow 8 is a masterclass in how to style contemporary product within a heritage space.
The Outpost is a place to scout new trends in shoes and accessories for men. There is something for every gentleman's taste and preference in this retro-chic retailer, with product oscillating between Classic (Church's brogues) and the Avant Garde (Maison Margiela).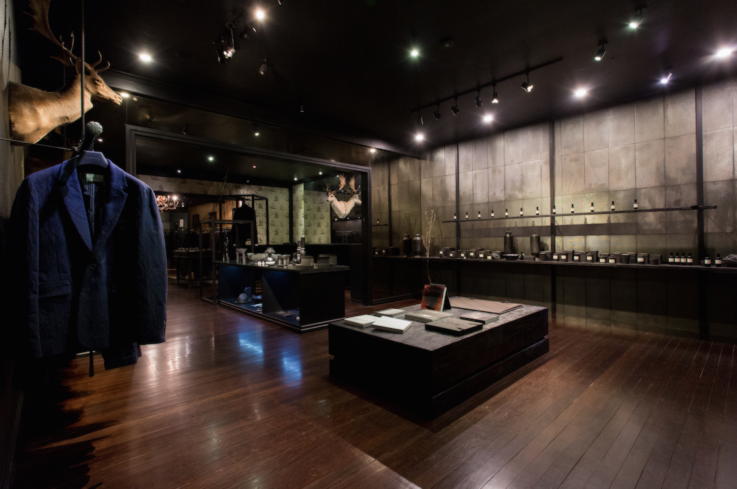 Image courtesy of Fallow
'Tactility' is the raison d'etre behind Fallow. In this store, if it's not something you want to pick up, run your fingers over, squeeze or cradle, it doesn't make it to the rails. A passion for material, textures and craft is a clear theme that runs visibly across the highly curated selection. This includes forward-thinking Australian and international labels, handmade jewellery and accessories, treasured objects, limited edition publishing, niche fragrances and premium quality cloth.
Table of Contents is both a creative studio and a retailer. Each season it challenges itself to a theme and curates the selection of men's and women's clothing, printed products, objects and accessories accordingly. Walking into the store can feel like walking into the minds of the owners where the products and displays evolve accordingly, 'nameless' exhibitions and events pop up at a whim.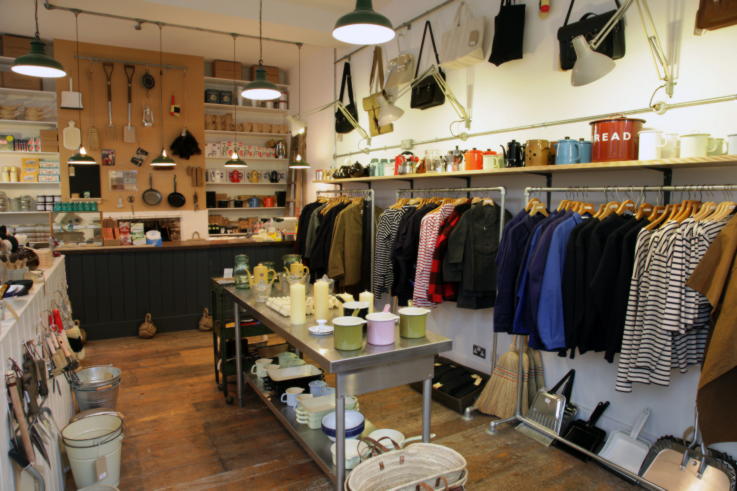 Image courtesy of Labour & Wait
Labour and Wait stocks an inventory of 'everyday classics' for the modern household. Simplicity and utility are the order of the day, but this cosy store is anything but ordinary. Each item is selected to be a timeless example of its kind, from the feather duster to the kitchen apron, the enamel soap dish to the felt coaster, the screwdriver, to the salt mill. The selection spans cultural references from the English tea-cosy to Japanese tea kettles using clever colour-coordination and aesthetics.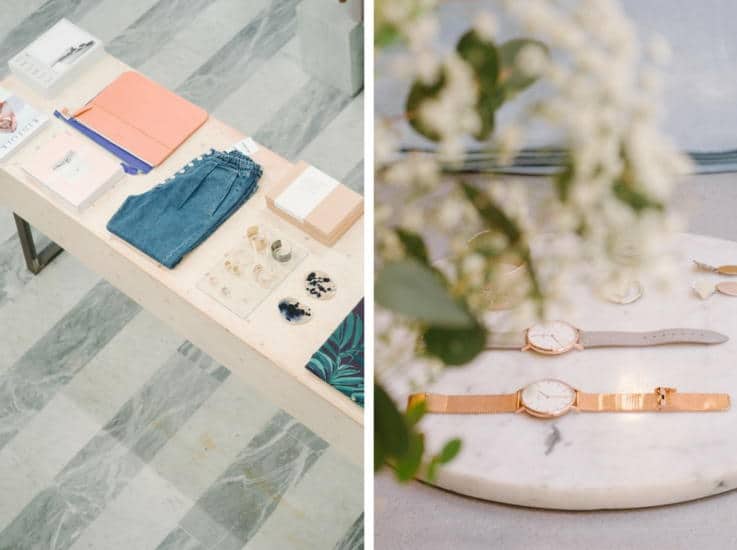 Image courtesy of Bjork
Bjork is Florence's go-to concept store for 'Nice Things' as its slogan declares. It offers a tasteful edit of emerging fashion brands, handmade jewellery, coffee table books, international publications, art prints and stationery supplies. A hidden gem in a city of Classical style.
This charming boutique offers a refined selection of French labels for little ones. Baby clothing, gifts and skincare feature organic materials and natural products. Designer kidswear focuses on quirky patterns, vintage references and bright colours from 'special occasion' items to school satchels. Toys hark back to the old school with handmade wooden boats, puzzles, plush characters and music boxes.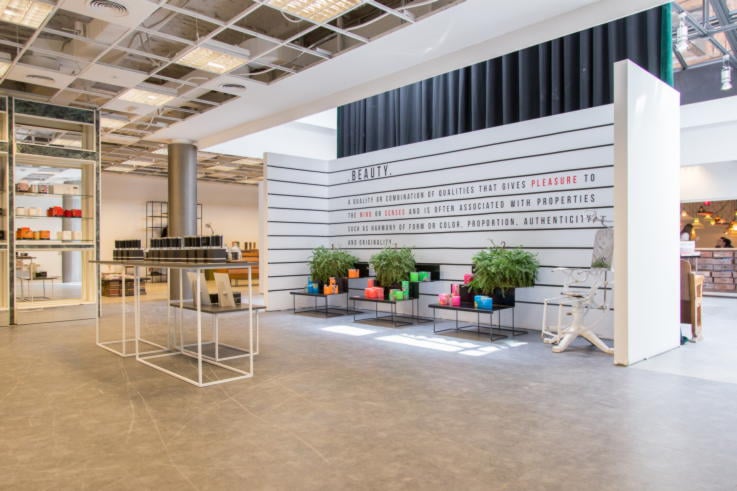 Image courtesy of El Paracaidista
20. El Paracaidista (Madrid)
El Paracaidista is designed as a blockbuster 360 destination for shopping, dining, drinking and entertainment. You can shop without the drop thanks to the apps placed around the space allowing you to browse, buy and deliver to your home within a few days. Shoppers can choose to dine or drink in a Cuban-inspired cocktail bar, a terrace pizza restaurant or a Nordic-inspired cafeteria before catching a film in the basement cinema.
The team at Mina Milanda describe themselves as 'flower family' – a bunch of individuals from the worlds of floristry, music, design and textiles, rooted in plants. The boutique and alfresco yard space provides a living garden of items to landscape your life – plants, vases, handwoven carpets, dinnerware, outdoor furnishings and associated decorations that change with the seasons.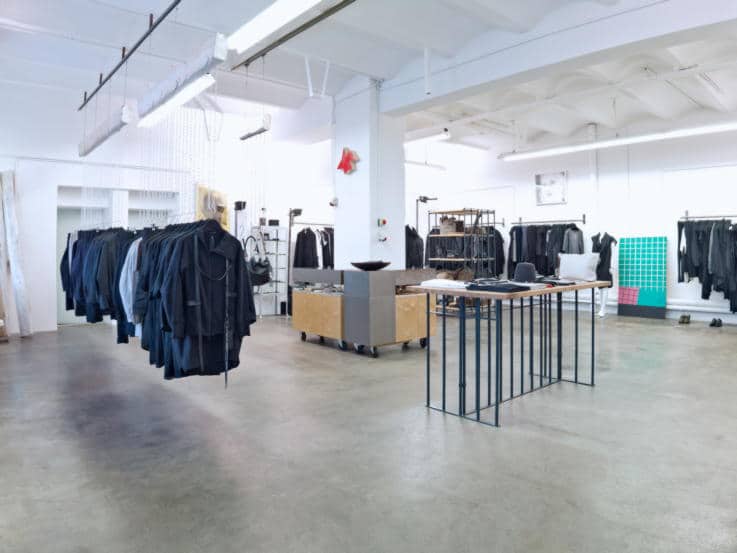 Image credit: Claudia Linhoff
Founded in 1977, ELA was a pioneer bringing designers such as Henrik Vibskov and MM6 Maison Margiela to Germany for the first time and dressing musicians from Kraftwerk to Dexys Midnight Runners. Under the foresight of founder Gabriela Holscher-Di Marco, it continues to be a store of 'firsts' with a policy of showcasing breaking young designers and visual artists, often exclusively.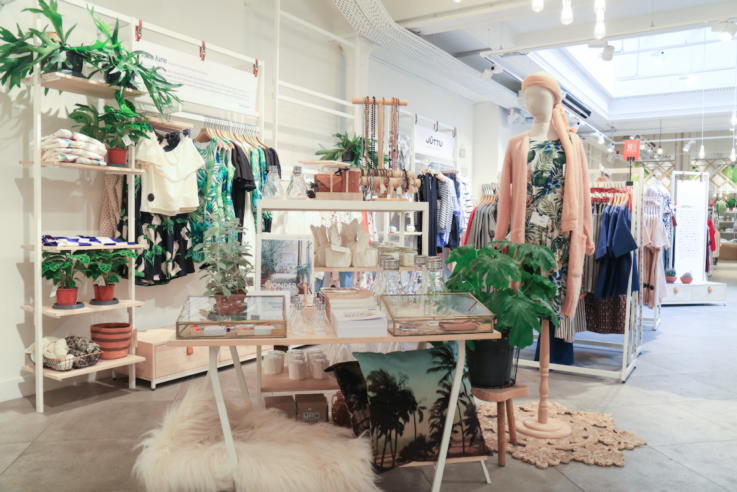 Image courtesy of JUTTU
The team at Juttu describe the experience of visiting their store like 'flipping through a magazine'. Shoppers walk through different spaces dedicated to fashion, interiors and gourmet food. Each month, the in-store pop-up space is dedicated to showcasing and retailing the work of a different local talent from the worlds of fashion or product design.
Alara is an architectural monolith and one-stop shop for luxury trends located on Victoria Island, Lagos. Alongside a selection of international brands it celebrates contemporary African culture across design, fashion, art and food. The (borderline) Brutalist interior borrows from exhibition-making to style the product. There's an unmistakable African signature with bold colour pops, geometrics and prints. The 3,200 sqft space also has a rooftop terrace and restaurant serving African-fusion cuisine.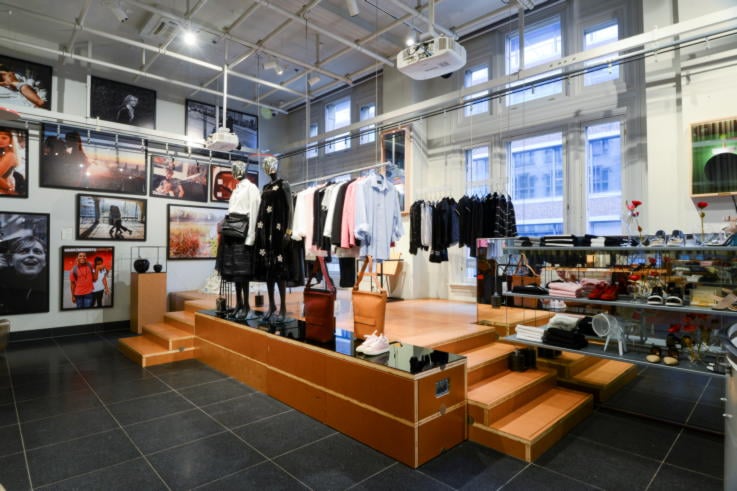 Image courtesy of X Bank
Housed in Amsterdam's W Hotel, X Bank is a platform dedicated to elevating Dutch design, fashion and artwork. The space is equal parts retail store and art gallery presenting revolving exhibitions, events and workshops.
YME is a self-described 'curated universe' of fashion, art and design – both figuratively and literally. Over three floors and a rooftop the distinctive store design is inspired by the Norse myth of the moment of creation. Sculpted wood and blackened metal are used to evoke fire and ice. The kind of store design usually reserved for a luxury boutique, the extravagant interior is instead a backdrop to the cream of streetwear-influenced labels.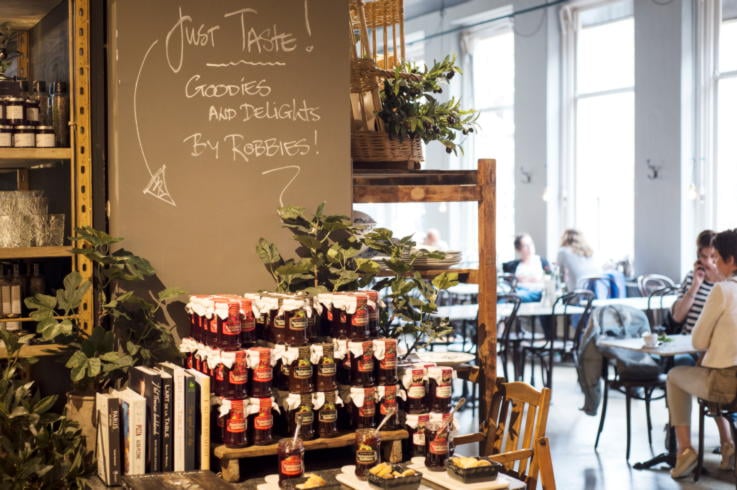 Image courtesy of Robbies
Robbies positions itself as a destination department store for the neighbourhood, housed in a 1000m2 former bank. Feminine, fun and Instagrammable, the space features a broad selection of fashion, antiques and organic edibles as well as a full coffee and lunch menu in the restaurant. Shoppers can opt to have their purchases delivered at home, 'park' their bags whilst they dine and get tips from the friendly staff on where to visit in Den Bosch.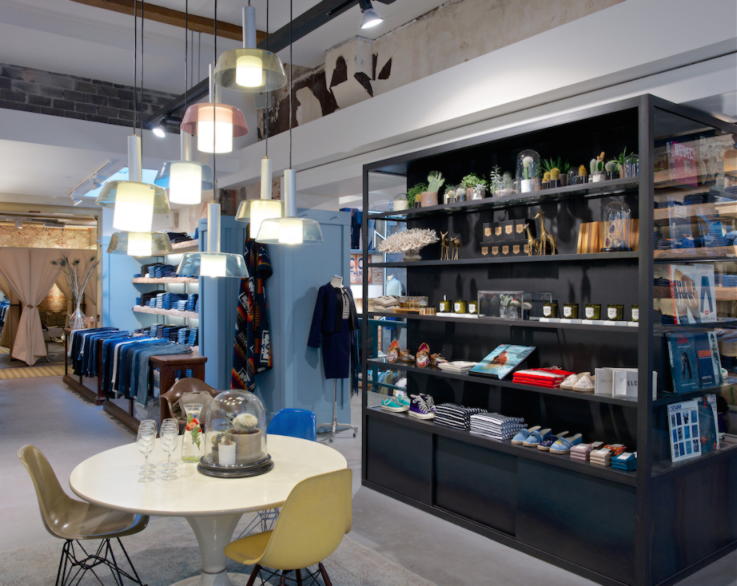 Image courtesy of Tenue de Nimes
Tenue de Nimes is a denim-obsessed boutique, selling not only jeans, but items referencing the original birthplace of the famous textile, Nîmes – famous also for its exquisite fabrics and patterns. Over a signature 'Live Saver' espresso blend, the team pledges to find a perfect pair of jeans for everyone. Truly committed to the cause, they have a seven day a week delivery service for denim emergencies. They have been known to open the store at all hours for private shopping requests too.
Tuari is a multidisciplinary design studio and brand. Each season they set themselves a new brief and then design objects accordingly taking the form of everything from objects d'art, chocolate, publications, video art, clothing and accessories. The space also exhibits collaborations with like-minded brands and other curated products that support the theme.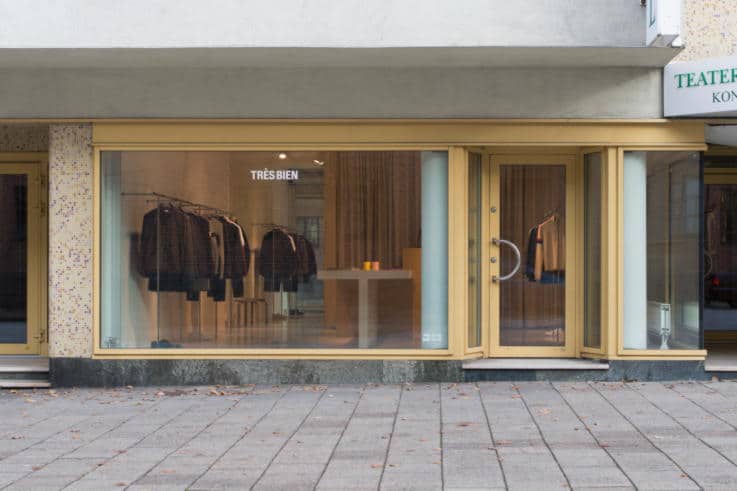 Image courtesy of Très Bien
Having a world-class boutique in a quiet seaside city of Malmo has its perks and its challenges. Whilst physical footfall can be remarkably low (at times it's been known to close its doors every day but Saturday) sales storm ahead online. The store has cleverly accommodated its best-of-both existence with an adaptable in-store photo studio where it shoots its seasonal lookbooks.
Haven is Vancouver's blockbuster menswear store dedicated to a 'who's who' of iconic streetwear labels across apparel, footwear and accessories. Running across the high-low spectrum Nike seamlessly joins the rails alongside Junya Watanabe MAN and Common Projects.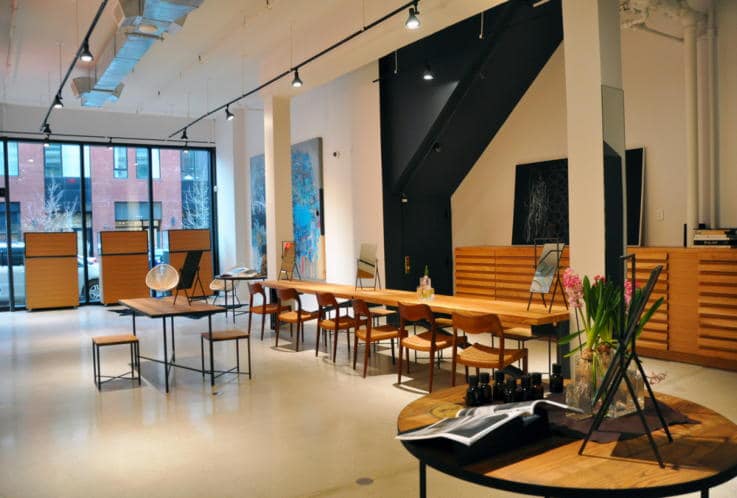 Image courtesy of Atelier Mira
Atelier Mira exists to elevate the experience of the eyewear customer. There's an extensive range of handmade, independent eyewear designs on offer. The design is eye-catching with large scale abstract paintings contrasting with sleek polished wood and de Stijl-esque primary colour blocks. Defining 'optical boutique' on their own terms, the space also offers a selection of supporting leather goods and fragrances.
At Gentle Monster, there is no limit to the imagination when it comes to retail display. The store reads more like an immersive installation and wouldn't be out of place in the Barbican or Palais de Tokyo. Their "innovational high-end experiments" move between an indoor jungle to the interior of a bakery, Olafur Eliason-esque materials breaking out of walls to neon light immersions.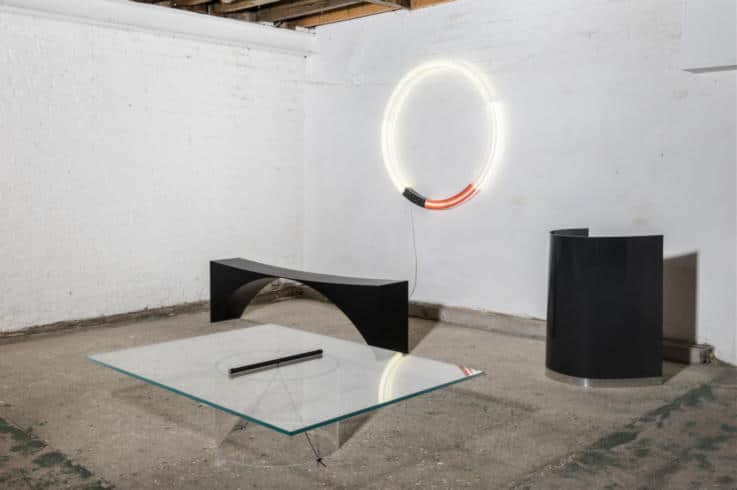 Image courtesy of SEE.DS
SEE.DS is an acronym for 'Special Events Exhibits/ Design Store', conveniently located in a former flower shop. Changing three times a year with the seasons, the hybrid space features a lead exhibition. There's also a series of supporting rooms displaying and selling extraordinary one-off design objects and curated furniture pieces inspired by the theme of the exhibition.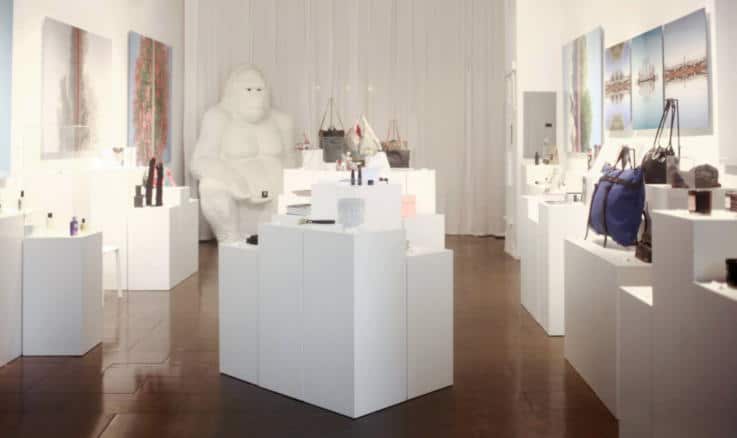 Image credit: Julien McRoberts
Ten is the magic number at this one of a kind concept store. It features 10 items across 10 different categories for a period of 10 weeks only – 100 items available online and in-store at any one time. Bags, books, candles, fragrance, gifts, homewares, jewellery, men's accessories, wellbeing are the core categories with the 10th category changing every 10 weeks. The retail space also features 10 works from one artist in each 10-week segment. Crucially, 10% from the sale of each product is donated to one of 10 selected charities of the consumer's choice.
BEAMS is the first and last word in Japanese street culture and enjoys cult status the world over. Its Shinjuku concept store spans eight floors with a special focus on highlighting made-in-Japan items across clothing, crafts, zines, art and a cafe. Limited edition skateboards by Sasquatchfabrix feature ukiyo-e woodblock art and sit alongside BEAMS x mita ASICS Tiger Gel-Lyte III Sneakers. Covetable labels like Loopwheeler and Teätora share shelving with traditional pottery and collectible Japanese toys.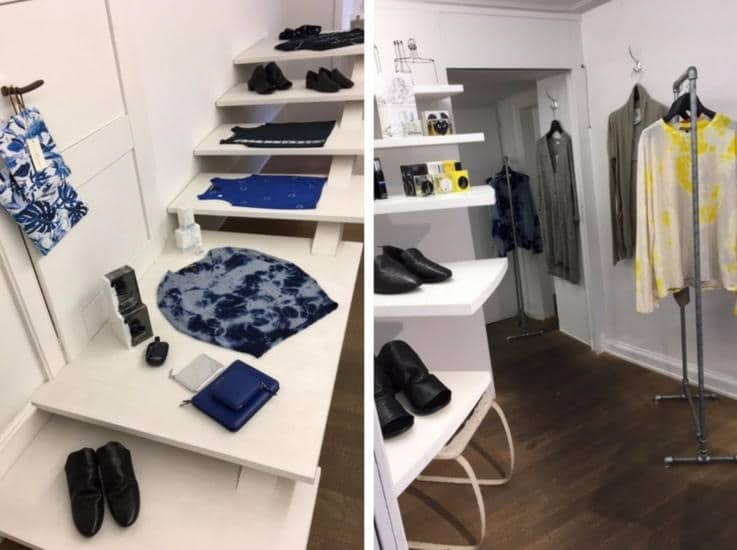 Image courtesy of Handmade
Handmade is a concept store in constant flux. The appearance and layout of the store changes regularly intermixing women's clothing, accessories and home decoration. It occasionally pops up as a guerrilla store in unusual and unlikely places.
The diminutive store in London's Brewer Street stocks a selection of standout pieces from the current collection as well as rare finds from independent labels and the graduate collections supported by SHOWstudio's international e-commerce platform.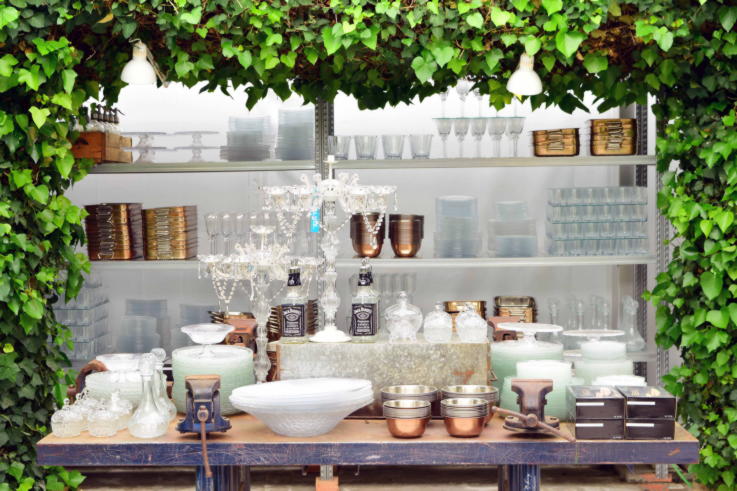 Image courtesy of Sluiz
Sluiz is the embodiment of Ibiza lifestyle, and the highly personal collection of two Dutch free spirits. Pass through the bar and restaurant 'speakeasy' style, and there's an intimate bazaar of brightly coloured products from shoes to chairs to bicycles. Shoppers are intermittently entertained by a troupe of performers performing shows and sketches throughout the day.
Ricardo Campa is Mexico City's arbiter of style and Headquarter is where he collects and retails his global and domestic edits. This store focuses on stocking rare-find footwear, grooming products and fragrances from Unmarked to Play by CdG. The store itself has a ruggedness referencing military culture and Mexican street art.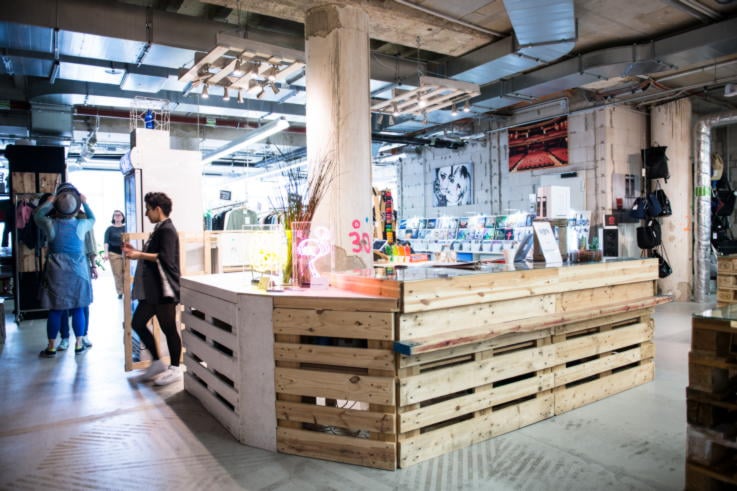 Image Credit: Johanna Henning
41. LNFA (Berlin)
LNFA (Live Network Fashion & Art) is a creative agency with a warehouse-sized store supporting young fashion designers and artists. It capitalises on its network within retail, marketing, technology, lifestyle and media to help young businesses flourish through events and consultancy in entrepreneurship skills.
Interior designer Jaime Beriestain has personally selected each and every one of the furniture and objects inside his namesake store and cafe, largely from his extensive international travel. The space is densely packed with restored vintage furniture, natural flowers, candles, international books, fragrances as well as items from his own collection.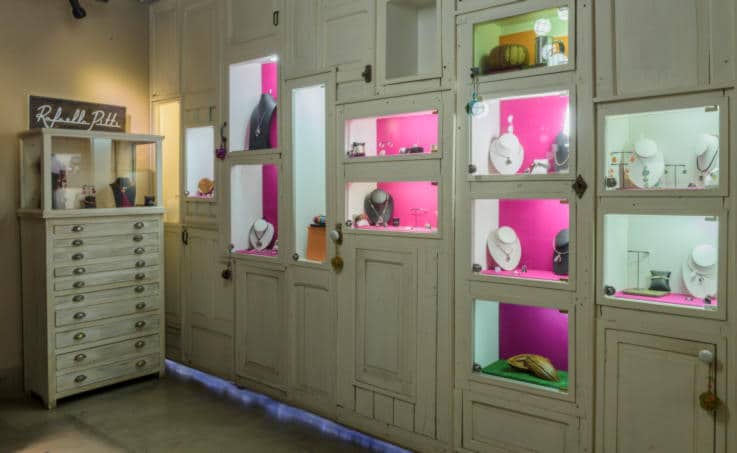 Image courtesy of Mistura-Manifestation Creativa
Mistura is an introduction to Bolivian creativity. It features designers and artisans from across the country working with native materials, and heritage Bolivian aesthetics in new and contemporary ways. The name 'Mistura' is in reference to the bricolage of cultures, customs and colours that make the nation so distinctive. Products range from alpaca coats to photography books and gourmet specialities.
Just One Eye is equal parts art gallery, design emporium and fashion retailer. The vast space seeks to surprise and delight visitors with unexpected displays and unusual products. Items may include one-of-a-kind pieces from a new designer's first fittings, curiosities selected from an African market or antiques from heritage Parisian ateliers. The space exudes an old Hollywood glamour (it was Howard Hughes' former residence) with staff renowned for their warm and welcoming reception.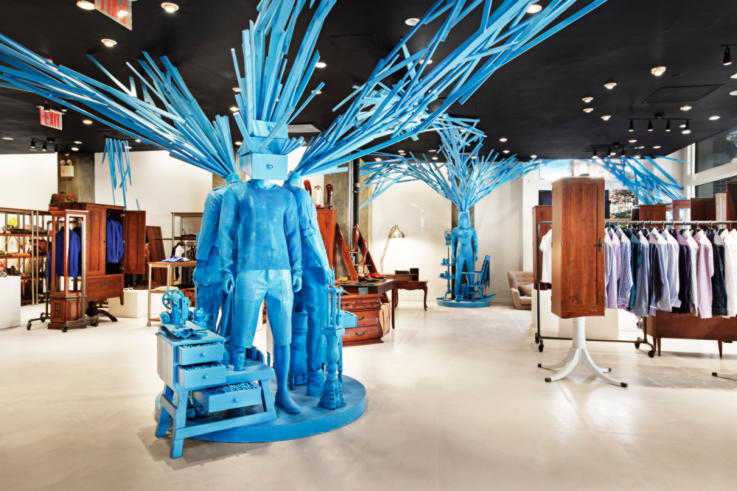 Image courtesy of Public Factory
Public Factory is positioned as the world's first co-retailing space with 12 shop-in-shop brands operating under one roof. In response to the huge costs involved with going bricks'n'mortar, especially in a prime position like Soho, it offers startup brands the freedom and flexibility of a pop-up store with the collective knowledge and network of other like-minded business.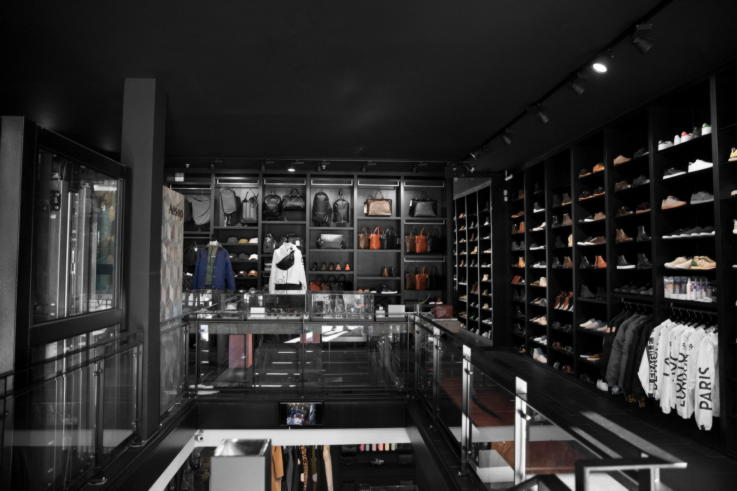 Image courtesy of STØY
STØY is a multi-brand store mixing trend-led fashion pieces and high-end streetwear. Scandinavian labels like Hope and TrieTuxen sit alongside globally recognised names such as Common Projects and Comme des Garcons.
Widely credited as a major influence in the global uptake of female sneaker wearer's, Naked is the destination for cutting edge footwear trends and exclusive special edition packs across Nike, Adidas, Asics, Vans, New Balance, Reebok, Onitsuka Tiger, Puma and Jason Markk. Expect to see a constant line of ladies cueing for first-drops.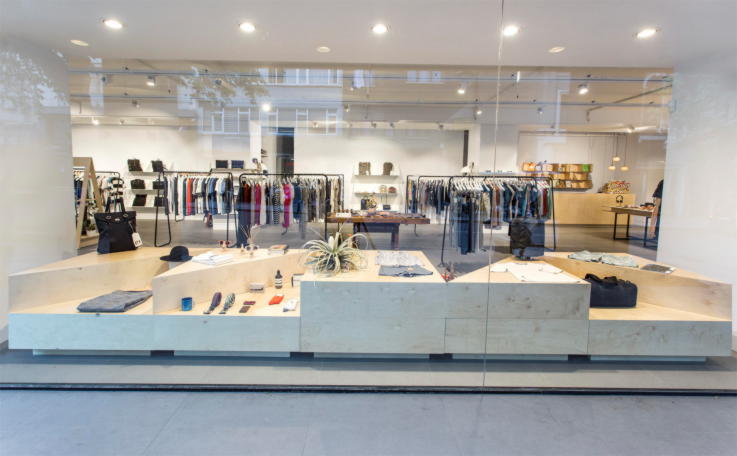 Image courtesy of 290 Square Meters
48. 290 Square Meters (Istanbul)
Premium casualwear and sports brands like A.P.C, Arc'teryx Veilance, Grenson, Nike and Porter are stocked over 290sqm of retail space in response to a burgeoning sneaker culture in the city. Above the shop sits an independent advertising agency of the same name.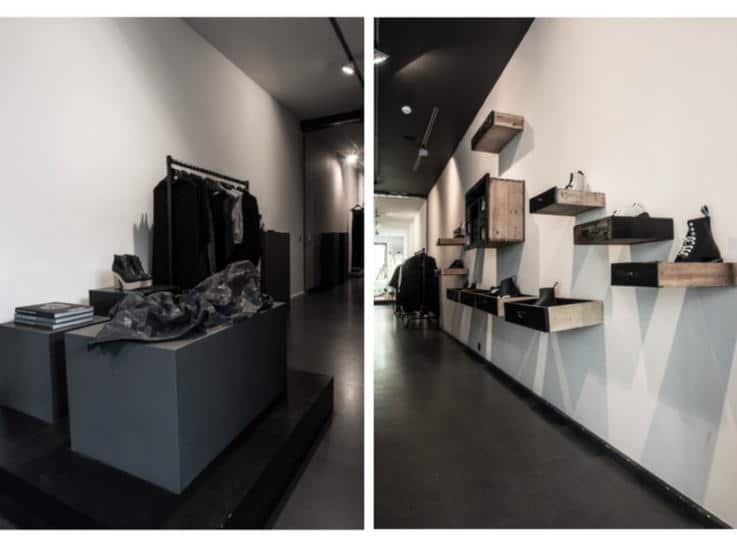 Image courtesy of Oukan
Oukan started as a charity project in the wake of the tsunami catastrophe in Japan, July 2011. Now, it's a permanent home for Japanese fashion designers and lifestyle brands in Germany. The team specialise in consulting and mentoring labels that want to establish themselves on European soil for the first time and programme a series of in-store private views and presentations accordingly.
The jewel in China's luxury market, Joyce has been defining and re-defining the dress code since 1970. Situated in the sparkly New World Tower, it includes five floors of fashion including a 'chamber floor' with the most conceptual pieces in the edit. The store atelier invites customers to have their new finds seamed to fit. 'Joyce Cabinet' is a revolving exhibition space filled with curated objets d'art and vintage items guest curated by international creative partners.