Interviews
Better service: Proximity Insight on empowering your sales assistants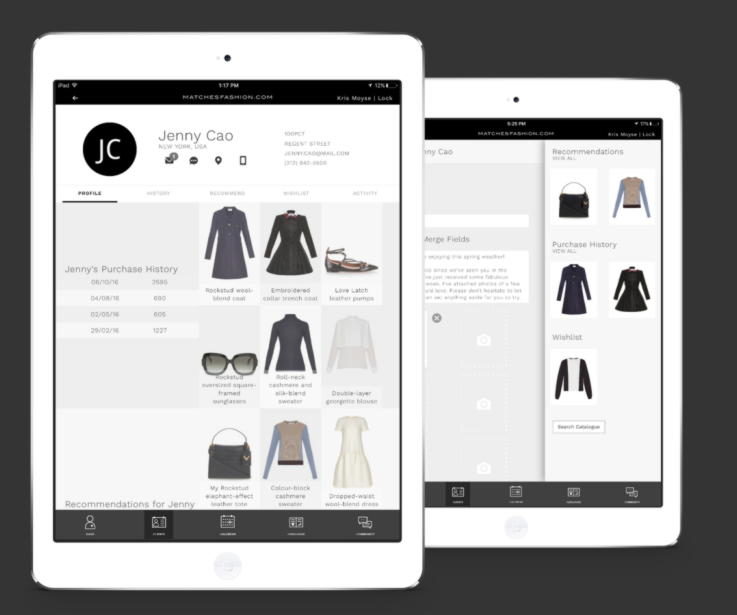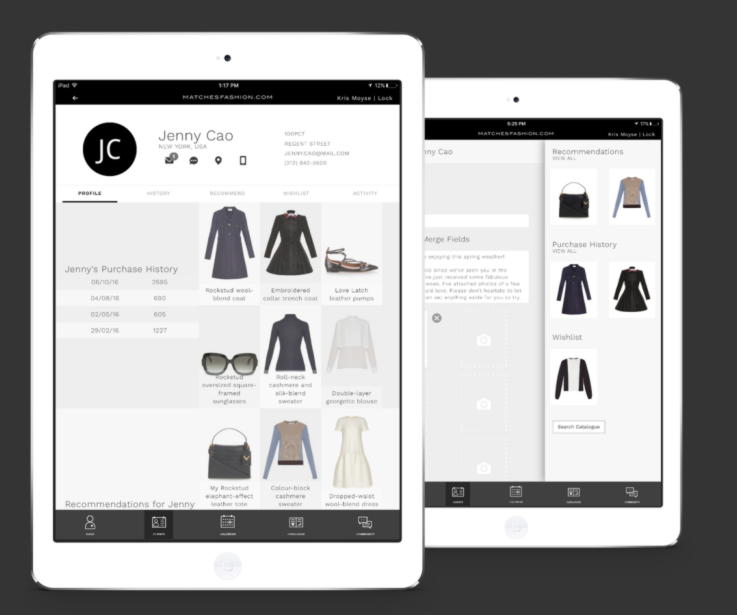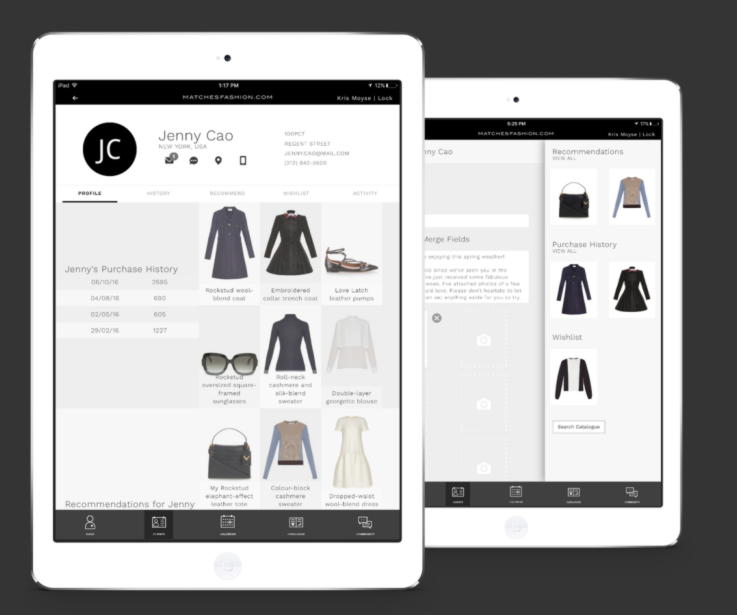 How important are your sales assistants? Proximity Insight thinks they're invaluable. It also thinks they could do so much more if only empowered to do so. The company's platform puts this power front-and-centre by giving them access to real-time customer data.
With insights into the customer's buying habits and preferences, it's easier for store assistants to build a truly personalised experience – and that's just the start.
CEO Cathy McCabe explains how to go beyond just transactional information in building a relationship, and how we're democratising the customer experience:
Can you describe Proximity Insight in a nutshell?
It's a platform that provides a number of different retail hubs for store teams. The company grew out of iBeacon technology. It was really around clienteling and being able to provide a better level of service to the customer. Clienteling and engagement with customers really needs other elements to make it work in the right way. It can't be a piece on its own. It has to be super connected with different systems across the organisation. Proximity Insight is about having a technology stack focused entirely around the customer.
It's a really good time in retail. I think brands are suddenly waking up to how do they start to reimagine and reinvent the store and blend that with their online channels. There's been a lot of talk around new tech and how can tech enable that in-store experience and connect those journeys between the digital experience and the physical experience. But I think people have been reluctant to really try to shift the power to the sales associates away from automated marketing. We're really seeing a response to the fact that you can have a really simple front-end that acts as glue between all your disparate systems.
From my own experience of being on the other side and being a retailer and brand, if you have lots of different apps like a stock availability app, CRM app etc, if they're not all glued together your store staff are jumping about from one thing to another and it makes the experience quite disjointed for the consumer.
I think we're really seeing that it's almost like that lightbulb moment that we need to do this differently. So we're getting real traction around providing that ability to combine some of the task management with actual personalised outreach and being able to service that information directly to the store team.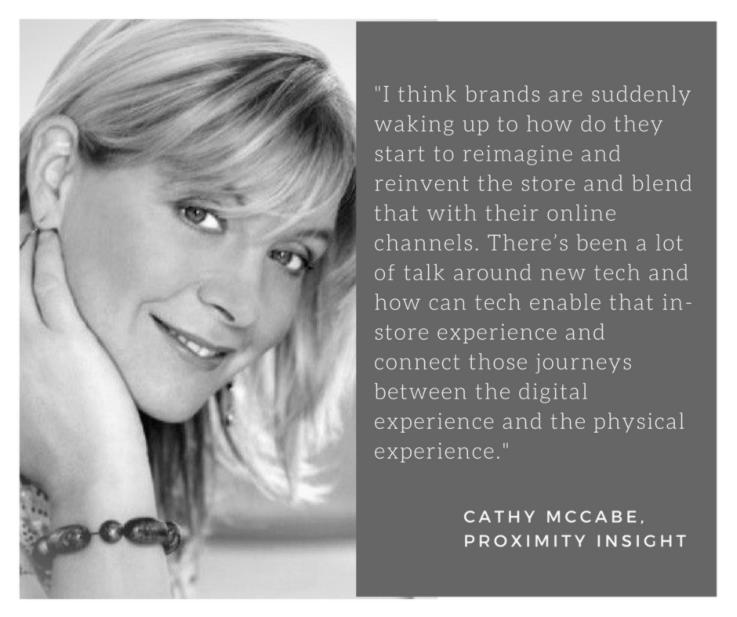 Can you talk me through some of the most interesting features?
What resonates with our platform is that, despite the conversations around omnichannel, it's still more about having that single channel. It's about having a tool that will help to drive the conversation between the customer and the brand. It is all about Shop Floor Engagement – we call it SFE. That's where the role of the store has changed. It's a marketing vehicle for the brand, but it's also about how does it connect to consumers as most people do still buy in stores.
Having the right tools in the store can allow you to bridge that gap. We're seeing 20 to 30% of online sales being influenced by in-store activity if you've got the right tools. Our commerce hub allows you to see stock availability in-store and online to support a sale. If the item you want is out of stock in that store, staff can still enable you to buy it through click-and-collect or delivery to home. It's about being able to benefit from seeing your entire catalogue. If you're a small store you can have all the info on the wider product range and then enable that ability to sell.
The customer hub is where you have all the great outreach so you can talk to them through email, SMS, social channels etc. The key element is if you tie it really closely into engagement strategy you can automate the triggering of when and why to engage with the client. You have the ability to put in some personal information to make it a personal message rather than an automated one. That's where you start to build that conversation and connect to the customer. That's why we're seeing 20 to 24% repeat purchases through this personal communication.
It is much more compelling than just signing up to your marketing comms and then sending an email. Where we've seen it work really well is if someone has shopped in-store and it's the first time they've been introduced to the brand, how do you create that relationship so you get them to come back? The beauty of it is that you then show the attribution, because I might be too busy to go in-store, but I can read the email, click on the product recommendation and buy it online.
Does it know what each customer has done online?
It goes beyond the pure transactional relationship. It goes beyond just knowing your purchase history and the type of products that you like. When you integrate it across the stack you can see what marketing emails that customer has got, you can see what they've opened, you can see that browsing history. If you're really going to connect with a customer who hasn't bought anything for six months, that message is going to be very different if you know she is opening your emails and browsing, she's just not buying.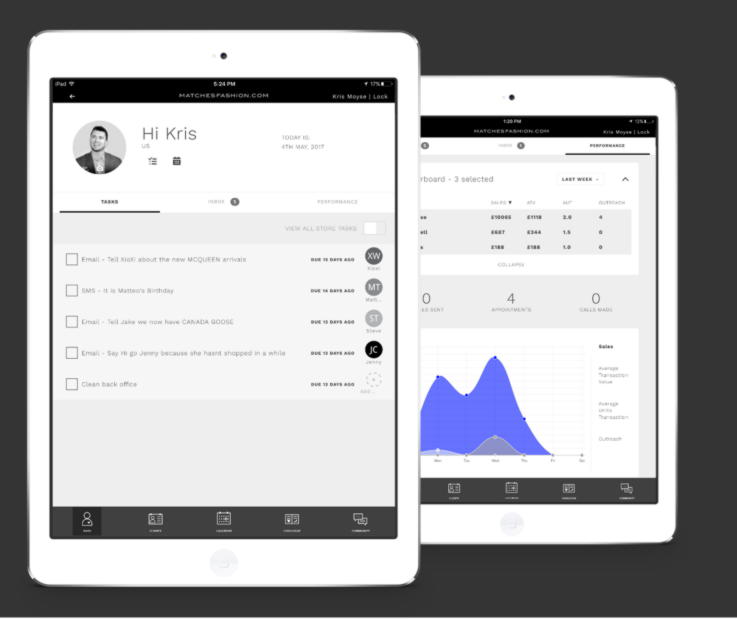 How does it recognise someone when they walk into the store?
That depends on the brand. If the customer has opted into push notifications you can use that from a geo-location perspective. Brands are not so bold and brave to really push that at this stage though. I think with the advent of chatbots we'll see that changing, but typically it's been more of subtle approach. The technology is there to enable it but there's not too many brands taking it up just yet.
There are lots of different use cases. Even from my experience at Burberry there was the whole vision around being able to know a client is coming into the store and being able to surface information relevant to that client and her history. I think what brands are still struggling to comprehend is that the technology is there to enable that but it's how you make that work in a consistent manner to make it a really excellent level of service, rather than something that works sometimes. For example if a particular personal stylist doesn't happen to be in that day then what happens?
Is the AI recommending items to the assistant?
We do both. We allow the sales associate to use their knowledge and expertise around knowing the customer and thinking what they might like. Or we can also bring in recommendation engines to replicate the same experience that you might find online.
It also goes into things like look building, so you can follow up and say these products go with the item you just bought. When we look at the data it's fascinating to see how sometimes the person will buy exactly what the sales associate have recommended and other times they don't. It's about how you refine that and make that work.
Are there any types of retailers who you think this is or isn't relevant to?
As a consumer I don't think you have the desire to be treated any differently just because you happen to be in a high-end store. It's that democratisation of the experience, which technology today can enable.
Now whether you do that with all customers or a certain subset of customers is an interesting one. There are elements of outreach and clienteling that are as applicable for the high street as a high-end store. It's more the principles of how you engage and what you engage about and how you make that happen in a very seamless way and the value add you can provide through that experience.
I think that the biggest challenge that retailers face is how to collect the data about the customer in a physical store. The luxury brands are very used to this as part of the proposition. It's not in a loyalty-scheme way, but much more service led. It's more about changing that mindset so that as a store experience is much more experiential.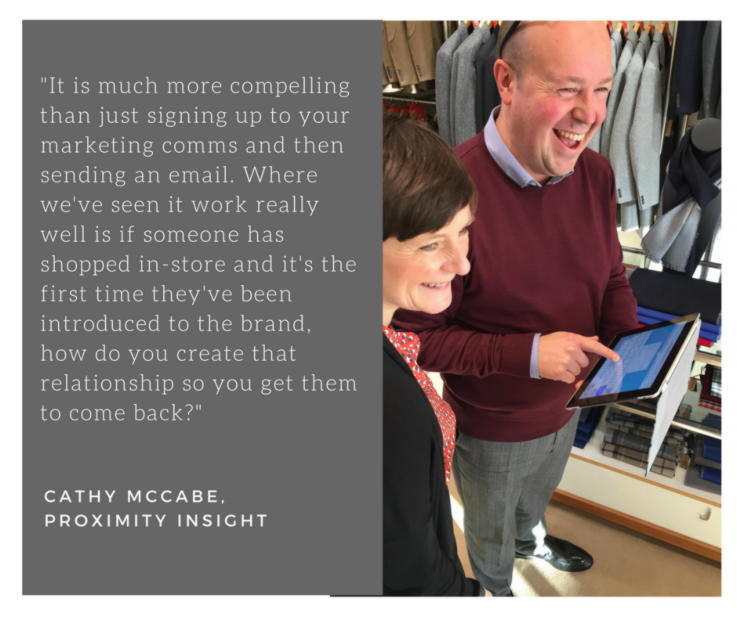 How easy is your system to set-up and install?
Depending on the level of integration and how deep the brand wants to go, we can get up and running in two to four weeks. Because it's built with the latest technology stack it's very agnostic so it doesn't really matter what ERP, what POS, what e-com they are using. You can really drive the experience from having these types of integrations which allows you to build out from that. Rather than trying to conquer everything in one go, you can start slowly.
If the experience for the sales associate is not compelling enough then they won't see the value added at all. So it's really important to get that right from the beginning. It's not the technology per se, but it's that adoption and onboarding piece which is really important so that they understand the value behind using this. It's got to really assist the sales associate with their day, automating some things that they might typically have had to do manually like checking for stock.
How is the market is responding?
The tipping point has been more recently because of retailers either having to update their CRS systems and/or look at alternative platforms. That's one of the tipping points as that's usually a huge investment. Some brands have been looking at how they can take their e-commerce system and use that in a store as an EPOS system. That's something we were talking about in 2010. Also use of more mobile devices in-stores to empower staff associates is all associated with that. If you are giving a sales associate a device with 20 different apps on there, it makes it difficult for them to have a joined up experience.
Our platform's strength came out of clienteling. The US get clienteling, they understand that kind of personal outreach, which has been there for a long time. European retailers took a lot longer to start asking customers for email addresses and data. As that has morphed into bringing that online experience into stores, so it's become important to be able to browse products, see the information and give the sales associate tools so that the customer isn't more informed than they are.
What are your plans to evolve the system?
We're working on a number of areas. It's actually trying to home in on what are the painpoints from our experience of working with a broad range of brands. Loyalty is an area that we see as being ripe for revamping and revitalising. The fitting room experience, and making that simple, compared to some of the things we've seen, is an area that we're working on.
Brands shouldn't be afraid to experiment. There's often this inertia around 'we've got to sort out our customer data' or 'we need to upgrade our CRM system'. They don't know which part to tackle first. By doing some of this experimentation you can really drive a different experience.
Find out how we can help you identify and discover the breakout trends in offline and online retail that will put you years ahead of your competition. Get in touch here.